Former Twitter executives acknowledged to lawmakers Wednesday that the social media company erred when it temporarily suppressed a New York Post story regarding Hunter Biden's laptop in October 2020, but the officials emphasized there was no government involvement in the decision.
Republicans grilled the social media executives – including former Twitter deputy counsel James Baker – over Twiter's handling of the laptop story and broader complaints about censorship at the first high-profile hearing in front of the House Oversight Committee for the new Republican majority investigating President Joe Biden's administration and family.
While Twitter's new owner and CEO Elon Musk has suggested that the internal communications released as part of his so-called "Twitter files" show government censorship – suggesting Twitter acted "under orders from the government" when it suppressed the laptop story – the executives told Congress they did not receive any requests from the government to temporarily suppress the story.
Twitter's former Head of Trust and Safety Yoel Roth testified there was a lot of confusion over how to handle the story amid an increased emphasis on tackling misinformation – specifically from malign foreign actors – on their platform.
"It isn't obvious what the right response is to a suspected but not confirmed cyberattack by another government on a presidential election," Roth said. "I believe Twitter erred in this case because we wanted to avoid repeating the mistakes of 2016."
House Oversight Chairman James Comer – a Kentucky Republican who has launched a broad investigation into the Biden family's business dealings – is probing the social media giant in the wake of Musk releasing internal communications from Twitter staff about the decision to temporarily block users from sharing the New York Post story in the closing weeks of the 2020 presidential election campaign season.
The "Twitter files" have fueled Comer's belief that the government may have been involved in the suppression of the story.
"America witnessed a coordinated campaign by social media companies, mainstream news and the intelligence communities to suppress and de-legitimized the existence of Hunter Biden's laptop and its contents," Comer said, adding that Twitter "worked hand-in-hand with the FBI to monitor the protected speech of Americans, receiving millions of dollars to do so."
CNN has previously reported, however, that allegations the FBI told Twitter to suppress the story are unsupported, and a half-dozen tech executives and senior staff, along with multiple federal officials familiar with the matter, all denied any such directive was given in interviews with CNN.
"I am aware of no unlawful collusion with, or direction from, any government agency or political campaign on how Twitter should have handled the Hunter Biden laptop situation," Baker said in his opening statement. "Even though many disagree with how Twitter handled the Hunter Biden matter, I believe that the public record reveals that my client acted in a manner that was fully consistent with the First Amendment."
The Twitter executives argued that the social media platform made mistakes in its handling of the New York Post story, but emphasized that the heightened focus on combating disinformation complicated the company's decision-making process.
Vijaya Gadde, Twitter's former chief legal officer, testified that, looking back, Twitter should have immediately reinstated the New York Post's account after the company reversed its decision to block the Hunter Biden story.
Roth said he personally disagreed with the decision to temporarily supress the laptop story, but said that the company's judgment was colored by the "real Russian activities they we saw play out that year."
But Republicans blasted the witnesses for suppressing the story because they thought it may have been a Kremlin effort to influence the 2020 election.
"You all led the American people to believe (it) was Russian disinformation, when in fact it was not," Comer said. "This is something this committee should be concerned about."
Rep. Dan Goldman, the New York freshman Democrat who was the lead counsel for the House's 2019 impeachment inquiry into Trump, argued there were legitimate reasons for Twitter and ex-intelligence officials to suspect the laptop story was Russian disinformation.
For one, it was being pushed by Trump's lawyer Rudy Giuliani, and the corruption claims overlapped with Russia's previous disinformation operations. Goldman pointed out that Giuliani had coordinated some of his past anti-Biden efforts with a known Russian agent, who was later sanctioned by the Treasury Department for meddling in the 2020 election.
Democrats focus on Twitter and January 6
Rep. Jamie Raskin of Maryland, the top Democrat on the committee, said in his opening statement that Republicans were trying to "whip up" a scandal involving a private company rather than focusing on issues that matter to voters.
"The majority has called a hearing to revisit a two-year-old story about a private editorial decision by Twitter not to allow links to a single New York Post article made for a two-day period that had no discernible influence on anyone or anything" Raskin said. "Instead of letting this trivial pursuit go, my colleagues have tried to whip up a faux scandal about this two-day lapse in their ability to spread Hunter Biden propaganda on a private media platform. Silly does not even begin to capture this obsession."
The Democratic witness at Wednesday's hearing, Anika Collier Navaroli, is a former Twitter employee turned whistleblower who testified before the January 6 House select committee last year.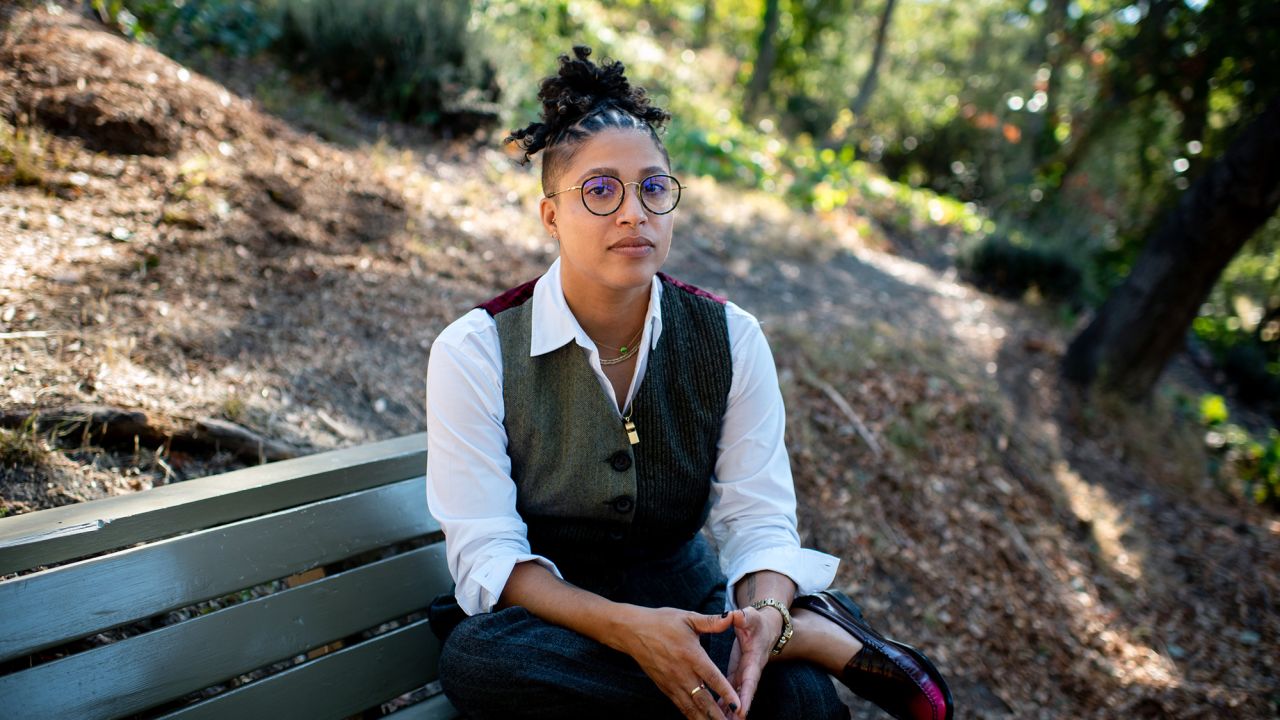 Navaroli argued Wednesday that Congress should really be focusing on "Twitter's failure to act before January 6," 2021.
"Twitter leadership bent and broke their own rules in order to protect some of the most dangerous speech on the platform" in the months leading up to January 6, Navaroli said.
In an effort to rebut the Republican criticisms, Democrats asked Navaroli about the Trump White House making requests to Twitter to take down tweets. Navaroli told the committee that she had heard the White House in 2019 flagged an expletive-laden tweet critical of then-President Donald Trump from model and TV personality Chrissy Teigen for removal.
Teigen, a prolific Twitter user, called Trump a series of expletives in the September 2019 tweet in response to Trump describing her as the singer John Legend's "filthy mouthed wife." Navaroli, who worked on Twitter's safety policy team, told the committee she had heard about the White House request. Navaroli said she heard about the request from her supervisor.
Twitter did not remove the tweet. CNN has reached out to representatives for Trump for comment.
Democrats also featured Rep. Alexandria Ocasio Cortez to push back on the Republican criticisms of Twitter. The New York Democrat criticized Twitter for allowing misinformation against the LGBTQ community and people of color to continue – citing one specific example that inspired violent threats, including a bomb threat, at Boston Children's Hospital over its care for transgender children.
Ocasio Cortez specifically referenced how the harassment followed a series of posts made by the Twitter account LibsofTikTok, which has shared a series of anti-LGBTQ messages with its followers. The congresswoman emphasized that those attacks were shared broadly by far-right Twitter accounts, and asked if the account was still active.
"Regrettably, yes it is," Roth said.
Twitter was on guard for election influence
The hearing marks the second-straight election where social media companies and the FBI have faced scrutiny for decisions made in the final weeks of a presidential election. After 2016, social media companies like Twitter were under fire for doing too little to police their platforms for misinformation campaigns, particularly from foreign governments like Russia.
Now they're back in the hot seat for taking that policing too far, according to Republicans.
All of the witnesses requested subpoenas to appear before the committee.
When the New York Post published its story on Hunter Biden's laptop in October 2020, Twitter executives were hyper suspicious of anything that looked like foreign influence and were primed to act, even without direction from the government. Roth had spent two years meeting with the FBI and other government officials and was prepared for some kind of hack and leak operation.
For Republicans, the testimony of Twitter's former executives gives them the opportunity to raise questions not just about the laptop story but other long-running conservative complaints about the social media company that Musk purchased last year. The Oversight Committee's Republican ranks are full of the conference's conservative hardliners who have complained about alleged suppression of conservative voices on Twitter.
GOP Rep. Jim Jordan of Ohio, who chairs the House Judiciary Committee and serves on the House Oversight panel, claimed that the former Twitter employees were "played by the FBI" and argued that Twitter executives looked for reasons to take down posts about the New York Post story about Hunter Biden.
Jordan has long claimed the FBI has been politicized, and his line of questioning underscores his approach to the Judiciary subcommittee he chairs that is designated to investigate the alleged weaponization of the federal government. House Oversight members have repeatedly yielded their time back to Jordan, who is widely known for his aggressive line of questioning.
"I think you guys wanted it to be taken down," Jordan said.
Jordan suggested Twitter was duped by a group of former national security officials who wrote in a public letter that the emails from Hunter Biden's laptop may have been fake and had "earmarks" of a Russian intelligence plot. Since then, news outlets have been able to verify some of the emails as authentic.
"The information operation was run on you guys," Jordan said.
Roth said Wednesday that – despite GOP claims – he never believed the Hunter Biden laptop story was Russian disinformation.
"I never held that belief," Roth said, adding "I didn't then and I don't now."
Twitter justified its decisions at the time by saying the article contained personally identifiable information and hacked materials – and that it's against Twitter rules to spread that material on the platform.
Republicans raise numerous criticisms of Twitter
Jordan and Comber both questioned Baker – who previously served as the FBI's top lawyer – about whether he spoke with anyone at the FBI about the Hunter Biden laptop.
Baker said he did not recall speaking with anyone at the FBI, but also spoke carefully in his answer, with some lawyerly hedging, and did not offer a direct denial.
"To the best of my recollection, I did not talk to the FBI about the Hunter Biden story before that day," Baker said, referring to when the New York Post's account was restricted for posting about the laptop.
But Comer and Jordan were frustrated when they unsuccessfully tried to override Baker's claims of attorney-client privilege in response to Jordan's questions about the FBI's interest in enforcement of Twitter's policy or whether he suppressed documents while at Twitter.
Comer argued that Baker appeared under subpoena and that Congress "does not recognize the common law attorney client privilege." Baker responded he tried to resolve this issue with Twitter ahead of time but defended his use of attorney-client privilege, saying, "I don't have anything in writing that clears me in my ethical responsibilities to my former client with respect to answering questions that I think fall squarely within the attorney-client privilege."
Other Republicans criticized the executives for their treatment of conservatives. Rep. Marjorie Taylor Greene, a Georgia Republican, railed against the Twitter executives for banning her account, one of several Republicans who was critical Twitter's Covid-19 misinformation policy during Wednesday's hearing.
Greene's account was suspended last January for repeated violations of Twitter's Covid-19 misinformation policy, the company said at the time. Her account was restored in November after Musk purchased Twitter.
Ahead of the hearing, Musk traveled to Capitol Hill and met with a number of House Republicans, including House Speaker Kevin McCarthy and Comer. The Kentucky Republican said that Musk offered him tips on lines of questioning, though Comer declined to offer more details ahead of the hearing.
"We're going to save it," Comer said. "Thank God for Elon Musk."
This story and headline have been updated with additional developments Wednesday.
CORRECTION: This story has been updated to clarify that Navaroli testified that she heard about the request to delete the Chrissy Teigen tweet from her supervisor.
CNN's Evan Perez and Donie O'Sullivan contributed to this report.