It was a night of wild expectations and LeBron James, once again, delivered.
With a mid-range fadeaway bucket, his 36th point of the night against the Oklahoma City Thunder, James surpassed Kareem Abdul-Jabbar to become the NBA's all-time leading scorer, breaking a 39-year-old record to add another historic achievement to his already storied career.
After his shot had found the bottom of the net, the game came to a halt to allow James to savor his moment.
Amid the bedlam and a sea of cameras, James' family – his wife, two sons and daughter – came out onto the court to celebrate the occasion with him. The great Abdul-Jabbar was also in attendance, later handing James the ball in an official passing of the torch.
It was the first time since since Abdul-Jabbar surpassed Wilt Chamberlain in 1984 that the scoring record has changed hands.
The debate surrounding who the greatest basketball player of all time is will undoubtedly rumble on indefinitely, but James has provided yet more ammunition for those fans who fight his corner.
Even for a man with four NBA titles and four MVP crowns to his name, James' latest accomplishment will undoubtedly rank among his greatest.
What makes James' latest feat all the more impressive is that many people, fans and pundits alike, do not believe scoring has ever been his best attribute.
In the Lakers' victory over the New York Knicks last week, James surpassed surpassed Mark Jackson and Steve Nash to move up to fourth place on the NBA's all-time assist leaderboard and is now the only player in NBA history to rank inside the top five in both all-time points and assists.
"I mean, he's as special as it gets," two-time NBA All Star Joakim Noah, who faced James multiple times over a 13-year career, told CNN Sport. "A great player.
"We had a lot of competitive moments and it was always about trying to get past 'that guy.' So there were good moments, bad moments, but overall what he's doing at his age, at 38 years old, and still being able to dominate the game and be that invested in the work and what it takes to be at the top, you've got to give a lot of respect to that.
"What's unbelievable about that is his scoring is probably not his best thing, you know, he's a better distributor, he's a pass-first guy so to be able to lead the NBA in scoring and be a pass-first guy, it says a lot about his dominance."
Indeed, so dominant has James been in almost every other facet of the game during his near 20-season career, you will find his name in the top 10 of many of the NBA's all-time leading statistics.
The 38-year-old ranks 10th in games played, fourth in assists, ninth in steals, second in field goals made, 10th in three-pointers made and fourth in free throws made.
It's a testament to not only his incredible abilities as a basketball player, but also his remarkable durability that James at times still looks as explosive in year 20 at the age of 38 as he did in his prime.
'Old as crap'
But perhaps nothing speaks to his longevity and generation-spanning career than the number of father-son duos that James has played against.
In a comical moment caught on NBA TV cameras last month, Houston Rockets rookie Jabari Smith Jr was heard telling James: "Hey, you played against my dad in your first NBA game ever in Sacramento."
"Why you do that to me?" James replied. "You feel old, don't you?" Smith Jr. laughed.
In his post-match interview, James joked that Smith Jr. had made him feel "old as crap." Despite his Cleveland Cavaliers losing on that night in Sacramento, James still posted 25 points, six rebounds, nine assists and four steals in his NBA debut.
Fast forward to the game against the Rockets, James scored a season-high 48 points to go with nine assists and eight rebounds.
Incredibly, Jabari Smith Jr and Jabari Smith Sr are the ninth father-and-son duo that James has come up against in his career, the others being Kenyon and KJ Martin, Gary Trent Jr. and Sr, Gary Payton Sr. and Gary Payton II, Rick Brunson and Jalen Brunson, Glenn Robinson Jr. and Glen Robinson III, Adrian Griffin Sr. and Jr., Glen Rice Sr. and Jr. and Samaki Walker and Jabari Walker.
Being drafted by the Cleveland Cavaliers straight out of high school, James was perhaps the most famous, most marketed and most publicized high school athlete in the history of sports.
Such was the unprecedented hype around James while he was playing for St. Vincent - St. Mary High School in his hometown of Akron, Ohio, that he signed a seven-year, $90 million contract with Nike on May 22, 2003, before he had even played an NBA game.
His high school basketball games were always packed to the rafters and regularly moved to the bigger home arena of the University of Akron, while some were even shown on national television and pay-per-view.
James' popularity led to him gracing the cover of Sports Illustrated at the age of just 17, alongside the famous moniker 'The Chosen One.' It's fair to say James has lived up to it.
"We gave the keys to the whole entire business to an 18-year-old kid, and now he's 38 years old and he's still dominating," Kyrie Irving, James' teammate in Cleveland from 2014 to 2017, told reporters last week.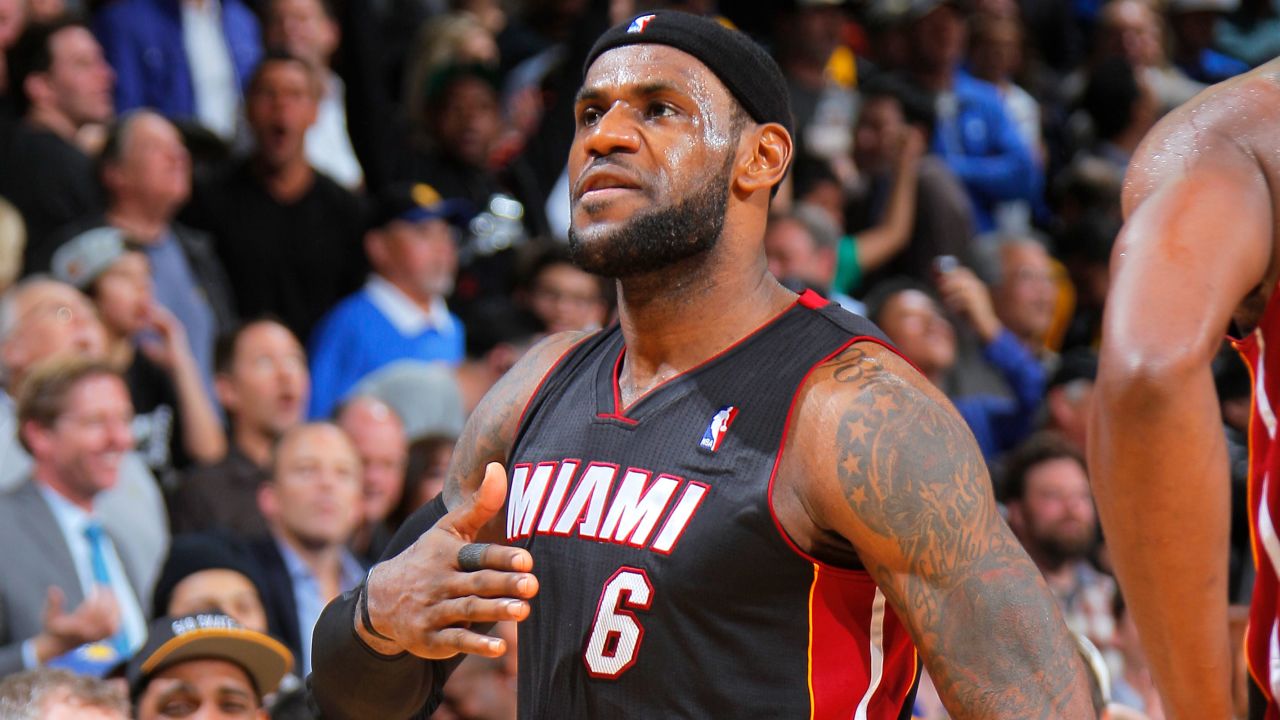 "I don't think we should be surprised. I think we should congratulate him and celebrate him as much as possible. Continue to enjoy the shows that he put on because it's not going to be for too much longer.
"Whenever he decides to [not] play, but I'm enjoying the show and I wish we could have gotten a chance to play against one another, but who knows what can happen down the line?"
'Once every 100 years, you see a guy like that'
Whether or not one ranks James as the greatest player of all time is purely a matter of preference, but he is unquestionably in the top two.
Few things in basketball have been consistently as thrilling over the years as watching James drive down the lane, barrel past defenders and finish with a trademark tomahawk dunk.
He has also been a part of numerous iconic NBA moments; the "blocked by James" commentary from Mike Breen in Game 7 of the 2016 Finals; the 'silencer' celebration after a winner against Golden State in 2014; and the pre-dunk celebration photo of him and Dwyane Wade in 2010.
The list could go on.
James' unique legacy has left an indelible mark on teammates, opponents, franchises and the league as a whole.
During his time in the league, James has played for the Miami Heat – the site of his first two NBA titles in 2012 and 2013 – the Los Angeles Lakers and the Cleveland Cavaliers twice, the second stint bearing fruit to arguably his greatest triumph, as he led the Cavs to the Larry O'Brien trophy after falling to an unprecedented 3-1 Finals deficit against the Golden State Warriors in 2016.
"I definitely saw this when we were playing together," Irving, who hit the championship-winning shot in Game 7, said. "His ability to prepare himself mental