A forensic scientist testified in Alex Murdaugh's murder trial Tuesday she found gunshot primer residue particles on clothes the now-disbarred South Carolina attorney was wearing the night his wife and son were killed – and on a blue jacket that has drawn increasing attention in the proceedings.
The particles were found on samples taken from Murdaugh's hands, as well as the shirt and shorts he was wearing the night the two were fatally shot in 2021, Megan Fletcher, a forensic scientist who analyzes gunshot residue for the South Carolina Law Enforcement Division, testified.
The findings could mean those items were close to a firearm that was discharged, or the particles could have been transferred to those items from an object with gunshot primer residue on it, she said.
In the case of a person's hands, the particles could indicate the person fired a gun, Fletcher testified. She could not say when those particles would have been deposited. The Murdaughs owned firearms and had a shooting range on their property.
Primer is one of the elements – along with the powder, the bullet and the casing – that make up an ammunition cartridge, often referred to as a round.
Fletcher also examined a blue rain jacket that investigators found in a closet at the home of Murdaugh's mother several months after the killings, she said. She found 38 particles of gunshot primer residue inside the jacket, which she described as a "significant number," as well as 14 particles on the outside, she testified.
"If a recently fired firearm were wrapped up inside that jacket, would that be consistent with your findings?" prosecutor John Meadors asked.
"There is a possibility of that, yes," Fletcher responded. The prosecution has said the murder weapon has yet to be found.
The court heard about that blue rain jacket a day earlier, when defense attorneys argued to keep it out of evidence. A caregiver for Murdaugh's mother, Mushell Smith, first testified Monday that Murdaugh went to his mother's home early one morning after the killings and headed upstairs with something blue – which she described as a tarp – in his hands.
South Carolina Law Enforcement Division agent Kristin Moore told the court later on Monday that investigators found both a blue tarp and a blue rain jacket on the second floor of the mother's home.
Without the jury present, the defense on Monday asked the judge to rule that the jacket shouldn't be considered evidence. They argued the caregiver testified she saw Murdaugh carrying only a tarp – not a jacket – and said nothing connected Murdaugh to the jacket. The judge on Tuesday denied the defense's request.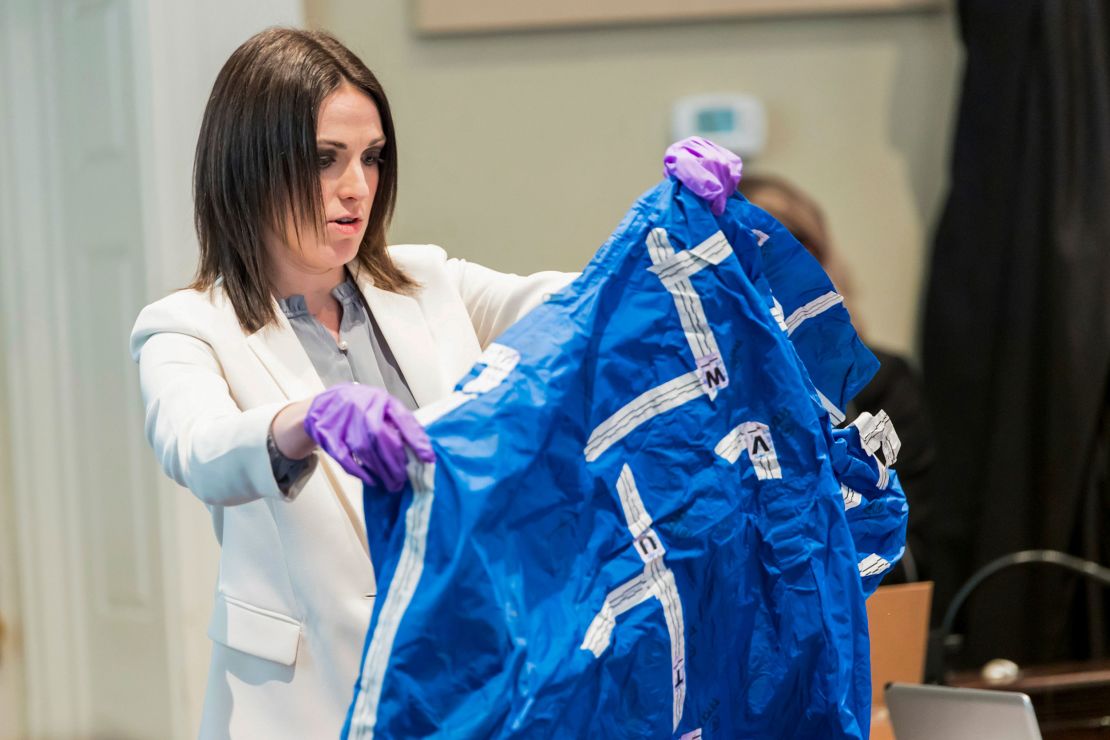 Under cross-examination Wednesday, Fletcher acknowledged there were myriad possibilities for how the particles could have ended up on Murdaugh's hands or the jacket, including if he had simply held a firearm or if the jacket made contact with the weapon.
First responders testified early in the prosecution's case that Murdaugh had a shotgun when they arrived at the scene. It was entered into evidence and is not believed to be a murder weapon.
"When I analyzed the evidence, I did not know that he had a firearm in his hand," Fletcher said under questioning by defense attorney Jim Griffin. "But that would be consistent with somebody who had a firearm in his hand prior to collection."
Griffin posited there were "just a whole lot of possibilities what could have happened, right?"
"That's correct," Fletcher said.
"And all you can tell us is what you saw under a microscope."
"Yes, sir."
"You can't tell us how it got there, or when it got there."
"That's correct."
But on re-direct, Fletcher underscored that the number of gunshot residue particles found on the interior of the jacket was unusual.
"Typically, people wear their clothing right side out," she said. "And so, if they're in the vicinity to the discharge of a shooting, that's where the particles are going to land.
"On the outside?" Meadors asked.
"Yes, sir," Fletcher said.
Murdaugh has pleaded not guilty to two counts of murder and two counts of possession of a weapon during the commission of a violent crime in the killings of his wife Margaret "Maggie" Murdaugh and his 22-year-old son Paul on June 7, 2021.
Murdaugh called 911 the night of the killings to report he'd found his wife and son shot dead at the family's home in Islandton, South Carolina – a property known as Moselle.
Prosecutors accuse Murdaugh of committing the murders to distract attention from a series of alleged illicit schemes he was running to avoid "personal legal and financial ruin," per court filings. Separate from the murder charges, Murdaugh faces 99 charges stemming from alleged financial crimes, per the state attorney general. Opening statements were delivered January 25.
Third witness identifies Murdaugh's voice in key video
Jurors on Tuesday also heard from Murdaugh's longtime friend and former law partner, who became the third witness to identify the disgraced former attorney's voice on a video clip that authorities say was recorded shortly before the killings.
The video, just short of a minute long, was filmed on Paul Murdaugh's phone starting at 8:44 p.m. the night of the killings, a law enforcement witness testified earlier in the trial. Three different voices could be heard in the footage, which appeared to have been recorded around the Murdaugh family's kennels, according to that earlier testimony.
Prosecutors believe one of those voices – the only other on the video besides the victims' – belongs to Alex Murdaugh, placing him at the scene at the time of the killings. Murdaugh has maintained in interviews with law enforcement he was not there.
On Tuesday, the friend and former law partner, Ronnie Crosby, testified that after the killings, Murdaugh shared he had dinner with Maggie and Paul, and then fell asleep on the couch while the two went to the kennels on the Murdaugh property.
Murdaugh told Crosby that after he woke up, Murdaugh drove to his parents' house – roughly 20 minutes away – to see his mother, and when he returned home, discovered Maggie and Paul had been fatally shot, Crosby testified.
"He specifically said he did not (go to the kennels)," Crosby testified.
When the prosecution on Tuesday played the video from Paul's phone, Crosby said he identified three voices: Paul's, Maggie's and Alex's. When asked if he was certain that's who he heard, Crosby replied, "I'm 100% sure that's whose voices are on that audio."
Two other witnesses told the court last week they were certain they heard Alex Murdaugh's voice in that footage.
Smith, the caregiver, testified Monday that Murdaugh visited his mother for about 15 or 20 minutes the night of the killings.
Firm's chief financial officer testifies
Also Tuesday, jurors heard from Jeanne Seckinger, the chief financial officer of Alex Murdaugh's former law firm who testified last week without the jury present. At the time, the judge still was weighing whether to allow the admission of evidence about the alleged financial schemes. He decided Monday to allow it.
Seckinger testified Tuesday – this time in front of jurors – that she confronted Murdaugh about missing funds from the firm on the morning of June 7, 2021 – hours before his wife and son would be killed.
She looked for Alex that morning and found him standing outside his office, she testified. He "looked at me with a pretty dirty look – one I've not seen before – and said, 'What do you need now?' Clearly disgusted with me." she testified.
Seckinger told Murdaugh she had reason to believe he personally received legal fees from a settlement – amounting to about $792,000 – that should have been made payable to the law firm, she testified.
"He assured me again that money was in there," Seckinger said Tuesday. "I told him I still needed to see ledgers or proof that it was."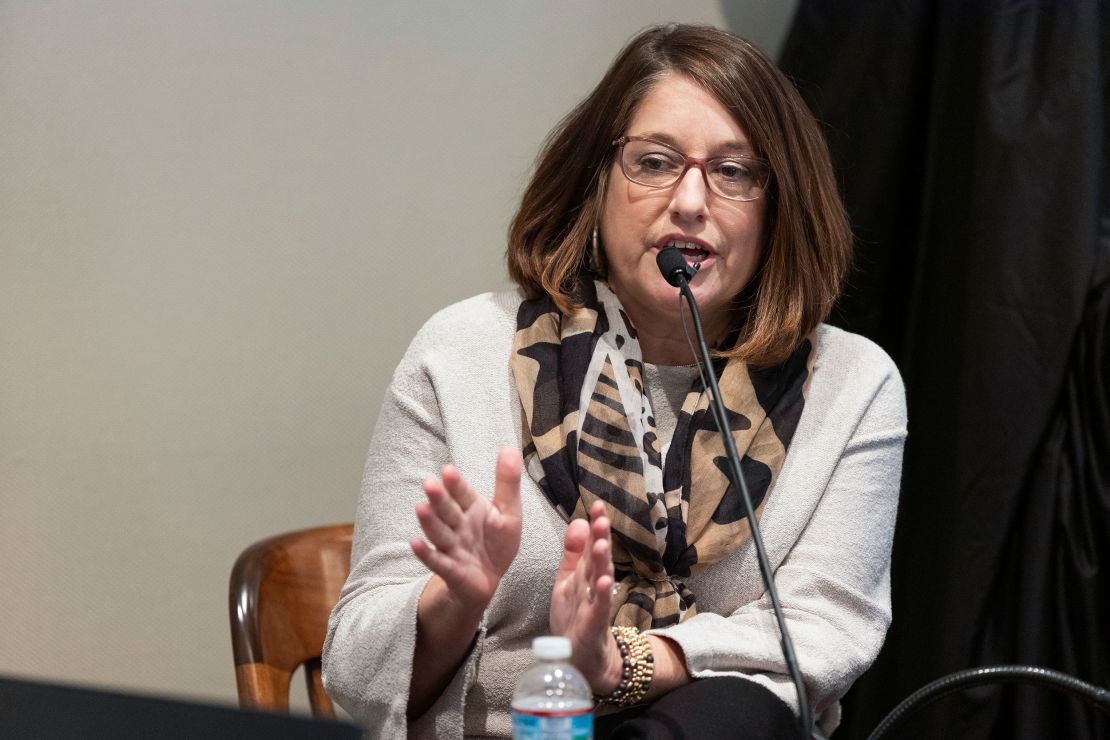 At the time, Murdaugh was facing a lawsuit from the family of 19-year-old Mallory Beach, who was killed in February 2019 when a boat, owned by Murdaugh and allegedly driven by Paul, struck a bridge piling.
Murdaugh's financial records – which state court filings said "would expose (Murdaugh) for his years of alleged misdeeds" – could have been disclosed following a hearing in the civil case scheduled for June 10, 2021, three days after the killings.
Prosecutors' pretrial motion contended "the murders served as Murdaugh's means to shift the focus away from himself and buy some additional time to try and prevent his financial crimes from being uncovered, which, if revealed, would have resulted in personal legal and financial ruin for Murdaugh." According to that filing, the missing money had already been spent.
But the June 10 hearing was canceled after Maggie's and Paul's deaths, Seckinger said last week.
Immediately after the killings, no one at the firm was concerned about finding the missing money, "because we were concerned about Alex," Seckinger testified Tuesday.
Yet Seckinger dug into more of Murdaugh's records in the weeks ahead and found more impropriety, she testified. In September 2021, the firm's partners confronted Murdaugh about the money and informed him they were forcing him to resign, she told the court.
To cover the cost of the misappropriated money, "Each partner put up money and we refunded the money to the clients," Seckinger told the court. When asked why, she said that Murdaugh "stole it."