Residents near where a train derailed in East Palestine, Ohio, may return home after an evacuation order was lifted Wednesday, officials said.
Air and water samples were analyzed overnight, and the results led officials to deem it safe, East Palestine Fire Chief Keith Drabick said at a news conference Wednesday afternoon.
The train carrying hazardous materials, including the toxic chemical vinyl chloride, derailed five days ago in the village of 5,000 people near the Pennsylvania border.
The wreckage burned for days, threatening a widespread, deadly explosion before crews Monday managed controlled detonations to release the chemical that can kill quickly at high levels and hike cancer risk.
Workers used small charges to blow a tiny hole in five rail cars carrying vinyl chloride. The hazardous substance spilled into a trench, where it was burned away.
Analysts have been conducting air monitoring and sampling over the last 24 hours in the East Palestine area, James Justice, a representative of the United States Environmental Protection Agency said Wednesday.
"All of the readings we've been recording in the community have been at normal concentrations, normal backgrounds, which you find in almost any community," he said, and that's "what led to the fire chief lifting the evacuations today."
The teams used a number of instruments placed in strategic locations to sample the air, Justice said. Other teams used handheld instruments to help conduct air monitoring 24 hours a day.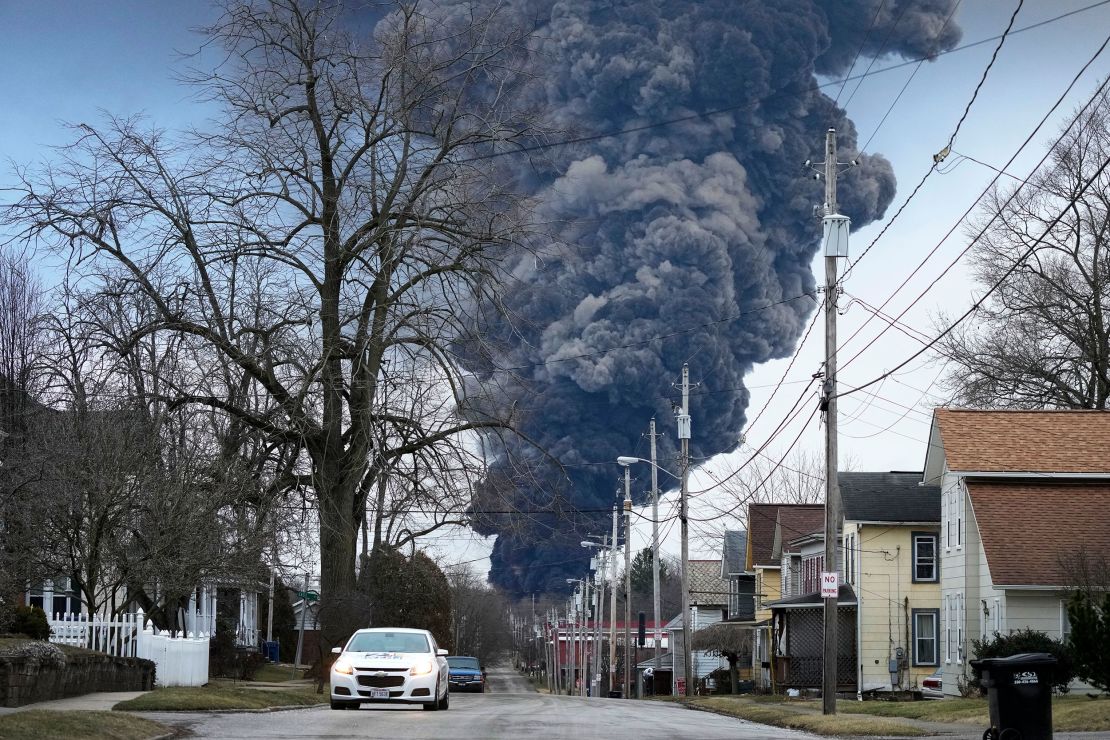 "All that data combined together is accumulated and we review it – provide it to the health agencies, and it's literally hundreds and hundreds and hundreds of data points that we've collected over time to show that the air quality in the town is safe," Justice said.
An Ohio Environmental Protection Agency team has been continuously monitoring the water systems since this incident unfolded and actions were taken to minimize impacts, Ohio EPA representative Kurt Kollar said Wednesday.
Still, some "materials" entered the waterway and "were immediately toxic to fish," Kollar said, noting "actions were taken to minimize that." "But all of the information and data to date" is that drinking water was protected, he said.
Water samples are being conducted daily on multiple creeks and the Ohio River to ensure the water is safe, Kollar said.
The Ohio and federal environmental protection agencies, working with local teams, "established a series of containment measures to help limit environmental impact to local streams and rivers from water runoff from the site," Ohio EPA spokesperson James Lee said in a statement earlier Wednesday.
Those measures include installing earthen dams "to capture contaminants that may leave the derailment site" and the installation of "high volume aeration stations to help remove contaminants from Sulfur Run" stream, Lee said.
"We believe those systems will not be impacted by this incident. Long term remediation will consider local ground water protection plans as part of the remediation phase," Lee said.
The EPA had also warned that residents even tens of miles away would smell odors coming from the site since the byproducts of the controlled burn can be smelled "at levels much lower than what is considered hazardous."
What vinyl chloride could do to humans
The train that derailed had more than 100 cars. About 20 of them were carrying hazardous materials, and 10 of those derailed, the National Transportation Safety Board said.
Five of those train cars contained vinyl chloride – a man-made substance used to make PVC that burns easily at room temperature.
Vinyl chloride can cause dizziness, sleepiness and headaches. It has also been linked to an increased risk of cancer in the liver, brain, lungs and blood.
Breathing high levels of vinyl chloride can make someone pass out or even die if they don't get fresh air, the Ohio Department of Health said.
All five cars have been cleared from the rail, Norfolk Southern official Scott Deutsch said Wednesday.
Residents sue Norfolk Southern
A local couple and a business owner filed a lawsuit Tuesday against Norfolk Southern Railroad, accusing the company of negligence.
The suit, filed in the US District Court of Northern Ohio, accuses the company of failing to maintain its tracks and equipment as well as failing to reasonably warn the general public.
The suit seeks unspecified compensatory and punitive damages, as well as legal fees.
"We are unable to comment on litigation," a Norfolk Southern spokesperson said Wednesday.
The cause of the derailment remains under investigation, the NTSB said.
The train crew got an alert about a mechanical issue before the derailment and investigators found video showing "preliminary indications of mechanical issues" on one of thr railcar's axles, NTSB Member Michael Graham has said.
Investigators have asked for records from Norfolk Southern and are looking into when the possible defect happened as well as the response from the train's crew – which included an engineer, conductor and conductor trainee, Graham said.
CNN's Yon Pomrenze, Michelle Watson, Tina Burnside, Roxanne Garcia and Theresa Waldrop contributed to this report.