A former Chechen commander wanted by Ukraine for alleged war crimes committed last year is leading the Russian earthquake relief effort in Turkey.
Daniil Martynov was in several locations in Ukraine last year in the early weeks of the Russian invasion. He is thought to be close to the Chechen leader Ramzan Kadyrov and has been featured in several videos on Kadyrov's official Telegram channel.
In recent days, he has given interviews to Russian media outlets from the earthquake zone in Turkey, after being appointed last year as an adviser in Russia's Emergency Situations Ministry.
Authorities have been racing against the clock to free survivors from the wreckage of a 7.8 magnitude earthquake that struck early on Monday morning, causing buildings to collapse and killing thousands in Turkey and Syria. Dozens of countries have sent aid to help with rescue efforts.
Last August, the Ukrainian security service, the SBU, alleged that Martynov had committed a series of war crimes in the town of Borodianka, north of Kyiv.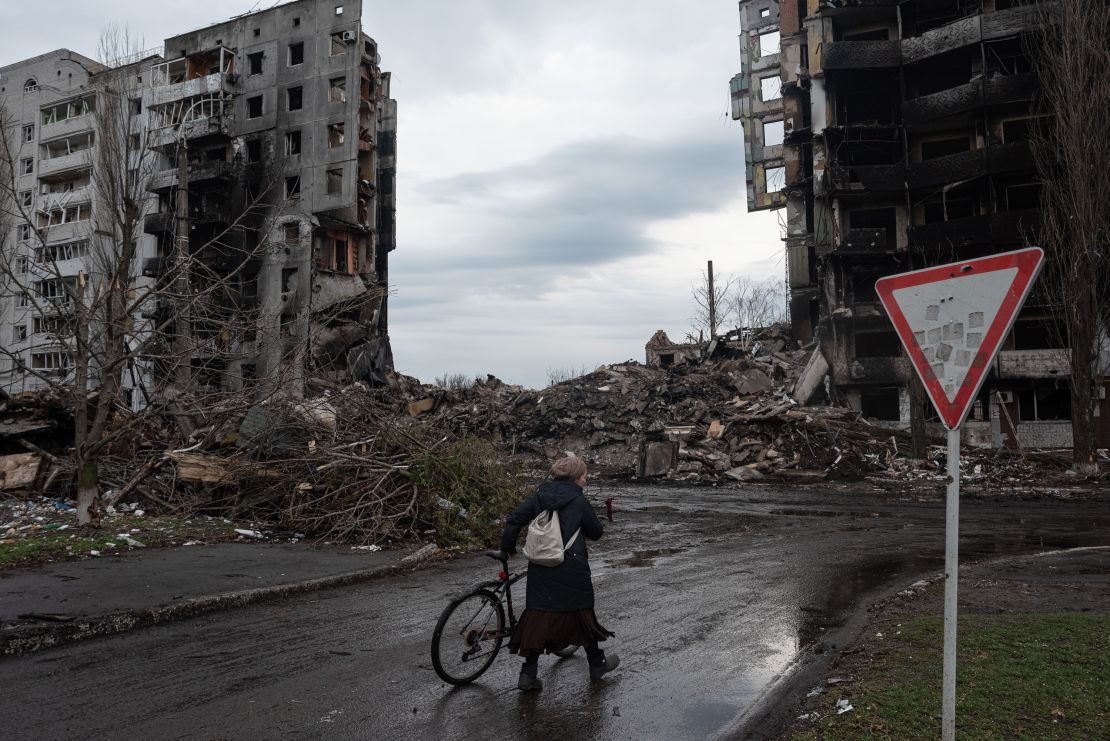 The SBU described Martynov as the Deputy Head of the National Guard Troops in the Chechen Republic and said he was "responsible for the training of Kadyrov's personal security detail."
The SBU alleged that Martinov managed the occupation of the Borodianka psychiatric hospital in March. It said that on his orders "almost 500 people were taken hostage (patients, staff and local residents), including more than a hundred bed-ridden patients."
The SBU alleged that the hospital had been "turned into a firing position of the occupiers" and said that Martynov was accused of "violation of the laws and customs of war, and abuse of prisoners of war or civilians."
CNN reported on the occupation of the hospital last March.
The director of the psychiatric hospital, Maryna Hanitska, told the independent Russian outlet Meduza last year that the Russians had "laid mines all around us. We watched as they dug trenches" in the first week of March.
Meduza quotes Hanitska as saying: "A soldier stood in front of me and he introduced himself. He said he was Daniil Martynov, a Russian army colonel. He said that if we behaved ourselves, then we would live — they wouldn't kill us, wouldn't hurt us."
Hanitska told Meduza that Martynov told her: "Now we'll record a short video, you'll thank us and you'll be free, you'll be under the protection of Russian President Vladimir Putin."
"I asked, what's there to be thankful for? He leaned in close to my face, looked me in the eyes, and said: "For the fact that you're alive."
CNN cannot independently confirm that it was Martynov who spoke to the hospital director.
There is no record of Martynov responding to the Ukrainian allegations. While dismissing the SBU accusations last August, Kadyrov said: "With regard to Martynov, he does not work for us. He's working with the MES [Ministry of Emergency Situations.]"
In a voice recording, Kadyrov said: "OK, SBU, just tell us the time and place and we will come sort out just who the real criminals are."
Martynov was sanctioned in 2020 by the US Treasury Department for "serious human rights abuse in Russia." It said he was "a personal security adviser for Kadyrov, [and] has acted or purported to act for or on behalf of, directly or indirectly, Kadyrov."
Several videos posted on Kadyrov's official Telegram channel last year show Martynov at various locations in occupied parts of Ukraine.
In one he is described as a member of Chechen special forces in Ukraine.
Among the locations where he was seen was the town of Popasna in Luhansk region, which was razed to the ground by Russian shelling.
He is also seen in the city of Luhansk and visiting wounded soldiers at an undisclosed location.
CNN is reaching out to Russia's Emergency Situations Ministry for comment on Martinov's role at the Ministry, as well as to the Ukrainian Security Service.