Real Madrid will face Saudi Arabian team Al Hilal in the final of the Club World Cup after defeating Al Ahly 4-1 in Morocco on Wednesday.
Vinícius Jr opened the scoring with a brilliant chip just before halftime at a sold-out Prince Moulay Abdellah Stadium in Rabat, before Federico Valverde doubled the lead at the start of the second half.
Al Ahly, the Asian champion which defeated Auckland City and the Seattle Sounders in the early rounds of the Club World Cup, got a goal back when Ali Maâloul scored from the penalty spot after Eduardo Camavinga's foul, but Real Madrid pulled away in the closing stages of the match – even after Luka Modrić missed a penalty.
Rodrygo made it 3-1 after a neat exchange of passes with Dani Ceballos in the Al Ahly box, then Sergio Arribas completed the victory after the Egyptian side failed to clear a free-kick into the box.
"We did well today because it was a match where we had everything to lose and nothing to win," Real Madrid manager Carlo Ancelotti told reporters. "We controlled the game pretty well. It's a great feeling to reach the final."
Despite playing overseas, Los Blancos were well-supported in Morocco with thousands of fans decked in white and noisily cheering each goal.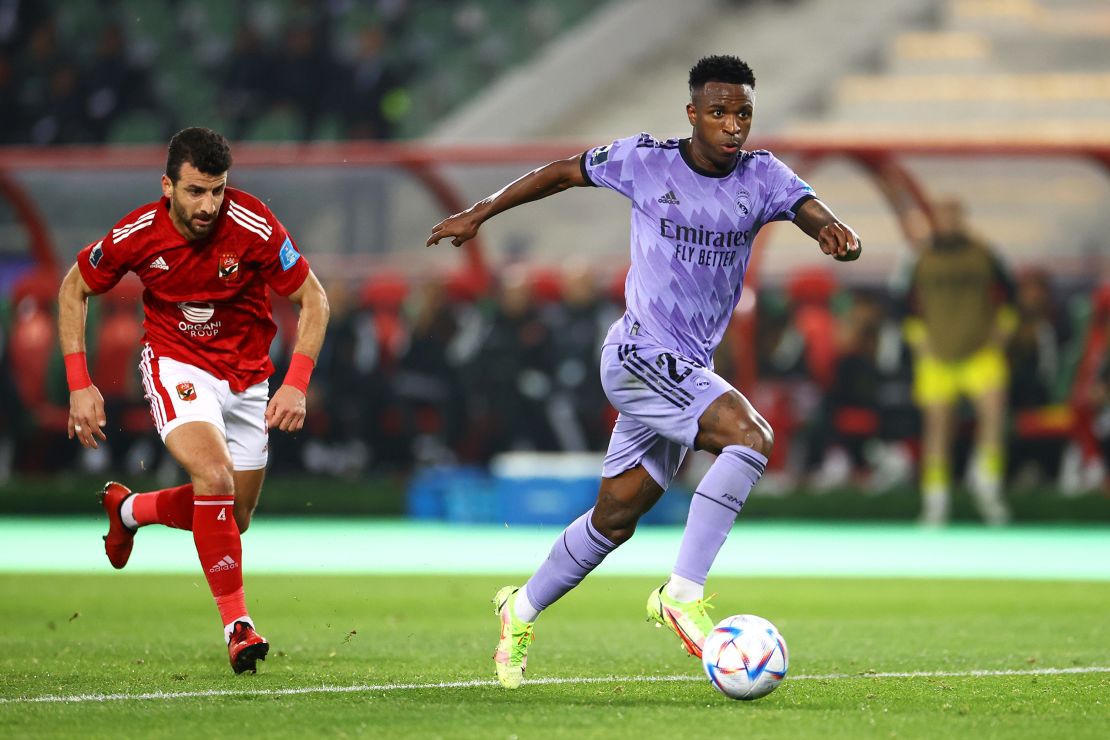 The European champion was without striker Karim Benzema, goalkeeper Thibaut Courtois and defender Éder Militão, but in the end had enough star quality to break down Al Ahly's stubborn defense.
The Club World Cup, held annually since 2005, features the six winners of each continent's major club competition plus an additional team from the host nation.
Real Madrid has won the tournament on four previous occasions, most recently in 2018.
Al Hilal, which defeated South American champion Flamengo 3-2 in the other semifinal, is looking to become the first Asian champion of the Club World Cup on Saturday having already become the first Saudi team to reach the final.
"Football's changing because there are a lot of teams all over the world that can compete, fight and win, too," said Ancelotti.
"I was surprised that Flamengo were eliminated, but they're in preseason and their fitness level isn't at its peak and the rest of the teams, who are in the middle of the season, are at their peak."
At the end of last year, FIFA president Gianni Infantino announced that the Club World Cup would be turned into a 32-team tournament played every four years from 2025.
CNN's Alasdair Howorth contributed to reporting.