Survivors of Monday's earthquake in Turkey and Syria could face "a secondary disaster" as cold and snow lead to "worsening and horrific conditions," the World Health Organisation (WHO) said Thursday.
Speaking at a press conference in Geneva, WHO incident response manager Robert Holden warned there were "a lot of people" surviving "out in the open, in worsening and horrific conditions."
"We've got major disruptions to basic water supplies, we've got major disruption to fuel, electricity supplies, communication supplies, the basics of life," Holden said.
"We are in real danger of seeing a secondary disaster which may cause harm to more people than the initial disaster if we don't move with the same pace and intensity as we are doing on the search and rescue side," Holden added.
The scale of the challenge is amplified by the fact that affected areas in both Turkey and Syria are facing colder than normal temperatures. For example, the Syrian city of Aleppo is forecast to have lows of -3°C to -2°C (27°F to 28°F) through this weekend, whereas February lows are normally 2.5°C (36°F).
And years of conflict and an acute humanitarian crisis mean that there are extra difficulties in helping survivors in Syria, where international aid has been slow to arrive. It took until Thursday for the first United Nations aid convoy to cross from Turkey into northwest Syria.
The United Nations Office for the Coordination of Humanitarian Affairs (UN OCHA) said Thursday's convoy, made up of six trucks carrying shelter items and Non Food Items (NFI), crossed through the Bab al-Hawa crossing – the only humanitarian aid corridor between Turkey and Syria.
"The UN cross-border aid operation has been reinstated today. We are relieved that we are able to reach the people in northwest Syria in this pressing time. We hope that this operation continues as this is a humanitarian lifeline and the only scalable channel," Sanjana Quazi, head of OCHA Türkiye said.
The delivery on Thursday ends a three-day period during which no aid arrived at the Bab al-Hawa border crossing from Turkey to rebel-held areas of northern Syria – just 300 bodies, according to the administration that controls the only access point between the two countries.
"How are roads okay for cars carrying bodies, but not for aid?" Mazen Alloush, Bab al-Hawa's frustrated spokesperson had asked CNN.
Immediately after the quake, the United Nations said roads to the crossing were blocked, but as of Wednesday they were clear, raising questions as to why it was taking so long for help to arrive.
A top aid official told CNN earlier that efforts to help people in quake-stricken regions of Syria have been "incredibly difficult," because passage entries along the border were destroyed due to the disaster.
"On top of that, in Syria, this happens in the middle of a conflict zone," said Jan Egeland, secretary general of the Norwegian Refugee Council.
The situation in Syria is starkly different to Turkey, where dozens of countries and international organizations have offered teams of rescuers, donations and aid.
The delivery of urgent supplies to quake-hit areas of northern Syria has been complicated by a long-running civil war between opposition forces and the Syrian government, led by President Bashar al-Assad, who is accused of killing his own people.
Syrian Foreign Minister Faisal Mekdad says any aid it receives must go through the capital Damascus. "The Syrian state is ready to allow aid to enter into all regions, provided that it does not reach terrorist armed groups," he said.
That leaves rebel-held areas reliant on aid groups including the UN.
Millions living in the rebel-held areas of northern Syria were already suffering from the effects of extreme poverty and a cholera outbreak when the quake hit. Now many are fending for themselves.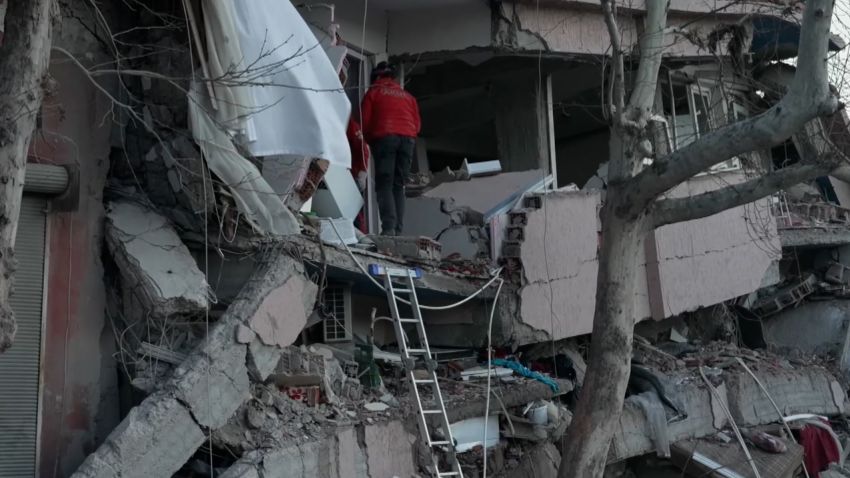 CNN captures the moment Turkey residents are rescued from debris
Abu Muhammad Sakhour, a former merchant, is volunteering as a nurse in the rebel-held city of Idlib, dressing wounds for quake victims and checking up on the injured who have been discharged from crowded hospitals.
"The situation is catastrophic in every sense of the word," he said. "We are now healing our own wounds."
Single border crossing into Syria
At the Bab al-Hawa border crossing, protesters held signs asking why only bodies were being allowed through. The bodies belong to Syrian refugees who sought safety in Turkey and are now being sent back to be buried on home soil.
Muhammad Monther Etaky, from the Independent Doctor's Association, is living out of his car with his family in Gaziantep, Turkey, but is in close contact with colleagues in Syria. He said hospitals there have been overwhelmed with bodies, and staff are waiting for families to come and identify them, so they can be taken away.
But survivors are facing their own challenges each day as water supplies dwindle and disease threatens to spread. Moutaz Adham, Oxfam's country director for Syria, said residents are struggling to find food – even bread is hard to come by because so many bakeries collapsed in the quake.
"Syrians don't know where their next meal comes from. When we say meal, it's not about vegetables, not about meat… it's about simple bread," he said.
There has been "no investment" in the isolated region for over a decade, said Kieran Barnes, Syria Country Director for the humanitarian organization Mercy Corps. Tens of thousands of people are living in temporary shelters with no access to water, he said.
"We work in 98 camps to provide water, because there are no water networks. We deliver the water directly to the people," he said.
Sherwan Qasem, spokesperson with Doctors without Borders, said access to the area had been limited by restrictions on the cross-border mechanism agreed by the UN Security Council resolution in 2014 to allow aid to cross four places on the Turkey-Syria border.
Since 2021, Russia and China have used their veto power to reduce the number of crossings from four to just one – Bab al-Hawa. In January, less than one month before the quake, the UNSC unanimously voted to keep it open, a vote reluctantly backed by China and Russia, whose ambassador said it enabled aid to flow to a Syrian enclave "inundated with terrorists."
Barnes, from Mercy Corps, said it's vital the crossing remains open.
"We don't need the politics. We don't need the game playing that's going on. What we do need is for the international community to focus on the border crossing staying open," Barnes added. "Because now, we are past the first phase of finding people, and we are heading into the humanitarian phase. We need to provide people with basic shelter, food, and water."
Aid reaching government-controlled areas
The number of people who were in need of humanitarian assistance before the earthquake stood at 15.3 million – but that number will now have to be revised, UN Resident Coordinator for Syria, El-Mostafa Benlamlih said.
In Aleppo alone 100,000 people are believed to be homeless, with 30,000 of that number currently sheltered in schools and mosques.
"Those are the lucky ones," he said.
The remaining 70,000 "have snow, they have cold and they are living in a terrible situation," he added.
An aid worker distributing supplies across cities in northern Syria told CNN on Thursday that homeless people have been sleeping in their cars amid a "very, very difficult," situation.
"Those who are still alive under the rubble might die from the cold weather," Mostafa Edo, the Country Director for the US-based NGO MedGlobal said.
So far, several countries, including the United Arab Emirates, Iraq and Russia, have sent relief to regime-controlled airports. Other countries, including China, Saudi Arabia, Qatar, and Canada, have also pledged aid.
But the Syrian government says it needs more – and has called for sanctions placed on the country to be lifted. A number of Western countries have imposed bans on trade with Syria, including weapons, equipment, petrochemicals and luxury goods.
China, a key Syrian ally, echoed Damascus' plea to lift sanctions, urging Washington to "put aside its geopolitical obsessions."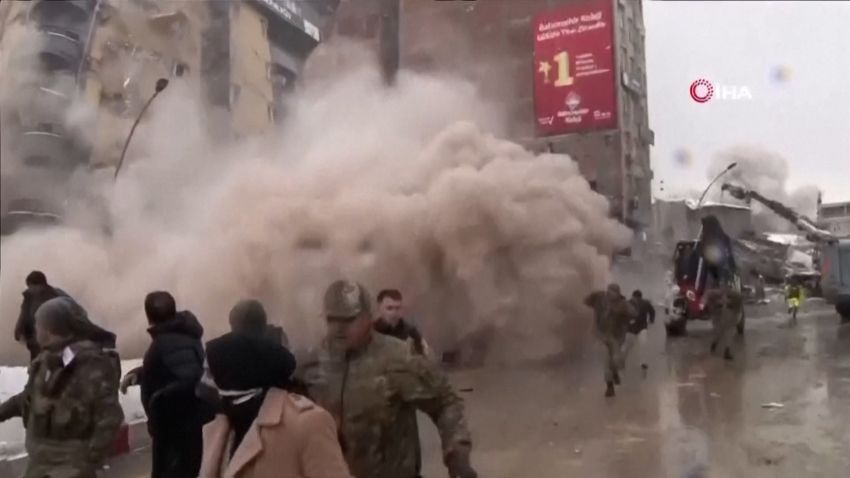 Here's why the earthquake in Turkey and Syria was so deadly
"The US has been involved in the Syrian crisis for a long time," Mao Ning, spokesperson of China's Ministry of Foreign Affairs, said Wednesday. "The frequent military interventions and harsh economic sanctions have caused massive civilian casualties in Syria and made it difficult for the people to obtain basic livelihood security."
But this cry for help has been met with outrage among some of al-Assad's critics.
"He is using the disaster as a ticket to remove sanctions," said Omar Abu Layla, executive director of Deir Ezzor 24, a research organization that delivers news from Syria's Deir al-Zour province. "If we want to bring aid to Syria, we can. Time is critical. We are playing with life and death."
Video: 'Can't rescue them': Survivors struggle after earthquake
The US has, for its part, ruled out changing its position on the regime.
"It would be quite ironic, if not even counterproductive, for us to reach out to a government that has brutalized its people over the course of a dozen years now," US State Department spokesperson Ned Price told reporters Monday.
"We have humanitarian partners on the ground who can provide the type of assistance in the aftermath of these tragic earthquakes. This is a regime… that has never shown any inclination to put the welfare, the wellbeing, the interests of its people first."