Steven Brann was out Wednesday on the Gettysburg battlefield in Pennsylvania, sweeping the ground with a metal detector ahead of crews that are rehabilitating a famous part of the Civil War park.
Brann usually comes across small stuff like Minié balls, a type of bullet, or percussion caps from firearms. This time, the contract archaeologist got a more powerful reading. Using a pinpoint detector and shovel, Brann gingerly worked from the surface. He kept digging and sifting. Digging and sifting. Twenty inches down.
This must be another artillery shell fragment, he figured.
Instead, Brann turned up an entire unexploded round, covered in mud and looking as ominous as the day it was fired in July 1863.
"He laid it gently on the ground, took a picture of it and ran for the hills," said Jason Martz, spokesman for Gettysburg National Military Park.
Martz spoke Thursday with Brann about the "rare find" of an intact shell near Little Round Top, site of a current overhaul that has closed the landmark to visitors. Only five such shells have been found at Gettysburg since 1980, including one in 1998 near the current visitor center and museum.
Park officials quickly closed off roads and called in explosive ordnance experts from the Army's Fort Belvoir, a couple hours away in northern Virginia. That team carried the 10-pound shell away, dug a hole, placed C-4 explosives and blew the artifact up, said Martz.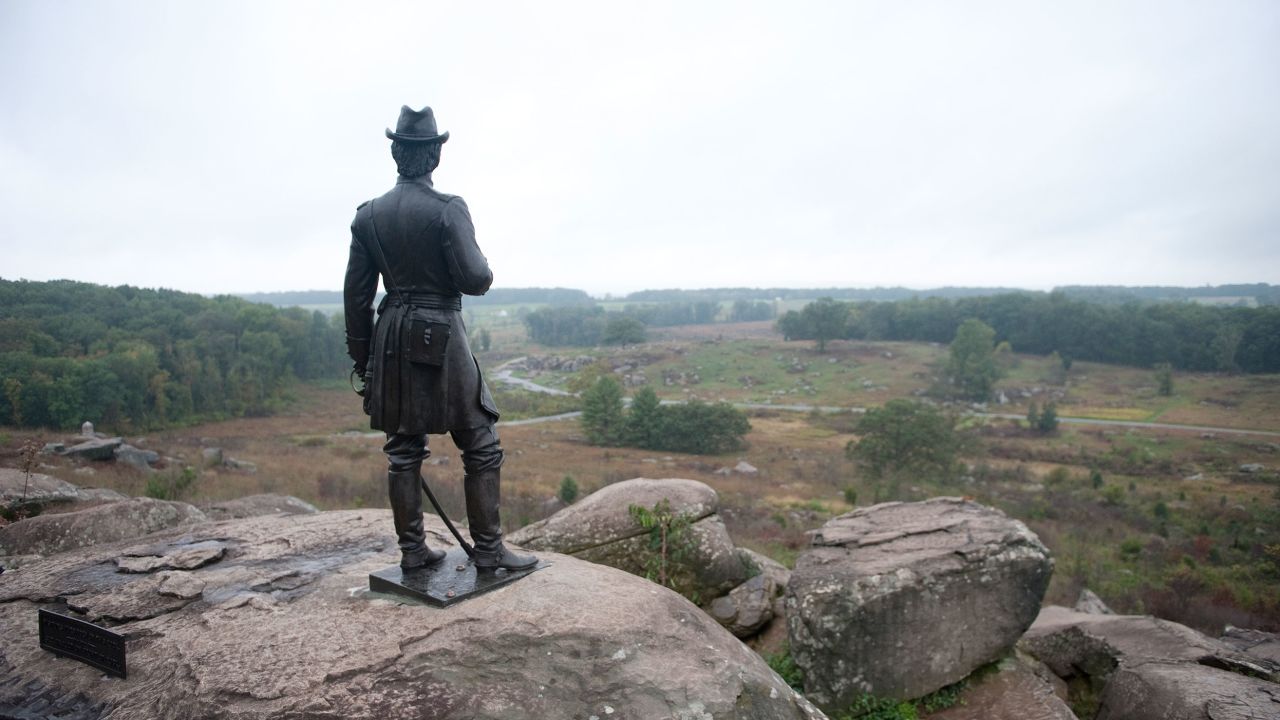 "Safety protocols call for us to assume it is live," he said.
Many of those following the park's Facebook page debated whether the artillery round, about 7 inches long, should have been saved. "Ironic that a national military park who wants to preserve the battlefield, would destroy a relic from that very battle. This could have easily been displayed at the park," wrote one.
But destroying munitions is standard protocol for most government agencies. Rendering them safe for display is a difficult and often dangerous task.
Decisions are "1,000 percent based on safety," Martz said in a phone call. And, the spokesman said, the park already has examples of similar artillery rounds in its collection.
There's much to learn about the artifact – for example, where was it fired from and by whom. Thus far, park officials believe a Confederate cannon fired it toward Federal positions and mistakenly dropped shells on friendly Texas regiments trying to navigate the difficult terrain.
"It is fascinating to me we can still find items like this in the battlefield," retired park historian John Heiser told CNN. "Nothing surprises me out there. I am sure there is still ordnance buried all over the battlefield."
Gettysburg, a momentous American battle
The Battle of Gettysburg is considered a key turning point in the Civil War. With a Union victory over Gen. Robert E. Lee's troops, "the loss there dashed the hopes of the Confederate States of America to become an independent nation," according to the American Battlefield Trust.
Tens of thousands of men were killed or wounded there and features of the battlefield are remembered today: Devil's Den, the Wheatfield, Peach Orchard, Little Round Top and Big Round Top, among others.
For many, the most famous landmark is the blood-soaked soil where Pickett's Charge, the doomed Confederate assault on the third day of the July 1-3 battle, took place. A special focus was the so-called Angle, the object of the attack on the Union center.
But the 1993 movie "Gettysburg," starring Jeff Daniels as Union hero Joshua Chamberlain, brought a new focus on Little Round Top, said Heiser, the retired Gettysburg park historian.
On July 2, Yankee troops on the far left of the line at Little Round Top beat back Rebel soldiers who pushed their way up the hill, intent on rolling up the Union left. But boulders, heavy brush and heavy gunfire ended Confederate dreams that day.
After the battle, Union troops recovered artillery shells, and those they did not get were picked over by civilians, with the occasional explosion. While research has just started, park officials believe this one was fired, rather than dropped or left behind. It's possible it spun into soft ground, to be covered by nearly two feet of soil.
"It is possible where the shell was found (it) has been undisturbed for nearly 160 years," said Martz.
Dud could have been a case of friendly fire
Park officials believe the shell, determined to be a Burton round by members of the Army's 55th Ordnance Company, came from a Parrott cannon or 3-inch ordnance rifle. The park said Federal cannon batteries in the area could not have fired the round. They were firing on other Rebels. Instead, it likely came from ridges or other positions to the west held by Confederates.
"It either overshot Devil's Den or undershot Little Round Top," said Martz, landing about 50 yards or so from Plum Run, a stream that runs through the battlefield.
Members of the attacking 4th and 5th Texas regiments were in the vicinity.
"Our artillery on the hill to our rear was cutting its fuse too short. Their shells were bursting behind us, in the treetops, over our heads, and all around us," one soldier wrote after the war.
"Nothing demoralizes troops quicker than to be fired into by their friends. I saw it occur twice during the war. The first time we ran, but at Gettysburg we couldn't. This mistake was soon corrected and the shells burst high on the mountain or went over it."
Army officials said the round was case shot. Photographs indicate a fuse, meaning it was explosive and needed to be handled carefully after it was found, Heiser said.
Despite the destruction of the artifact, park officials say it can still contribute toward visitor education.
"We ourselves would like to know as much as we can, so we can tell this story when we are doing ranger programs," said Martz. "It is possible that Confederate artillery fired upon Confederate infantry."
Other artifacts collected by archaeologists as part of the Little Round Top rehabilitation project are being cataloged, placed in plastic bags and then in park storage. Some may one day be put on display at the museum or in a virtual presentation, officials said.
Chris Gwinn, chief of interpretation at the park, said in an email that the shell will provide validation to accounts of the battle.
"More importantly, what it does do, and I think why the public is so fascinated by it, is that it reminds us that it was all real," Gwinn said. "The battle really happened and beneath the veneer of this beautiful national park are the tangible reminders of its ferocity and tragedy. Finds like this help connect people to the past and make it a real, three-dimensional place."