A NewsNation correspondent was arrested on Wednesday after he began reporting live during a news conference held by Ohio authorities regarding a train derailment – an incident police said involved a confrontation between him and a National Guard official after he was told to stop speaking during the governor's remarks.
Law enforcement officers interrupted NewsNation correspondent Evan Lambert as he broadcast from the event, where authorities announced they were lifting a multiday evacuation order near the site of a fiery weekend derailment in East Palestine, Ohio.
Two state highway patrol troopers and the Ohio National Guard's adjutant general, Maj. Gen. John Harris, asked Lambert to stop his live reporting because they believed it was loud and disruptive, East Palestine police said in a news release Thursday.
An argument then broke out between Lambert and Harris, who pushed the reporter away from him as Lambert was approaching Harris "in an aggressive manner," police said.
After Harris reported the interaction to law enforcement, officers told Lambert he needed to leave the building because the situation had "evolved into a physical confrontation and required law enforcement intervention," police said. After Lambert refused, the officers tried to de-escalate by asking him to step outside to talk, but Lambert did not, police said.
The reporter was then advised he was under arrest and escorted out of the building, at which time he tried to pull away, according to police.
Lambert was taken to the ground by officers and was "not listening to the officers and was attempting to get up," before he eventually complied, police said.
East Palestine police officers placed Lambert under arrest on preliminary charges of criminal trespassing and resisting arrest, Columbiana County Sheriff Brian McLaughlin told CNN.
Lambert, however, indicated he faced charges of criminal trespass and disorderly conduct, according to a statement from NewsNation's Washington Bureau Chief Mike Viqueira.
The officers arrested Lambert soon after he got off the air, NewsNation reported.
Gov. Mike DeWine later expressed concern about the arrest and his office said he wasn't aware of it as it happened. Lambert was released from a county jail on bail Wednesday night.
"No journalist expects to be arrested when you're doing your job, and I think that's really important that that doesn't happen in our country," Lambert told his network in an aired interview after his release.
NewsNation is "relieved that Evan Lambert is safe and headed home for a much-needed respite," Viqueira said in a Thursday statement.
"We never want to lose sight of the fact that Evan was in Ohio to provide up to the minute reporting about a tragic train accident that has impacted thousands of lives," the statement reads. "Evan handled this unfortunate situation with true professionalism, and we appreciate his commitment as a journalist whose goal is to report stories that are fair and unbiased."
Lambert had paperwork saying "there are still charges pending against me," he told NewsNation after his release.
"I see no reason why the charges would be dropped but that is in the Prosecutors Office hands at this point," McLaughlin told CNN in a statement Thursday morning.
Michael Corn, the president of news at NewsNation, said Thursday in a Twitter statement that the "many videos of this incident taken by bystanders speak for themselves."
"We will let people draw their own conclusions about this incident was handled by the officers involved," Corn continued.
CNN has sought comment from the Ohio Adjutant General's Department.
Officers pushed reporter, video shows
The news conference was scheduled to begin at 3 p.m., but was delayed until about 5 p.m., NewsNation reported. DeWine began speaking just as Lambert was scheduled to begin his live broadcast, the outlet said.
The broadcast shows Lambert ended his live report abruptly, saying, "We're actually being told we need to stop broadcasting because this news conference is behind us." The correspondent then quickly signed off the air.
Law enforcement officers then asked Lambert to leave, NewsNation reported.
Cell phone video provided by NewsNation shows several law enforcement officers surrounding Lambert near the door of the gymnasium, blocking him from walking further into the room and trying to get him to leave.
Two officers eventually grab Lambert by the arms and push him out of the gym, video shows. The officers then put him on the ground and handcuff him. Lambert can be heard identifying himself as a reporter.
The correspondent initially was detained in the Columbiana County Jail, Viqueira said.
"As you see from the videos, he was doing his job – what hundreds of journalists do without incident – reporting to the public on a matter of urgent, critical interest to our audience," Viqueira said.
The governor did not see Lambert's arrest happen, but was later told that a reporter was asked to end his broadcast because "the volume of his reporting was perceived to be interfering with the event," his office said in a statement after the news conference.
"Governor DeWine did not request that the reporter stop his live broadcast, nor did he know that the request was being made," his office said. "Because the governor did not witness what occurred after the broadcast ended, we cannot provide comment on what led to the reporter's arrest."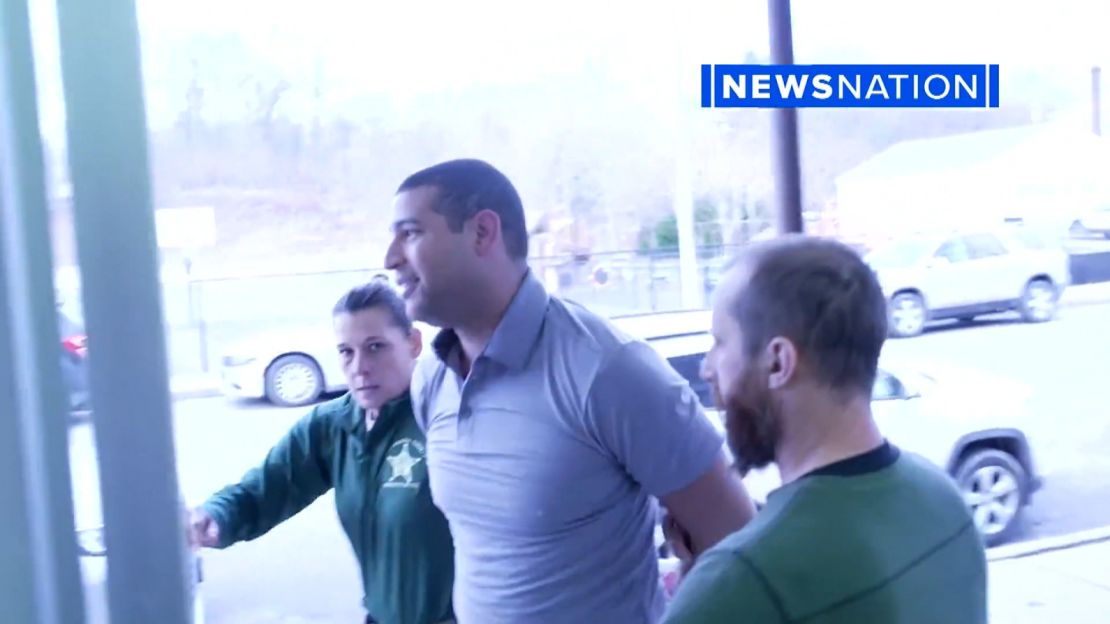 When reporters asked DeWine about the arrest at the end of the news conference, he declined to comment on specific details but said it is common practice for journalists to report live from his events and that they have a right to do so.
"That person had a right to be reporting. They should have been allowed to report," he said. "If they were in any way hampered from reporting, that certainly is wrong and it's not anything that I approve of. In fact, I vehemently disapprove of it."
During the news conference, DeWine and local officials provided an update on the train derailment, the wreckage of which burned for days and prompted evacuations over the threat of a deadly explosion and leakage of its toxic cargo.
Lambert told NewsNation after his release that he was "just trying to do his job."
"And that's what it's all about, protecting the first amendment and democracy and trying to help people get information," he said.
CNN's Elizabeth Wolfe, Jon Passantino, Jamiel Lynch, Sara Smart and Yon Pomrenze contributed to this report.