For centuries, cows have been considered sacred by India's majority Hindu population, a symbol of both the Earth and the divine.
Indeed, so revered are the animals that authorities had planned to rebrand this Valentine's Day as "Cow Hug Day", hoping the move would both boost citizens' "emotional richness" and strike a blow for local heritage over what is seen as a western cultural import.
But the move appears to have backfired and been abandoned after it prompted a flood of internet memes, cartoons and jokes by TV hosts about the importance of consent.
The declaration of February 14 as "Cow Hug Day," had come in a statement Monday from the Animal Welfare Board of India, which called cows the "backbone of Indian culture and rural economy."
The cow is "the giver of all, providing riches to humanity" due to its "nourishing nature," said the agency, a statutory body that advises India's Ministry of Fisheries, Animal Husbandry and Dairying.
It said the push to hug cows was part of an effort to promote "Vedic" or sacred Hindu traditions, which it claimed have been eroded by Western influence.
"Vedic traditions are almost on the verge of extinction due to the progress of (western) culture over time," the statement said. "The dazzle of western civilization has made our physical culture and heritage almost forgotten."
But within a week of the announcement – after days of mockery and ridicule online – the idea appears to have been dropped.
For days, media outlets have been mocking the government's plan, publishing satirical cartoons showing cows running away from amorous men, while internet users have delighted in posting videos of violent encounters between beast and man.
An anchor on one of India's leading English-language news channels, NDTV, was even filmed attempting to hug several cows, which appeared to rebuke his advances.
"Consent is important," he joked during the segment.
'Cow science'
This is not the first time the government has caused a stir with its policies towards cows – the killing or eating of which is considered a sin by many Hindus, who account for about 80% of India's 1.3 billion people.
The sale and slaughter of the animal is banned in much of the country and the animals are often left to roam free in the streets and roads looking emaciated, where motorists must take care to avoid hitting them.
An agency for the protection of cows, known as the Rashtriya Kamdhenu Aayog (RKA), was set up in 2019 by the Ministry of Fisheries, Animal Husbandry and Dairying.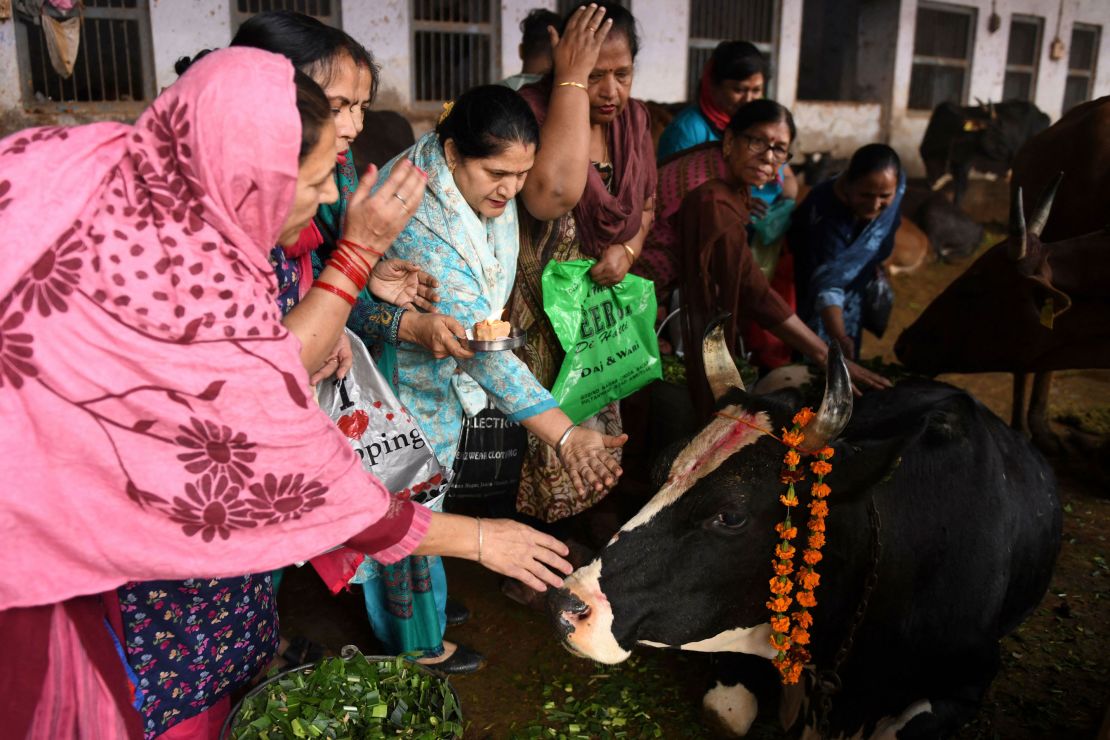 Two years later, the RKA was forced to indefinitely postpone a national "cow science" exam after the curriculum prompted widespread criticism over its unscientific claims about the animal.
Among several unproven claims, the 54-page exam study guide stated that large-scale abattoir activity leads to major earthquakes, suggesting that pain emitted by mass slaughter could generate enough stress to trigger a seismic reaction.
Without providing evidence, it also stated that native (Indian) cows produce the best quality of milk, compared to "exotic cows."
A political animal
Following Prime Minister Narendra Modi's rise to power in 2014 on a wave of Hindu-nationalism, the animal has also become increasingly politicized.
Modi's Bharatiya Janata Party (BJP) is strongly aligned with conservative Hindu traditions and critics say cow-worship has been used as a tool to intimidate, harass and even kill Muslims, who they accuse in some cases of disrespecting the animals.
According to Human Rights Watch, cow vigilante crimes in India have been ignored or covered up by authorities since Modi took office.
During Modi's 2014 election campaign, he promised to end a "pink revolution" – a phrase he used to describe the slaughter of cattle.
Other BJP lawmakers have taken it one step further.
"I had promised that I will break the hands and legs of those who do not consider cows their mother and kill them," said Vikram Saini, a legislator for the state of Uttar Pradesh, at an event in March 2017.
The statements led to outcry in the country where violence against women and minorities make frequent headlines. Critics say there is a double standard within the government, and argue the BJP isn't doing enough to protect vulnerable groups.
In 2017, a photo series from photographer and activist Sujatro Ghosh portraying Indian women wearing cow masks went viral on social media. The series of images was intended to depict a society in which cows are more valued than women.
Speaking to reporters about "Hug a Cow Day" on Thursday – before it was cancelled – BJP lawmaker Giriraj Singh said "a very good decision has been taken" by the government.
"Cows should be hugged," he said. "We should love and hug the cow."