Editor's Note: A version of this story appears in today's Meanwhile in the Middle East newsletter, CNN's three-times-a-week look inside the region's biggest stories. Sign up here.
Tens of thousands of flag-waving Israelis converged on the nation's parliament Monday, amid warnings that Prime Minister Benjamin Netanyahu's plan to weaken the judiciary risks plunging the country into a "social collapse."
Protesters held signs with messages including "there is no democracy without equality" and "destroying the country to avoid trial" – a reference to the perception that Netanyahu's desire to halt his corruption trials is behind his government's planned judicial reforms.
LGBTQ rainbow flags and a few Palestinian flags were sprinkled among many Israeli flags in the crowd.
Television pictures showed some demonstrators dressed as handmaids from the dystopian book "The Handmaid's Tale," in long red dresses with white head coverings.
Despite the protest – and an impassioned plea from President Isaac Herzog on Sunday night not to start the legislative process – the government began introducing the reform bill in parliament, the Knesset, on Monday as planned. Herzog warned that Israel is "on the brink of constitutional and social collapse," and possibly faces "a violent collision."
Chaotic scenes unfolded within the Knesset's Constitution, Law and Justice Committee meeting on the bill before the protest even got underway, as opposition members of parliament chanted "shame."
At one point some of them jumped over tables to yell at coalition members, before being removed by security.
The bill passed the committee vote and will face a first reading in the full Knesset, likely on Wednesday.
Netanyahu's coalition is seeking the most sweeping overhaul of the Israeli legal system since its founding.
The most significant of the changes would allow a simple majority in the Knesset to overturn Supreme Court rulings.
The reforms also seek to change the way judges are selected, and remove government ministries' independent legal advisors, whose opinions are binding.
US President Joe Biden, who rarely expresses an opinion on internal Israeli politics, called for consensus in a statement to the New York Times on Sunday: "The genius of American democracy and Israeli democracy is that they are both built on strong institutions, on checks and balances, on an independent judiciary. Building consensus for fundamental changes is really important to ensure that the people buy into them so they can be sustained."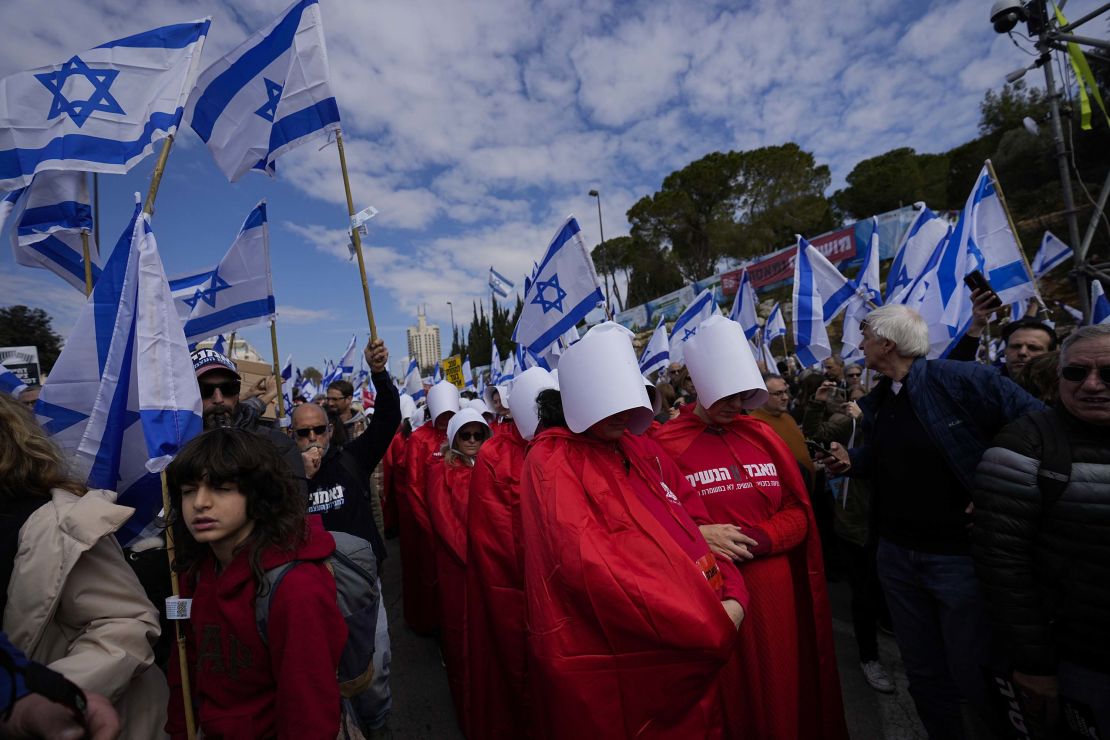 Meanwhile in an unusual primetime address on Sunday evening, Israeli President Herzog called for a halt to the legislative process so that both sides could come together and work on reforms based on consensus.
Recognizing that both sides should have their voices heard, Herzog presented a five-point plan for reform which included changing the way judges are selected and strengthening elements of the country's Basic Law. Israel has no written Constitution.
Although the US praised Herzog's speech, Israeli Minister of Justice Yariv Levin said while there were "positive elements in his proposal," there were "also elements that perpetuate the existing abnormal situation."
But Levin said the legislative action should not be halted for such talks, instead saying "along with advancing the legislation, we all have enough time to be able to talk and reach understandings before the second and third readings."
Netanyahu, speaking in a video message, accused opposition leaders of "dragging the country into anarchy," urging them to "show responsibility and leadership."
"I call on the leaders of the opposition: stop it. Stop deliberately leading the country into anarchy. Get ahold of yourselves, show responsibility and leadership," Netanyahu said. "Most Israeli citizens do not want anarchy. They want a substantive discussion and in the end they want unity."
Opposition leaders including former Prime Minister Yair Lapid and former Defense Minister Benny Gantz addressed the crowds earlier.
Yohanan Plesner, president of the Israel Democracy Institute, said that if the legislation passes, it could result in "a fundamental change in the nature of Israel" that could have significant social implications down the road.
He said a standoff could occur if the Supreme Court decides to strike down the new legislation, which could then be overridden by parliament and the government, and that move in turn could be deemed illegal by the Supreme Court.
"And then we will have a constitutional deadlock where there is no agreed upon mechanism for making a decision," he told CNN, adding that such a scenario isn't likely for now. "This, I would say, is a threat that is looming, but we are yet to find out."
The protests are likely to intensify as the bill advances through the Knesset, he said.
Israeli bills need three readings in the Knesset before becoming law.
Additional reporting by Amir Tal in Jerusalem and Nadeen Ebrahim in Abu Dhabi.