Arielle Anderson had a gentle laugh and was full of ambitions: She was studying to become a doctor one day, her aunt said.
"Have you ever met a young person who was simply "Pure in Heart"… well that was @ariellediamond_ … simply PURE … she never raised her voice past a whisper or gentle laugh," her aunt and reality TV star Chandra Davis said in an Instagram post. "She was a remarkable student, attending MSU to become a doctor."
Anderson was one of three Michigan State University students killed in a mass shooting on campus Monday night, university police said Tuesday.
The Michigan State University Department of Police and Public Safety identified the three students killed Monday night as juniors Anderson and Alexandria Verner, and sophomore Brian Fraser.
Anderson and Fraser hailed from the same town of Grosse Pointe, Michigan, leaving their hometown with a double loss.
At the time of the shooting, five other students remained in the hospital, the release said. As of February 23, one of the injured students has been discharged, according to the university.
"We cannot begin to fathom the immeasurable amount of pain that our campus community is feeling," the police release said.
These are the stories of the victims.
Arielle Anderson
Davis said her family is heartbroken and struggling to deal with Anderson's passing.
"How is it that she was in class doing what she was supposed to be doing and yet and still her life was taken by a coward who clearly didn't understand the devastation he was about to cause my entire family," Davis wrote.
"No parent should have to bury their children. It truly hurts y'all."
Anderson's family remembers her smile and just how hard she worked, the family told the university student paper, The State News.
"She was working diligently to graduate from Michigan State University early to achieve her goals as quickly as possible," the family said in a statement. "As an Angel here on Earth, Arielle was sweet and loving with an infectious smile that was very contagious. We are absolutely devastated by this heinous act of violence upon her and many other innocent victims."
Anderson, 19, was the youngest of three siblings and is survived by her mother, brother and sister, according to Davis.
She graduated in 2021 from Grosse Pointe North High School, according to district superintendent Jon Dean.
Alexandria Verner
Verner was kind, positive and "everything you'd want your daughter or friend to be," a family friend said.
"Her kindness was on display every single second you were around her," Clawson Public Schools Superintendent Billy Shellenbarger told CNN. He is friends with the Verner family and has known Alexandria, or Alex, as he called her, since she was in kindergarten.
She was a junior at the university studying biology, according to The State News.
Verner, 20, touched a lot of people in the town of Clawson, Michigan, Shellenbarger said, which he described as a small, 2-mile by 2-mile community.
"To lose her on this planet, let alone our small community, it's tough," he said. "And it's going to take a while to recover, but to have known her for the duration of time that we all have, once again, is a gift to all of us," he said.
Verner's family is "being about as strong as a human being can be in the face of this tragedy," Shellenbarger said, adding he spoke with them Tuesday.
Shellenbarger was the principal at Clawson High School while Verner was a student there. She graduated in 2020.
Verner was a fantastic three-sport athlete in volleyball, basketball and softball, as well as an excellent student who was active in many leadership groups at the school, Shellenbarger said.
Shellenbarger sent a letter to families on Tuesday informing the community of her death and offering resources for students.
"Alex was and is incredibly loved by everyone. She was a tremendous student, athlete, leader and exemplified kindness every day of her life!" he wrote in the letter. "Her parents, Ted and Nancy, and sister Charlotte and brother TJ are equally grieving but are certainly already feeling the uplifting support of this tremendous community."
"If you knew her, you loved her, and we will forever remember the lasting impact she has had on all of us," he wrote.
Brian Fraser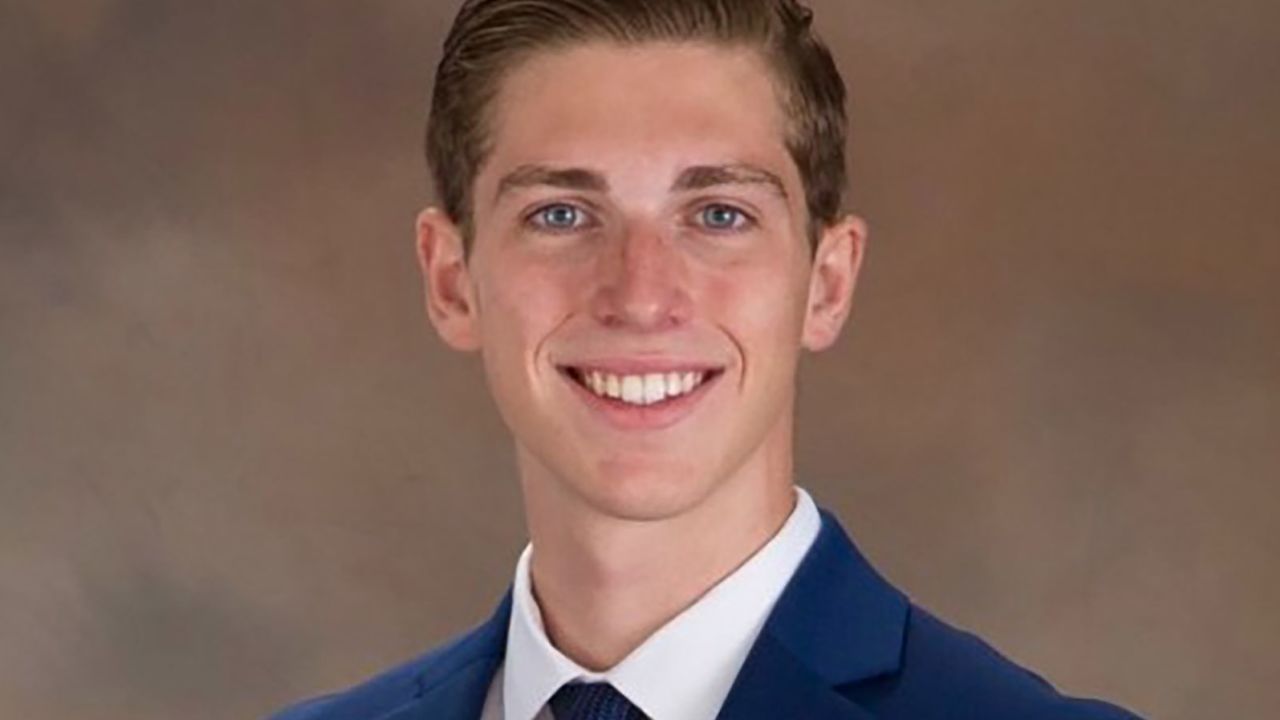 Fraser served as the president of the Michigan Beta Chapter of Phi Delta Theta, the fraternity said in a statement.
He was a leader and a great friend to his brothers, the Greek community and the people he interacted with on campus, the fraternity said.
"Phi Delta Theta sends its deepest condolences to the Fraser family, the Michigan Beta Chapter, and all those who loved Brian as they mourn their loss," the statement reads.
Fraser, 20, was studying business at the university, the student paper said.
Fraser graduated in 2021 from Grosse Pointe South High School, according to Dean.
"How is it possible that this happened in the first place, an act of senseless violence that has no place in our society and in particular no place in school?" Dean said. "But then, it touched our community not once, but twice."
Other students critically injured
Nate Statly has been identified as one of the victims of the shooting and his condition remains critical, according to social media posts by his brother, Josh Statly.
Josh Statly wrote that the family is seeking privacy, but they decided to start a GoFundMe campaign to help support Nate during his recovery.
"Miraculously, Nate is still with us, but has been [sic] critical condition in the hospital since last Monday. Doctors have informed us that his path to recovery will be a long and difficult one," Josh Statly, who set up the GoFundMe campaign on February 22, said about his younger brother. "We love him very much. We can feel him fighting hard to survive and come back to us."
His brother described him as "the light" of their family who "never stops making us laugh." Statly is a junior studying environmental biology and zoology, according to the campaign.
Guadalupe Huapilla-Pérez has been identified as one of the injured victims of the shooting, according to a verified GoFundMe campaign and the National HEP CAMP Association, a national educational program Huapilla-Pérez is a part of at the university.
"Guadalupe (Lupe) Huapilla-Pérez is currently recovering from serious injuries related to the shooting," the organization said on Facebook. "The time away from work for her family, the long recovery road ahead, and the subsequent medical expenses to care for Guadalupe, will place both an emotional and financial a burden on her family."
Huapilla-Pérez is a junior majoring in hospitality business and a student in the university's College Assistance Migrant Program (CAMP), her sister Selena said in a GoFundMe campaign.
"She is a leader in the community and beyond," her sister wrote. "Lupe is incredibly hard-working, focused, and ambitious, choosing a career path that's never been explored in our family."
"While we are happy that Lupe remains with us, we are devastated by the violence that has impacted so many," Selena wrote. "We hold Guadalupe and all other victims in our hearts."
One of the injured students who was previously in serious condition was released from the hospital, university police said in a February 23 tweet, citing Sparrow Health.
Four students remain hospitalized in various conditions, according to the school.
The injured students are "showing signs of improvement," university Interim President Teresa K. Woodruff said on February 16.
Four of the five injured students from the shooting required surgery and some immediate intervention, Dr. Denny Martin, Interim President and Chief Medical Officer at Sparrow Hospital, said Tuesday.
"Without going into the specifics of their injuries, I will say that it took a team of numerous anesthesiologist(s), trauma surgeons, general surgeons, cardiothoracic surgery and a neurosurgery team to handle the full extent of the injuries," he told CNN's Kate Bolduan.
One student who was injured "did not require immediate surgical intervention" and they were taken directly to the ICU, he said.
Martin said it's too early to give a long-term prognosis on their conditions.
"They're all under the care of trauma and critical care teams here," Martin said. "Some are more critical than others, but again, it's quite early … in their recovery from this event."
CNN's Michelle Watson, Amanda Watts, Sara Smart, Caroll Alvarado, Amanda Jackson, Jillian Sykes and Sharif Paget contributed to this report.