The gunman who killed three Michigan State University students and critically wounded five others had a list of other targets, two handguns and plenty of ammunition when police found him on foot after the campus massacre, authorities revealed Thursday.
After gunfire terrorized the East Lansing campus Monday evening, an alert citizen who saw news coverage helped lead police to 43-year-old Anthony Dwayne McRae about 4 miles northwest of campus, authorities said.
It appeared "he was just walking home," MSU Interim Deputy Police Chief Chris Rozman said.
As police closed in on him, McRae said nothing to the officers before he shot and killed himself, Michigan State Police Lt. Rene Gonzalez added.
Investigators found a trove of items on McRae's body and in his backpack, including:
• Two 9 mm handguns that were legally purchased but not legally registered, Rozman said.
• A note listing more potential targets. Two schools in New Jersey's Ewing Township – about 600 miles from MSU – were among the potential targets, police there have said.
• A "loaded magazine that was full to capacity in his left breast pocket," Gonzalez said.
• Eight loaded magazines of 9 mm ammunition that were in his backpack, he said.
• A pouch with about 50 rounds of loose 9 mm ammunition that were in his backpack, Gonzalez said.
• Two bus tickets, which authorities planned to follow up with the local transit agency about, Gonzalez said.
Police later carried out a search warrant at his home. There, they found a cell phone, journals, other writings and fired 9 mm casings, authorities said.
Despite the latest clues, the motive for the mass shooting remains a mystery.
Professor describes gunman firing in his classroom
Professor Marco Díaz-Muñoz was teaching in room 114 in Berkey Hall when the gunman entered the back door and began firing.
The gunman – who had stepped just a foot inside the classroom – was masked, so Díaz-Muñoz couldn't see his face.
"It was like seeing a robot. It was like seeing something not human standing there," Díaz-Muñoz told CNN's Miguel Marquez.
Students at first froze then dove under desks in a panic or started running when the gunfire began. Díaz-Muñoz said he thinks the assailant fired at least 15 shots, "one after the other, one after the other."
Two of the students who died that night and all five of the students that remain in the hospital were in Díaz-Muñoz's classroom.
Díaz-Muñoz told CNN he didn't recall what he did between the gunman starting to fire and when he eventually exited the classroom, going back into the hall.
There was another door by the front of the classroom, Díaz-Muñoz said.
"My intuition told me he's walking down the hall and he's going to enter through the door I'm closest to," Díaz-Muñoz said. "So I threw myself at that door and I squatted. And I held the door like this (he said, clenching his two hands together) so that my weight would keep it from – and I was putting my foot on the wall and holding like this so that he couldn't open it."
He said he blocked the door for what seemed like 10 minutes.
"It was an eternity," he said.
McRae worked at one of his listed targets
The two-page note found in McRae's backpack begins, "Hi, my name is Anthony McRae," and goes on to say, "I will be shooting up MSU," law enforcement officials who have access to the note told CNN.
McRae's note claimed he was the leader of a group of 20 killers. It detailed a list of targets, including a warehouse, an employment agency, a discount store, a church and a fast food restaurant, law enforcement officials said.
On Thursday, investigators revealed McRae had once worked at one of the locations – a Meijer department store warehouse.
"We found that he had had contact with some of those places," Gonzalez said Thursday. "He was an employee of the Meijer warehouse at one time."
"In a couple of other businesses, it appears that he'd had some issues with the employees there, where he was asked to leave," Gonzalez said. It looked like McRae's possible motive was that "he just felt slighted, and that's kind of what the note indicated," he said.
The businesses listed have been notified and told that the gunman is dead and that there is no credibility to his claims of being the leader of any team, law enforcement officials said.
Gunman shouldn't have been able to purchase gun, attorney general says
It's unclear is how McRae – who previously pleaded guilty to a firearm charge – obtained the firearm used in the attack.
McRae was previously charged with carrying a concealed weapon – a felony count that would have prevented him from being able to buy a gun if he were convicted.
But the felony case against McRae never went to trial. Instead, he pleaded guilty to a misdemeanor – possession of a loaded firearm in or upon a vehicle – in a 2019 plea deal and spent a year and a half on probation, the Ingham County prosecutor's office said.
At the federal level, a misdemeanor conviction does not preclude someone from buying a gun. But in Michigan, "the charge under Michigan law is either a low-class felony or high-class misdemeanor," the state attorney general's office said.
McRae then went on to purchase two guns in 2021 in Michigan, a law enforcement source said. One was a Taurus pistol, and the other was a Hi-Point 9 mm pistol, according to the source.
When asked if the gunman should have been able to buy a gun, Michigan Attorney General Dana Nessel told CNN's Wolf Blitzer: "I believe he should not."
"We don't even have universal background checks here in Michigan," Nessel said.
'Our campuses … should not be battlefields'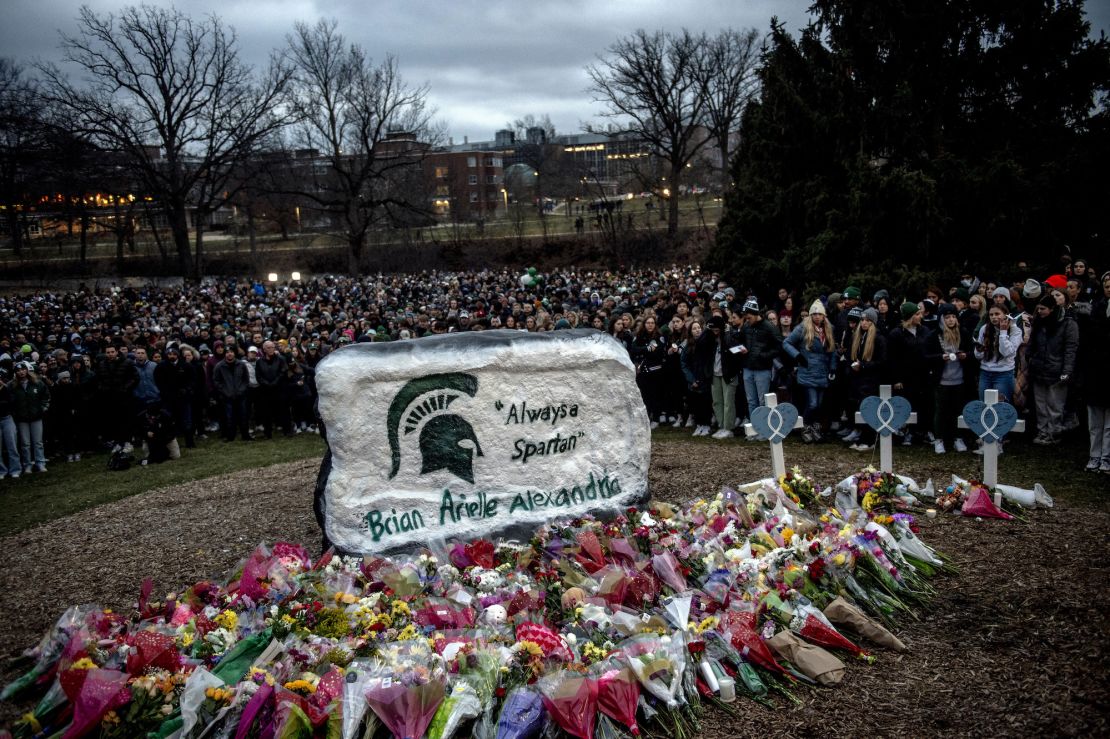 Thousands of mourners gathered Wednesday evening to honor the three students inexplicably killed – Arielle Anderson, 19; Brian Fraser, 20; and Alexandria Verner, also 20. "Our campuses, churches, classrooms and communities should not be battlefields," Gov. Gretchen Whitmer told the grieving crowd Wednesday.
Michigan State undergraduate student body president Jo Kovach said the tragedy will leave a lasting impact.
"There will never be a return to normal," Kovach said.
Authorities have not publicly identified the five students who were critically wounded.
Two Chinese students who were wounded Monday have each undergone surgery and no longer suffer from life-threatening injuries, according to a CNN translation of a news release from the Chinese Consulate General in Chicago. Officials have contacted the families of the two students and offered assistance in traveling to the United States, the release said.
CNN's John Miller, Meridith Edwards, Sara Smart and Philip Wang contributed to this report.