Richard Belzer, the comedian and actor best known for playing the acerbic Detective John Munch across a number of NBC crime dramas, including "Law & Order: Special Victims Unit," over more than two decades, has died, according to his longtime manager. He was 78.
Belzer "passed away peacefully" early Sunday morning local time at his home in France, according to Eric Gardner, his manager.
Writer Bill Scheft, a longtime friend of the actor, told The Hollywood Reporter that Belzer had "lots of health issues."
Belzer was famed for his role as Detective Munch, first appearing on NBC's "Homicide: Life on the Street" from 1993 to 1999. He reprised that role in the TV movie "Homicide: The Movie" in 2000 and also appeared as the famed detective in four episodes of "Law & Order."
Belzer appeared as Munch again in "Law & Order: SVU," where he became a series regular, appearing in 326 episodes between 1999 and 2016. Though his character retired in 2013, he returned in two additional episodes after his departure.
Like Belzer himself, detective Munch had a conspiratorial mindset, a Jewish background and a dry sense of humor. His scrawny, wisecracking, glasses-wearing investigator became over time one of the most recognizable cops in TV crime show history.
"I would never be a detective, but if I were, that's how I'd be," he said in a recent interview with The Boomer Tube. "The character is very close to how I would be. They write to all my paranoia and anti-establishment dissidence and conspiracy theories, so it's been a lot of fun for me. It's been a dream actually."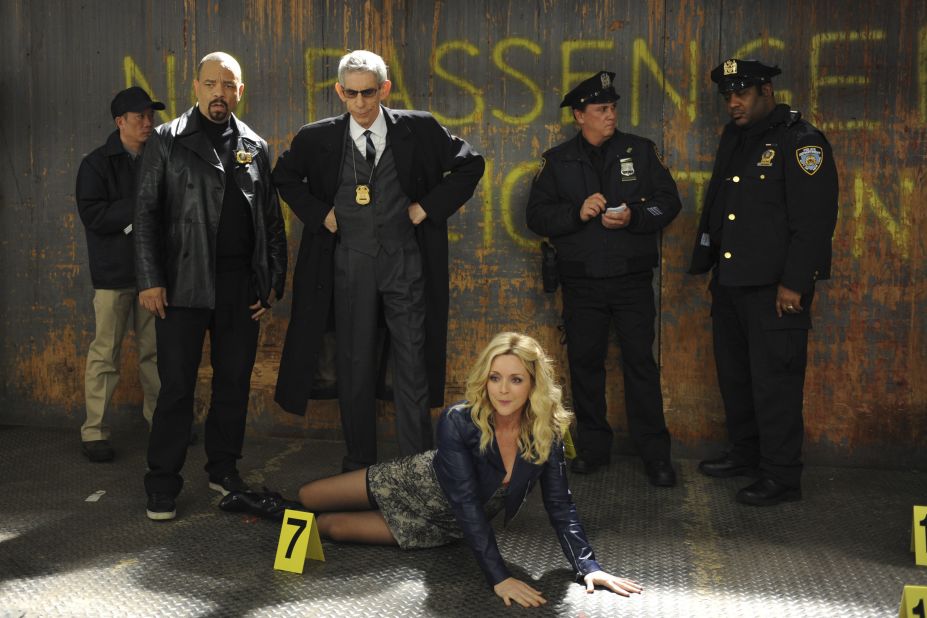 The 9 lives of Detective Munch
Over the course of his career, Belzer portrayed a detective in 11 television series, including "The Wire" and "The X-Files." He made crossover appearances in-character in the comedies "30 Rock," "Arrested Development" and "Unbreakable Kimmy Schmidt," and his detective Munch was even turned into a muppet in the "Sesame Street" skit "Special Letters Unit."
In a statement posted to the Twitter account for Wolf Entertainment, "Law & Order" producer Dick Wolf said Belzer's Munch character was "one of television's iconic characters."
"I first worked with Richard on the 'Law & Order' / 'Homicide' crossover and loved the character so much. I told Tom (Fontana) that I wanted to make him one of the original characters on 'SVU.' The rest is history," Wolf said. "Richard brought humor and joy into all our lives, was the consummate professional, and we will all miss him very much."
His colleagues, among them Chris Meloni and Mariska Hargitay, offered praise of their co-star.
"Goodbye my dear, dear friend," Hargitay wrote on Instagram. "I will miss you, your unique light, and your singular take on this strange world. I feel blessed to have known you and adored you and worked with you, side by side, for so many years."
Other fond memories came from comedians Billy Crystal, Richard Lewis and Laraine Newman, who singled out his comedic crowd work.
"I don't think there's a comic of our generation who wouldn't cite Richard Belzer, as not only a major influence, but as absolutely the funniest guy," said Paul Shaffer, the comedian and musician on David Letterman's late night shows. "Now, everybody moves up one."
From comedy to crime
Despite his crime-solving career, the Connecticut-born actor's early focus was on comedy and rooted in New York City. He appeared in the city's comedy clubs, including Catch a Rising Star and The Improv, and was known for his unsympathetic comments on political and social events of the time. 
His breakout role came in 1974, when he starred alongside Chevy Chase in the counter-culture film "The Groove Tube," which featured a compilation of skits that included social commentary on televisions shows of the '70s. He later worked as the warm-up act for "Saturday Night Live" and appeared in a few sketches in its early seasons.
Belzer appeared in the hit 1980 film "Fame" as M.C. Later film roles came in 1982's "Night Shift" followed by the Al Pacino-starring "Scarface" one year later. And in the 1990s, he appeared on the superhero shows "The Flash" and "Lois & Clark: The New Adventures of Superman."
Then came the opportunity on "Homicide." The network wanted a "hunk" to play the role, but the filmmaker Barry Levinson cast Belzer as detective Munch after hearing him on the radio, he told the AV Club in 2010.
An established author, Belzer was a known conspiracy buff and wrote the book, "UFOs, JFK and Elvis: Conspiracies You Don't Have to Be Crazy to Believe." He also wrote several comedy books and novels, including "I Am Not A Cop!," a fictionalized story about a TV actor who plays a detective and has to solve his friend's disappearance.
Belzer's last credited role was in the 2016 film "The Comedian" starring Robert de Niro, in which Belzer portrayed himself.