House Republicans are demanding answers after the US Air Force admitted to an unauthorized release of 11 individuals' military service records, including those of two members of Congress, following an internal audit.
The military records of Republican Reps. Don Bacon of Nebraska and Zach Nunn of Iowa were among the 11 individuals' records released by the Air Force. Bacon retired from the Air Force as a one-star general after nearly 30 years of service, according to his official biography, while Nunn is an officer in the Iowa National Guard, according to his campaign page.
Reps. Mike Rogers and James Comer, the chairmen of the House Armed Services and House Oversight and Accountability committees, requested various records and policies relating to the service record disclosure process in a letter to Defense Secretary Lloyd Austin last week.
An internal audit of the Air Force's records release process from October 2021-2022 found "there was an unauthorized release of military duty information on 11 individuals," service spokeswoman Ann Stefanek said in a statement on Tuesday.
"Department of the Air Force employees did not follow proper procedures requiring the member's authorizing signature consenting to the release of information," Stefanek said. "There was no evidence of political motivation or malicious intent on the part of any employee."
The lawmakers wrote in their letter to Austin that the Air Force's conduct "is, at a minimum, unacceptable."
"It is essential that the men and women of the Armed Forces trust their leadership's ability to protect private personnel data from improper disclosure," they said.
The unauthorized release of Bacon and Nunn's records was first reported by Politico.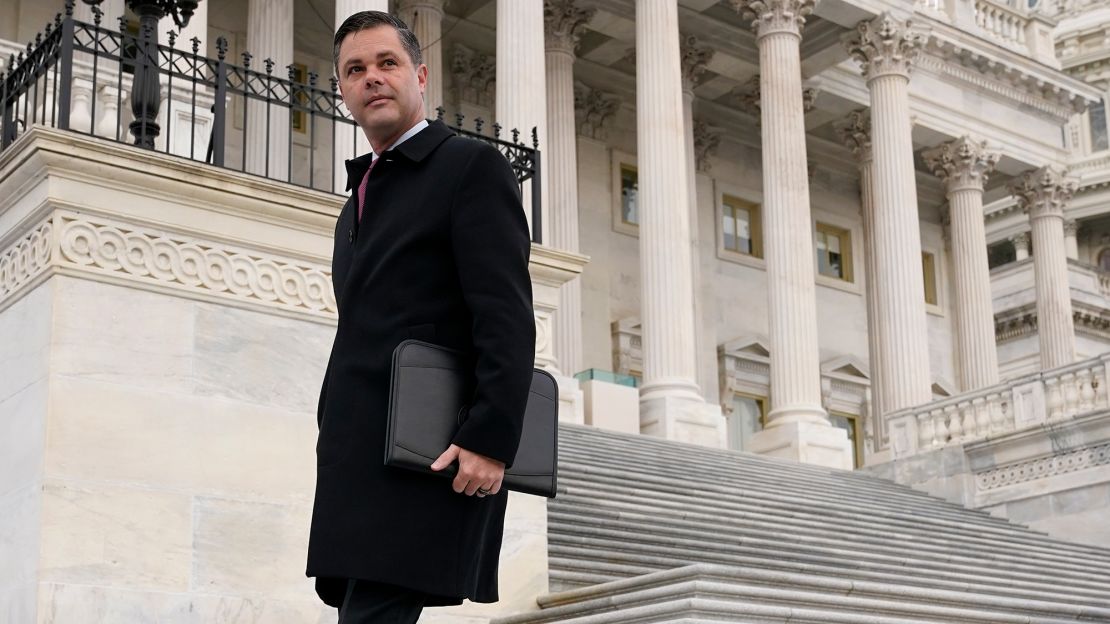 The crux of the issue appears to lie with a military personnel record request form, called a Standard Form 180, or SF-180. A military official familiar with the matter told CNN that releasing information through the SF-180 "requires the service member's signature. That did not happen in the cases of these 11 individuals."
The information requested through the SF-180 form is a process "commonly used by other federal agencies to conduct employee background checks," Stefanek said in her statement.
"In some cases," she added regarding the 11 cases of unauthorized disclosure, "personally identifiable information, such as social security numbers, was included on records request forms."
It's unclear who else is included in the group of 11, though one unauthorized release earlier this year included personal health information of congressional candidate Jennifer-Ruth Green. Military records released to the same group that had requested Bacon's records revealed Green was sexually assaulted during her military service.
Green said in a statement in October that she asked the Air Force Inspector General to "launch criminal probes" into the release of her files.
The unauthorized disclosure in Bacon's case was acknowledged in a letter earlier this month from Air Force Maj. Gen. Troy Dunn, commander of the Air Force Personnel Center.
Dunn said in his letter to Bacon on February 7 that the Air Force Personnel Center Military Records Branch received "multiple requests" from a background investigation analyst with Due Diligence Group, LLC, for his records. The person who submitted the requests, Abraham Payton, "inappropriately requested copies of your military personnel records for the stated purpose of employment and benefits."
Nunn called the situation "criminal" in a statement on Tuesday.
"As a country, we should be supporting veterans who want to continue their service instead of harassing and intimidating them," Nunn said. "I strongly support bipartisan efforts being undertaken by the House Armed Services Committee to protect our service members and hold criminal actors accountable."
The Department of Justice declined to comment on the matter.
Stefanek emphasized in her statement that the Air Force is "committed to preventing any such unauthorized disclosure of private information from occurring again" by carrying out monthly audits.
CNN's Hannah Rabinowitz contributed reporting.