Former South Carolina Gov. Nikki Haley defended states' rights to secede from the United States, South Carolina's Confederate History Month and the Confederate flag in a 2010 interview with a local activist group that "fights attacks against Southern Culture."
Haley, who was running for South Carolina governor at the time, made the comments during an interview with the now defunct "The Palmetto Patriots," a group which included a one-time board member of a White nationalist organization.
The former UN ambassador also described the Civil War as two sides fighting for different values, one for "tradition" and one for "change."
Haley announced last week she was running for president, becoming the first official major challenger to former President Donald Trump.
The interview was posted on the group's YouTube at the time and resurfaced over the years, most recently by Patriots Takes, an anonymous Twitter account that monitors right wing extremism. CNN's KFile reviewed the interviews as part of a look into Haley's early political career.
One of the Palmetto Patriots' interviewers was Robert Slimp, a pastor and member of the Sons of Confederate Veterans and one-time board member and active member of the Council of Conservative Citizens (CCC), a White nationalist group. The CCC is a self-described White-rights group that opposes non-White immigration and advocates a White nationalist ideology. The group reportedly inspired Charleston shooter Dylann Roof, the White nationalist who killed nine people at a historically Black church in Charleston, South Carolina, in 2015.
The shooting spurred Haley, then governor, to call for the removal of the Confederate battle flag from the South Carolina statehouse grounds where it had been since being removed from the state's Capitol dome in 2000.
In a comment to CNN, Haley's spokesperson cited her decision to help remove the flag from the grounds but declined to address Haley's other comments.
"Nikki Haley's groundbreaking leadership on removing the Confederate flag from the South Carolina Capitol grounds is well known," Ken Farnaso, her spokesperson, wrote in an email to CNN.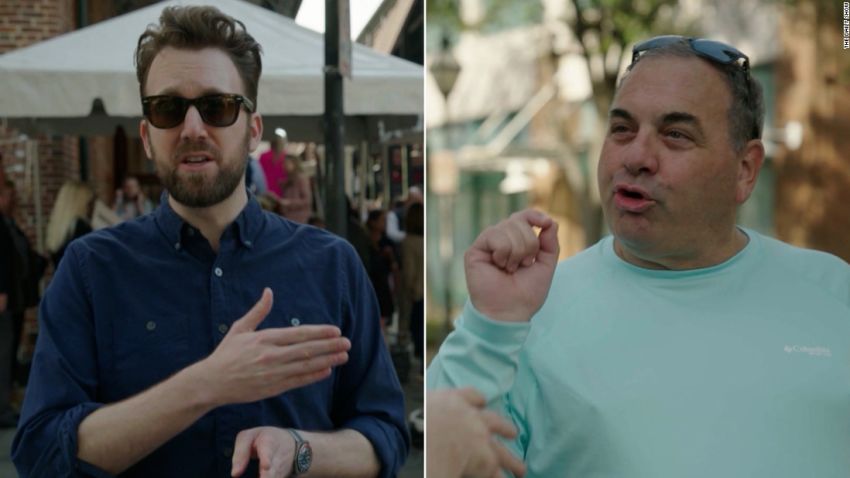 Former Trump supporter tells 'Daily Show' contributor why he stopped supporting Trump
Defends the flag
In the 2010 interview, Haley said the Confederate flag was not "racist" but part of heritage and tradition within the state. She called the flag's location a "compromise of all people, that everybody should accept a part of South Carolina."
"You know, for those groups that come in and say they have issues with the Confederate flag, I will work to talk to them about it," Haley said. "I will work and talk to them about the heritage and how this is not something that is racist. This is something that is a tradition that people feel proud of and let them know that we want their business in this state. And that the flag where it is, was a compromise of all people that everybody should accept as part of South Carolina."
After the Charleston church mass shooting, Haley called on the state legislature to remove the Confederate flag from the state capitol, becoming one of the defining moments of her governorship.
"There is a place for that flag," Haley said to CNN in July 2015 after the flag was removed. "It's not in a place that represents all people in South Carolina."
But Haley's later comments would complicate this legacy after she claimed that to some people the Confederate flag symbolized "service, sacrifice and heritage" for some South Carolinians until Roof "hijacked" it, sparking backlash.
Following the backlash, Haley wrote an op-ed for the Washington Post defending her comments.
"In South Carolina, as in much of the South, the Confederate flag has long been a hot-button issue," Haley wrote. "Everyone knows the flag has always been a symbol of slavery, discrimination and hate for many people. But not everyone sees the flag that way. That's hard for non-Southerners to understand, but it's a fact."
SE Cupp: Nikki Haley promises youth, but will her policies reflect that?
Defended the right to secession
When asked about secession, Haley said that while she believed under the Constitution that states have the right to secede from the rest of the country. When asked if she would support the seccession of South Carolina, which was the first state to secede during the Civil War, she said she did not think "it's gonna get to that point."
"The Union, I think that they do," Haley inaccurately said. "I mean, the Constitution says that."
The Supreme Court ruled in 1869 that states do not have a constitutional right to unilaterally secede.
Haley declined to say if she would support South Carolina if it "needed" to secede, when asked.
"You know, I'm one of those people that doesn't think it's gonna get to that point," Haley said before describing how she might rally governors to go to the federal government to settle disputes over "federal intrusion."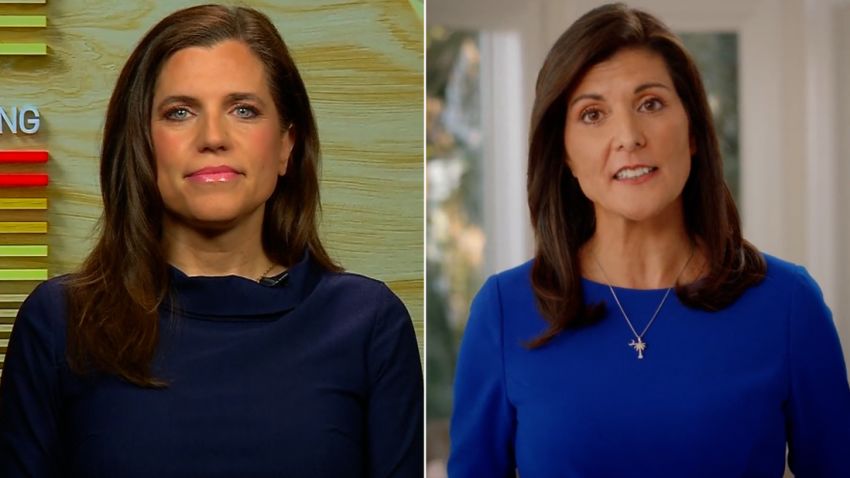 Collins asks lawmaker from Nikki Haley's home district if she'll endorse her. See her response
Defends Confederate Heritage Month
Haley also said she supported South Carolina's "Confederate History Month" during the interview, comparing it to Black History Month.
"Yes, it's part of a traditional – you know, it's part of tradition," she said. "And so, when you look at that, if you have the same as you have Black History Month and you have Confederate History Month and all of those. As long as it's done where it is in a positive way and not in a negative way, and it doesn't go to harm anyone, and it goes back to where it focuses on the traditions of the people that are wanting to celebrate it, then I think it's fine.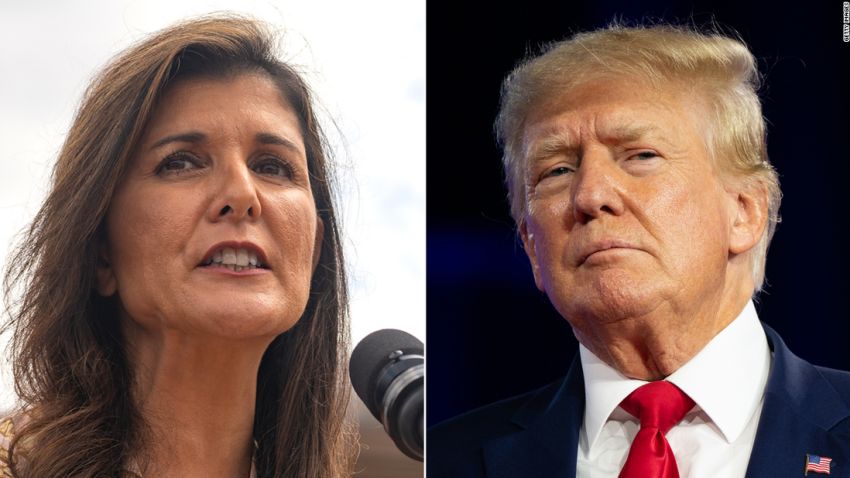 Smerconish: Why Trump wants Haley to run
Calls the Civil War a fight for 'tradition v. change'
In her interview, Haley also described the Civil War in terms sympathetic to the southern cause and did not mention slavery.
"I mean, again, I think that as we look in government, as we watch government, you have different sides, and I think that you see passions on different sides, and I don't think anyone does anything out of hate," Haley said. "I think what they do is, they do things out of tradition and out of beliefs of what they believe is right."
"I think you have one side of the Civil War that was fighting for tradition, and I think you have another side of the Civil War that was fighting for change," she added. "You know, at the end of the day, what I think we need to remember is that you know, everyone is supposed to have their rights, everyone is supposed to be free, everyone is supposed to have the same freedoms as anyone else. So, you know I think it was tradition versus change is the way I see it.
"Tradition versus change on what," asked the interviewer.
"On individual rights and liberty of people," she responded.
Haley later added she believed everyone was endowed with rights from "our creator" to "life, liberty and the pursuit of happiness."
"Well, I think that for me, you know what I continue to remember is that you know we also know that our creator endowed the rights of everyone having you know, life, liberty and the pursuit of happiness," she said. 'And so, when I look at it that way, I look at that's still what needs to be what guides everybody, so that we make sure that we keep those three things in check."
CORRECTION: A previous version of this story misstated the name of the Sons of Confederate Veterans.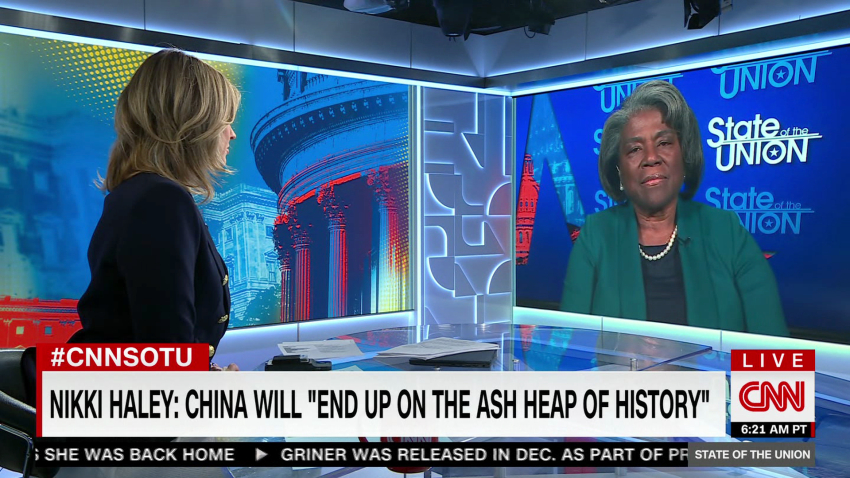 Watch UN ambassador react to Nikki Haley's position on China
CNN's Em Steck contributed to this report.