At least 11 Palestinians were killed Wednesday during a rare daytime raid by Israeli military forces in the occupied West Bank that also left more than 100 injured, Palestinian officials said in the aftermath of an operation described by the local director of Red Crescent as a "massacre."
Israeli authorities said Wednesday's operation in Nablus targeted three suspects "planning attacks in the immediate future." The three were "neutralized," the Israel Defense Forces (IDF) and Israel Security Agency said in a joint statement.
All three of the suspected Palestinian militants targeted by the IDF were killed, a list of the dead released by the Palestinian Ministry of Health shows.
The IDF said one was shot while fleeing and the other two were killed in an exchange of fire with the military.
Israeli authorities said that suspects threw rocks, Molotov cocktails and "explosive devices" at Israeli forces.
At least 102 people are injured, according to the official Palestinian News & Information Agency (WAFA) citing the Palestinian health ministry. Seven of the injured are in critical condition, WAFA reported.
The Israeli military's daytime raid began at around 10:15 a.m. (3:15 a.m. ET), Ahmad Jibril, the local director of Red Crescent, told CNN. It is "a time when everyone is out shopping in the open market of the old city. No one expects an invasion at this time of the day," he said.
There were Israeli snipers on the rooftops shooting live ammunition, he said. "That's why many people were shot in the head, shoulders and backs," he said. Most of the dead were shot in the head, he added.
"People who were unarmed and even away from the old city were also shot. Bullets were everywhere!" he said.
Jibril said there was a drone dropping tear gas "randomly." He also said drones were firing live ammunition, which the IDF denied.
Maj. Nir Dinar, an IDF spokesman, told CNN that Israel did not operate drones that fired live ammunition in the West Bank.
"I think what they saw was small drones that drop tear gas grenades as a riot dispersal means, and these were used," he said.
Red Crescent's Jibril said some Israeli special forces were disguised as locals, and while Dinar refused to comment on whether there were undercover Israeli operatives, he said: "The IDF has such capabilities."
Jibril said their "teams were prevented from reaching the injured," including a four-year-old child with a heart condition who was rendered unconscious by tear gas.
The IDF's Dinar said that he hoped it was not true that Israeli troops had prevented medics from reaching the wounded: "I am not familiar with such behavior and I hope it did not happen. If they have evidence, let us know and we will take it to the commanders."
Briefing journalists about the raid, the main IDF international spokesman, Lt. Col. Richard Hecht painted a picture of a large, chaotic event, which he said got "very messy."
Israeli Security Agency and Border Police Special Forces had approached the house where they believed the suspects were located and told them to surrender, he said.
"They didn't surrender, they confined themselves into the house and opened extensive fire on our forces," he said. One of the suspects tried to leave the house and was shot, he said, while the other two continued exchanging fire with the Israelis.
"And at some point, we upgraded our efforts. And there were also rockets that were fired on the house. And the two guys were neutralized," he said, later confirming that meant killed.
Pressed for details about the rockets, he said: "When you come into a situation when people are not surrendering, you intensify the fire."
But the battle continued on other fronts, he said, with Israeli reconnaissance units coming under fire. "It was cars, it was firing from the roofs and it was motorbikes – a very, very aggressive exchange of fire," he said. "A lot of violence."
He said the importance of the targets explained the IDF decision to go into the militant hotspot in broad daylight. While they prefer "night time activity," he said the daylight raid "was based on a specific intelligence indication we got from the Shin Bet," as the Israeli Security Agency is generally known.
"That's why we went in there. These are guys that killed one of our soldiers."
'Patience is running out'
The Islamic Jihad militant group said two of its commanders were killed in the clashes with Israeli troops.
The Lion's Den militant group also confirmed its members were involved in the fighting, but did not say if any of their members were killed.
One of the dead targeted in the Nablus raid was a Hamas member, the Palestinian militant group said. Hamas claimed Hussam Salim as a member and a martyr, releasing a photograph of him holding an assault rifle with a telescopic sight.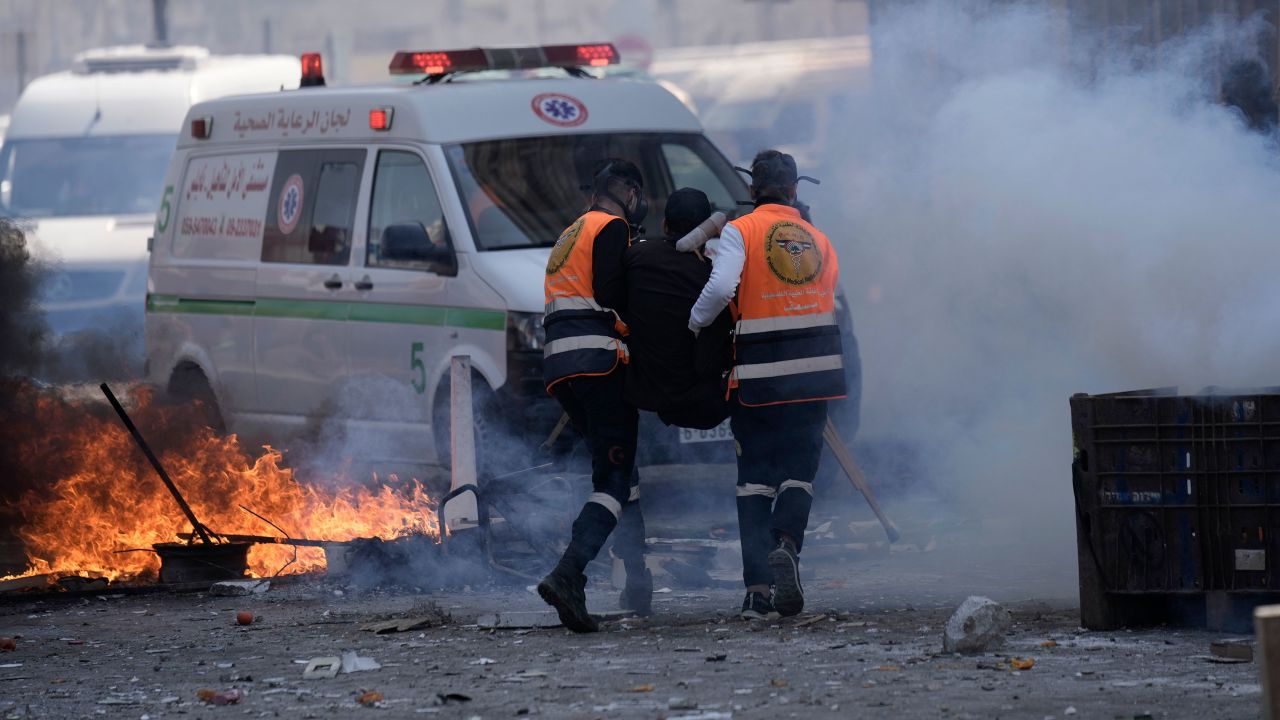 The IDF named him as one of their targets, accusing him of carrying out "shooting and explosive device attacks" and dispatching the killers of IDF soldier Ido Baruch last year. The IDF identified Salim as a senior operative of Lion's Den, which claimed responsibility for the killing of Baruch in October of last year.
There is overlap between the membership of Palestinian militant groups.
Six of the dead were men in their 20s, the Palestinian health ministry said. One was 16, one was 33, one was 61 and was was 72. All were men, the ministry list of dead shows.
The raid brings the number of Palestinians killed by Israeli forces to 61 this year, the Palestinian health ministry said. That number includes people shot as they attacked Israelis, militants being targeted in raids, people clashing with Israeli forces during raids, and bystanders, CNN records show
Eleven Israelis have been killed in Palestinian attacks this year: seven in a shooting near a synagogue, three in a car ramming attack, and a border police officer who was stabbed by a teenager and then shot by friendly fire from a civilian security guard.
IDF raids into the West Bank usually occur overnight; the last time the military conducted a daylight operation, they said it was because of an immediate threat.
Islamic Jihad's armed faction in Gaza, the Al Qassam Brigade, warned they are "watching the enemy's escalating crimes against our people in the occupied West Bank, and its patience is running out."
'Violent and deadly'
The occupied West Bank has been rocked by a series of lethal Israeli military raids in the past year, as tensions in Israel and the Palestinian territories remain sky-high in a region riven by bloodshed.
An Israeli raid in the city of Jenin in January caused the deadliest day for Palestinians in the West Bank in over a year, according to CNN records, with at least 10 Palestinians killed on the day and one dying later of his wounds. One day later, at least seven civilians died in a shooting near a synagogue in Jerusalem – which Israel deemed one of its worst terror attacks in recent years.
This comes as Netanyahu leads a cabinet that has been described as the most far right and religious in the country's history.
Netanyahu previously told CNN's Jake Tapper that people can get "hung up" on peace negotiations with the Palestinians, saying he has opted for a different approach.
As relations between Israeli forces and Palestinian militants boil over, CNN's Hadas Gold said the scenes on Wednesday reflected those "not seen since the second intifada," or uprising.
CNN's Sana Noor Haq contributed reporting.