Editor's Note: Alice Wong is the founder of the Disability Visibility Project and author of "Year of the Tiger: An Activist's Life." She tweets @SFdirewolf. The views expressed in this commentary are her own. View more opinion on CNN.
Last June I spent a month in the ICU due to several medical crises that left me in a weakened state without the ability to eat or speak. When I was discharged, there were numerous urgent concerns: finding caregivers to help me with intensive health care needs around the clock, staying on top of all of my medical appointments, being able to communicate, and affording all of the out-of-pocket supplies and additional private-pay care I needed. I was fortunate to have a friend who launched a crowdfunding campaign to help with some of those out of pocket costs.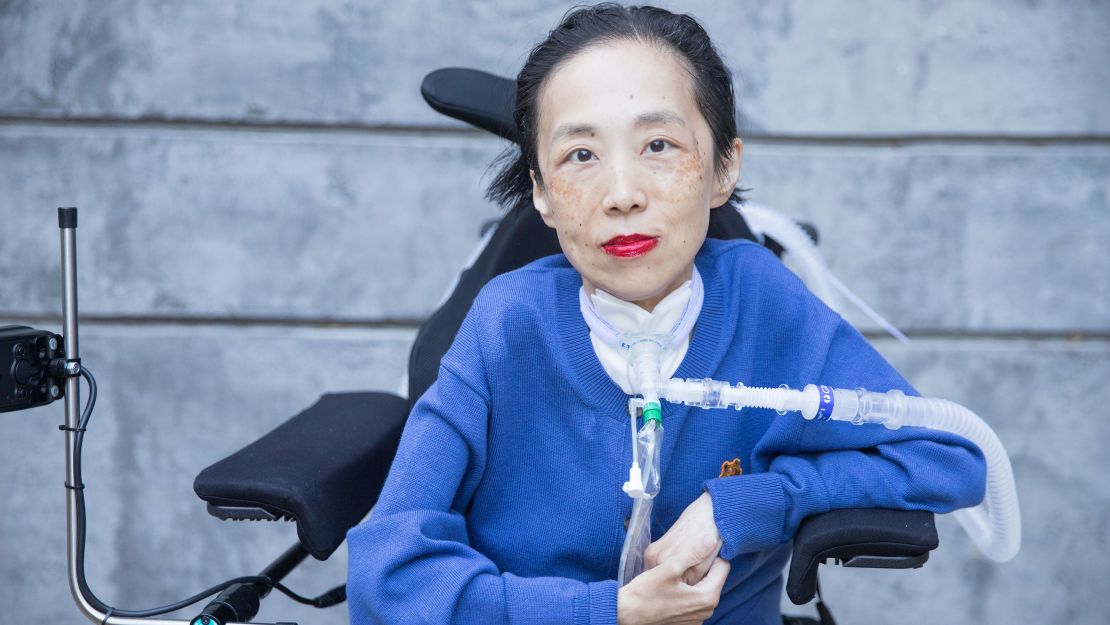 My family and I worked hard to find a set of four private pay caregivers to supplement the care they already provide for me. But with any employer-employee situation, things can happen accidentally or at the last minute that throw a wrench in an employee's work day. When your life is entirely in the hands of an employee those wrenches can have devastating consequences. One time a caregiver was supposed to start her shift at 7 a.m. and she never showed up. I was awoken by my dad around 8:30 a.m. after having laid in my feces for over two hours. I spent that day in a vortex of rage and despair – and it wasn't the first time this happened with one of my caregivers.
What I did not do was report my caregiver to the authorities or fire her.
I am acutely aware of the power dynamics at play between a care provider and recipient, and the devaluation and lack of investment in care work, which is rife with low wages, unsafe working conditions, exploitation and abuse.
There are approximately 1.4 million home care workers in the US (an undercount), according to the Economic Policy Institute (EPI), the majority of them Black and Hispanic women, who earn a median hourly wage of just over $13 per hour.
EPI reports that home care and domestic workers are three times as likely to be living in poverty compared to other workers. The data reflects our society's hypocrisy about care. Demand for home care workers will steadily increase and there is no urgency to make sure this critical workforce receives increased wages, benefits and opportunities for advancement. At the same time, only those with the most means are able to get the care they need. Both the home care workforce and the people who need them are tired as hell and demand justice. We all deserve more.
Last month, Sen. Bob Casey from Pennsylvania and Rep. Debbie Dingell from Michigan introduced the Better Care Better Jobs Act legislation that will increase pay and improve benefits for home care workers. A law cannot fix everything, but this bill addresses several systemic problems; it gives eligible states a permanent 10% increase in the federal match in Medicaid funding for home and community-based services (HCBS). Some of this funding will go toward the recruitment and retention of home care workers. States will also be encouraged to develop plans to improve HCBS infrastructure with public input.
One of the most important parts of the bill is that it will make the Money Follows the Person (MFP) demonstration permanent. This demonstration supports state efforts to rebalance the funding of long-term care since nursing facility services must be covered under Medicaid while community-based services are considered optional. MFP provides funding for a range of transition services for people leaving institutions such as adult day health, case management and additional hours of personal care so individuals with significant and complex care needs like mine can live in the community. In order for disabled and older people to not just survive but thrive, home care workers must be a national priority, and have security and safety in their profession.
Most of my paid caregivers over the years have been women of color, often immigrant women. Many work multiple jobs to make ends meet and I refuse to discard someone without giving them a chance to change. My well-being is tied to the well-being of the people who care for me. Our interdependent relationship requires both of us to have the grace to learn and grow together. I will hold to my values and assert my expectations to the best of my ability. This is what solidarity looks like.
My needs and the needs of my care workers are not necessarily in conflict; care infrastructure is a disability and labor justice issue. However, it doesn't take away the human price I pay everyday just to live in the community. It should not be that hard to stay alive.
Care is not a checklist of tasks and responsibilities. Care is a shared value and actions operating in a larger political context within a hypercapitalist, racist, ableist society that devalues certain types of labor and bodies. Conversations by policy experts and advocates about the caregiving crisis can be too abstract, and any meaningful structural and cultural change must acknowledge the tensions, human toll, material consequences, complexities and nuances about care from the people who provide and rely on it.
After my hospitalization, my friend Neera sent me a hummingbird feeder that is now attached outside my bedroom window. When I lie in bed restless or in agony, I wait for a glimpse of a hummingbird – a heavenly creature with a lithe, delicate, powerful and efficient body so unlike mine, sipping a sugar solution for mere seconds.
All I see is a shadow of its wings flitting about, visiting me briefly before soaring to the great beyond. When I see one, I smile and feel less alone. During my morning routines when I am half naked lying in bed being cleaned and catheterized by a caregiver, my mind wanders yearning for freedom, liberation and a better world.