Editor's Note: Ericka L. Copeland is the chapter director of Sierra Club Ohio and former two-term president of the Cincinnati Public Schools' Board of Education. The views expressed in this commentary are her own. View more opinion on CNN.
Three weeks after the derailment of a freight train carrying hazardous chemicals ignited a days-long fire in their town, residents of East Palestine are still waiting for answers.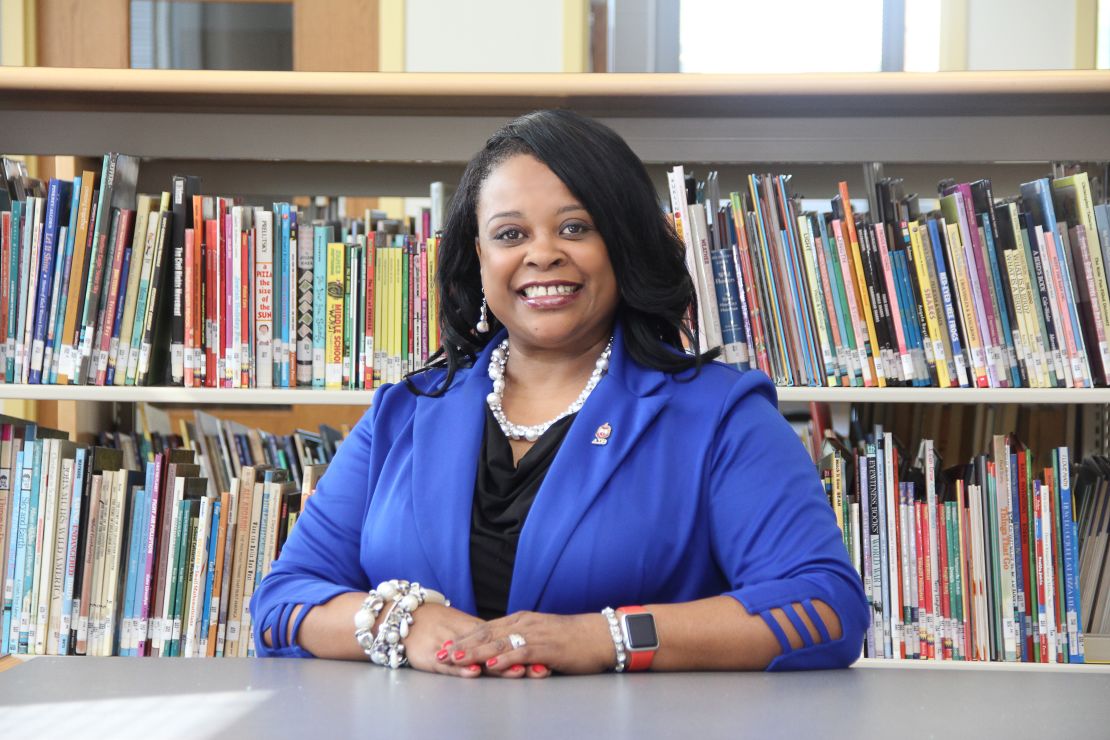 Many people in East Palestine say they still have concerns about the environmental impacts of the Feb. 3 disaster, which led officials to carry out an intentional release of vinyl chloride to prevent a more catastrophic explosion.
And while the accident has received reams of press coverage, people who live in East Palestine have said that their complaints about rashes, headaches and other ailments they believe are linked to the disaster have been ignored.
People living closest to the site of the derailment have been offered water and air testing for noxious chemicals found in the train cars, including vinyl chloride, butyl acrylate, ethylhexyl acrylate and isobutylene. But they've been given conflicting information about whether and how to clean up chemical residues in their homes.
Both the US Environmental Protection Agency and Norfolk Southern assured residents of the community that "the air is safe in East Palestine and the surrounding communities," and that the "testing of both in-home air, general air, and municipal water has not shown any detections of substances related to the incident and does not indicate a health risk."
But a memo from Pennsylvania's Department of Environmental Protection and its Department of Health advised residents that vacuuming inside their homes "may cause chemicals that have settled on floors and surfaces to become airborne, which could cause inhalation concerns" — guidance which is confusing and even scary.
Meanwhile, across the border in Ohio, residents say they received no immediate information from state authorities on how to clean the interiors of their homes.
US Secretary of Transportation Pete Buttigieg toured East Palestine on Thursday for the first time since the disaster and called for the railroad industry to do more to implement higher safety standards. The head of the federal EPA, Michael Regan, toured the scene for a second time on Tuesday, aiming to assure residents that they could feel confident about the testing and cleanup efforts currently underway in their town. Skeptics remain, and I count myself among them.
What we know is that residue from the toxic materials carried on the train were detected in nearby waterways, including the Ohio River. Samples collected by the Ohio River Valley Water Sanitation Commission (ORSANCO) on February 15 and 16 found evidence of butyl acrylate — a flammable sometimes used in the production of paints and resins — up to 250 miles from the accident site down the Ohio River.
More recent tests by ORSANCO indicate that butyl acrylate is no longer being detected, probably due to dilation and chemical breakdown, as it is well known for being volatile. But levels are likely below the limits of the water tests. Government scientists didn't detect any vinyl chloride or total volatile chemicals in the river samples.
Both the Ohio EPA and the federal agency said they will continue testing and monitoring soil, air and water in East Palestine, but neither have specified if their sampling would include the full range of chemicals released from the train cars or formed during the heat of the explosion.
The concerns of environmental groups like ours are focused on the ongoing impacts to the East Palestine community, where people continue to report odors and immediate health problems, chemical residues remain on soils and surfaces, and clean-up and soil removal is ongoing.
And I continue to be concerned about the health of our rivers and streams after the state confirmed contaminated waterways killed about 3,500 fish in the immediate aftermath of the derailment.
Here's something else that gives me pause: health impacts on the residents of East Palestine, which may not be evident today, but could surface in time.
This community is in dire need of access to good health care. We've learned that there is a health clinic opening there this week, which means that residents who have been complaining about myriad health ailments in the aftermath of the disaster can have their symptoms monitored. It's regrettable that this step is being taken more than two weeks after the derailment.
Here's one reason to worry about the health of the environment in East Palestine: Each chemical agent can't be examined alone for its own toxicity.
Eric Beckman, a co-founder of the Mascaro Center for Sustainable Innovation and a professor in the Department of Chemical Engineering at the University of Pittsburgh, explained last week that what occurred in East Palestine amounts to an "uncontrolled chemical reaction."
"The range of things you can create is really vast … There are a lot of unknowns here," Beckman told the Pittsburgh Post-Gazette.
That is precisely our concern: The fallout of smoke particles and unburned gas could well have created chemical mixtures of high toxicity for miles around East Palestine and hidden hazards of harmful residues on the ground, streets, sidewalks and access areas that can be easily tracked inside homes, schools and businesses.
We also know that in addition to continuing to test residents' homes, air and soil for the chemicals leaked during the derailment and toxic per- and poly-fluoroalkyl substances (PFAS) that were present in the firefighting suppressant used to control the blaze, there is a desperate need to test the immediate area for long-lived pollutants like carcinogenic dioxins, and related chemicals that could have been released during the fire.
So far, inexplicably, Ohio Gov. Mike DeWine has failed to issue a disaster declaration. A spokesman for the governor has said he might revisit the idea if the circumstances warrant it. Meanwhile residents of East Palestine continue to be exposed to these toxic chemicals and are forced to pay out of pocket for hotel lodgings while he delays his decision.
The community of East Palestine needs our support right now — as do other affected towns downstream, and communities across our nation through which trains carrying highly volatile hazardous chemicals will continue to run until robust safety measures are put in place.
These communities were unprepared for this disaster. Every person living in this country, regardless of zip code, income or race, has the right to live safely in their communities without the risk of toxic chemicals polluting their air, water and soil.
That should be the case even — and perhaps especially — when their community is being used as a thoroughfare for hauling unchecked cargo across hundreds of miles of railway tracks.