After a brief pause, shipments of contaminated liquid and soil from the toxic train derailment in East Palestine, Ohio, have resumed after cross-country concerns about where the hazardous waste is going.
Officials with the Environmental Protection Agency previously said they have approved the shipment of contaminated waste to two EPA-certified sites in Ohio: Heritage Thermal Services in East Liverpool and Vickery Environmental in Vickery. Region 5 Administrator Debra Shore said Monday two more sites – one in Ohio and one in Indiana – will also receive waste from the derailment scene.
The move came after officials in Texas and Michigan complained they didn't get any warning that waste from the toxic crash site would be shipped to their states for disposal. The EPA ordered the train's operator, Norfolk Southern, to stop the shipments Friday so that it could review the company's disposal plans.
Shore said she spoke with officials from Ohio and Indiana on Monday regarding the shipment of hazardous waste material to their towns.
Questions about the disposal of toxic waste from the February 3 derailment have added to the controversy surrounding the crash that has also left residents of the town worried about potential long-term health effects.
The mayor of East Liverpool, one of the Ohio towns set to incinerate the waste, expressed concerns about the process but said the EPA has assured him that everyone has been following necessary guidelines.
"We have a 2-year-old daughter and of course that's a concern," Mayor Gregory T. Bricker said. "But, again, I think this is a state-of-the-art facility that can handle this type of waste."
So far, about 1.8 million gallons of liquid waste and 4,832 cubic yards of solid waste have been pulled from the derailment site, according to the office of Ohio Gov. Mike DeWine.
EPA Administrator Michael Regan is expected to make his third trip to East Palestine on Tuesday to mark the grand opening of a new community center, Shore said.
Buttigieg asks Norfolk Southern to join hazard reporting system
US Transportation Secretary Pete Buttigieg has given Norfolk Southern and other major rail companies a deadline of this week to say whether they will participate in the Confidential Close Call Reporting System – a voluntary program that allows workers to report safety hazards.
"This common-sense program encourages employees to report safety hazards, including conditions that could lead to derailments, by protecting these workers from reprisal when they come forward," Buttigieg wrote in a Monday letter to Norfolk Southern CEO Alan Shaw.
The transportation secretary said "not one major freight rail company participates" in the Confidential Close Call Reporting System, also known as C3RS.
"By refusing to take this commonsense step, you are sending an undesirable message about your level of commitment to the safety of your workers and the American communities where you operate," Buttigieg wrote.
"I am asking you to join the C3RS program now, even as our Department proceeds to take appropriate steps toward making this program mandatory."
Buttigieg first called for the change in a letter to railroads dated February 14, but is now going directly to rail CEOs and asking them to reply to the Department of Transportation "by the end of the week."
After that, Buttigieg said, he will "present the public with a summary of which companies have agreed to this important safety measure and which have refused."
The White House on Monday tweeted: "Efforts to address the train derailment in East Palestine, Ohio continue as this Administration remains on the scene. @EPA, @USDOT, @HHSgov, and @FEMA are focused on holding Norfolk Southern accountable, containing the damage, and monitoring for environmental and health impacts."
Millions of gallons of waste
The hazardous waste that has already been sent to Michigan and Texas is being processed, EPA regional administrator Debra Shore said Sunday.
About 2 million gallons of firefighting water from the train derailment site were expected to be disposed in Harris County, Texas, with about half a million gallons already there, the county's chief executive said last week.
In Michigan, contaminated soil from the derailment site was taken to the US Ecology Wayne Disposal in Belleville, Michigan, US Rep. Debbie Dingell of Michigan said.
Vickery Environmental will process overflow water from the crash scene, according to the Sandusky County Emergency Management Agency.
The agency didn't comment on how much water the facility has received so far, saying only that it has been receiving three to four loads per day, but according to Ohio officials, more than 94,000 gallons have been disposed of at the facility so far.
Until Friday, Norfolk Southern had been "solely responsible" for disposing of waste from the train derailment, but waste disposal plans "will be subject to federal EPA review and approval moving forward," Shore said.
Every aspect of transporting and disposing of the hazardous waste "from the moment trucks and rail cars are loaded until the waste is safely disposed of" will be closely regulated and overseen by federal, state, and local governments, Shore said Sunday.
After speaking to residents in East Palestine, Shore said "we owe it to the people of East Palestine to move it out of the community as quickly as possible."
"At the same time," Shore added, "I know there are folks in other states who have concerns, legitimate concerns, about how this waste is being transported and how it will be disposed of. EPA will continue to work with our local, state, and federal partners to use our longstanding experience and expertise in these matters to ensure the health and safety, and support the East Palestine community and to hold Norfolk Southern accountable."
New wells will measure contamination in the groundwater below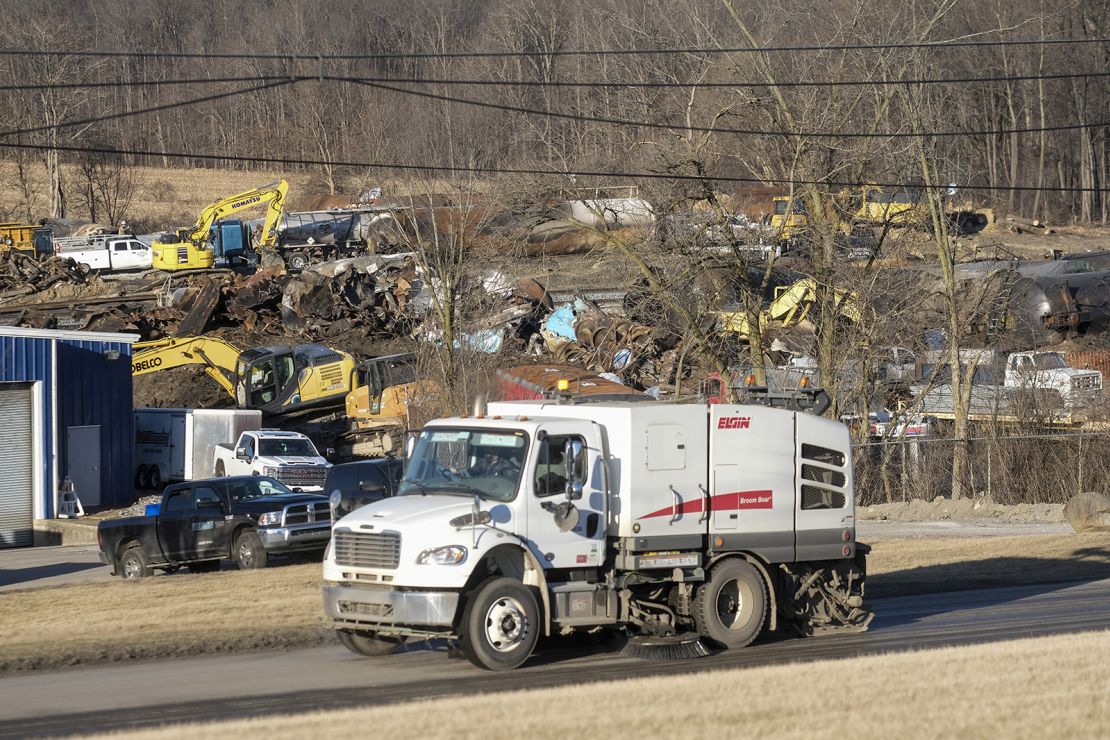 The fiery derailment and subsequent intentional release of vinyl chloride from train cars left East Palestine residents with anxiety about the safety of their air and water. Some have reported rashes, headaches, nausea and bloody noses.
So far, tests of East Palestine's public drinking have found "no indication of risk to East Palestine public water system customers" and "treated drinking water shows no detection of contaminants associated with the derailment," the EPA said in a Sunday update.
And air quality tests inside 578 East Palestine homes detected no contaminants linked to the derailment, the EPA said.
But residents are still concerned, and federal teams are going door-to-door to conduct health surveys and provide informational flyers after President Joe Biden directed the move, a White House official told CNN.
And new wells will be drilled this week "to determine if ground water immediately below the derailment site is contaminated," DeWine's office announced Sunday.
Four wells have already been installed and up to three more will be drilled this week after the soil under the rails is completely excavated, officials said.
"These monitoring wells will also support a better understanding of the direction and rate of the ground water flow in the area," DeWine's office said.
As for the wreckage, all rail cars except the 11 held by investigators have been removed from the site of the derailment, Ohio Environmental Protection Agency Director Anne Vogel said Sunday.
"This is so critically important to moving on to next steps. We can now excavate additional contaminated soil and began installing monitoring wells," Vogel said.
The Ohio EPA will oversee the installation of water monitoring wells at the site of the derailment that will measure contaminant levels in the groundwater below.
Derailment was '100% preventable': NTSB official says
While the crash was "100% preventable," it appears the train's crew didn't do anything wrong leading up to the derailment, said Jennifer Homendy, chair of the National Transportation Safety Board.
An NTSB preliminary report found one of the train's cars carrying plastic pellets was heated by a hot axle that sparked the initial fire, Homendy said last week. Video of the train before the crash showed what appeared to be an overheated wheel bearing, the report said.
What caused the wheel bearing failure will be key to the investigation, Homendy added.
The investigation will also look into the train's wheelset and the bearing, the designs of tank cars and railcars, the maintenance procedures and practices, as well as the damage from the derailment, the NTSB report said.
CNN's Pete Muntean, Celina Tebor, Artemis Moshtaghian and Liam Reilly contributed to this report.