More than 20 years after his Formula One debut, Fernando Alonso is as hungry as ever ahead of the start of the 2023 season, which gets underway on Friday at the Bahrain Grand Prix.
That desire for success led him to make the seismic decision last year to reject a new contract with Alpine to join Aston Martin, he tells CNN Sport's Amanda Davies.
"It has to be an ambitious project. It has to be a project that wants to win, a project that will take anything and will do everything to make it happen. And that is what I feel in Aston Martin," the Spaniard said ahead of the season's start.
"There is this talent and this hunger for success, success and success."
Success certainly comes naturally to the 41-year-old Spaniard. Having exploded onto the F1 scene in 2001, he won his first race in 2003 before winning back-to-back championships in 2005 and 2006, becoming the youngest double champion in the sport's history.
Since then, the winner of 32 races has had legendary battles with some of the best drivers of the last two decades, from Michael Schumacher and Kimi Räikkönen through to Lewis Hamilton and Sebastien Vettel, who Alonso has replaced at Aston Martin after the four-time champion retired from F1.
Aston Martin is Alonso's fifth team and the first move he has made since he returned to F1 with Alpine in 2021.
The frustration of the 2010s led to the Spaniard calling quits on his F1 career in 2018, retiring after five years without a race win and seemingly disillusioned with the sport.
He competed in the IndyCar Series, Le Mans' 24-hour race and the Dakar Rally, where he emerged unscathed from a crash in which his Toyota Hilux flew through the air after hitting a sand dune in Saudi Arabia.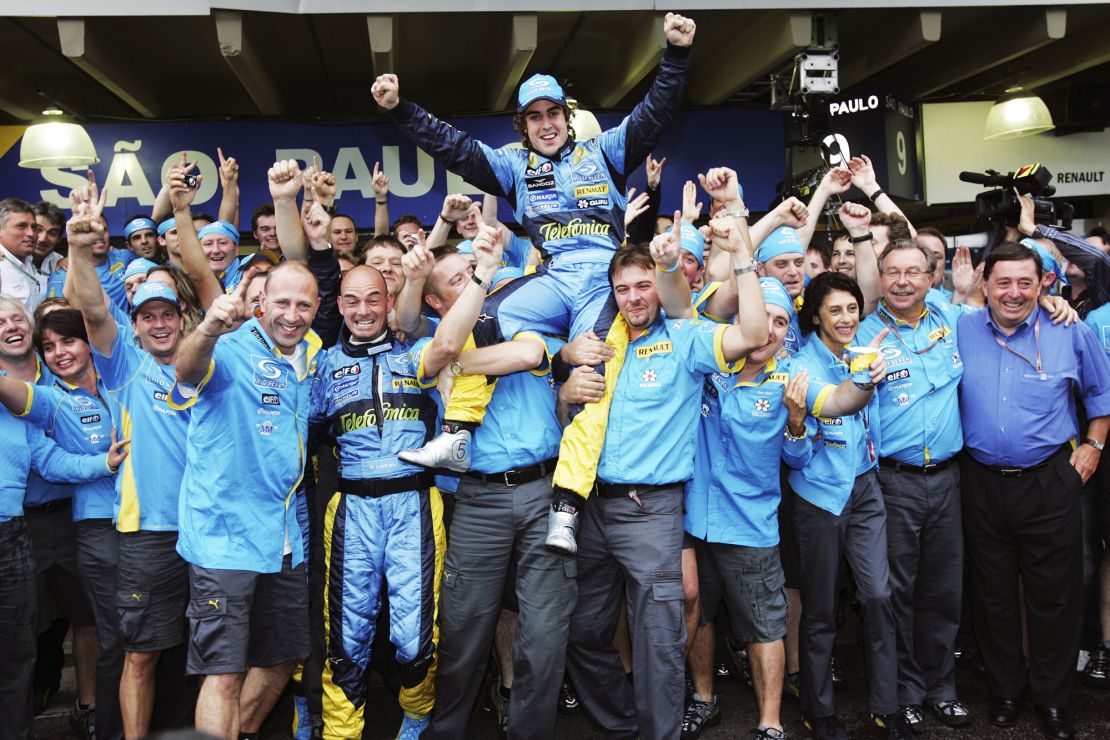 Three years later he made his sensational return to F1, but failed to hit the heights of his early career.
After finishing 10th in 2021 and ninth in 2022 with Alpine, Alonso turned down a one-year contract extension to join an Aston Martin team on its way up.
"The investment is there, the new facilities, new wind tunnel coming out. New people, joining the team from different experiences and different backgrounds," he says of Aston Martin's "wonderful project."
The investment is certainly there. Lawrence Stroll, Aston Martin's boss and the father of Alonso's new partner, Lance, has put the money where his mouth is.
The team launched its new $200 million factory at Silverstone and broke the bank to bring in the best engineers and talent from other teams to support its new star driver.
With the new investment and Alonso's terrific performance at pre-season testing – where he came second on the first day of testing in Bahrain – Aston Martin looks set to become the best of the rest this season, behind usual title contenders Red Bull, Ferrari and Mercedes.
2023 season set for more controversies