It's that time of year when hope is plentiful and everything looks a bit brighter.
Yes, it is the beginning of spring, but it is also the start of the NFL offseason whose first major event is the scouting combine.
The showpiece stage for draft hopefuls welcomes the beginning of prediction season and marks when last year's disappointments change into this year's reasons for optimism.
Stars can solidify their status at the top while unheralded prospects can surprise everyone with their athletic displays; it is impossible to predict what will happen when this year's standout college players are put through their paces at the invitation-only affair.
So before the biggest event for teams to evaluate players ahead of next month's draft in Kansas City, here's all you need to know about this year's combine:
How to watch
The NFL scouting combine is the pinnacle for many prospects hoping to be drafted into the professional league so they will be aiming to impress on the biggest stage.
Coverage of the scouting combine is exclusively shown on the NFL Network, which will broadcast all four days.
'The ultimate four-day job interview'
As is tradition, this year's combine is held in Lucas Oil Stadium in Indianapolis – the home of the Indianapolis Colts.
Having begun in 1982 when Indianapolis-based National Football Scouting Inc. (NFS) conducted the first National Invitational Camp in Florida, it has blossomed from hosting 163 players in its inaugural edition to over 300 expected this year – the NFL said that 319 prospects were invited.
Representatives from all 32 NFL teams will be in attendance – from front office staff and coaches to scouts.
It is held over four days from Thursday, March 2, to Sunday, March 5, with each position group getting their own dedicated portion to showcase their skill sets in front of the watching media and NFL teams.
Defensive linemen and linebackers begin proceedings on Thursday before defensive backs try their hand on Friday.
The weekend begins with arguably the most important day, with quarterbacks, wide receivers and tight ends displaying their talent Saturday before running backs and offensive lineman close out the combine on Sunday.
Not only will teams be able to watch players be put through their paces, but they will also have the opportunity to interview them in an effort to build out a more complete draft profile, including personality and psychological notes, before making a decision on whether they want to draft them.
Players will also be subjected to medical examinations to allow teams to avoid injury complications down the line.
A full test
The tests the prospects will be put through are aimed at challenging their repertoire of physical capabilities to help teams evaluate the whole package.
The most notable event is the 40-yard dash which sees prospects sprint the distance to display their top speed.
John Ross set the record with the fastest 40-yard time in 2017, running 4.22 seconds. Last year, it looked like Ross' record might have been broken when Baylor's Tyquan Thornton ran an unofficial time of 4.21 seconds – it was later made official with a time of 4.28 seconds.
Thornton's Baylor teammate, Kalon Barnes, was just slower with a time of 4.23 seconds. UTSA's Tariq Woolen, who would go on to be voted to the Pro Bowl after his first season with the Seattle Seahawks, ran 4.26 seconds.
It's unlikely Ross' record will be broken, but there are some serious speedsters taking to the running track in Indianapolis who could threaten him.
Other physical drills include a bench press – where players bench press 225 pounds as many times as possible – a vertical jump and a broad jump.
The final drills – the three-cone drill, 20-yard shuttle and the 60-yard shuttle – are all designed to test an athlete's quickness and agility, as they must rush between various points before making short and sharp turns of direction before sprinting in opposite directions.
All in all, it is described on the official NFL website as the "ultimate four-day job interview" with it holding the possibility of catapulting up the draft list or severely hampering one's stock.
The Chicago Bears currently hold the No. 1 overall pick in April's draft, with the Houston Texans second and the Arizona Cardinals in third.
Balling out
The biggest names in college football have been invited to the combine this year, with teams and fans alike thrilled at the opportunity to watch them strut their stuff.
The quarterbacks which are expected to be selected near the top of the draft – Bryce Young, CJ Stroud, Will Levis and Anthony Richardson – will be in attendance, although Alabama star Young has reportedly chosen not to thrown, instead choosing to wait for his school's specific pro-day later in the month.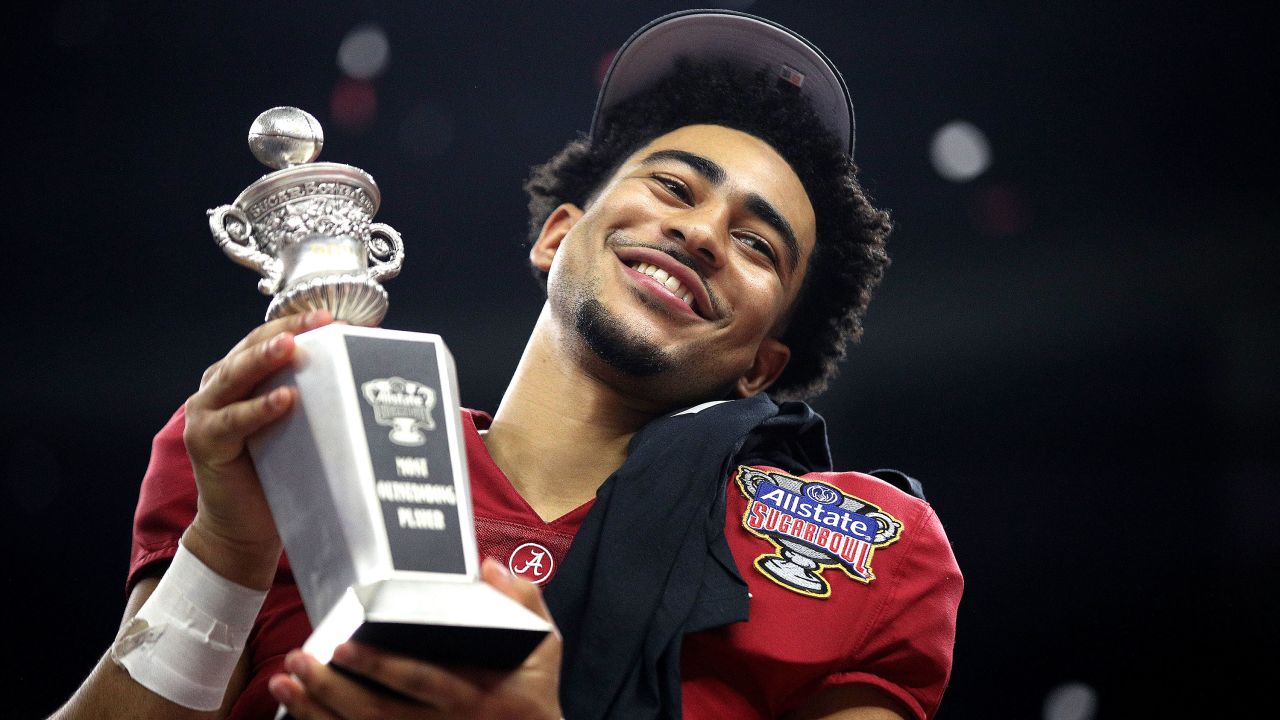 Many of the other prospects predicted to go near the top of the draft will be in attendance too.
Alabama edge rusher Will Anderson Jr., Texas running back Bijan Robinson, Illinois corner back Devon Witherspoon, Northwestern offensive tackle Peter Skoronski, Texas Tech edge rusher Tyree Wilson, Georgia Tech edge rusher Keion White, Utah tight end Dalton Kincaid and USC wide receiver Jordan Addison are just some of the names on the list.
One of the players who was scheduled to work out and is now unlikely to feature is University of Georgia standout Jalen Carter after he surrendered to police in Athens, Georgia, on Wednesday night on charges related to a crash that killed his teammate and a team staffer hours after they celebrated the Bulldogs' national championship victory.
Carter – who has been projected as a top pick in the NFL draft next month – turned himself in at the Athens-Clarke County Jail on charges of reckless driving and racing, jail records show. He was booked at 11:33 p.m. and released a short time later at 11:49 p.m.
Carter's teammate Devin Willock and football team staff member Chandler LeCroy were killed in the January 15 crash, which happened hours after the team participated in a parade through the UGA campus to celebrate its second consecutive national title.
LeCroy was driving a Ford SUV near the campus with Willock and two other members of the football program also in the vehicle, police have said. The SUV was traveling "about 104 miles per hour" before it veered off the road and slammed into two power poles and several trees, Athens-Clarke County police said.
Authorities said Carter was driving a separate vehicle and he and LeCroy appeared to be racing.