Over his 42 seasons as head coach of the Duke Blue Devils, Mike Krzyzewski became synonymous with college basketball.
Affectionately known as 'Coach K,' he retired in 2022 as the all-time winningest coach in men's Division I college basketball (1,129 games), winning five national championships along the way.
His dedication, desire and love for the game were infectious and he hasn't lost one iota of that passion since retiring.
In an interview on CNN and HBOMax's 'Who's Talking to Chris Wallace,' the 76-year-old was critical of the current state of the game, arguing that the National Collegiate Athletic Association (NCAA), which governs the collegiate system, was too bureaucratic.
"The game that's being played is not in chaos. We have good coaches, good players. It's the things that are happening to the people playing the game," Krzyzewski told host Chris Wallace.
"Every decision that was made concerning our sport, eventually had to go through many committees.
"Do you know that a basketball coach was never present in the room where the decision was going to be made? How can you have a good feel for what you're deciding on, if you don't hear from the people who coached the game or the head of our coaches' association?
"I mean, it's like 'Hamilton,' we needed to be in the room where it happens. And we haven't been. How can that be good?"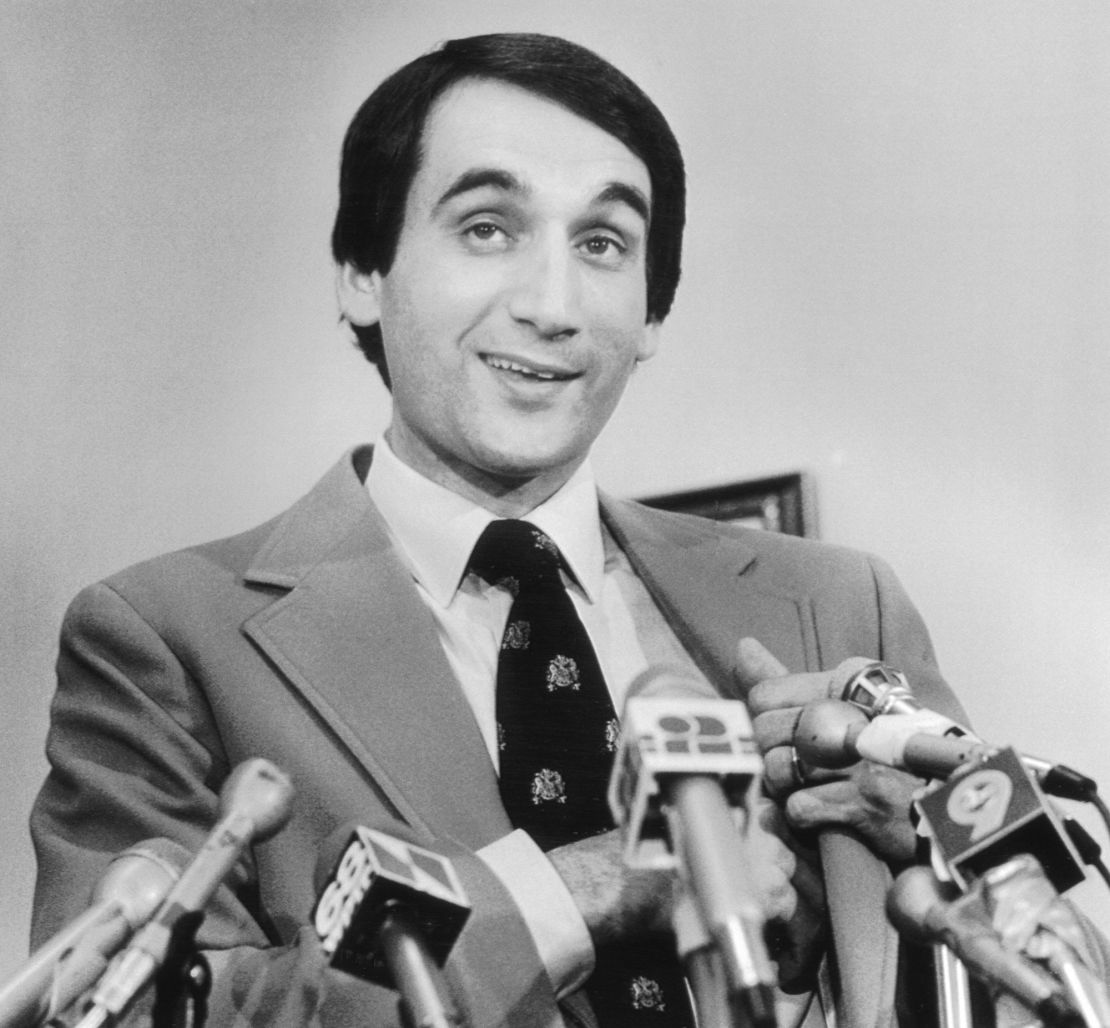 In particular, Krzyzewski has called for guidelines around the new NIL-era of college athletics.
Now allowed to profit from their name, image and likeness (or NIL), college athletes have been announcing a barrage of endorsement deals.
The legendary coach is not against young athletes profiting from the lucrative college basketball system but wants better control over the whole issue.
"[Athletes] haven't been helped for decades, they've been basically, in some respects, used," he said, adding that he wants the college system to be run more like a business.
Earlier this year, the NCAA Division I Transformation Committee published its report and recommendations on how to modernize the division's governance structure.
Endorsed by the Division I Board of Directors, the report said decisions "should be pushed as far down in the structure as is possible and to responsible committees that are composed of engaged and experienced representatives with knowledge of the sport."
It also said "voices from student-athletes" should be included in decision making.
Record-breaking longevity
Krzyzewski started coaching while he was in the Army, starting in 1969.
From there, he became head coach at the US Military Academy Prep School at Fort Belvoir, Virginia, for two years before landing a graduate assistant coaching position at Indiana University.
He did that for another year before returning to his alma mater, West Point, in 1975 as a head coach.
Krzyzewski then took over the reins as Duke head coach in 1980 and never looked back.
Since spending time away from the court for the first time in almost half a century, he said he misses the game, but doesn't miss the hard work that's required for coaching.
"There's a difference between the game and coaching," he added.
"Coaching means that there's a lot of preparation, there's a lot of recruiting […] and I don't miss that – at all.
"So when I say I don't miss coaching, it's the whole deal, man. It's not just a game.
"I think I could go out on the court and still coach a game, but I wouldn't be doing the preparation that the game deserves."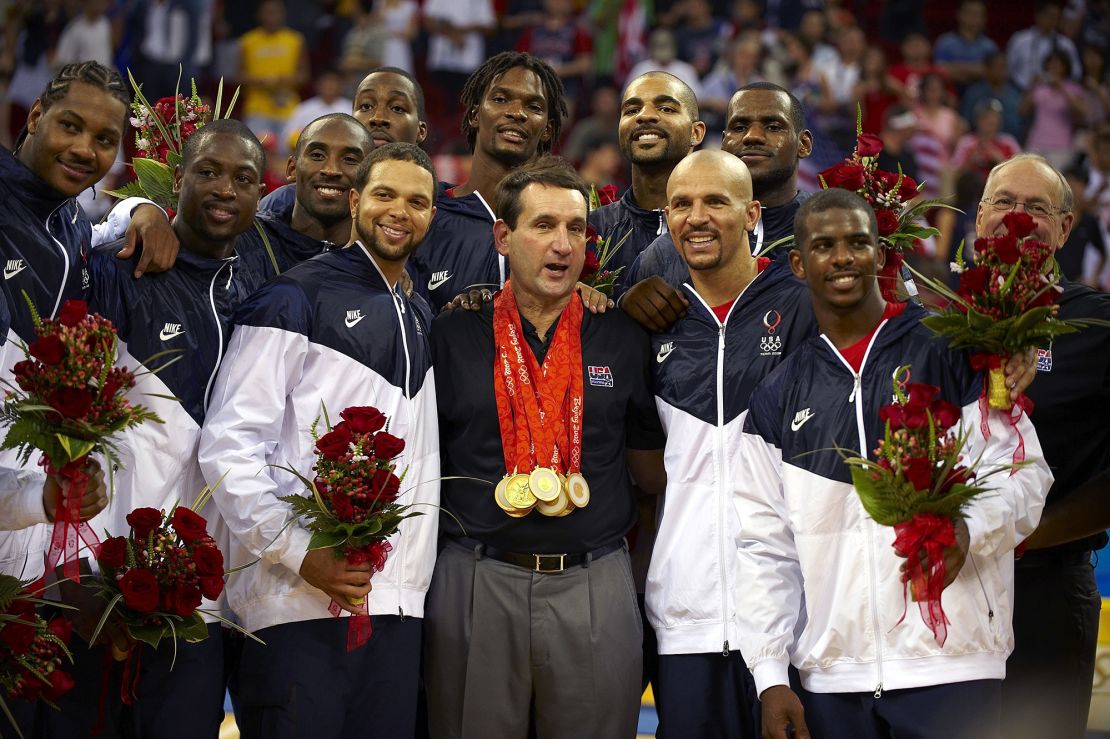 Due to his success and longevity at the top level, there was natural interest from the professional game.
Teams, such as the Los Angeles Lakers, had enquired about Krzyzewski's services during his time with the Blue Devils, but his love for the college game always proved too strong.
"If you're a really good coach, in any sport, you're going to be approached, so I'm not the only basketball coach that's been approached for a pro job," he said.
"At the end of the day, the way the college game was, I loved the college game. I loved being at Duke. I love having crossed some bridges with those kids, even if it was for only a year."
Despite rejecting the NBA, Krzyzewski did end up coaching professional players, winning three Olympic gold medals as coach of the US men's basketball team in 2008, 2012 and 2016.
"That was my fix, so to speak. I loved coaching those guys," he said.
"With the US team, they're grown men, they've crossed their bridges already," he added, speaking of the differences between coaching college and professional athletes.
"Now, can we cross one bridge together? Can we put all our egos under one ego umbrella and win a gold medal, and not just win a gold medal, but win the respect of our country and win the respect of the world while we're doing it."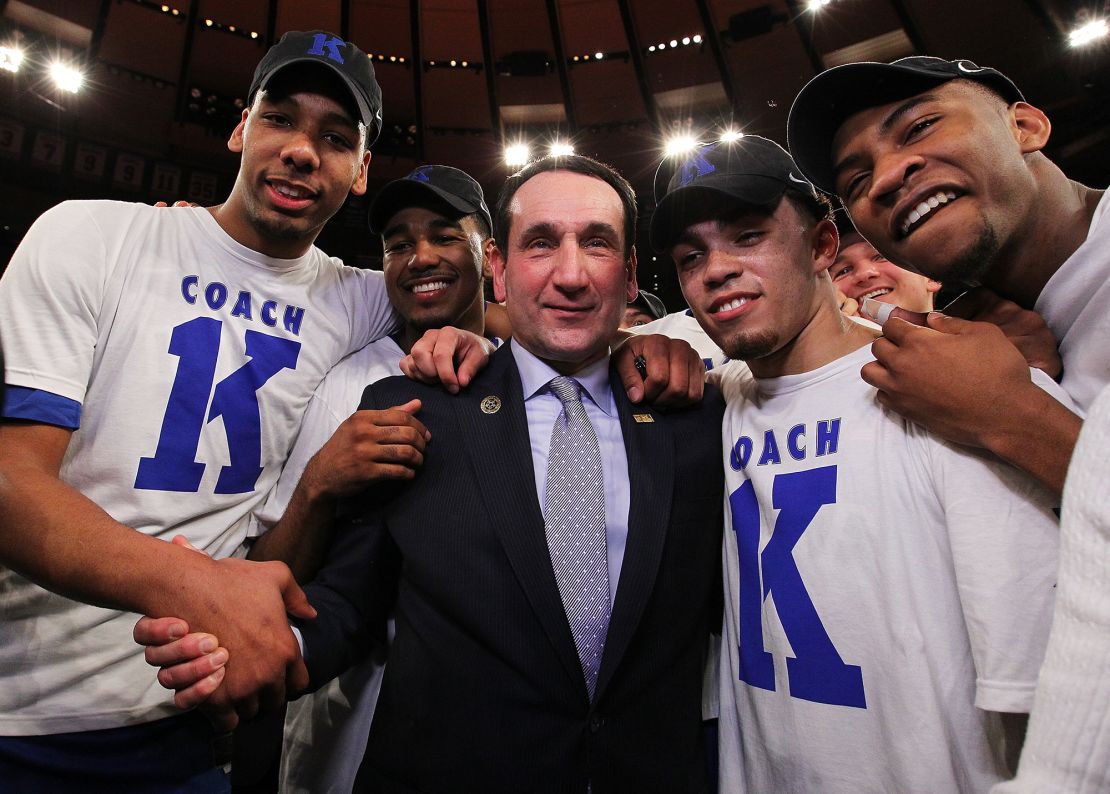 Early coaching ambitions
Krzyzewski, who was inducted into the Basketball Hall of Fame in 2001, has plenty of fond memories of his prestigious career.
He attributes his success in part to his ability to build relationships and his relentless work ethic.
"I knew when I was 16 years old what I wanted to be. I wanted to be a coach and a teacher," he said.
"And so a lot of my buddies back in the inner city of Chicago say: 'You've never worked a day in your life, knucklehead.'
"And I said, you know you're right. I've been able to do what I've loved my entire life."
Although he won't be amongst the action this month, Krzyzewski is eagerly anticipating this year's March Madness.
If his beloved Duke isn't crowned champion, he says the Houston Cougars have the best chance of lifting the trophy.
But after years of experiences, he's not ruling out an upset.
"The one and done aspect of the tournament makes it so very, very difficult to win it. So it'll be exciting," Krzyzewski said.
"Look, there's no sport that takes over the whole country for one month like this tournament does, and for me to be a part of that tournament for over four decades was an incredible honor."
Watch "Who's Talking to Chris Wallace?" on CNN TV Sundays at 7 p.m. ET. New episodes with full-length interviews are available on HBO Max each Friday.