Diana Savenok smiles when she recalls what life was like in Ukraine before Russia's invasion just over a year ago.
The mother of two girls – Sofia and Lily – Savenok lived peacefully in Irpin, a town on the outskirts of Kyiv, in an apartment block with 40 other families.
This was a tight-knit community and the children played together in a local forest. Savenok remembers feeling free and loved spending time visiting her favorite "beautiful" park.
After the invasion February 24, 2022, that park was never the same again.
"After the war [began], we saw dead people in this park," Savenok told CNN Sport.
With the fighting creeping toward the family's doorstep, Savenok's husband left to fight for the National Guard.
"Our life was in danger and we had to do everything to save our lives and the lives of our children," said Savenok.
"We stayed in Irpin for 10 days and every day we felt unsafe. It was very scary for the children," added Savenok, who fled with her two daughters to her parents' house further away from Kyiv.
That decision probably saved their lives.
The next day, Savenok says a shell struck the fourth floor of the apartment block and their family home, on the fifth floor, was all but destroyed in the subsequent fire.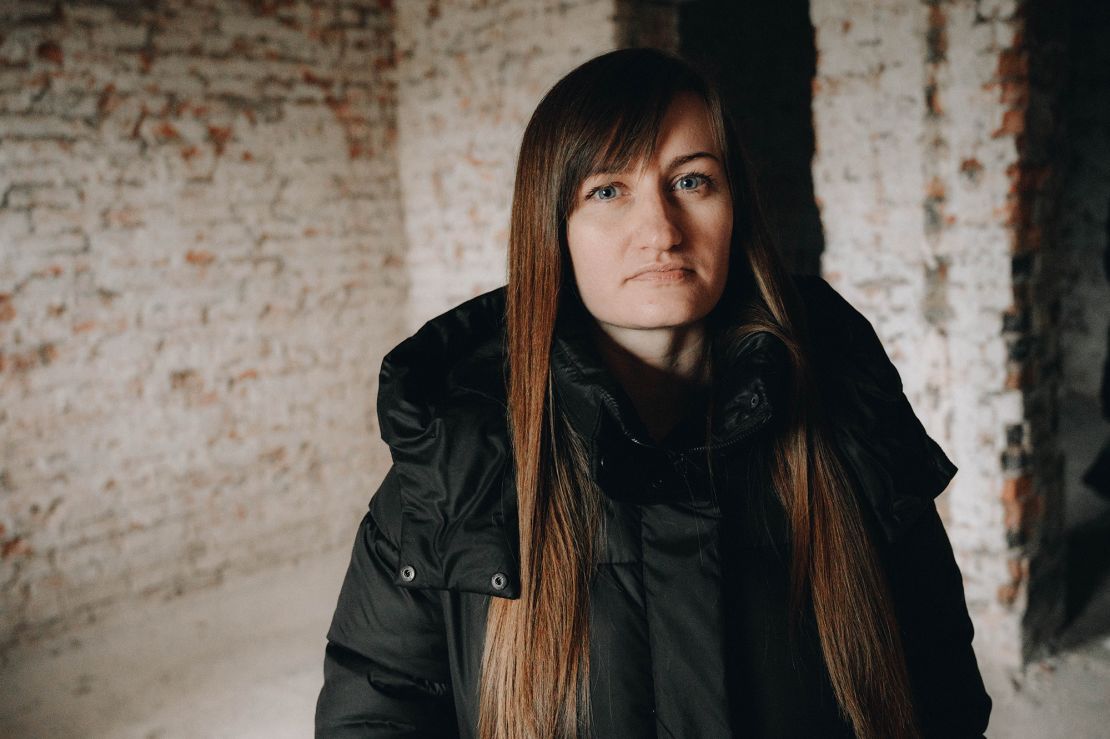 "At first, I was grateful that we managed to evacuate the children. This was the main feeling at the time," said Savenok.
"The problem was that we didn't know for a long time what exactly had happened to our home. We received a message saying that the building was on fire.
"At the time, we were worried about the people more than the apartments because there were people left behind.
"It was only after the liberation of Irpin that we found out our apartment had been completely destroyed."
Irpin was liberated at the end of March 2022 but lay in ruins after heavy bombardment from Russian forces.
Oleksandr Usyk's donation
Living with her parents and sister, Savenok was conscious that cramming six people in one house wasn't a long-term option.
It's why, Savenok says, she cried tears of joy after hearing about a new project to rebuild her family home.
Earlier this year, UNITED 24 – an organization set up by Ukrainian President Volodymyr Zelensky with the aim of raising funds for Ukraine – announced it was launching a fundraising effort to rebuild apartment blocks in the Kyiv region.
The initiative was designed to help 4,237 Ukrainians return to their homes.
World boxing champion and UNITED24 ambassador Oleksandr Usyk has fronted the campaign and has taken particular notice of Savenok's apartment block in Irpin.
The heavyweight, who has used his global platform to raise awareness of the war since it began, knew a friend, Oleksiy Dzhunkivskyy, who worked in the boxing gym at the bottom of the apartment block.
Usyk told CNN Sport that his friend, who taught children how to box, was killed by Russian forces as he tried to defend the studio and that his own family home is not far from where the apartment block is located.
"I am motivated by the idea that I must help my nation, my people," Usyk told CNN Sport. "If I have the abilities, if I have strength to do that, if I can do it."
"God has given me this chance to be on TV, to be, thanks to God, known in the world of sports.
"This is my opportunity to share with people about what's happening. Many people in the world think it's just some kind of a game happening here, and we are just making it all up."
Usyk was in England at the time of Russia's invasion.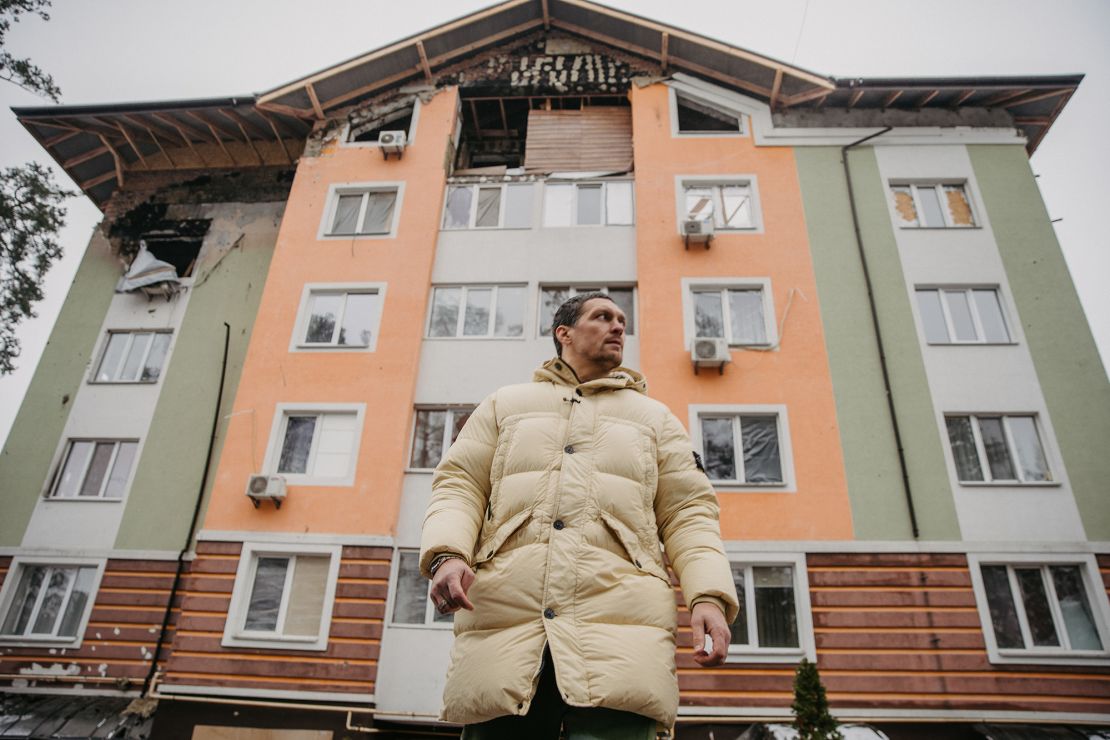 The boxer had intended to fly home just hours after hostilities had commenced, but with the airports closed, Usyk instead flew to Poland and then drove almost 500 miles to get home.
He later took up arms, joining the territorial defense force, the volunteer branch of Ukraine's armed forces, before returning to boxing where he still uses his global reach to raise money and awareness for Ukraine.
"Our soldiers are our guardian angels," said Usyk, who did not want to give his exact location over safety concerns.
"Our warriors have no mercy for themselves, do not care for their lives and keep on defending Ukraine from the enemy.
"It is nearly every day or every other day that I talk to my friends on the frontline […] and we don't talk about the war. They care to know about training, they ask me to send them my training videos, photos, they ask to tell a funny story.
"These are the guys whose every day is between life and death and yet they are not complaining about their life. They just do the right next thing in front of them – to defend their land, their family, and their country."
Usyk told CNN Sport that his management team are in discussions with Tyson Fury's team over a heavyweight unification bout later this year, but he admitted it has been a struggle to concentrate on boxing since the war began.
Life is slowly returning
Usyk has donated $205,000 to rebuilding Savenok's apartment block, with over $250,000 raised in total at the time of publication. According to the boxer, scaffolding had already gone up around the block as rebuilding work gets underway.
Savenok said she will be forever grateful to Usyk and everyone else who for their donations.
"This support, I believe, inspired the whole world," she said, resolutely holding back tears throughout the interview.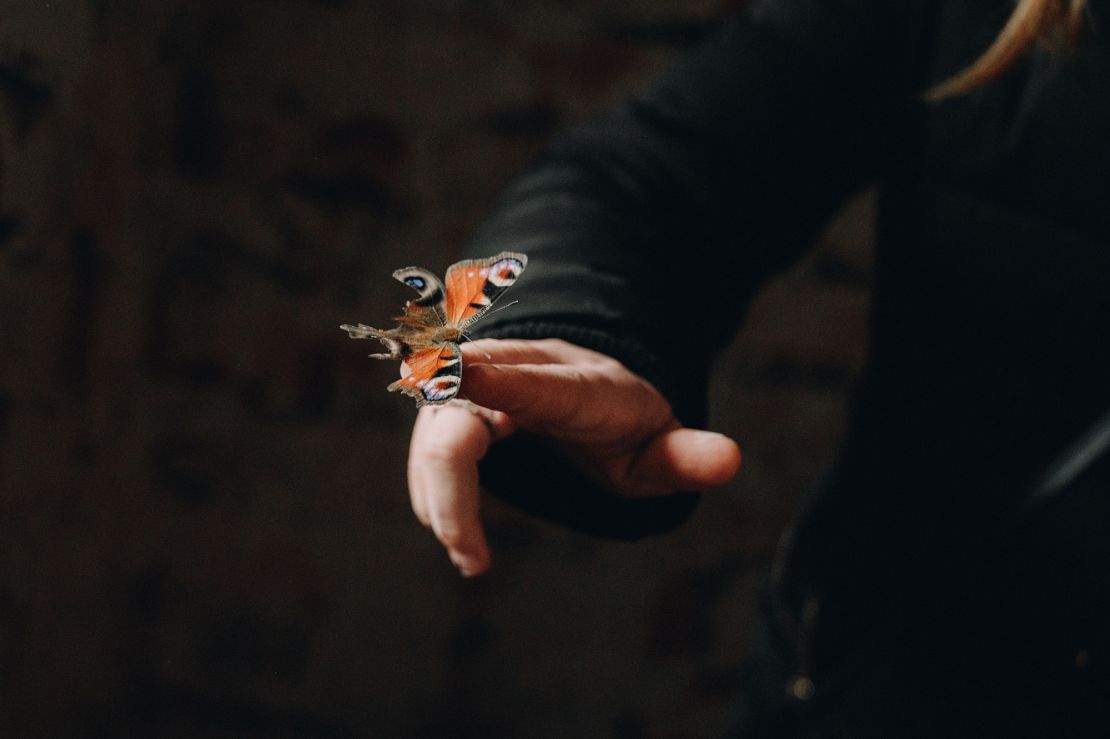 "These people have taken us under their wing, offered genuine help and have given us hope that all will be well.
"We will be grateful for the rest of our lives for this help and support."
There is no exact timeline for when Savenok and the other families will be able to return home. Much of it depends on the amount of donations and the current state of the war, with fighting currently concentrated to the east of the country.
Savenok doesn't know when she will be able to go back to the apartment block, but she and her daughters have visited the shell of their home.
As they looked around they noticed a butterfly resting by one of the burnt out walls in the apartment. Its wings were singed, presumably from the fire.
It was a sign, the family said, that despite the wounds of war, normal life might yet reemerge in Ukraine in the future.
CNN's George Ramsay, Irina Morgan, Olena Mankovska and Don Riddell contributed reporting.