This season has been one of trials and tribulations for Liverpool and its beleaguered fans, but there may still be light at the end of the tunnel as Jurgen Klopp's men put in a truly scintillating performance to tear Manchester United apart at Anfield.
Braces from Cody Gakpo, Darwin Núñez and Mo Salah, plus Roberto Firmino's late goal, secured an utterly dominant 7-0 win in this Premier League grudge match, marking the biggest win in the history of this storied fixture.
It was a sobering afternoon for Erik ten Hag's side, which had been on a brilliant run of form since the season resumed following the World Cup and at one stage even looked as though it may begin to put pressure on Manchester City and Arsenal at the top of the table.
Klopp had called United a "results machine" in the build up to this match and even in his wildest dreams the German would surely not have envisaged a performance and result like this one.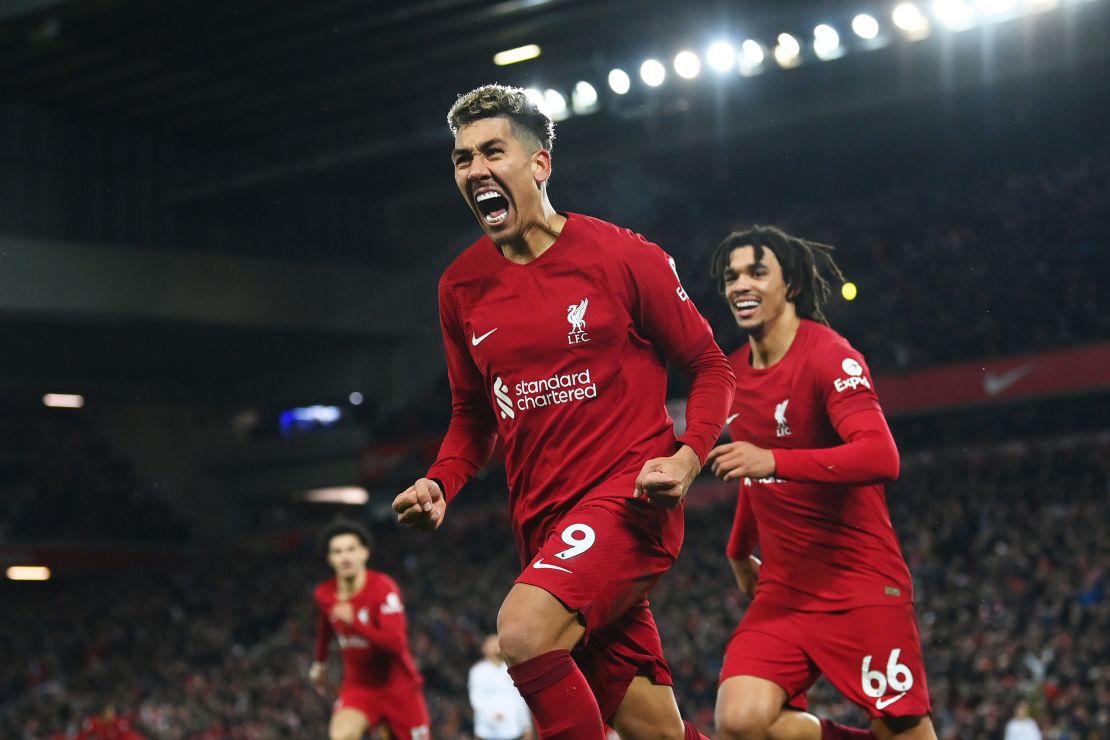 It will go down as not only one of the all-time great victories for Liverpool in this fixture, but one of the greatest Premier League results in history and will be remembered for decades to come.
"No words," a beaming Klopp told Sky Sports after the win. "Spectacular football game. Outstanding. The start of the game was exactly what we needed – super front foot, super lively, super active. We played top football against the team in form.
"Second half, the start was pretty good, the finish was pretty good, everything was pretty good. That's football, it can happen.
"As I said before the game, United has played a super season and we are not really happy with our season so far, but that doesn't mean anything for the game because you still have to play this one and today we were clearly the better side for this moment and we got a very important three points. It feels good."
As phenomenal as Liverpool was all game, Manchester United was equally as shambolic.
Ten Hag has dealt with a number of setbacks since joining in April 2022, but this is surely the nadir of his time in charge of the club and extinguishes any lingering hope United had of inserting itself into the title race.
Former United captain Gary Neville labeled the performance a "shambles" and "embarrassing" on the Sky Sports coverage of the game and there will have to be some serious soul-searching in the United dressing room if the team is to bounce back from this.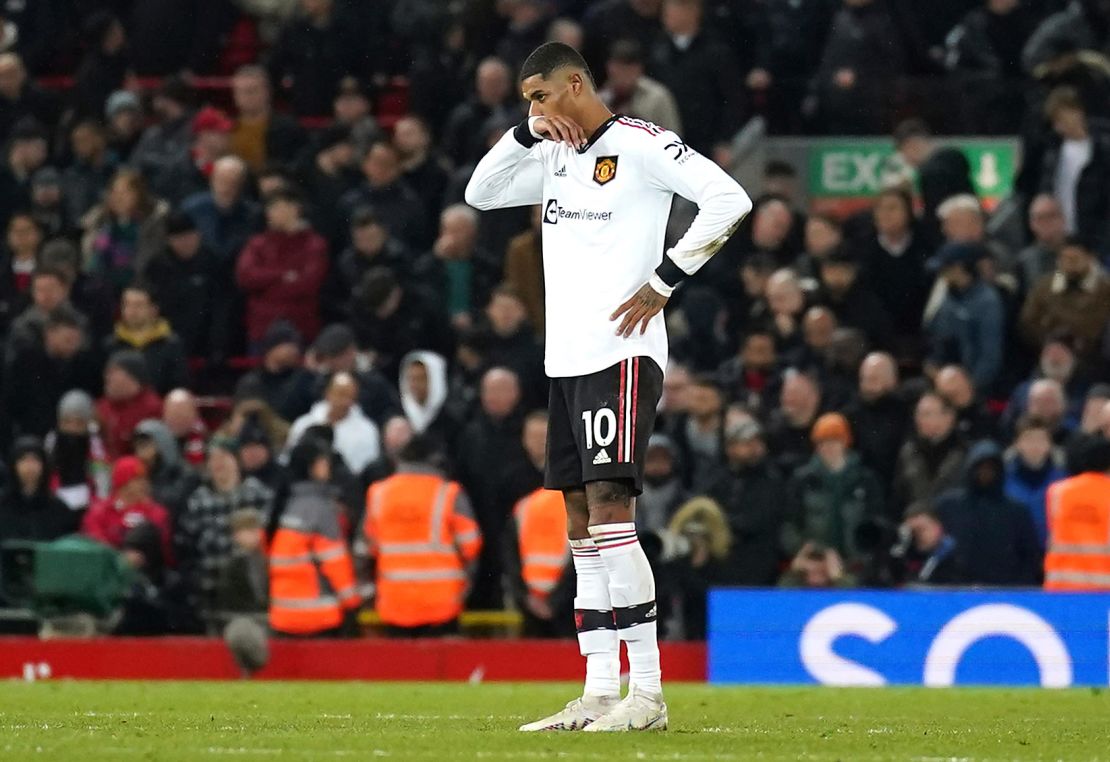 "We've had setbacks in the past and we have to come back again because this is what Manchester United is about," a somber Bruno Fernandes told Sky Sports after the game. "We can go down but we have to get back up because we know how good we are.
"We know that today we didn't show and we didn't perform at our level, but we know this team is really good and can do really good things. Today, that was not the case but I'm pretty sure this team will still do great things together with the fans that I have to appreciate for their support.
"We have set a really good standard for ourselves, now it's just about getting back to that because the fans deserve that and we deserve that. We have done much better than today in the past and we will do much better in the future."
But this was Liverpool's day and a raucous Anfield gave the players a spine-tingling ovation at full time, the moment undoubtedly made all the sweeter given the team's struggles this season.
To add further gloss to the occasion, Salah's two goals took his Premier League tally for Liverpool to 129, surpassing Robbie Fowler's record for the club.
"It's very special," Salah told Sky Sports of his achievement. "I can't lie, this record was in my mind since I came here. I think after my first season I was always chasing that record, so to get it today against United with that result is unbelievable.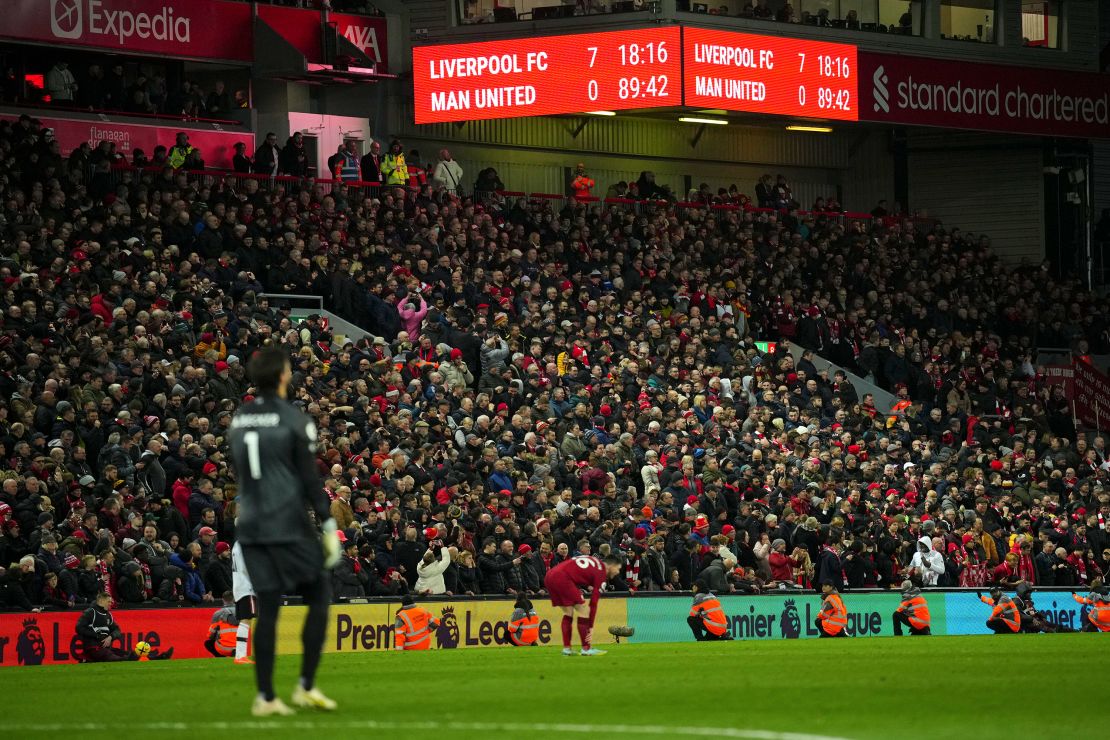 "I'm going home to celebrate with the family and have a camomile tea and sleep."
Despite all the problems Liverpool has encountered this season, the team now moves up to fifth place in the league and is just three points behind Tottenham in the fourth and final Champions League place with a game in hand.
"It was the push we wanted, it puts us in the right direction," Klopp added. "Everyone has to know we are still around. It wasn't the case for a while, but tonight was a proper show of what we can be and what we have to be from now on."
The victory also comes at the best possible time, as Liverpool attempts to build some momentum ahead of the return Champions League fixture against Real Madrid in 10 days' time.
Any chance of turning a 5-2 deficit around at the Bernabeu still seems slim, but Liverpool and its fans will now have more hope than ever before that the improbable feat can be accomplished.