Pete Buttigieg admits he got it wrong on the Ohio train derailment response.
But while the criticism is fair, he says, the critics are mostly not.
"It's really rich to see some of these folks – the former president, these Fox hosts – who are literally lifelong card-carrying members of the East Coast elite, whose top economic policy priority has always been tax cuts for the wealthy, and who wouldn't know their way around a T.J. Maxx if their life depended on it, to be presenting themselves as if they genuinely care about the forgotten middle of the country," the Transportation Secretary said. "You think Tucker Carlson knows the difference between a T.J. Maxx and a Kohl's?"
In an exclusive interview with CNN, Buttigieg acknowledged mistakes. He said he should have gone to East Palestine, Ohio, earlier. He said he failed to anticipate the political fallout from the toxic train derailment, despite months of transportation problems like mass flight cancellations and an air traffic control system shutdown that left many Americans frustrated.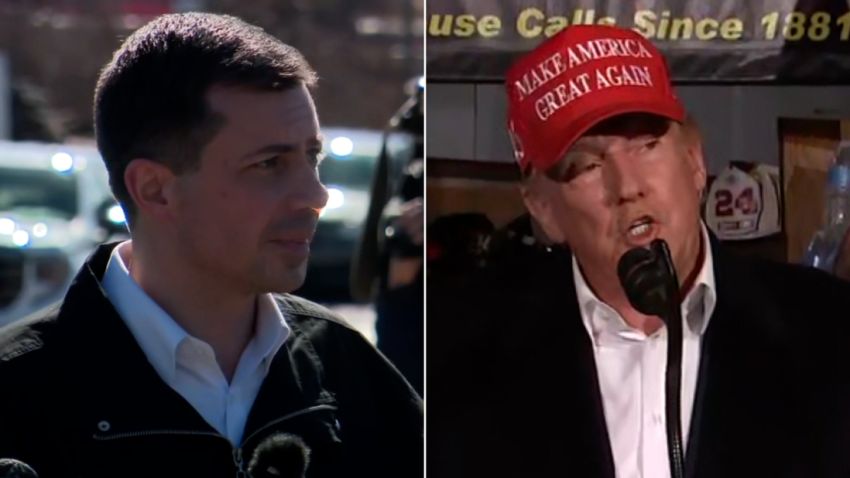 Buttigieg fires back at Trump's claims during East Palestine visit
But he also punched back at critics, arguing that many of the problems he's being blamed for are only partially connected to his portfolio and mostly out of his direct control.
Buttigieg came into the Cabinet knowing this would be an odd transition – he's the only winner of the Iowa caucuses and one-time Jimmy Kimmel guest host to take a lower-level Cabinet job. He didn't realize just how much focus there would be on a Cabinet role that was once seen as mostly apolitical in past administrations.
Now, to the left, the former mayor of South Bend, Indiana, is the corporatist compromiser without the vision or guts to go as big as he should. To the right, he is the embodiment of elitist abandonment of real Americans, hopped up on his own grandiosity, who thinks more about social engineering than transportation.
Republicans like Sen. Marco Rubio are calling for his resignation over "intentional ignorance" for not moving sooner on the East Palestine derailment – one of the more civil statements that have been coming from the GOP. Donald Trump Jr., for example, insisted he only got the job because he was "that gay guy." Even some Democrats are publicly raising doubts – West Virginia Sen. Joe Manchin, a Democrat, told CNN, "People have to have a confidence – and they have more confidence when they see leaders." Manchin added that Buttigieg "has to make that decision if he feels he's being effective."
"Buttigieg's appeal in 2020 as a fresh new face – like [Jimmy] Carter, [Bill] Clinton or [Barack] Obama – who wanted to get past the divisions and move the nation forward," said a Democratic member of Congress, who did not want to be named criticizing a member of the administration. "It's sad to see him become a partisan brawler on Twitter and cable news. He's become the most polarizing member of Biden's Cabinet."
Buttigieg doesn't have to worry about getting fired – "whether it's sickening attacks on his family or disrespecting a community's pain with failed attempts at exploitation as a political prop, nothing saps credibility like following debunked smears with even more debunked smears," said White House spokesman Andrew Bates.
Still, to political chatterers, nearly every transportation-related problem has prompted a round talk of how this could be what destroys his obvious future ambitions.
The back-and-forth over the train derailment is the latest, and most intense so far.
Buttigieg contends it wouldn't have made any substantive difference in the Department of Transportation response if he had gone earlier, since there's very little of the immediate accident response that has anything to do with the agency he controls. Yet he acknowledged it probably would have helped the residents in East Palestine to see one of the better-known political figures in the country there to show them that they were being heard, even if no previous transportation secretaries toured derailment sites.
He previously underestimated how much of his job would be wrapped up in consumer affairs and customer service, he said.
"Sometimes people need policy work, and sometimes people need performative work," he told CNN. "And to get to this level, you've got to be ready to serve up both."
Going to Ohio
Whether Buttigieg was late depends on who's counting.
He says he was paying attention to train safety since coming onto the job two years ago and was paying close attention to the East Palestine derailment before it flared up as a political issue. His staff, which struggles to keep up with the intense incoming, counted 23 interviews he did in nearly three weeks between the train going off the tracks and the Republican embrace of it as a cause. Buttigieg didn't get a single question on it.
Ohio Gov. Mike DeWine, a Republican, has praised the cooperation he's been getting from the Biden administration. No one has been able to point to a clear failure on Buttigieg's part around the train derailment, including House Oversight Chairman Rep. Jim Comer, whose initial letter demanding answers from the secretary cited issues with the National Transportation Safety Board, which is an independent agency – prompting Buttigieg to respond, "it's hard to believe this is motivated by an interest in the finer points of transportation policy when its authors make abundantly clear that they don't even know how transportation policy works."
No previous Transportation secretary had gone to a derailment site, so when he made his analysis he didn't think he would either. But he says when he finally did go, the experience was searing.
"I could get technical readouts, information about the response. But I think it was important to hear and see how the community was responding, what they were worried about it just a different way that you can sense on paper," Buttigieg said, talking about the sight of twisted metal and smell of chemicals in the air. "It just feels different."
The secretary visited East Palestine a day after former President Donald Trump went to the town, calling out President Joe Biden for not having made his own visit and slamming the administration's response.
Trump's visit, Buttigieg said, was "somewhat maddening – to see someone who did a lot try to gut not just rail safety regulations, but the EPA, which is the number one thing standing between that community and a total loss of accountability for Norfolk Southern and then show up giving out bottled water and campaign swag?"
The attention to the boots Buttigieg wore when he visited a day later, he said, was also "maddening."
His voice got tighter.
"Who cares what shoes I was wearing, when I was there to draw attention to an agenda that will save lives on our railroads?" Buttigieg said.
As for any suggestion from Trump or supporters that the former president's trip to East Palestine pressured him to go: "That's bull—-," Buttigieg said. "We were already going to go."
For now, he says he wants to leverage the attacks over the derailment into action that could otherwise take years to come through government bureaucracy.
"People who have sided with the rail industry again and again and again are suddenly acting like rail safety advocates," Buttigieg said. "But it also creates the chance to call them to the table and say, 'OK, if we're serious now, let's do this.'"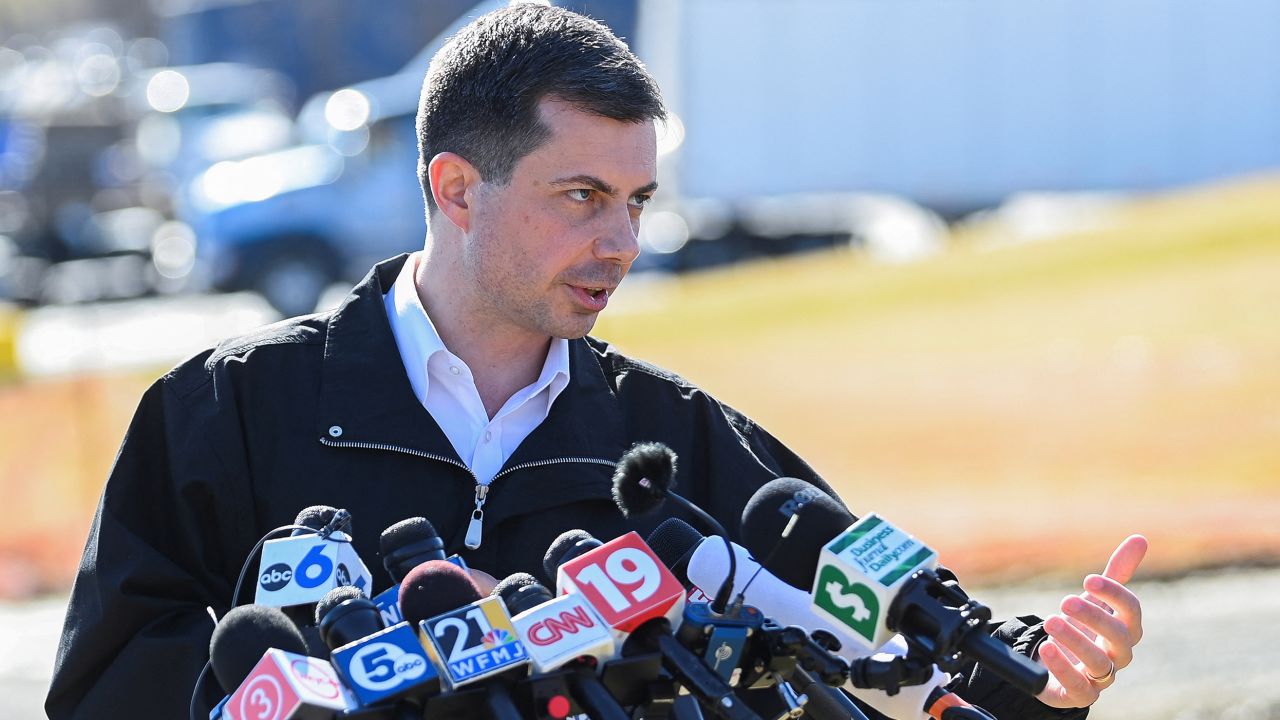 'What's Buttigieg going to do next?'
There were no cable news segments about Agriculture Secretary Tom Vilsack when the price of eggs spiked in January. EPA head Michael Regan is the one whose agency has actually taken the lead on the response to the East Palestine derailment – including being made aware of the since-questioned decision to do a controlled burn of some of the hazardous materials – but few in Washington or beyond could pick him out of a crowd.
Instead, it's Buttigieg at the center of the attention and the one being blamed.
"Maybe they think that because he ran for president, he's an easy target to hit," said outgoing Labor Secretary Marty Walsh, who himself has been in the middle of a number of intense negotiations and situations, but noted neither he nor anyone else in the Cabinet attracts as much attention as his fellow former mayor. "People always say, 'What's Secretary Buttigieg going to do next? What's Buttigieg going to do next?' We've talked. What he's going to do next is be Secretary of Transportation."
Buttigieg says what he'd rather be doing is trips like Monday's: Opening the first new airport terminal in Kansas City since Vice President Spiro Agnew was there for a ribbon cutting – Buttigieg arrived late, courtesy of being stuck on his own delayed Southwest Airlines flight – celebrating the groundbreaking on a record-busting $4 billion electric vehicle battery plant in DeSoto, Kansas, and talking transportation programs with students at the University of Missouri.
Those events are the things Buttigieg thought he was signing up for with the Cabinet job along moments like when Missouri Gov. Mike Parsons – a Republican who has close to zero political alignment with Buttigieg – took time to fix his hair before a photo after they toured the new Kansas City International terminal, later pulling him in for a long private chat.
"There's always a political spin on a lot of things in the world nowadays that we see all the time. But the reality of it is when you come to infrastructure, infrastructure is good for everybody," Parsons said.
Parsons knew about the attacks Buttigieg has been getting for supposedly ignoring the heartland on the train derailment. He didn't join in.
"We've always had a great relationship," the governor said.
A 'long haul' approach to transportation
Most of Buttigieg's flexing of his profile so far has been around airlines.
With DOT tracking a sizable increase in flights being canceled last summer, he called in the CEOs of the 10 largest airlines and pressed them on stress testing their schedule and improving customer service.
Instead of waiting the years it could have taken for new regulations to get through, he wrote the CEOs a letter. In two weeks, he told them, he was going to publish a chart of which airlines offered which compensation for cancellations – cover a meal? A hotel? Rebook the ticket automatically? There would be green checks and red Xs. He'd do interviews, more tweets like the ones breaking down the dollar value of bonus miles, to help people avoid getting ripped off.
Before he did, seven of the airlines – including Southwest – announced their own guarantees. Two more have followed. He's already told the airlines he'll be publishing a similar chart next week about which offer seating for families to be together. Already, American Airlines announced on Tuesday plans to institute a new policy.
Imagine, Buttigieg mused to CNN, how much worse the Southwest meltdown around New Year's would have been for customers if those guarantees hadn't been in writing already.
When the 17,000 Southwest flights were canceled over just 10 days, thanks to the combination of a winter storm and an outdated crew scheduling system, Buttigieg was hammered again. Republicans attacked him for dodging the crisis. Progressives complained that he wasn't hitting the company with big enough fines, following a Vermont Sen. Bernie Sanders call over the summer to ramp up the corporate pain. He was "in the hot seat," or according to one chyron: "Mayor Pete Leaves Southwest Customers Stranded."
"We're attacking the secretary over bad business decisions by an airline and things out of his control," said Texas Rep. Colin Allred, a Democrat whose district includes Southwest headquarters and is home to many airline workers.
Allred said his fellow Democrats pushing for higher fines underestimated the ripple effects which could have sparked mass layoffs – and would have torqued Buttigieg the other way.
"Play it out, if he had decided to make this the biggest issue in the world, it would appear political, because it's outside the scope of what we're used to seeing secretaries of transportation do," Allred said.
Buttigieg pointed out that 2022 saw the highest amount of refunds returned to customers in DOT history, with $1 billion over his time as secretary.
He has a long list of issues he says have continued to be top priorities as public attention faded, like the data sharing pilot program created in the wake of the 2021 supply chain crisis to integrate information between major retailers, trucking companies, shipping companies, ports and labor. Or his mediating a negotiation between cellphone companies eager to install 5G towers and the airlines worried those signals would interfere with old altimeters and make planes fall out of the sky.
That's the sensibility Buttigieg says he wants to take as a bipartisan group of senators introduced legislation this week to address derailment issues. Change the standards on brakes, he says, and change the rules on transporting hazardous materials. Otherwise, when people want to hold him responsible, the level of what he'll be able to do is come at a $4.3 billion company with fines capped at $225,000.
Already, the DOT points to meetings Buttigieg had back in Washington with 12 unions calling for more attention to the lack of personal protective equipment for clean-up workers and the health problems they've been having, and a voluntary safety reporting system that all seven top railroad companies – including Norfolk Southern – are agreeing to at his urging.
Asked what he believed holding him to account would be, Buttigieg said, "I want to be able to say, 'We did everything within our power to hold Norfolk Southern accountable, that we made major strides in the level of rail safety and anything that the people of East Palestine came to us and needed, we addressed,'" he said. "All of those require being in it for the long haul."
Being a lightning rod, Buttigieg knows, will make that harder. He pointed to an appearance he made last week at the National Association of Counties conference. The main topic he wanted to address was roadway deaths which kill 40,000 Americans per year, 100 per day, by his data.
But the only attention he generated was a pile-on over a passing comment about how construction workers needed to diversify so they came from the neighborhoods in which they're working in.
Quinton Lucas, the mayor of Kansas City, said he had two informal experiments about how people respond to Buttigieg – one when he posted on social media about the upcoming visit, one when he watched the interactions the secretary had at the airport opening ceremony.
Online, the response was huge: Both excited likes and vicious repetitions of standard attacks like on those boots he wore in Ohio to his taking paternity leave after adopting twins in late 2021. In person at the airport opening ceremony, it was more muted, but Lucas felt that Republicans and Democrats, business leaders and union workers all seemed to feel a real connection to Buttigieg and want to talk with him.
"Attacking the president for not being an Everyman is darn near impossible, so I think there is a search from my friends on the right for someone to fill that role," Lucas said. "They're trying with Secretary Buttigieg, but it is not working."
CORRECTION: An earlier version of this story incorrectly stated a statistic. The year 2022 saw the highest amount of refunds returned to customers in DOT history. This story has also been updated to clarify that the EPA was not an active participant in the decision to do a controlled burn.