A superhuman is defined as someone who has exceptional abilities or powers, but for two-time Paralympic archer Shaun Anderson, it has a deeper meaning. The word is written on his bow next to the hashtag, "I'm Possible." Both phrases serve as a reminder of the strength and willpower he needed to persevere through some of his darkest days.
At 32, Anderson had his arm amputated after a motorbike accident in 2004. The natural athlete says sports have always been an outlet for him, and he quickly took to archery. Anderson climbed the ranks and represented South Africa at the 2016 Rio Paralympics. However, tragedy struck again the following year when Anderson was paralyzed from the waist down in a boating accident.
He fought to return to his sport and represented South Africa once again at the delayed 2020 Tokyo Paralympics. As of February, the 50-year-old is ranked 35th in the world in the Men's W1 category. Anderson says his next goal is to qualify for the 2024 Paris Paralympics and grow awareness for the sport across South Africa and the continent at large.
CNN spoke with Anderson at the 2022 African Archery Championships, hosted in Pretoria, South Africa – the first time para events were included at the competition.
The following interview has been edited for length and clarity.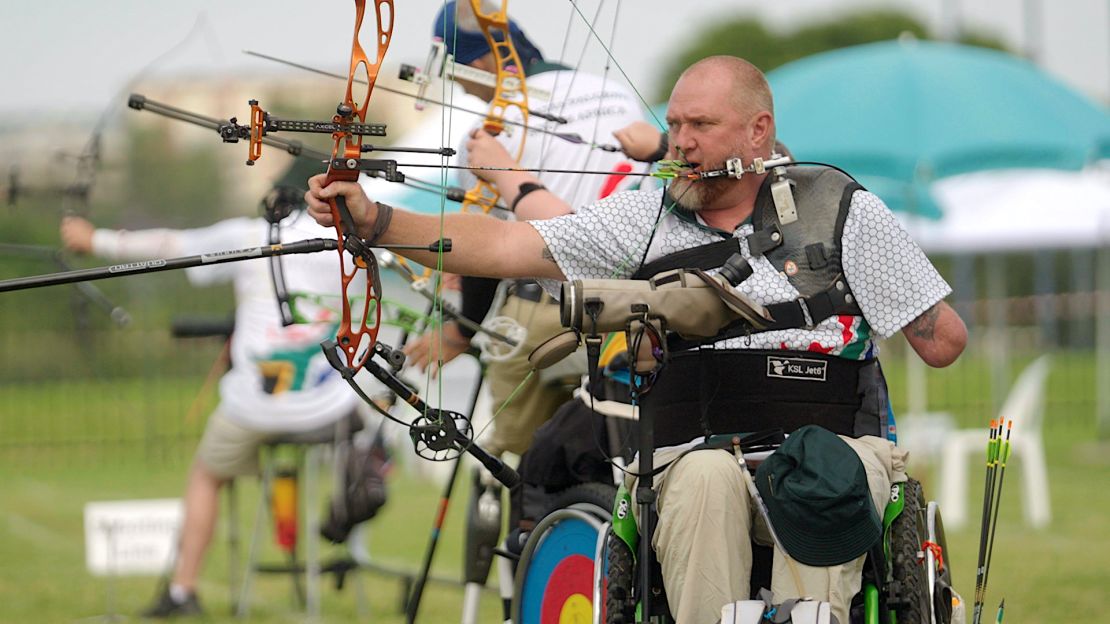 CNN: Tell us about your journey. What inspired you to take up para-archery?
Anderson: Me and my son do everything together. We used to fish together, but after we moved back to Victoria [a suburb of Johannesburg], we had nothing to do on weekends. So, we saw a bow shop and walked in. My son started archery and I said, 'if he's going do it, I'm going do it with him.'
Read more: Is this Nigerian teen the next women's golf prodigy?
I won the World Indoor Championships. And then I met this amazing woman called Barbara Manning [who would become his coach] and I said to her, 'I want to go to the Olympic Games' and that's when my journey started. So, it's been a rollercoaster ride for the last almost 14 years. It's been up and down. But my journey has been awesome. I've met amazing people along the way. I've overcome so many obstacles just to get to where I am.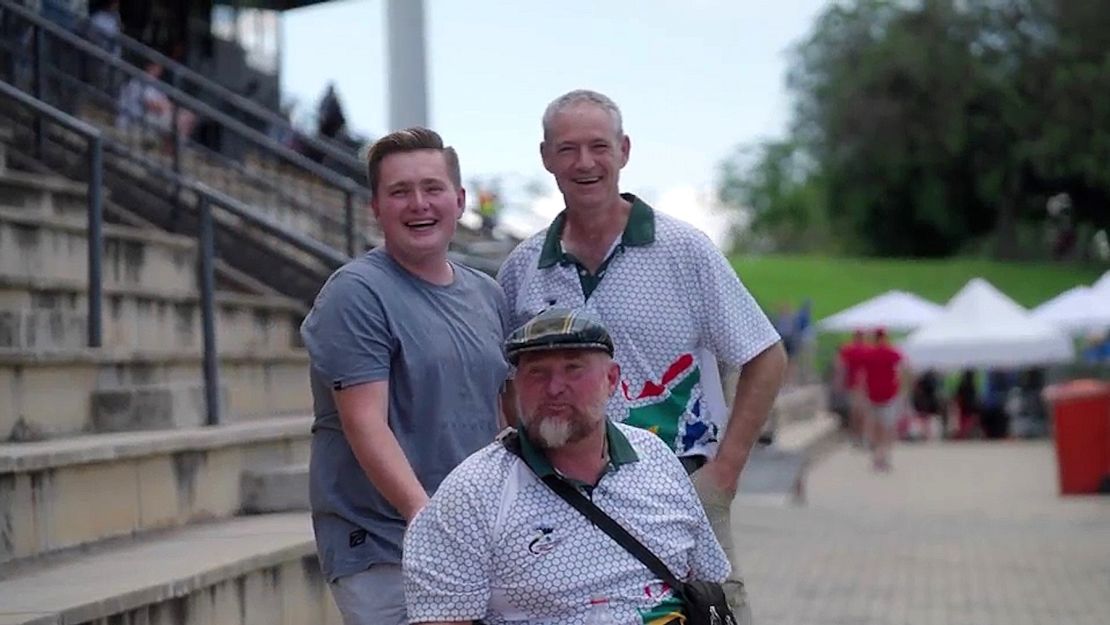 CNN: You've proven to be an eternal optimist. Your second accident left you paralyzed from the waist down. How did you recover?
Anderson: That was tough. We were so close to (the) Tokyo (Paralympics), I was really preparing for Tokyo. We took our first holiday as a family in four years, and we did one of the things I loved the most, and that's going deep sea fishing with my family. So, that was tough, you go from being on top of the world – just getting back from Rio, going to Beijing. Yes, you've lost one limb and now all of a sudden you lost your legs. And three months of rehab wasn't easy. Being an Olympian in rehab, you think, 'ah man, I can get through this. I'm an Olympic athlete. Give me what you want to give me.' That was the toughest three months of my life, but you persevere.
Read more: These African athletes made history at Tokyo 2020
CNN: What led to your decision to return to archery after the second accident?
Anderson: People look at me and they go, 'you know, Sean you've been dealt so many blows. It's one thing after another,' and I just say, 'I don't know how to give up.' Even when I'm in my lowest, I always sit down and go, 'okay, what's the bad things? What's the good things?' And always, the good things weigh out the bad things.
I mean I tried to commit suicide twice when I was young. And then I tried also a couple of years ago after my (boating) accident. I got back from the World Championships, and I just felt like I was the biggest burden to my family. I thought, 'I've got nothing to live for and why am I doing this still?' And I mean, I'm just one of those people who believes I can beat anything. So far, I haven't beaten this, but I'm accepting it now and I'm living with it. But that's where it helps to have a good team around you and that's why I had my team around me. That day was close, and I'll never go back to that, never in my life. I promised myself, promised my wife and my children no matter how bad it gets.
CNN: You're all about community – it's a big part of what you do. Why did you decide to coach others?
Anderson: (The Covid-19 pandemic) destroyed all my coaching, it just came to a dead stop. Next year I want to get back into it. I want to start coaching again. I miss the kids. (Coaching) is huge for me because it's who I am. It's giving back and that's what's important. I've reached the pinnacle; I've reached the top of my game. But for me, the dream is to take the next person to that level. My dream one day is to be the manager of the team.
Read more: She calls herself the 'Black Mermaid,' and she's helping South African kids fall in love with the ocean
CNN: What does success mean to you?
Anderson: Success to me isn't about material things. It isn't about gold medals. It isn't about what car you drive. It's about: are you happy in the life that you're living? Are you happy with what you've achieved?
The fact that my children look up to me, my wife, that is success. You can't replace that. You could have as much money in the world, but it doesn't buy me new legs, doesn't give me an arm.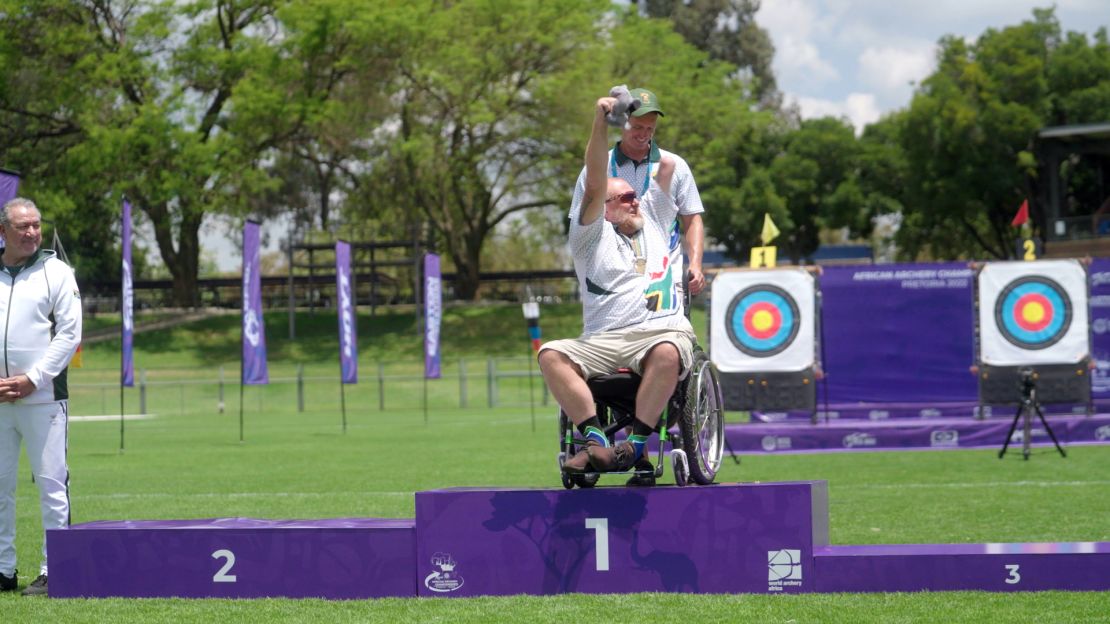 CNN: What is your vision for para-archery throughout Africa?
Anderson: At the next African Games [in 2023], I want to have 20 para-archers on the line. I want to see para-archers from Egypt and everybody there. That's my dream. My goal now is to start getting the word out there. In Europe and all over the rest of the world, (para-archery) is huge. Africa, at the moment, we are running behind.
Watch the full episode of African Voices featuring Shaun Anderson here
Let's get those guys out there and give them something to work for. My dream is to be able to go to a World Championships and to see Kenya, Zimbabwe, Nigeria, everybody walking in – and it's not just South Africa coming through the gate. That'll be a huge thing for me one day to be able to put out a medal around other athletes after I retire and go, 'you've done it, mate.'
If you or someone you know might be at risk of suicide, here are ways to help.
If you live in the US and are having suicidal thoughts, call the National Suicide Prevention Lifeline at 800-273-8255 (800-273-TALK) for free and confidential support. It's open 24 hours a day, seven days a week. For crisis support in Spanish, call 888-628-9454. TrevorLifeline, a suicide prevention counseling service for the LGBTQ community, can be reached at 866-488-7386. Befrienders Worldwide connects users to the nearest emotional support center for the part of the world they live in.