Firefighters in the southern Indian city of Kochi were toiling Tuesday to control toxic fumes from spreading after a landfill burst into flames five days ago, cloaking the area in a thick haze and choking residents.
The towering Brahmapuram landfill in Kerala state is the country's latest trash mountain to catch fire, causing dangerous heat and methane emissions, and adding to India's growing climate challenges.
Authorities advised residents in the city of more than 600,000 to remain indoors or wear N95 face masks if they head outside. Schools were forced to close on Monday as a result of the pollution, officials said.
The blaze broke out last Thursday, according to Kerala's fire department. The cause has not been established, but landfill fires can be triggered by combustible gases from disintegrating garbage. Images and video released by officials showed workers racing to extinguish the billowing flames that sent thick plumes of toxic smoke rising high into the sky.
While the fire has been largely put out, a thick cloud of smoke and methane gas continues to cover the area, reducing visibility and the city's air quality, while emitting a lingering, pungent odor.
Some firefighters had fainted from the fumes, the fire department said.
Kerala's top court said it will take up the case on Tuesday.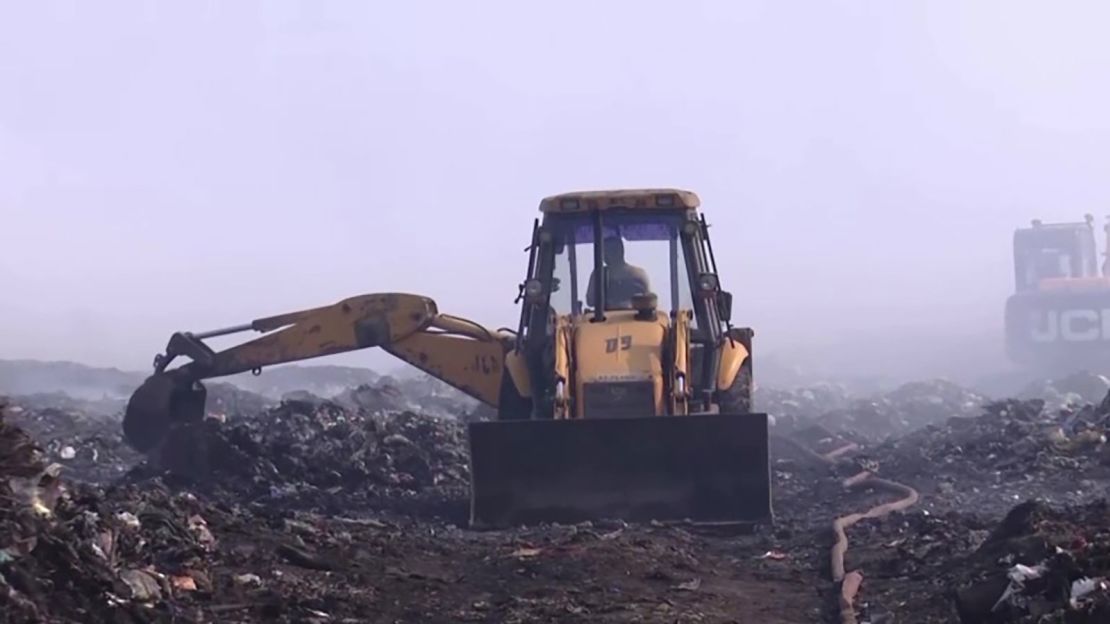 India creates more methane from landfill sites than any other country, according to GHGSat, which monitors emissions via satellites. Methane is the second most abundant greenhouse gas after carbon dioxide – but it is a more potent contributor to the climate crisis because it traps more heat.
As part of his "Clean India" initiative, Indian Prime Minister Narendra Modi said efforts are being made to remove these mountains of garbage and convert them into green zones. That goal, if achieved, could relieve some of the suffering of those residents living in the shadows of these enormous dump sites – and help the world lower its greenhouse gas emissions.
But while India wants to lower its methane output, it hasn't joined the 150 countries that have signed up to the Global Methane Pledge, a pact to collectively cut global emissions by at least 30% from 2020 levels by 2030. Scientists estimate the reduction could cut global temperature rise by 0.2% – and help the world reach its target of keeping global warming under 1.5 degrees Celsius.
India says it won't join because most of its methane emissions come from farming – some 74% from farm animals and paddy fields versus less than 15% from landfill.
In 2021, India's environment minister Ashwini Choubey said pledging to reduce the country's total methane output could threaten the livelihood of farmers and impact the economy. But environmentalists say the country is facing a dire climate challenge from its steaming mounds of trash.
India's trash mountains
Brahmapuram is just one of some 3,000 Indian landfills overflowing with decaying waste and emitting toxic gases.
Commissioned in 2008, the landfill is spread across 16 acres, according to a 2020 report from the International Urban Cooperation, a European Union program.
The landfill receives about 100 metric tons of plastic waste each day, the study added, of which only about 1% is suitable for recycling. The remaining 99% is dumped as a heap at the site, the study said, calling it a "menace for the municipal corporation."
"The plastic dump at Brahmapuram is increasing in size day by day," it said. "It has seen several fires over the past few years, thus polluting the air and the environment."
Despite its growing size and threats, the landfill is not India's largest. The Deonar dumping ground in the western coastal city of Mumbai, which stands at some 18 stories high, claims the top spot.
Deonar has also seen sporadic fires break out, enveloping about a million residents in the nearby Chembur, Govandi and Mankhurd suburbs.
There is no formal processing of waste in most Indian cities, according to the government's Central Pollution Board. Rag pickers from nearby slums often trek up the towering mounds and scour through the waste for a few cents per day, but they are not trained in properly segregating it.
In some cases, the trash is simply burned in open dump yards on the roads.
Last year, firefighters worked for days to extinguish flames after a fire broke out at Delhi's Ghazipur landfill – the capital city's largest.
Standing at 65 meters (213 feet), it is nearly as tall as the historic Taj Mahal, becoming a landmark in its own right and an eyesore that towers over surrounding homes, affecting the health of people who live there.
And methane emissions aren't the only hazard that stem from the landfill. Over decades, dangerous toxins have seeped into the ground, polluting the water supply for thousands living nearby.
At Bhalswa, one of Delhi's other large landfills, residents have complained of deep, painful skin gashes and respiratory issues from years of living near the hazardous mound.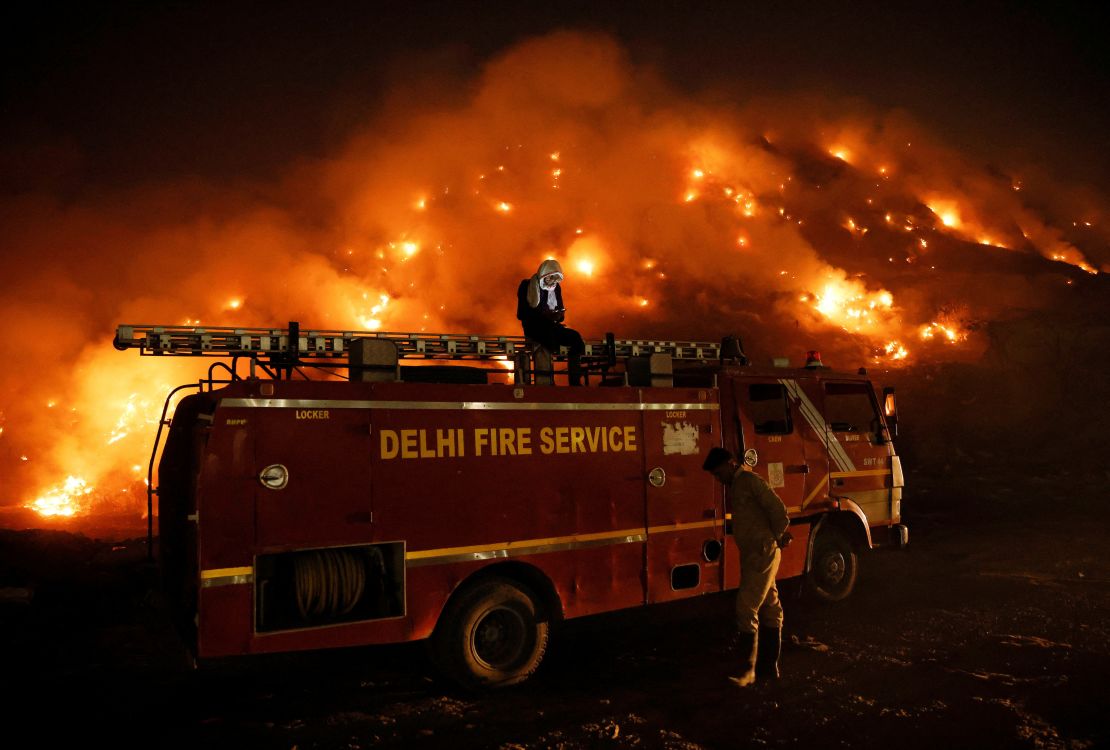 In a 2019 report, the Indian government recommended ways to improve the country's solid waste management, including formalizing the recycling sector and installing more compost plants in the country.
While some improvements have been made, such as better door-to-door garbage collection and processing of waste, India's landfills continue to grow in size.
And as the country is expected to soon overtake China as the the world's most populous nation, climate experts fear time to act upon the issue is running out.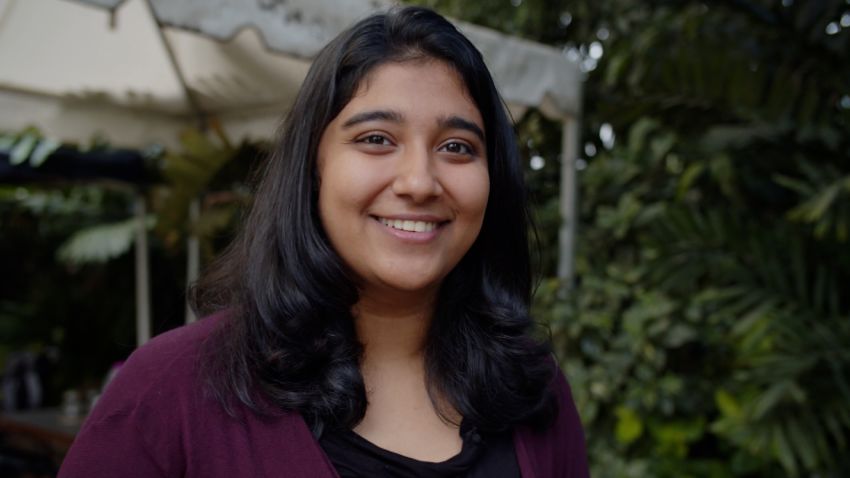 This Gen Z water activist is seeing the glass as half full
CNN's Manveena Suri contributed reporting from New Delhi