Israeli forces staged a daylight raid into Jenin in the occupied West Bank targeting the suspect in the killing of two Jewish settlers, leaving the suspect and at least five other Palestinian men dead, officials on both sides said Tuesday.
The violence marks the latest round in what has become a brutal cycle of Israeli raids against suspected Palestinian militants, Palestinian revenge attacks on Israelis, and Israeli settler targeting of Palestinians.
The Israel Defense Forces named the suspect as Abdul-Fattah Hussein Kharousha, 49, and described him as a "Hamas terrorist operative."
Hamas claimed Kharousha as a member, saying he had killed two Israeli settlers in the town of Huwara in late February. It also hailed the other five men killed as "fighter martyrs," but did not say they were members of the group.
The Palestinian Ministry of Health said at least 11 others were injured in the raid.
IDF forces carried out a separate raid in the West Bank city of Nablus at the same time to arrest two sons of Kharousha, they said. They are "suspected of aiding and planning in the terror attack," the military said, adding that they are in custody for questioning.
The raid is at least the third to take place in daylight this year. The previous two – one in Jenin and one in Nablus – each resulted in 11 Palestinian fatalities, including militants being targeted by the Israel Defense Forces, people clashing with the Israeli forces, and bystanders.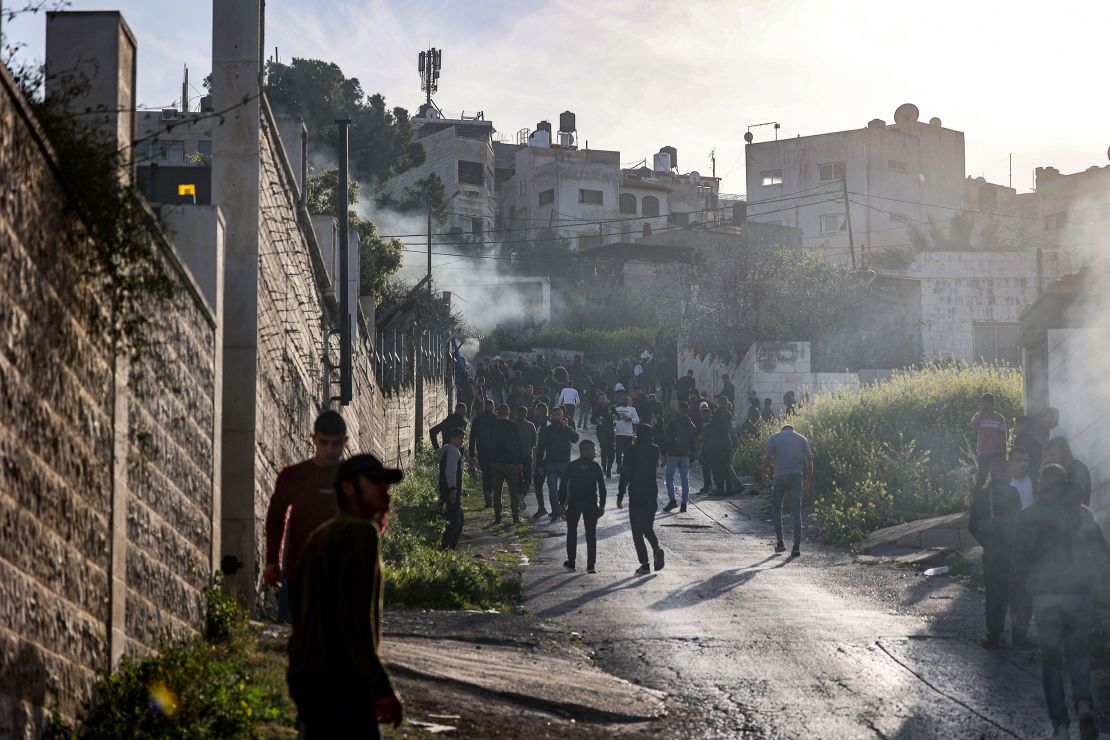 Jewish settler brothers Hillel Yaniv, 21 and Yagel Yaniv, 19, were shot dead as they drove through Huwara in the West Bank on February 26. They lived in the nearby Israeli settlement of Har Bracha.
Israeli Prime Minister Benjamin Netanyahu said the operation had "eliminated the abhorrent terrorist who murdered the two wonderful brothers, Hillel and Yigal Yaniv, in cold blood."
Netanyahu finished a brief video statement by adding: "As I have said repeatedly: Whoever harms us will pay the price."
Three members of Israel's National Counter Terror Unit were wounded in the raid, the Rambam medical center in Haifa.
During the raid in Jenin refugee camp, IDF forces surrounded Kharousha's house, came under fire, and responded with shoulder-fired missiles, an IDF official told CNN. The official asked not to be named briefing CNN on information which had not yet been released publicly.
Netanyahu returned to office at the end of what was one of the deadliest years for both Israelis and Palestinians in the occupied West Bank in years. The cycle of violence has only picked up speed.
Following the death of the Yaniv brothers in late February, dozens of settlers went on a rampage in Huwara, just south of Nablus in the occupied West Bank, that one of Israel's top military generals later called a "pogrom." It lead to the death of one Palestinian man and other injuries.