US Defense Secretary Lloyd Austin took a swipe at Prime Minister Benjamin Netanyahu's plan to weaken Israel's judicial system as protesters paralyzed two of Tel Aviv's main travel arteries on Thursday, intensifying a nationwide movement against the controversial proposals.
A CNN team at Ben Gurion Airport saw people walking towards Terminal 3 with suitcases because of the blocked road during what was billed as a "Day of Disruption," while a separate demonstration in the city of Tel Aviv saw thousands turn out to protest.
Demonstrators on foot blocked the Ayalon highway, one of Tel Aviv's main roads, with some resisting initial police efforts to clear it, a CNN team saw on Thursday.
Protesters chanted "democracy," "shame" and "Where were you in Huwara?" at police, a reference to a Palestinian village in the occupied West Bank that was the target of a violent riot by Jewish settlers nearly two weeks ago. Police on horseback eventually succeeded in pushing the crowd off the highway, clearing it.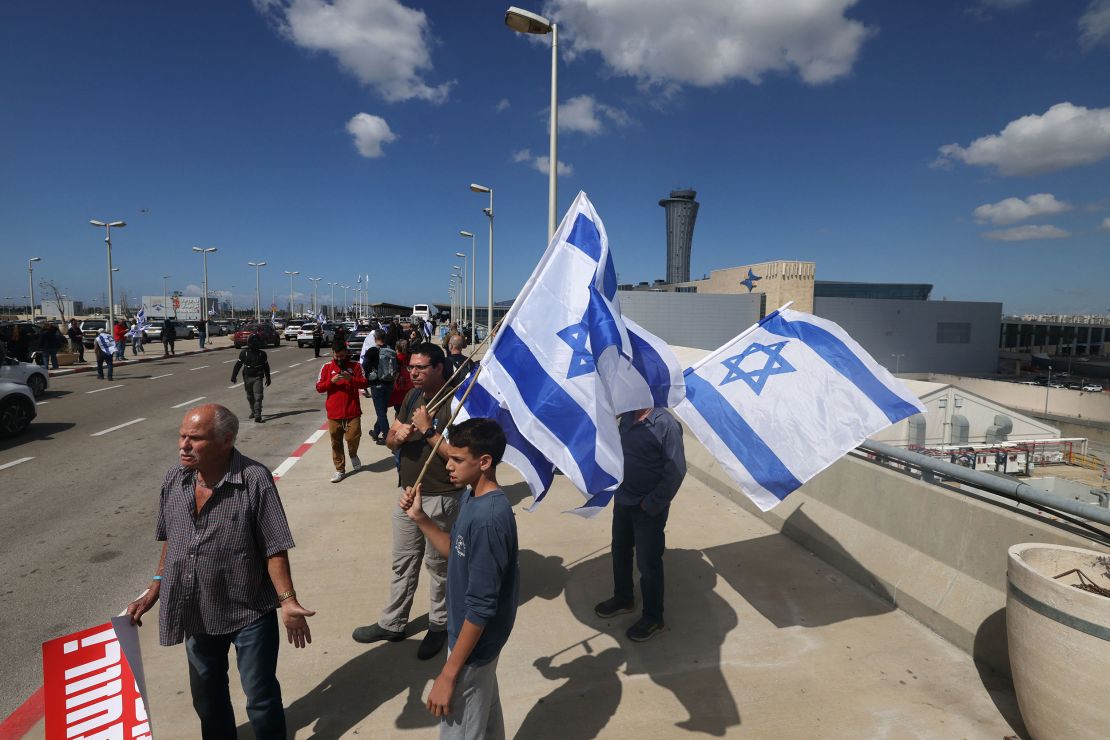 The planned protests overshadowed Austin's talks with Netanyahu and Israeli Defense Minister Yoav Gallant, which were delayed for a day at the request of Israeli officials concerned by the threat of disruption from demonstrations. The location of the meeting was also changed from the defense ministry to a location near the airport because of the protests, the Pentagon said.
As demonstrators were taking to the streets, Austin stressed the importance of an "independent judiciary" during a news conference alongside Gallant.
"As President Biden has said, the genius of American democracy and Israeli democracy is that they are both built on strong institutions – on checks and balances, and on an independent judiciary. And the President also noted that building consensus for fundamental changes is really important to ensure that the people buy into them so they can be sustained."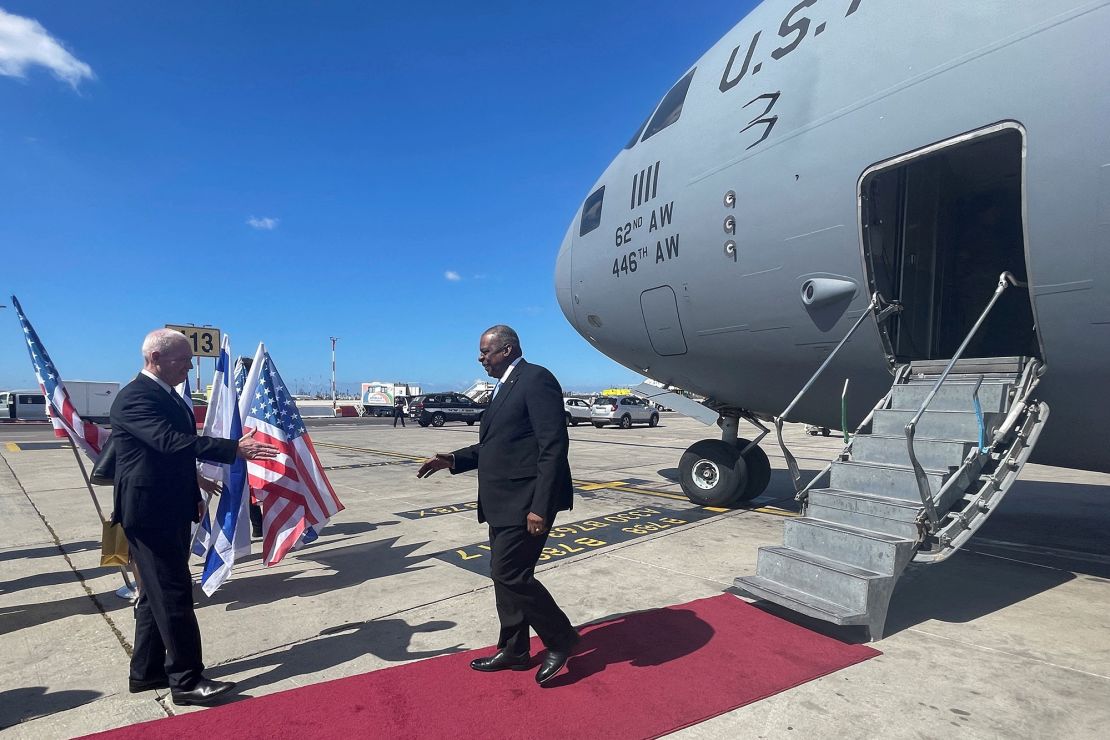 Opponents of government plans to give Israel's parliament, the Knesset, the power to overrule Supreme Court decisions with a simple majority have been protesting every Saturday night across Israel for the past nine weeks. The largest protests, in Tel Aviv, have regularly drawn more than 100,000 demonstrators, in a country with a population of just over nine million.
The package of legislation would also give the government the authority to nominate judges, which currently rests with a committee composed of judges, legal experts and politicians. It would remove power and independence from government ministries' legal advisers, and take away the power of the courts to invalidate government appointments.
Supporters of the plan to overhaul the judiciary say the changes are necessary to rein in a Supreme Court that has become too powerful and is not democratically accountable.
Plea for compromise
Israel's President Isaac Herzog made an impassioned plea on Thursday for the government's planned judicial overhaul to be taken off the table.
The package of measures "is wrong, it tramples our democratic foundations. Therefore, it should be replaced with another, agreed-upon outline, and immediately," Herzog said in a televised prime time speech to the nation.
Addressing Netanyahu and his political partners directly, Herzog warned that the country is "at the point of no return."
Herzog made a similar speech nearly a month ago, urging the Netanyahu government on February 12 not to begin the legislative process to weaken the judiciary. The government introduced the first set of measures in parliament the following day.
But in his speech on Thursday, Herzog insisted that compromise was not only possible, but within reach.
"I have been working around the clock for ten weeks, meeting everyone, even those who don't agree with me, even people who don't admit it," said Herzog, whose role as president is largely ceremonial.
"I can say the following right now: I managed to bring about a situation where the differences were greatly reduced. There is agreement on most issues. True, not on everything, but on the vast majority."
"There is an infrastructure here for a quick conclusion where the only winners are the State of Israel and its citizens," Herzog said.
Netanyahu said his meeting with Austin "focused primarily on our joint efforts to prevent Iran from obtaining nuclear weapons," before boarding a flight to Rome to meet Italy's prime minister.
Austin also used his news conference to urge Israelis and Palestinians to de-escalate rising tensions in the West Bank ahead of the holidays of Passover and Ramadan, which have been flashpoints for violence in the past. Austin said Palestinian leaders need to combat terrorism and condemn incitement while underscoring US opposition to the expansion of Israeli settlements in the West Bank.
"We're especially disturbed by violence by settlers against Palestinians," Austin noted.
Undercover Israeli Border Police operatives killed three suspected Palestinian militants in the West Bank Thursday morning, just hours before Austin landed, the Border Police announced.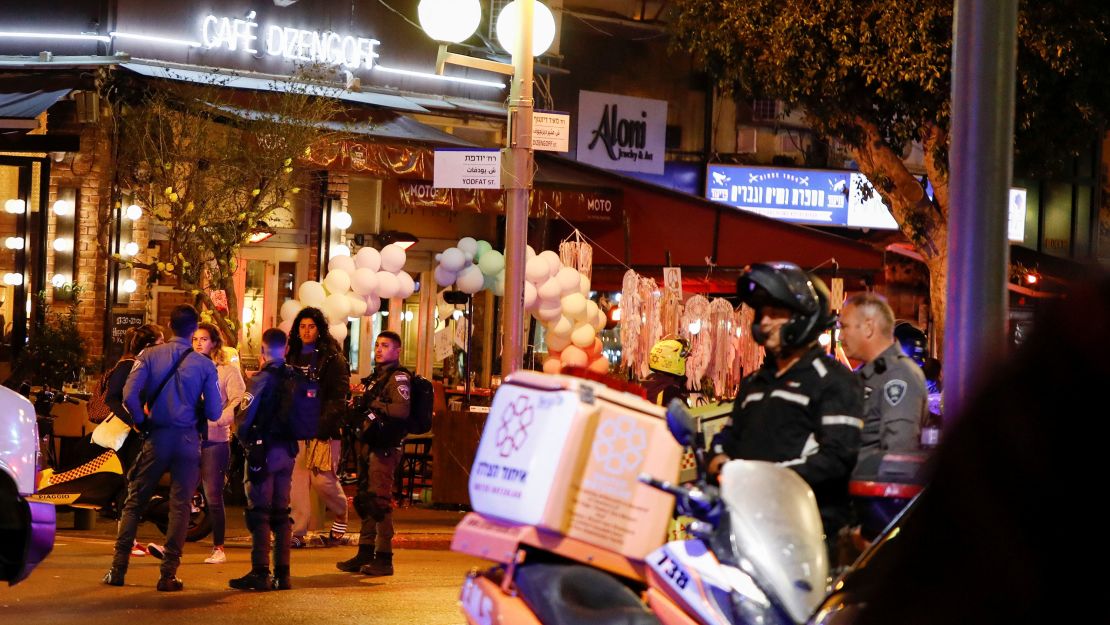 The Israeli security forces came under fire from a vehicle on an operation to arrest two suspected Palestinian Islamic Jihad military operatives, returned fire, and killed all three people in the vehicle, the police statement said.
On Thursday evening, three people were wounded when a suspected terrorist opened fire at pedestrians on a street at the center of Tel Aviv nightlife, Israel Police said.
The gunman in the Tel Aviv shooting "arrived at 171 Dizengoff Street and opened fire, wounding three. He fled. Two policemen shot and killed him," Tel Aviv's police chief Maj. Gen. Ami Eshed said.
Eshed's statement came hours after National Security Minister Itamar Ben Gvir and police chief Kobi Shabtai said they were transferring Eshed to become head of police training. The move is being seen a demotion in the wake of the anti-government protest in Tel Aviv over the past two weeks.
CNN's Amir Tal contributed reporting.