Hall of Fame men's college basketball coach Jim Boeheim has retired after spending the last 47 years coaching Syracuse University, the school announced on Wednesday.
The 78-year-old Boeheim finishes his coaching career second on the NCAA Division I men's basketball wins list with 1,015 – trailing only former Duke head coach Mike Krzyzewski.
In 1969, Boeheim was hired as a graduate assistant for the Orange and was later hired as head coach in 1976. Since then, the Boeheim-led team made the tournament 35 times including five Final Four berths. In 2003, Boeheim led the program to its first and only NCAA title.
"There is no doubt in my mind that without Jim Boeheim, Syracuse Basketball would not be the powerhouse program it is today," school Chancellor Kent Syverud said in a statement.
"Jim has invested and dedicated the majority of his life to building this program, cultivating generations of student-athletes and representing his alma mater with pride and distinction. I extend my deep appreciation and gratitude to an alumnus who epitomizes what it means to be 'Forever Orange.'"
Boeheim played basketball at Syracuse, joining the team as a walk-on in 1962. By his senior season, he was named captain of the team and helped earn the program its second-ever NCAA Tournament berth.
Boeheim's retirement comes following the Orange's last-second 77-74 loss to Wake Forest in the second round of the Atlantic Coast Conference (ACC) tournament on Wednesday.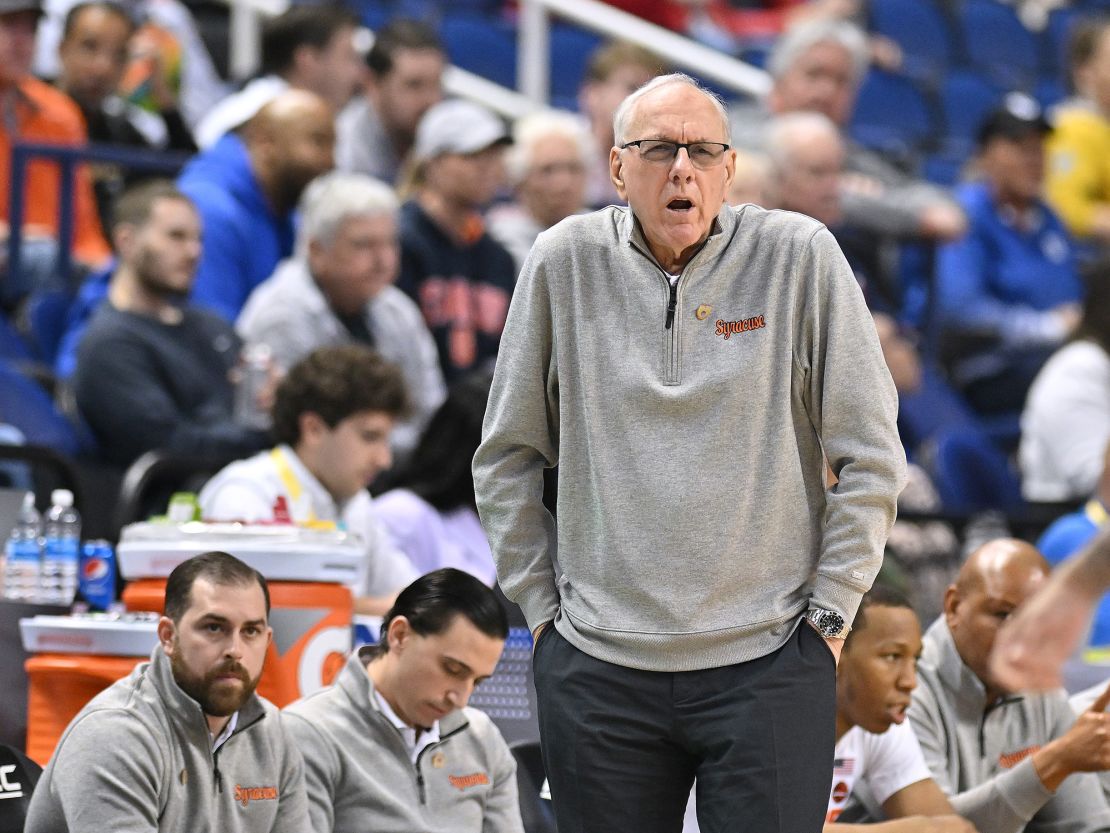 Following the game, Boeheim gave an interesting answer about his future at the helm of the program, saying he already gave his retirement speech.
"It's up to the school," Boeheim told reporters.
A reporter followed by asking if he wanted to come back, to which Boeheim quickly responded, "I didn't say that," as laughter filled the media room.
After some more back-and-forth, Boeheim was finally asked how he would make the determination on when he will come back.
"You're talking to the wrong guy," Boeheim said with a smirk on his face.
The school announced Adrian Autry as Syracuse's new head coach. Autry played for Boeheim from 1990-1994. Following his basketball career and multiple assistant coaching stints in the AAU and collegiate levels, Autry was named assistant coach at Syracuse before the 2011/12 season and was promoted to associate head coach in 2017.
"I have spent much of my time in the game of basketball learning from Jim and am so grateful to him for preparing me to carry on the winning tradition that is Orange Basketball," Autry said.
"It's hard to imagine a world without him on the bench, but together with our coaches, student-athletes and fans, we will build on decades of success as a winning program."
Boeheim was enshrined into the Naismith Basketball Hall of Fame in 2005.
CNN's David Close contributed to this report.