Mikaela Shiffrin won her 86th World Cup race on Friday – triumphing in the giant slalom in Åre, Sweden – to match the overall record set by skiing legend Ingemar Stenmark.
Shiffrin is now on the precipice of becoming the sport's all-time winningest athlete – man or woman – and can break the record on Saturday in the slalom.
"This is just a spectacular day," a beaming Shiffrin said after the race. "I just wanted to push and fight for it."
She finished her final race 00.64 seconds ahead of her nearest rival Federica Brignone despite the Italian scoring the fastest time in the second run.
It was the 27-year-old American's 20th giant slalom victory and brought her level with Vreni Schneider for the women's record number of wins in that discipline.
Shiffrin's compatriot Lindsey Vonn, who reached 83 World Cup wins and was the women's record holder before Shiffrin overtook her, tweeted, "Congrats!! Dominating."
Friday's victory also secured Shiffrin her 15th giant slalom crystal globe. The American had already claimed the overall and slalom titles earlier this season.
Shiffrin can claim the record for herself on Saturday when she returns to the slopes in the slalom, which starts at 04:15 a.m. ET.
If she doesn't claim victory in her favorite race the American skier will have another shot at glory next week at the World Cup finals in Andorra where she will compete in the downhill, super-G, grand slalom and slalom.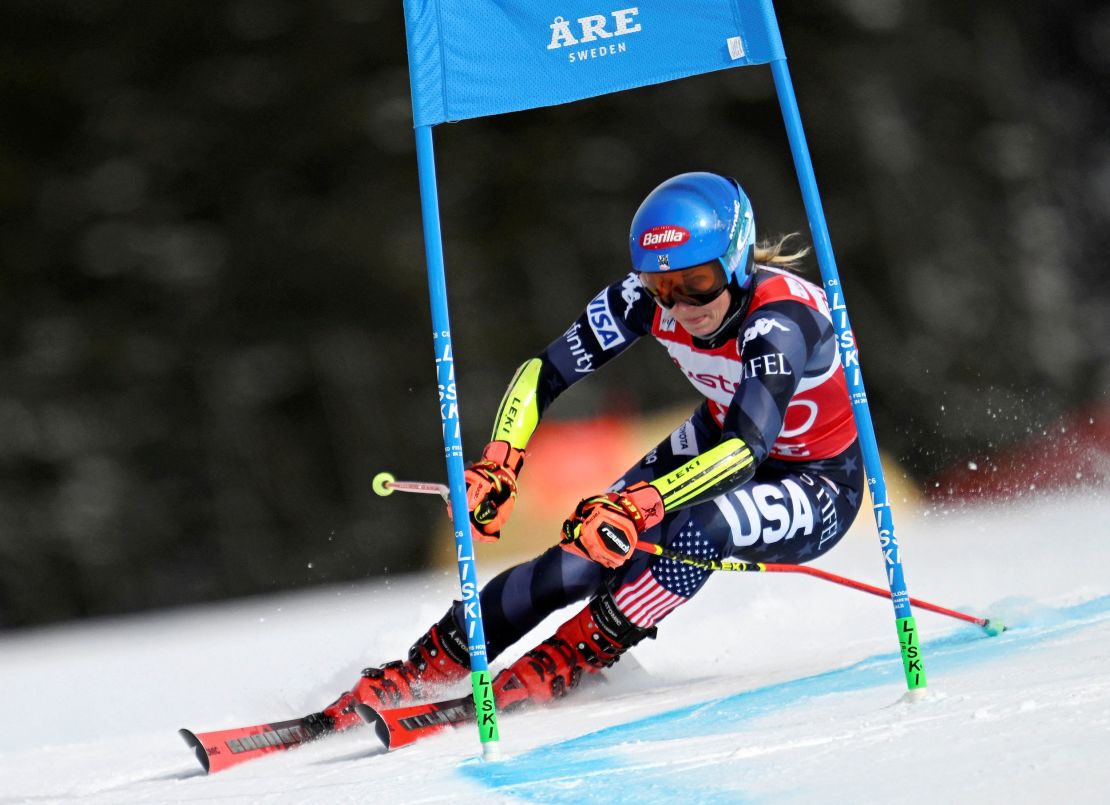 Breaking Stenmark's record would cap a remarkable season for Shiffrin given she did not pick up a single medal from five races at the 2022 Winter Olympics in Beijing and failed to finish in three of them.
She has taken 12 World Cup victories so far this season, five short of her own record of 17 set in 2018-19.
In February, Shiffrin overtook Vonn's women's record of 82 wins before she secured her seventh career Alpine world championships gold medal in the Alps which made her the most successful skier in the modern era (post World War II).
Shiffrin spoke to CNN's Amanda Davies in January, saying, "I feel like I don't push myself if my rivals aren't pushing me, and my whole career, I've always had at least one main rival. That's always in my mind. What are they doing? What are they working on?"
"Even if I'm training alone, I'm always thinking, 'Can I ski this faster?' And if I can, then I better because somebody else probably is."
Shiffrin has now won 52 slaloms, 20 giant slaloms, five super-Gs, five parallels, three downhills and one Alpine combined.