Iran has arrested more than 100 people "in connection with" the suspected poisoning of hundreds of schoolgirls across the country, according to the state-run IRNA news agency.
Citing a statement from Iran's Interior Ministry, IRNA said the people had been "identified, arrested and investigated" in several cities, including the capital Tehran.
"Initial inquiries show that a number of these people, out of mischief or adventurism and with the aim of shutting down classrooms and influenced by the created psychological atmosphere, have taken measures such as using harmless and smelly substances," the statement read.
Iran has seen a wave of suspected poisonings, carried out almost entirely at girls' schools, in recent months.
While Iranian politicians have suggested the girls could have been targeted by hardline Islamist groups, activists believe that the poisonings may be linked to the nationwide protests that erupted last September over the death of Mahsa Ami. Many schoolgirls have been active in the protests, removing their mandatory headscarves in classrooms, tearing up pictures of Supreme Leader Ayatollah Ali Khamenei and calling for his death.
Medics, parents and teachers have accused the Iranian government of attempting to silence the victims.
Iran's Supreme Leader Ali Khamenei previously called the suspected poisonings an "unforgivable crime" and called for "severe punishment" for anyone found responsible.
Among those arrested, the ministry said, were "individuals who have had hostile motives, tried to create fear and horror among people and students, shut down schools, and created pessimism toward" the Iranian government.
They would remain "under investigation until required assurances are achieved," the statement said, adding that the number of poisoning cases at girls' schools across the country had been decreasing "over the past several days."
The first suspected poisonings happened in November at a high school in the city of Qom which saw 18 schoolgirls hospitalized, according to Iranian state media.
A mother of two daughters from Qom previously told CNN that both girls, who attended different schools, had suffered significant health issues after being poisoned.
One girl experienced nausea, shortness of breath and numbness in her left leg and right hand while the other now had "difficulty walking," she said.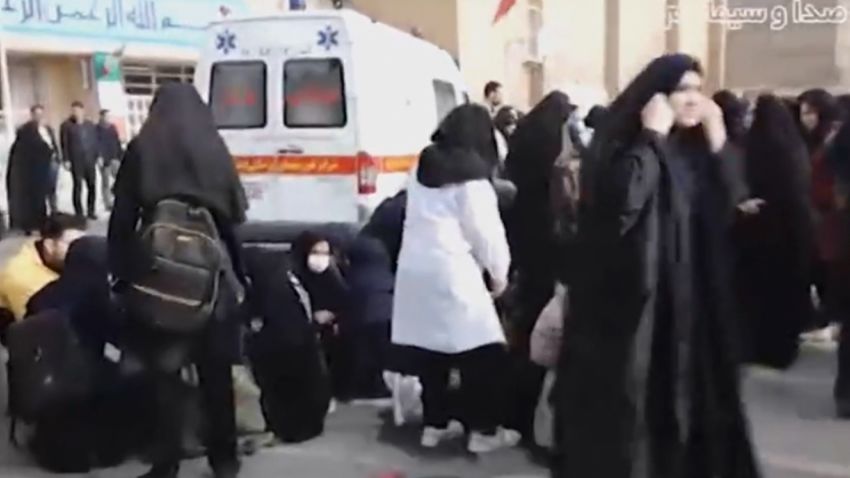 Growing alarm in Iran after report hundreds of schoolgirls were poisoned
Another incident in the city took place in February when more than 100 students from 13 schools were hospitalized after what Iranian state news agencies described as "serial poisonings."
Both the United States and United Nations have called on Iranian authorities to fully investigate the suspected poisonings and hold those responsible to account.
The White House on Monday said there must be a "credible, independent" investigation of poisonings among schoolgirls in Iran, suggesting it could be within the purview of the United Nations to look into the matter.
Previously, the Biden administration had noted Iran itself was conducting an investigation. But questioned by CNN's Phil Mattingly on Monday, press secretary Karine Jean-Pierre said the situation could fall within the mandate of the UN's independent fact-finding mission on Iran.
"We are closely following this deeply concerning situation that we're seeing in Iran," she said. "The continued poisoning of schoolgirls across Iran is unconscionable. There must be a credible, independent investigation (and) accountability for those responsible."
She said if the poisonings were related to recent protests, it was "well within" the UN fact-finding mission's mandate.
"The possibility that girls in Iran are being possibly poisoned for simply for trying to get an education is shameful, it's unacceptable," she said.
With previous reporting from CNN's Kevin Liptak