From lengthy droughts to severe flooding, the intensity of water-related disasters around the world has increased over the last two decades as global temperatures climbed to record levels, according to new research.
The study from NASA scientists published Monday in the journal Nature Water found that increasingly frequent, widespread and intense droughts and floods were linked more strongly to higher global temperatures than to naturally changing weather patterns, like El Niño and La Niña. This suggests these intense events will increase as the climate crisis accelerates, the study says.
The study comes as California is slammed with its 11th atmospheric river so far this season – storms that have brought torrential rainfall and crushing snow to a region that for the past several years has been mired in extreme drought. These storms have caused significant flooding, mudslides, collapsed bridges and unusable roads.
While scientists have been predicting climate change will increase the frequency of droughts and floods, it has been tricky to measure.
Matthew Rodell, lead author of the study and hydrologist at NASA Goddard Space Flight Center, looked at 20 years of NASA satellite data from 2002 to 2021, and analyzed the size, duration, and severity – how much wetter or drier it is than normal – of water-related extreme events around the world.
The study identified 505 extreme wet events and 551 extreme dry events during this period, with roughly 70% lasting six months or less and about 10% lasting for more than a year.
The scientists found that these extreme events grew in intensity and frequency since 2015, when the trend of record warm years began.
"We thought, well, maybe this is related to global warming, because we do know the past seven or so years have been the hottest on record," Rodell told CNN. "Sure enough, there was a significant correlation between this total worldwide intensity of these events and the temperature record."
Rodell wanted to be certain of this conclusion, so he ran analyses to rule out other climate indicators including El Niño-Southern Oscillation, which is a natural climate pattern that involves sea temperature changes in the Pacific Ocean and affects weather globally.
And in the end, he said the climate change signal was stronger than the other natural indicators.
"What I feel more confident about is that as the world warms, we're going to see the greater global intensity of all the wet and dry events increase, meaning they're going to be more frequent, larger and more severe in total," Rodell said. "What happens in a regional sense is a little bit more difficult to say with certainty."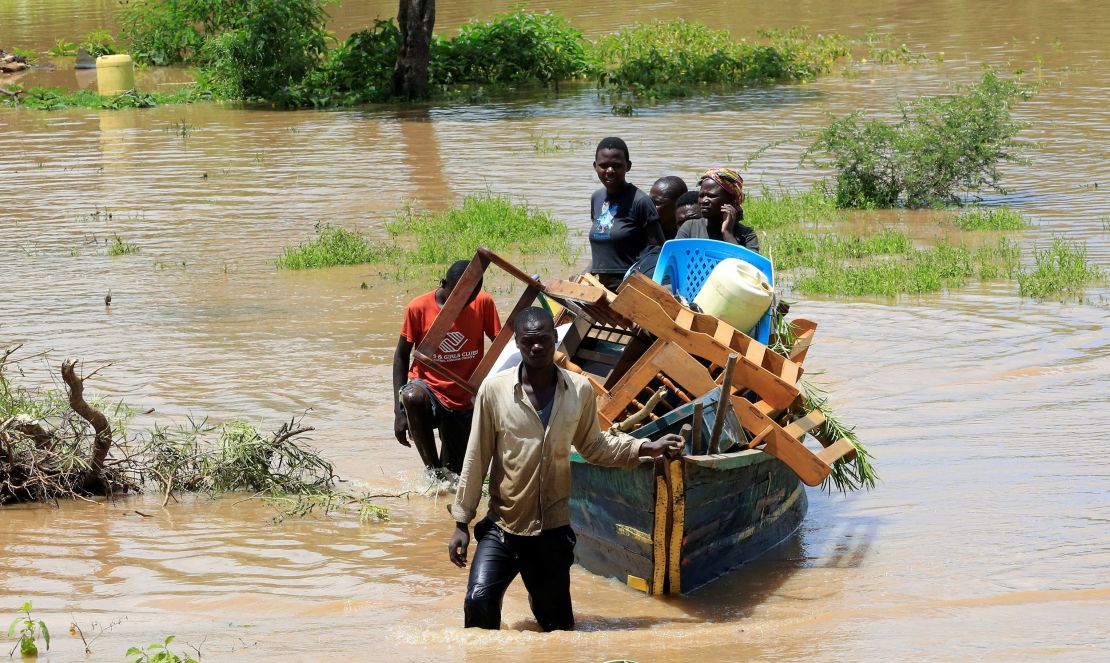 Monday's report found that the most extreme wet event during the study period happened in 2020 in sub-Saharan Africa, where months of intense rain swelled Lake Victoria – Africa's largest lake – to the highest levels ever recorded. Rising water flooded homes and affected critical infrastructure such as drinking water, healthcare facilities, and hydropower.
The most intense dry event the study recorded was in Brazil and Venezuela from 2015 to 2016, which Rodell said "was about twice as intense" as the current drought in the southwestern US as of the end of 2021. The drought severely threatened hydroelectric power, drained critical reservoirs, and cut crop yields.
Richard Seager, professor at the Lamont-Doherty Earth Observatory of Columbia University, who was not involved with the study, told CNN that the scientists' use of satellites to analyze water events was a new angle as most studies just measure levels of precipitation or soil moisture.
"This study uses novel data to confirm that human-driven warming is driving the climate system to more extremes of extended both wet and dry episodes," he said.
UN scientists recently concluded that as the climate changes, droughts that may have occurred only once every 10 years or so now happen 70% more frequently; whereas heavy rainfall that used to happen once every 10 years now occurs 30% more often.
While 2022 was not included in the study period, vast swaths of the world saw extreme events last year, including the deadly flooding that submerged a third of Pakistan as well as the severe European drought that caused some rivers to dip to historic lows.
Kim Cobb, a climate scientist and director of the Institute for Environment and Society at Brown University who did not participate in the study, told CNN that the latest research brings "a new lens on our rapidly changing water cycle, linking many of the headlines about droughts, floods and wildfires to this global analysis."
Dramatic swings between both extremes – periods of drought and high precipitation – also known as weather whiplash is another phenomenon that scientists warn will occur more often under a warming planet in the coming decades.
California, which has been experiencing a historic megadrought triggering severe water shortages, has been suddenly pummeled by heavy rain and snowstorms over the last few months.
"This finding really reinforces the trends that we see from analysis of rainfall data and climate model output, and in that sense adds significant evidence to inform emergency planning and response, infrastructure planning, agricultural practices, and water resource management under continued warming," Cobb said.
Rodell added he hopes the study will help people realize that every little increase in global temperature matters, and that the world must curb the relentless rise of planet-warming pollution.
"The study is another way for people to recognize that climate change affects everyone," he said. "It's not just about the temperature rising on average around the world, it's the actual weather events that have severe impacts on people that may be increasing in intensity and frequency."