Michelle Yeoh's history-making Oscar win caused jubilation this week in her native Malaysia, but it also sparked false rumors that a national holiday had been declared – something the country's government quickly dispelled.
In a statement published on its Facebook page Monday, the office of Prime Minister Anwar Ibrahim debunked a doctored image that had been making the rounds on chat apps.
The image, dated March 13 and seen by CNN, showed a doctored news article from Malaysian newspaper The Star, bearing the headline: "PM Anwar declares public holiday on a Wednesday: 'This is the pride of a nation!"
It appeared to reference an earlier statement from Anwar, congratulating Yeoh on her win.
There was "no truth" to claims of an Oscar public holiday, the statement from Anwar's office read. "The news is false," it said. "The public is requested not to spread or share any uncertain or false information."
Star Media Group, which runs an English-language online news portal and publishes a daily newspaper, also said the image was a "misrepresentation of (its) actual news coverage."
"It has come to the company's attention that a picture, depicting a manipulated image which misuses The Star's identity, is making the rounds on social media," the group said in a statement .
"Star Media Group would like to reiterate that it has not published any news regarding the announcement of a March 15, 2023 public holiday.
"The public is urged to double check the authenticity of any such circulated images by visiting (our website) and reading our verified news, straight from the source."
Yeoh, 60, this week became the first Asian woman to win the Academy Award for best actress in a leading role for her performance in "Everything Everywhere All at Once."
Born in the city of Ipoh in peninsular Malaysia, Yeoh got her start in a series of Hong Kong action films.
She rose to international fame after starring in the 1997 James Bond movie "Tomorrow Never Dies" and Ang Lee's Oscar-winning "Crouching Tiger, Hidden Dragon" in 2000.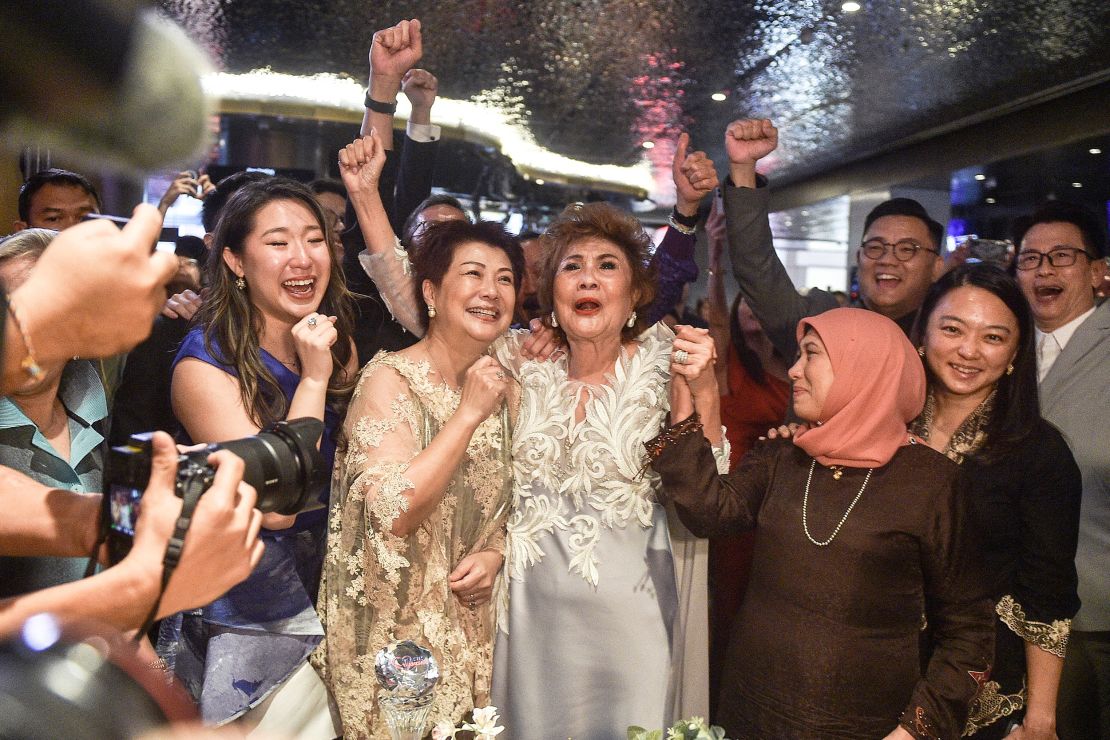 Her victory speech was screened live at an event in the capital Kuala Lumpur on Monday, with her 84-year-old mother Janet present.
Footage of the room erupting in cheers went viral and Yeoh also dedicated her Oscar moment to her mother.
"I'm taking this home to her," Yeoh said in her acceptance speech. "She's watching right now in Malaysia, KL, with my family and friends. I love you guys. I'm bringing this home to you," she said.
Her mother cried "Malaysia boleh! (Malaysia can do it)" in a later video chat with her triumphant daughter.
"I'm very happy… I'm proud of my daughter. She is very hardworking," her mother told local reporters. "I'll call her to come home (to Malaysia) and celebrate very soon. Next month is my birthday."
Also present was Yeoh's niece Vicki, who called it "a jaw-dropping moment."