Islamabad, Pakistan
CNN
—
Former Pakistani Prime Minister Imran Khan greeted supporters outside his Lahore residence Wednesday, after police were ordered to suspend an operation to arrest him amid a violent standoff around the compound.
Khan was pictured in one video wearing a gas mask as he spoke to and took pictures with those who had gathered outside his property.
Police in Lahore had been attempting to arrest Khan for not showing up to court on corruption charges.
Officers were ordered to suspend the operation until 10 a.m. local time on Thursday, after clashes between police and supporters of the embattled opposition leader stretched into a second day.
The intervention from the Lahore High Court Wednesday was made due to security concerns around a high-profile cricket match taking place in the city, with the judge citing the need to "maintain peace," two Pakistani government officials familiar with the matter told CNN.
Police and paramilitary troops had arrived at Khan's residence on Tuesday afternoon, the day after an arrest warrant was issued by the Islamabad High Court to force him to appear on Saturday. Khan's supporters then camped outside his home, announcing they would not let the arrest happen.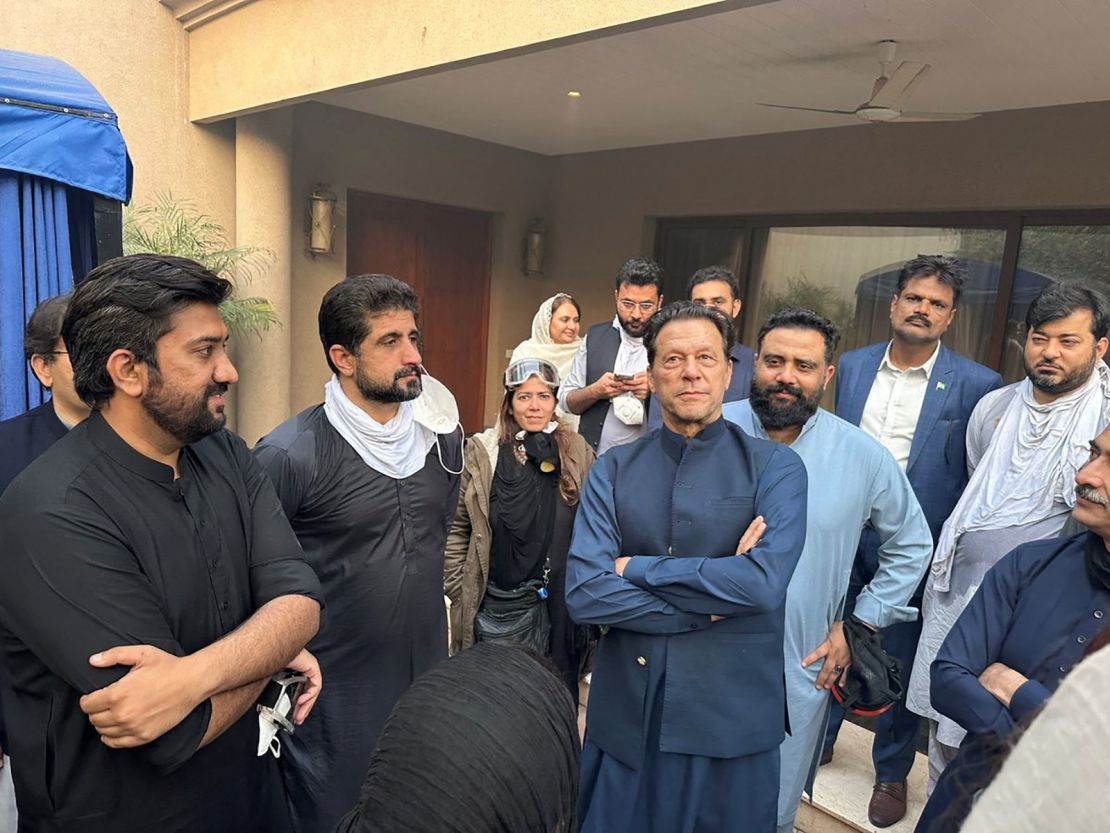 Khan faces allegations of illegally selling gifts given to him by foreign dignitaries while he was in office, which he has rejected as "biased."
The former prime minister, who was ousted in a parliamentary no-confidence vote last April, has since led a popular campaign against the current government, accusing it of colluding with the military to remove him from office.
The doorstep of Khan's home in the eastern city was a battleground earlier Wednesday as riot police swarmed the wider Zaman Park neighborhood.
Khan's supporters hurled stones and projectiles at police while people inside his residence lit fires after officers fired tear gas into the compound.
Police also used water cannons in an effort to disperse them, footage shared by Khan's Pakistan Tehreek-e-Insaf (PTI) party and local media showed.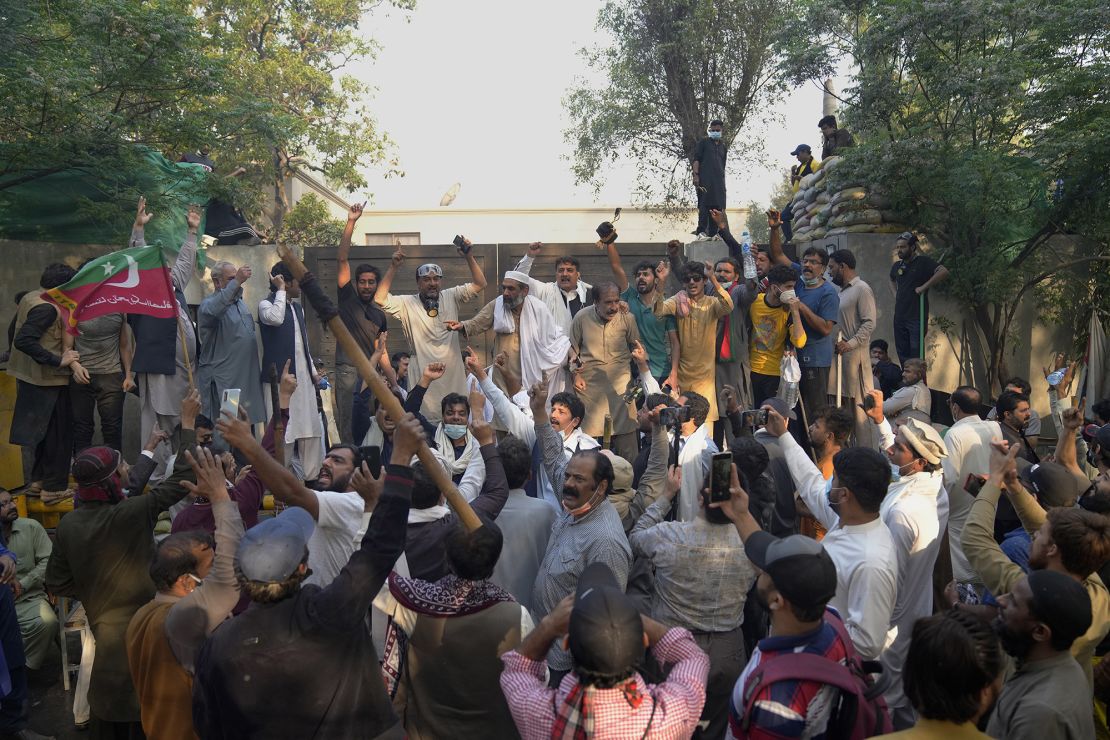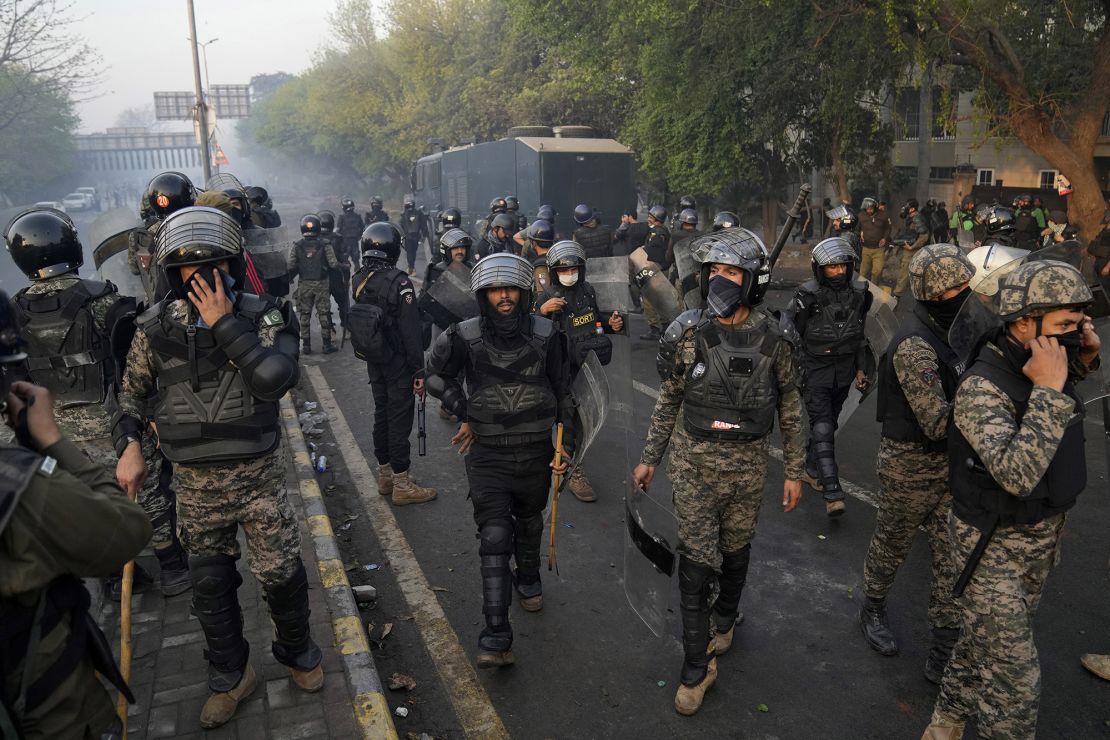 Police later cut the electricity supply to Khan's home and turned street lights off in the neighborhood, according to Khan's spokesperson and other backers.
Early on Wednesday morning, a Pakistani police official told CNN that a total of 69 people had been injured in the violence in Lahore, including 34 police officers. The official, speaking on condition of anonymity, added that people inside Khan's residence were armed with guns.
Amid the standoff, Khan on Wednesday signed a surety bond stating he would appear at the Islamabad High Court on Saturday. However, the handwritten note did not say whether he would appear in person or send a representative.
Protests had also broken out in major cities across Pakistan on Tuesday in support of Khan, who released a video on social media asking his followers to "come out" in support of his movement if he was detained.
Following the order to halt the operation, CNN's stringer on the ground in Lahore said police were clearing the area outside Khan's residence and retreating. Police confirmed to CNN they were doing so on the orders of the Lahore High Court.
PTI Senior Party Leader Asad Umar said in a video message posted on Twitter that despite the order, police could still remain in nearby areas, and instructed PTI members to stay near Khan's residence.
'Mockery of the judicial system'
The cricket legend turned politician has accused Pakistani authorities of attempting to arrest him to remove him from upcoming by-elections in April and a general election scheduled for October.
"[The government], they're petrified that if I come into power, I will hold them accountable," Khan told CNN on Tuesday. "They also know that even if I go to jail, we will swing the elections no matter what they do."
The former leader says the charges against him are politically motivated and has warned that attempts to arrest him could lead to a dangerous escalation in political violence in the country. He also believes that Pakistan's ruling coalition might eventually use a "pretext of violence" to delay the upcoming votes.
In a statement to CNN, Pakistan's information minister denied any political involvement in the case.
"The government has nothing to do with the arrest (of Khan), and the arrest has nothing to do with elections. The police is only complying with the orders of the court," Marriyum Aurangzeb said.
"Instead of cooperating with law enforcement officials, Imran Khan is breaking the law, defying court orders and using his party workers as human shields to evade arrest and stoke unrest," she added.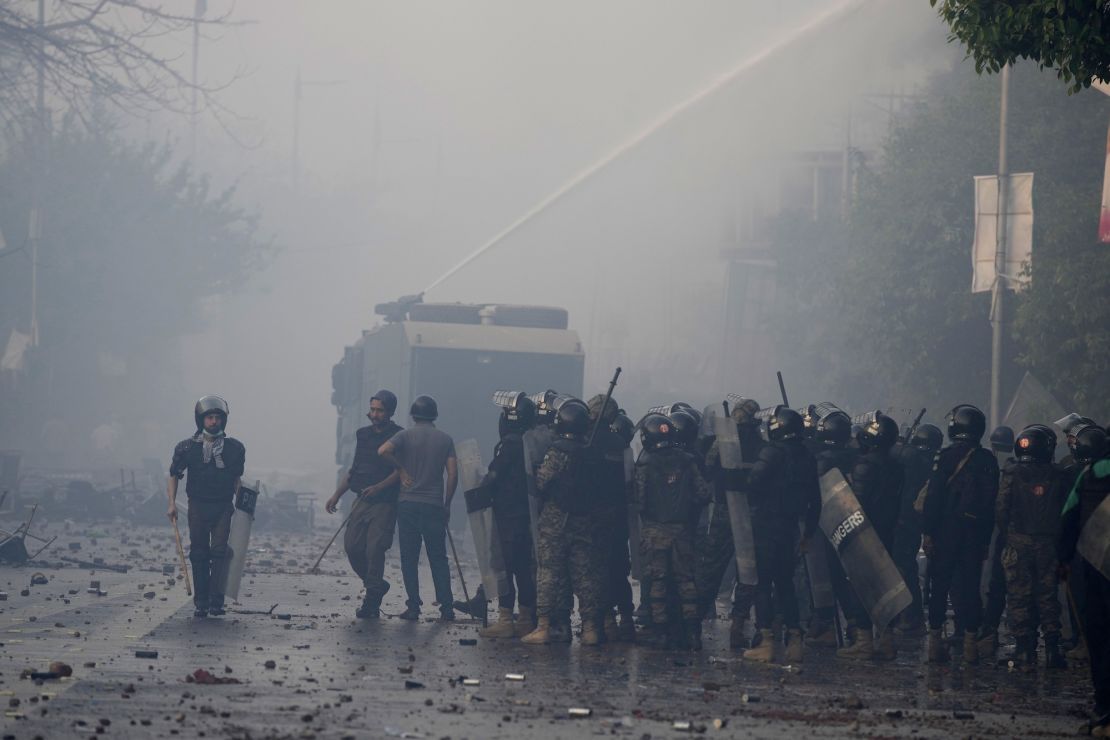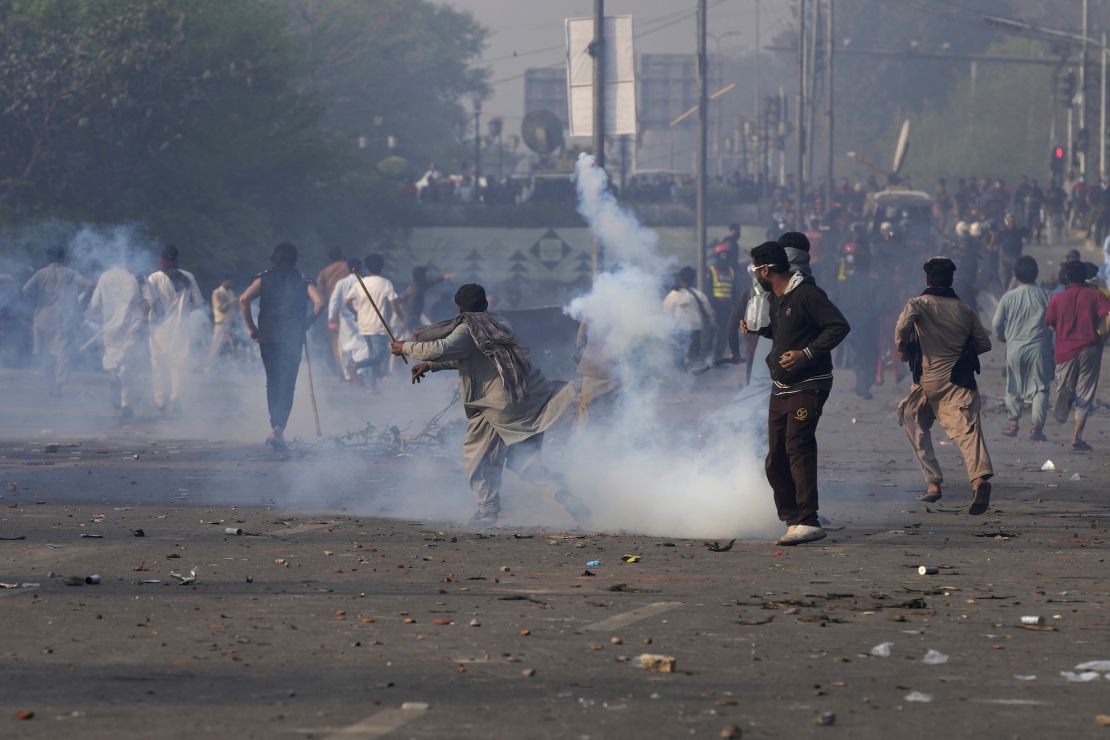 Missed court date
In an interview that aired Tuesday in the United States, Pakistan's Foreign Minister Bilawal Bhutto Zardari said Khan faced arrest "because of his ego."
Speaking to Comedy Central's "The Daily Show," Zardari said Khan had repeatedly refused to appear in court and fight his case, often reasoning that he's "too important" to face trial.
"What we've seen over the past couple of weeks have been a complete mockery of the judicial system in Pakistan, of rule of law, of the constitution in Pakistan – where had he gone to court, there was probably no reason he had to face imminent arrest," Zardari said. "He's violated court orders time and time again."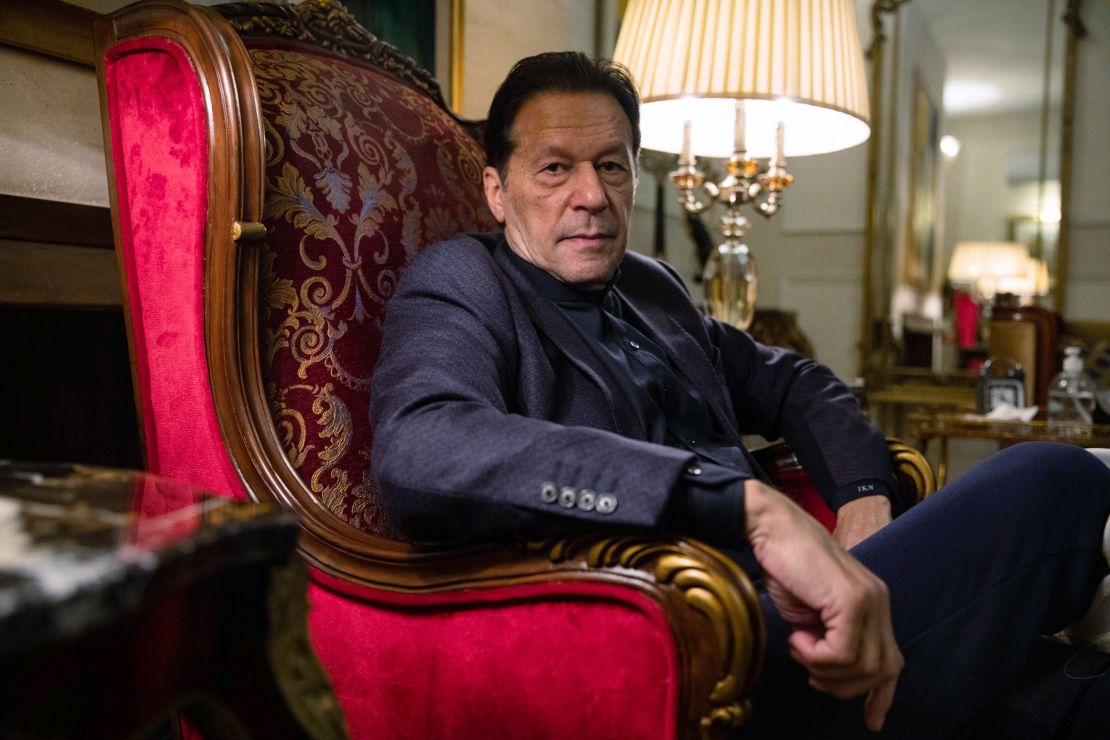 Khan's lawyers have argued he has previously failed to appear in court because he cannot leave his residence in Lahore due to security concerns. He can only make appearances via video link, according to his legal team.
The political upheaval comes at a time when Pakistan's government waits for a delayed bailout from the International Monetary Fund, which will help with the country's cost of living crisis and ailing economy.
Khan has only been arrested once in 2007 by then President and military ruler Pervez Musharraf, who died earlier this year.
But he told CNN Tuesday that he was "mentally prepared to spend the night in a cell."
"I want a proper warrant of arrest and I want to see that, my lawyers want to see the warrant," Khan said.
"It's a matter of time. I'm convinced they will come in and arrest me, I'm prepared for it," he said, adding: "I know what the intention is. They want to get me out of the race. They want to get me out of the match so that they can win the elections."
CNN's Azaz Syed contributed to this report.