Argentina is grappling with an unprecedented late-summer heatwave as temperatures soar to record-breaking levels – causing crops to wither, helping wildfires spread and adding huge pressure to a country already facing an economic crisis.
The country's summer, which technically runs from December to February, was by far the hottest on record, according to Maximiliano Herrara, a climatologist who tracks extreme temperatures across the globe.
And, so far, March has offered no relief.
Temperatures during the first 10 days of March were 8 to 10 degrees Celsius (14 to 18 degrees Fahrenheit) above normal in east-central Argentina, according to the country's National Meteorological Service.
These temperature anomalies, which have persisted over huge areas, are unprecedented, Herrara told CNN. "There is nothing similar that has ever happened in climatic history in Argentina at this scale."
Herrara said he had expected a "scorching summer" in Argentina due to the impacts of La Niña, a climate pattern which tends to bring hotter, drier summers to the region. But what has happened shocked him, he said.
"The length – five months – and intensity of this endless, brutal heat went beyond what I had imagined," Herrara said.
Records have been beaten time and time again.
Buenos Aires has seen highs above 30 degrees Celsius (80 degrees Fahrenheit) every day since February 28. Multiple other locations across the country saw their highest temperatures in the last 63 years during March.
In key agricultural provinces of Córdoba, Santa Fe and Northern Buenos Aires, the heat has been "catastrophic" for corn and soybean crops, Mickaël Attia, crop analyst for EarthDaily Analytics, told CNN.
"The worst drought of the last 30 years in Argentina will have an enormous impact on national corn and soybean production, which is expected to be at least 20-30% lower than last year," he said.
Wheat is also affected. Exports are projected to fall 28% in 2023 compared to last year, according to the World Meteorological Organization.
Farmers are facing loses of around $14 billion, Julio Calzada, head of economic research at the Rosario Grains Exchange, told Reuters.
There are fears that the agricultural crisis will exacerbate the country's economic problems. Figures released this week showed yearly inflation topped 100% for the first time in three decades – one of the highest inflation rates in the world.
The heat-stricken country is also grappling with wildfires. More than 100,000 hectares (nearly 250,000 acres) have been burned this year in northeast Argentina, according to an AFP report.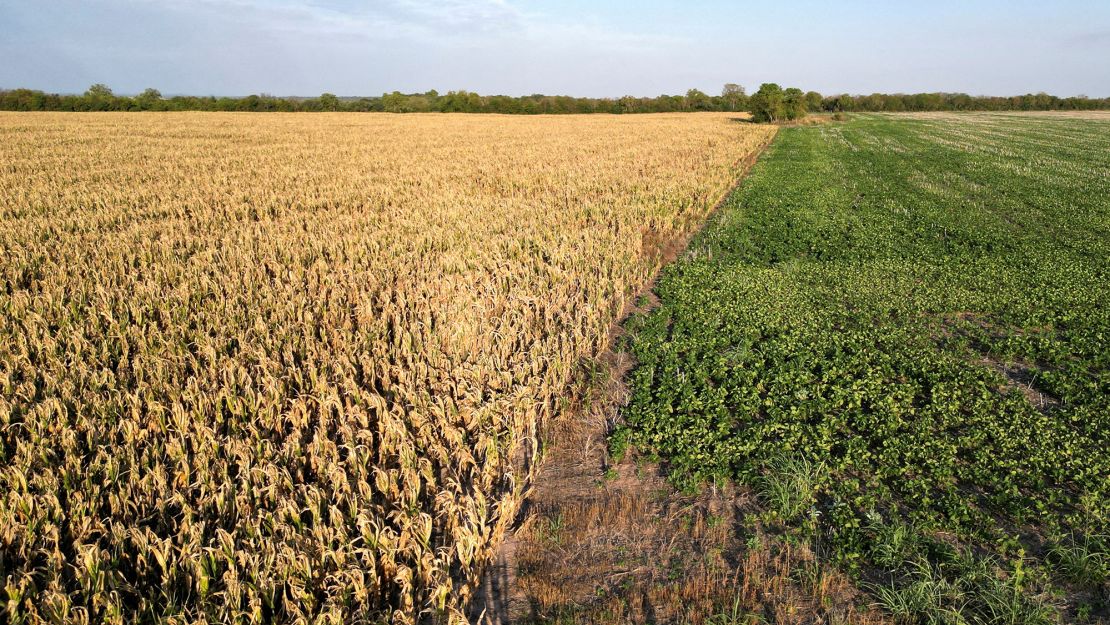 While Argentina's brutal heatwave has been driven by La Niña, which has just ended after three consecutive years, some scientists have pointed to the role the climate crisis plays in intensifying these events.
A February report from the World Weather Attribution initiative found that while climate change was not the main driver of low rainfall in central South America, it was causing higher temperatures in the region, likely reducing water availability and making the drought more severe.
Another WWA report in December found that record temperatures in Argentina and other South American countries late last year were made 60 times more likely by human-caused climate change.
Herrera cautioned against blaming individual extreme weather events on the climate crisis, but, he said, "generally speaking it's true that climate change, by fueling more energy to the atmosphere and the oceans, might be responsible for bigger contrasts which in turn worsen such extreme events."
As global temperatures continue to rise, scientists say heatwaves will only become more common.
CNN's Claudia Rebaza and Stefano Pozzebon contributed to this story