Following Liverpool's 7-0 shellacking of Manchester United two weeks ago, the mood around Anfield was the most buoyant it had been all season.
Jürgen Klopp's side appeared to have turned a corner in what has been a dismal season, as Liverpool's new-look front three of Mo Salah, Cody Gakpo and Darwin Núñez clicked for the first time.
If the team could continue to play like that – with pace, confidence and conviction in its ideas – maybe, just maybe, all hope wasn't lost in the Champions League following the 5-2 first-leg demolition against Real Madrid.
That optimism, however, lasted just days.
In the 1-0 defeat to Bournemouth on Saturday, Liverpool was back to its stodgy self, lacking in ideas and inspiration.
If the team cannot even get a result against a team fighting relegation from the Premier League, what hope does it really have at the Bernabéu?
It's often difficult to pinpoint exactly why Liverpool has struggled so much this season, in particular when the team showed against Manchester United that it is still capable of producing, albeit in small doses, the kinds of performances that made it one of the most feared in Europe over the past few seasons.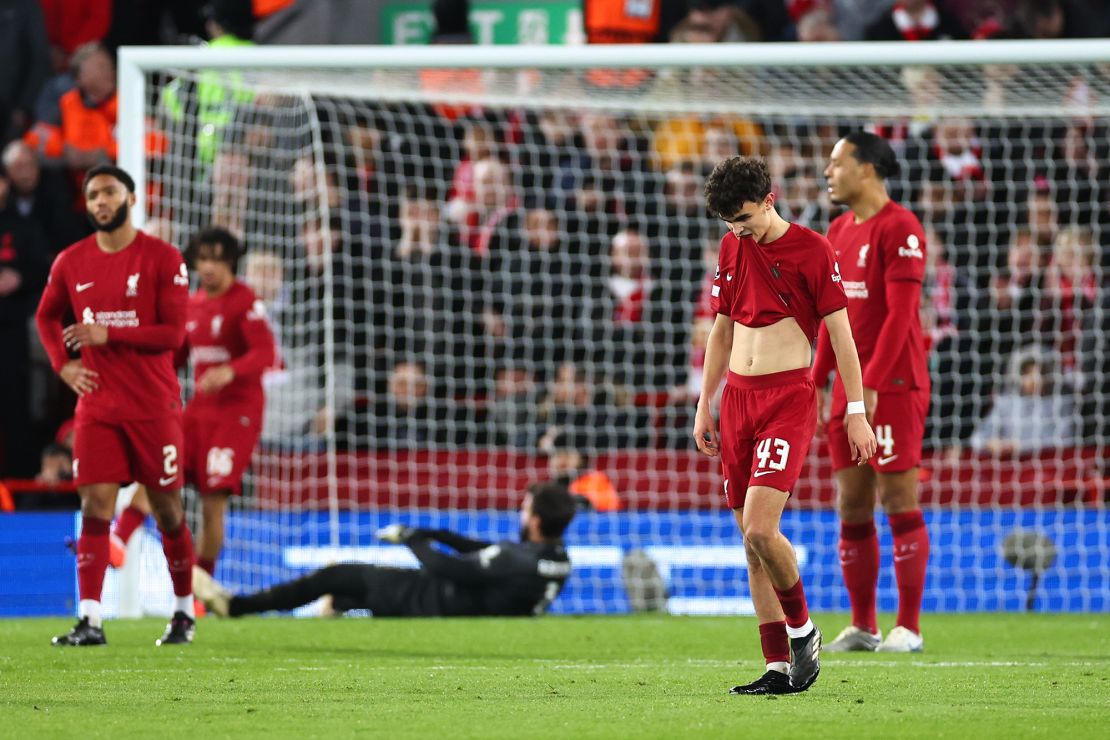 In the aftermath of the defeat to Bournemouth, Klopp said Liverpool's disappointing season meant the team had "learned to deal with setbacks."
That is certainly a lot of learning and it will take everything the players have gleaned this season from those setbacks if they are to have any chance against Real on Wednesday.
Despite the odds being stacked against Liverpool, Klopp still maintained some optimism ahead of Wednesday's match against the Champions League holders.
"Three weeks ago after the game I said that with that result, Madrid were through to the next round," Klopp told reporters, per Reuters.
"Now we know there's a game to play. If there's only a one percent chance [of us going through], I'd like to give it a try.
"We're here to play an extremely strong opponent and try to win the game. And as difficult as it is, that's probably possible. Not likely but possible, and for that we're here. We respect the competition and the opponent too much not to look forward to this game.
"If we can surprise in a negative way, we should also be able to surprise ourselves in a positive way," Klopp added. "It's clear we're not here telling Madrid: 'Be careful, we're coming,' but we're here to try to win the game. And to win it we have to play extremely good."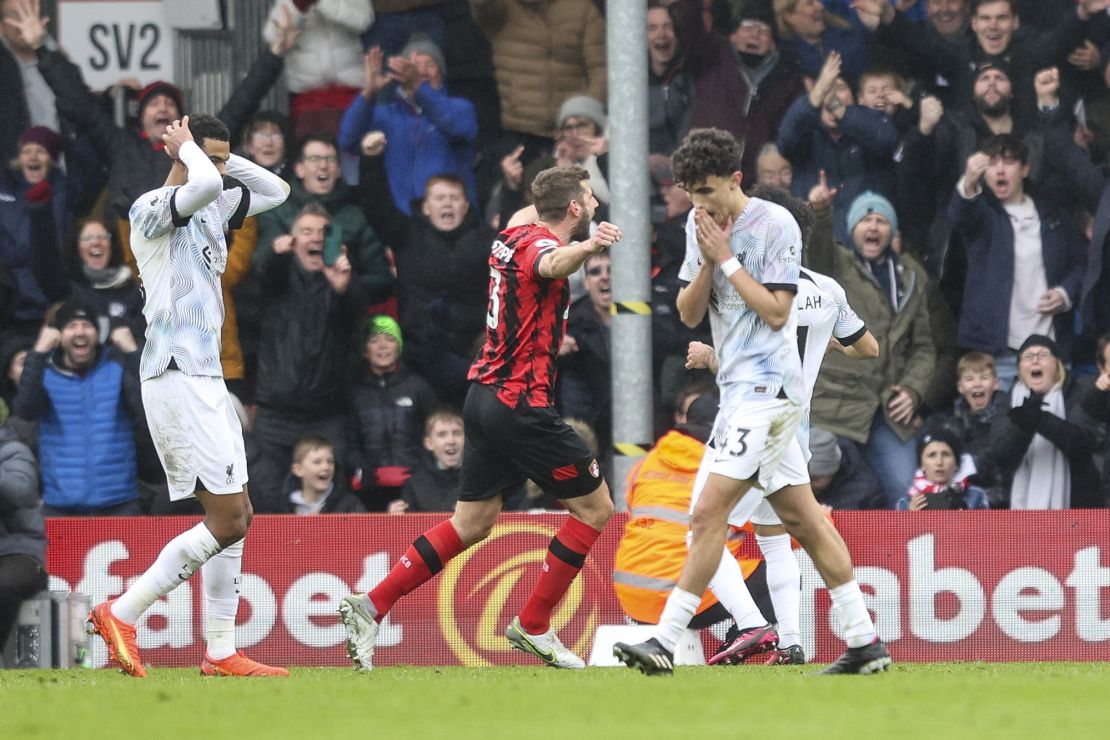 Match 'more complicated' for Real
While this season has been one full of woes for Liverpool, most of the team's troubles have come on the road.
That makes the game in Madrid all the more daunting, with all signs pointing to the aggregate scoreline getting even more embarrassing for Klopp and his men.
No team in Champions League history has overturned a three-goal deficit suffered at home in the first leg, a record that looks unlikely to be ended on Wednesday.
While Real's form has been patchy this season – the team now sits nine points behind Barcelona at the top of La Liga – the Bernabéu remains a fortress.
Carlo Ancelotti's side has lost just once at home – the 1-0 defeat to Barcelona on March 2 – since last April and has been further boosted by the news that star forward Karim Benzema will be fit to face Liverpool after overcoming a minor ankle injury.
Real's Italian coach will also be able to call upon burgeoning midfield talent Aurélien Tchouaméni, who was absent from the first leg due to injury.
"On a psychological level, I think the game is more complicated for us than for Liverpool," Ancelotti told reporters on Tuesday, per Reuters.
"Liverpool will have to go all the way to get the best from the first minute, no matter what.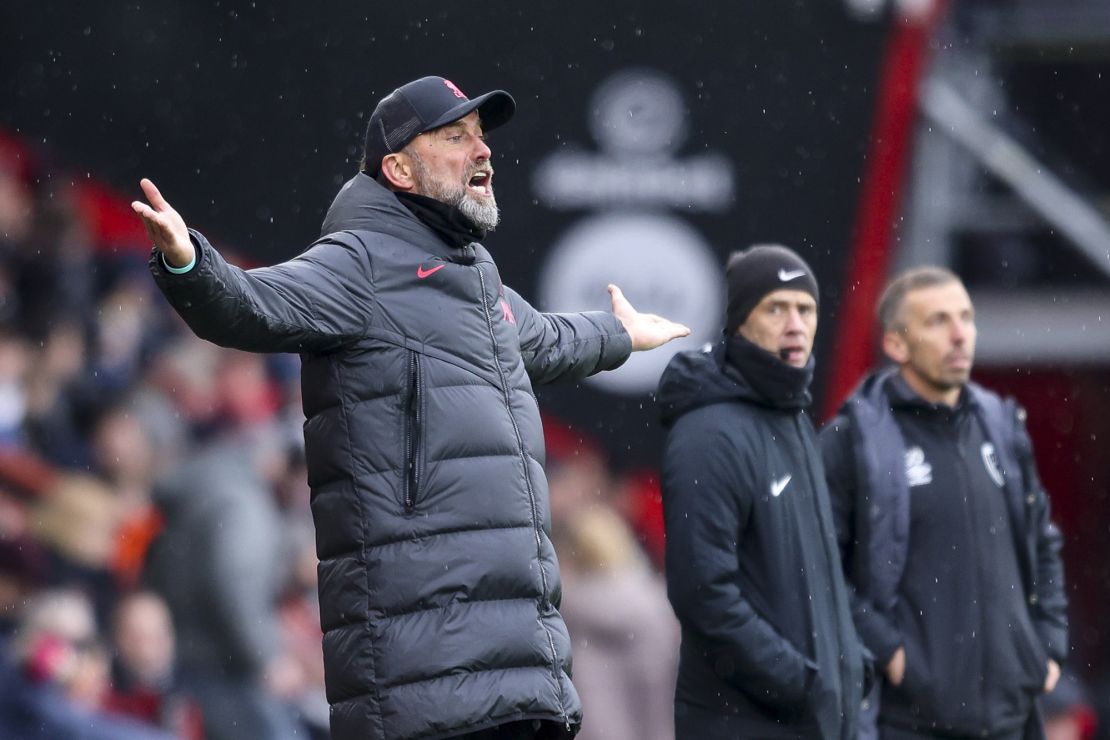 "The result of the first leg, in this aspect, puts us a little in doubt. We will try to go all in out there from the first minute, but we have more questions and responsibility than our rival."
Saturday's 3-1 victory over Espanyol would certainly have been a welcome one for Real, which had been winless in three games since the historic victory over Liverpool at Anfield.
That defeat to Barcelona was sandwiched between draws against Atletico Madrid and Real Betis, but the 14-time European Cup winner's unmatched success in the Champions League makes it almost impossible to picture anything other than a Real victory.
However, Ancelotti says the 3-2 home defeat to Chelsea in last season's Champions League quarterfinals – the last time Real suffered a home defeat prior to the recent Barcelona loss – should serve as a warning to his players.
Real still managed to advance to the semifinals, but had to claw its way back from a 3-0 deficit in that second leg after winning 3-1 at Stamford Bridge.
"The Chelsea game is very much alive in our minds," Ancelotti said.
"It will help us to play a different game [on Wednesday]. We are not going to play a closed game, but play our best offensive football. The players understand that. That's why I think it will be an open game.
"We have to do both things well: defend and attack, but we're thinking more about attacking."