Having retired as all-time winningest coach in men's Division I college basketball and guided the US men's team to three Olympic gold medals, it's safe to say that Mike Krzyzewski knows a thing or two about success.
But if his 42 illustrious years as head coach of the Duke Blue Devils taught him anything, it's that no one person can do it all themselves.
"If you're going to have something that lasts for a long time, you better not be a singular pronoun group," Krzyzewski tells CNN's Poppy Harlow. "We've had a plural pronoun group, it's we, us, our.
"Then the people that are playing for you, or working with you, own it. And if they own it, it's theirs. They don't work for, they are. And that's the culture that I think we built."
Affectionately known as 'Coach K,' the 76-year-old retired in 2022 having won five national championships. His success and unrivaled longevity has made his name synonymous with college sport in the US.
Some time away from the court has given him more time to reflect and appreciate the achievements both he, and his many teams, accomplished during almost half a century of competition.
But despite the accolades and tributes lauding him as one of the greatest coaches in the sport's history, Krzyzewski has always remained humble.
"I've had opportunities that not everybody has had," he says.
"But they've also been opportunities backed by people who believed in me so that when the opportunity didn't look that good, they still stuck with me and so [I'm] very fortunate.
"I've never looked at greatness, I looked at success. And if you're successful a lot, then someone will call it great.
"But if you start out thinking [you're] great, I don't think that's a good race to be in."
Krzyzewski says keeping his feet on the ground was made easier by his three daughters and wife, Mickie.
He says that despite being so highly revered in the world of basketball, his family never treated him as anything other than a husband and dad.
As a result, basketball was kept away from the house as much as possible while his children were young. Dinner time, for example, was not occupied by chat about his work and trophies he had won were not displayed at the family home.
Krzyzewski credits his wife, particularly, for injecting humility into him whenever he needed it.
"When my oldest was little there weren't tapes, they were reel to reel projectors," he said, explaining how he used to prepare for games at home.
"So I would bring that into the house and would watch on a blank wall.
[My eldest daughter] would watch with me, but when it was over, she used to like the white light, and then we would do puppet figures."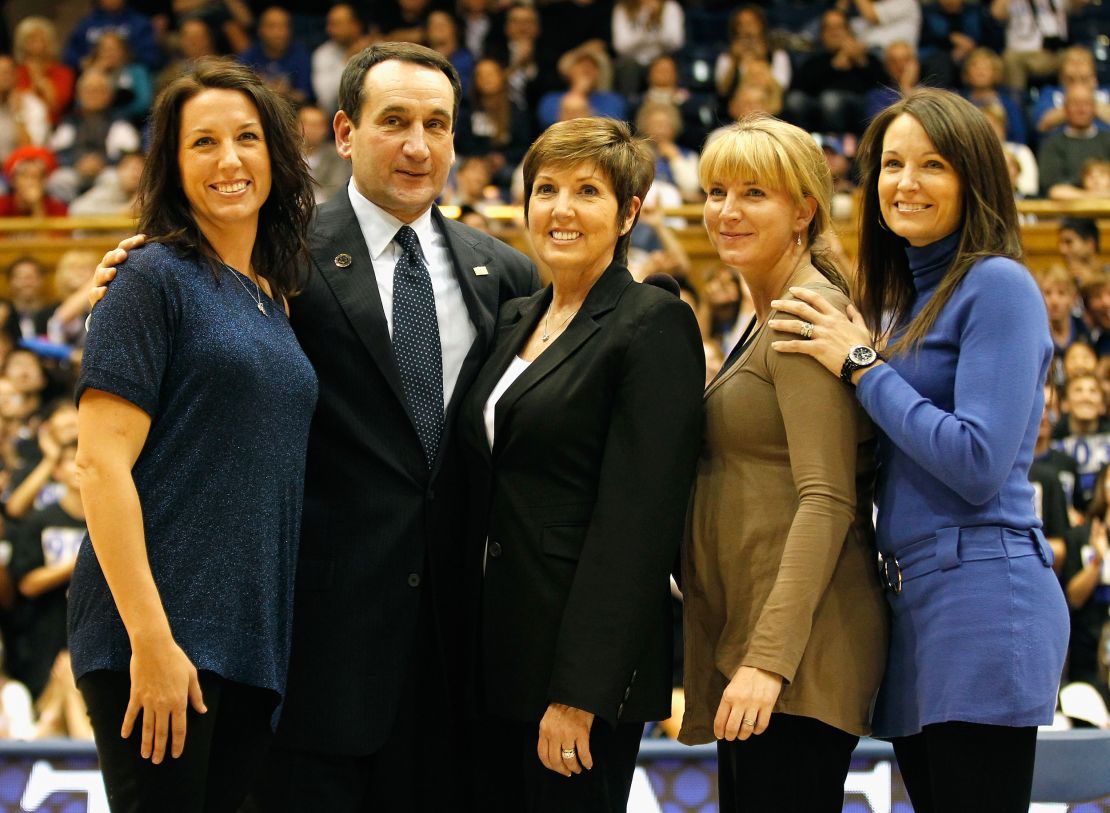 Importance of family
Family is and always has been important to Krzyzewski.
Born into a Polish-American family, he knows the importance of his last name and is proud of how well it is now known across the country.
He explains how his parents were worried that he might face discrimination as a child with a Polish name and stopped him learning the language as a youngster to avoid him developing an accent.
He says his father used the name 'Kross' instead of 'Krzyzewski' and that the shortened version was written on his gravestone when he died.
"We weren't able to change that till my mom passed. And then my brother and I made sure it said Krzyzewski," he said.
It's why the legendary coach was so proud that Duke University named the Michael W. Krzyzewski Center – a state of the art athletics facility – in his name.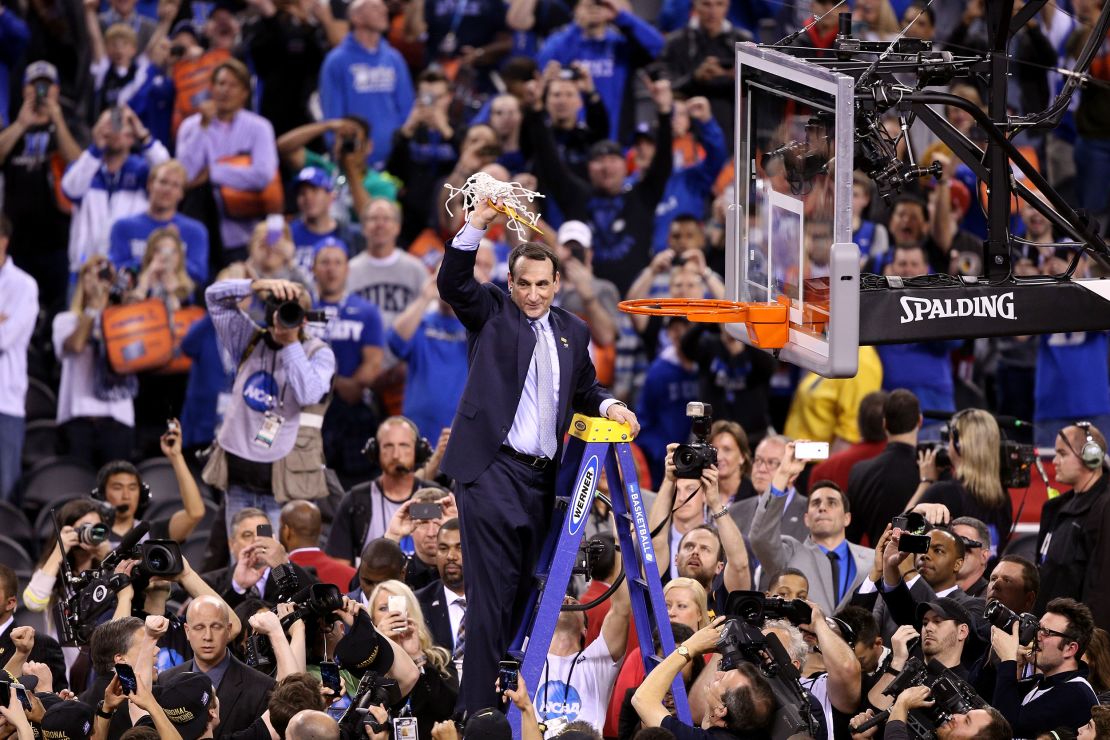 "I was fortunate to be inducted into the Naismith Basketball Hall of Fame in 2001," he added, getting emotional.
"One of the parts of the speech, and probably the most emotional, I [said I] wished my mom and dad were here tonight.
"It was emotional then, it's emotional now because I've recognized just the life they had, that led to make sure me and [my brother] would be taken care of."
It's safe to say the Krzyzewski name will be synonymous with college sport for many more decades to come.
Coaching the greats
Over his career, Krzyzewski has had the privilege of sharing a practice court with some of the greats of the game.
From Hall of Famer Grant Hill to current NBA stars Jayson Tatum, Zion Williamson and Kyrie Irving, he helped steer some of basketball's elite talents.
He also coached the stars of the NBA with the US men's national team at the Olympics, from Kobe Bryant and LeBron James to Kevin Durant and Chris Paul.
But he has never had any trouble dealing with big egos, railing against the expression: "Leave your ego at the door."
"Bring everything you got. Bring who you are. Why would you leave something you are?" Krzyzewski said. "We should make the room bigger."