Japan has moved hundreds of troops, including missile units, into a new base built on a remote island near China and Taiwan as its seeks to bolster its defensive capabilities in the region.
Up to 570 Ground Self-Defense Force members will be stationed at the newly established garrison on Ishigaki island in Okinawa prefecture, the country's military said, confirming the troops moved in on Thursday.
Ishigaki, which is famous among holidaymakers and scuba divers for its tropical waters, is located just 200 kilometers south of the Japanese-controlled Senkaku Islands, an uninhabited island chain also claimed by China and Taiwan.
The islands, which are known in China as the Diaoyu Islands and Diaoyutai in Taiwan, have become one of the focus points of increasing tensions in the region.
Among the units dispatched on Thursday were missile squads capable of launching land-to-ship and land-to-air missiles, according to the Japanese forces.
Japan has been ramping up the construction of military bases in Okinawa, the band of 150 islands that curves to the south of Japan's main islands in the East China Sea.
The Ishigaki base is Japan's fourth such military station since 2016 when the Yonaguni outpost was staffed with 160 troops to conduct coastal surveillance.
Two more bases in Amami Oshima and Miyakojima followed in 2019, where medium-range surface-to-air guided missiles and type 12 short-range surface-to-ship guided missiles were stationed.
Speaking to CNN last year, Gen. Yoshihide Yoshida, Japan's Ground Self-Defense Force (GSDF) chief of staff, said the extra defense capability was needed to send a strong message to territorial rivals.
"We must protect our country's territorial sovereignty at all costs. And, we need to send our message that we will firmly defend our country," he said.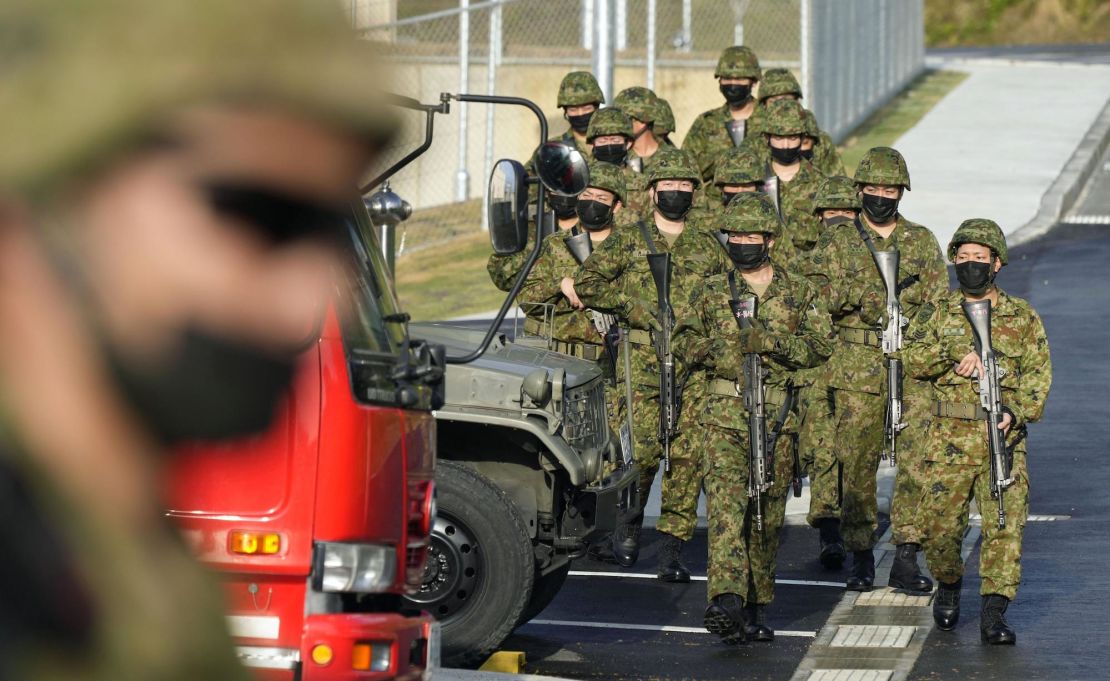 Regional tensions
The waters sandwiched between Japan, mainland China and Taiwan have long been a contentious point.
According to Japan's Ministry of Defense, the number of Chinese warships spotted within the islands' contiguous zone, defined as within 24 nautical miles of its coast, has gone up from about 20 two decades ago to 71 in 2021.
China's Foreign Ministry has told CNN that the Chinese Coast Guard's patrols around the waters surrounding the islands were "an appropriate exercise of China's sovereign right."
Matters were further complicated by Beijing's souring relationship with Taiwan following former US House speaker Nancy Pelosi's visit last year to the self-ruled island, triggering China's furious response to step up military exercises in the region.
China's ruling Communist Party has never controlled Taiwan, but claims the democratic island as its own territory and does not rule out taking it by force if necessary.
China is also increasing its presence in the skies around Taiwan, repeatedly sending warplanes into the island's air defense identification zone (ADIZ), prompting Taipei to deploy combat air patrol planes, issue radio warnings and activate air defense missile systems.
Japan has also scrambled fighter jets in response to Chinese aircraft approaching its airspace.