Zlatan Ibrahimović's Instagram profile says he's a writer and on Saturday the Swede penned a new page in his remarkable career when he became the oldest ever goalscorer in Italy's Serie A.
As scripts go there was drama and pathos as the AC Milan forward achieved the landmark – at the age of 41 years and 166 days – with his goal coming from a retaken penalty in his team's 3-1 defeat by Udinese.
Given a second chance after encroachment in the penalty, Ibrahimović hammered the ball straight down the middle as he overtook Alessandro Costacurta's record set when the Italian was 41 years and 25 days old.
Ibrahimović's goal leveled the scores at 1-1 just before half-time but Udinese pulled away in the second half to secure victory.
"It's an honor but I'm sorry that this goal didn't bring the three points," Ibrahimović said, according to Sky Sport Italia.
It marked the striker's first goal since returning to the field after undergoing surgery for an anterior cruciate ligament (ACL) injury over the summer.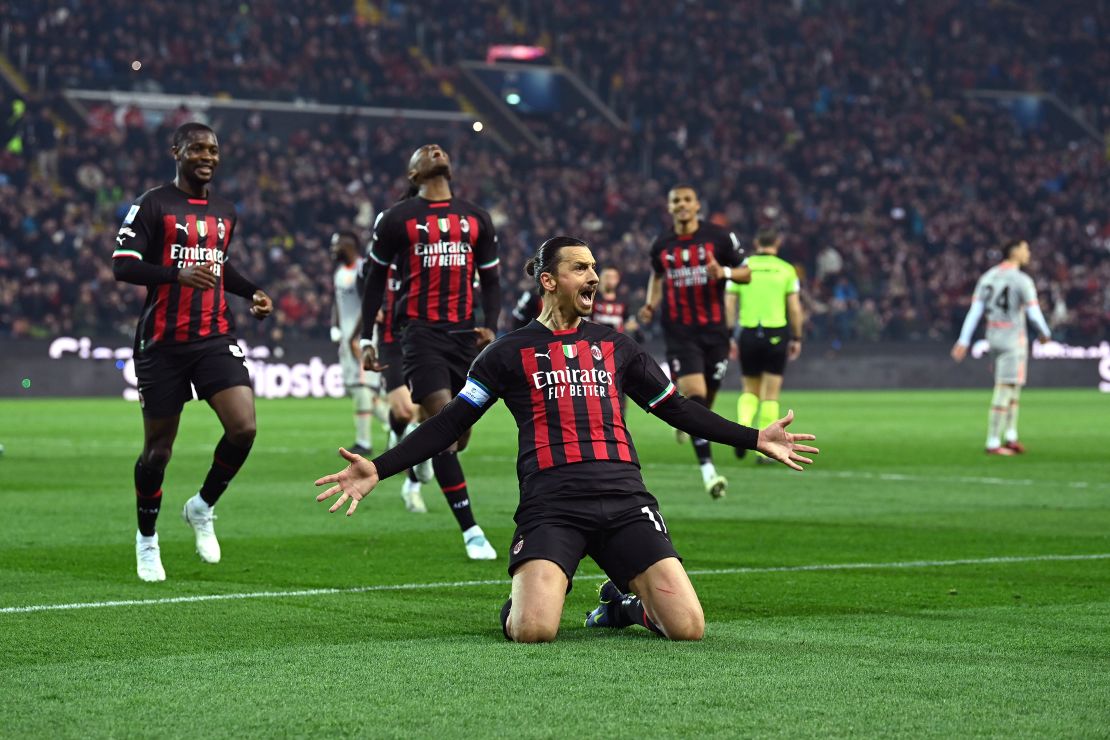 'Never suffered so much'
After Milan's Scudetto success last season, Ibrahimović revealed on social media that he played the last six months of the 2021/2022 season without an ACL in his left knee – the strong band of tissue that connects the thigh bone to the shin bone and the knee joint.
"Took more than 20 injections in six months," said Ibrahimović said in a post published to his verified Instagram account.
"Emptied the knee once a week for six months. Painkillers every day for six months. Barely slept for six months because of the pain. Never suffered so much on and off the pitch."
But, despite his age and career-threatening injury, Ibrahimović seems determined to continue playing soccer.
"As long as I can produce results, I will still play," he told CNN last November. "The day I slow down, I want the people around me to be honest and say he's slowing down and then I'll be realistic."
Milan remain fourth in the table after its defeat, and will next take to the field on April 2 to face league leader Napoli.
Meanwhile in Saudi Arabia, Cristiano Ronaldo – another legendary forward – rolled back the years to score a glorious long-range free kick as Al Nassr defeated Abha 2-1 in the Saudi Pro League on Saturday.
He then allowed his teammate Anderson Talisca to convert the winning penalty eight minutes later as a mark of respect. Brazilian Talisca has just come back from injury.