Fernando Alonso won the 100th podium of his Formula One career at the Saudi Arabian Grand Prix on Sunday, but the result was only confirmed hours after the end of the race when officials reversed a 10-second penalty.
The Spaniard was initially handed a five-second penalty for lining up outside his grid slot at the Jeddah Corniche Circuit and, while serving that penalty during a pit stop, stewards ruled that a jack had touched the rear of his car.
That meant the penalty had not been served correctly and Alonso was given a further 10-second sanction, promoting Mercedes driver George Russell to third place at the end of the race.
But after Alonso's Aston Martin team submitted a letter to review the decision, the FIA, motorsport's global governing body, ruled that there was "no clear agreement" that a jack touching a car amounted to working on the vehicle.
Alonso's position on the podium was then restored and his celebrations could truly begin.
"I was on the podium, I did pictures, I took the trophy, I celebrated with champagne and now I have apparently three points less – I don't have 15, I have 12," Alonso told Sky Sports after learning that he had been demoted to fourth.
"But I think it's more an FIA poor show today, more than disappointment from ourselves. You cannot apply a penalty 35 laps after the pit stop."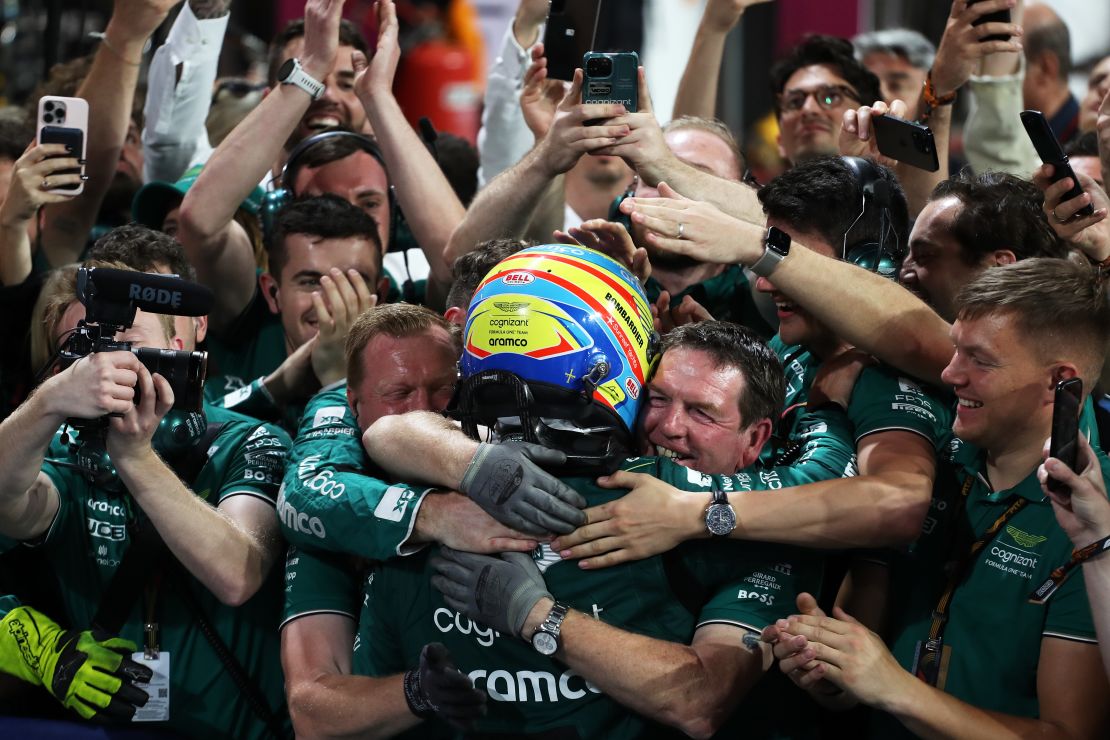 On the F1 website, an FIA spokesperson said that a request to review the 10-second penalty was made in the final lap of the race and that the definition of "working on the car" will be clarified ahead of the Australian Grand Prix next month.
CNN has contacted the FIA for comment.
The 41-year-old Alonso, who made his F1 debut in 2001, has enjoyed a strong start to the season with Aston Martin – a surprise package after two races.
Having placed third in Bahrain last week, Alonso backed up his auspicious start with another excellent drive, briefly leading in Saudi Arabia when he overtook pole-sitter Sergio Perez at the first turn.
Perez later regained the lead and his Red Bull teammate Max Verstappen also passed Alonso midway through the race, but the veteran held on to P3 after the stewards review, becoming just the sixth driver in F1 history to secure 100 podium finishes.
"I am happy in the end with the result tonight and our second podium," said Alonso. "We showed that we can be the second fastest team [behind Red Bull] and we had good pace throughout the race."
The result leaves Alonso third in the driver standings on 30 points behind Verstappen and Perez. The season resumes at the Australian Grand Prix in Melbourne on April 2.
CNN's Sammy Mngqosini contributed to reporting.