March Madness never fails to disappoint in terms of excitement, and this year is no different.
There have been upsets, 'Cinderella' runs and brackets busted aplenty in this year's NCAA college basketball tournament on both the men's and women's side, while some of the higher seeds have handled their business with aplomb, avoiding any potential banana peels.
On Sunday, No. 1-seeded Stanford became the first top seed to be eliminated from this year's women's tournament, while on the men's side, the Sweet 16 round is set.
Let's have a look at the main headlines:
Toppling the Cardinal
The Stanford Cardinal became the first No. 1 seed to be knocked out of the women's tournament this year after it lost 54-49 on Sunday night to No. 8 seed Ole Miss.
Angel Baker led the way for the Rebels with 13 points, while Marquesha Davis and Madison Scott added 12 and 11 points respectively.
Stanford, which never held a lead in Sunday's game, becomes the first No. 1 seed to fail to reach the Sweet 16 in the women's bracket since 2009 and just the fifth No. 1 seed since 1994 to be knocked out of the tournament before the second weekend.
The Cardinal was led in scoring by forward Cameron Brink with 20 points. Brink did tie the game at 49 with 1:16 to go but a 5-0 run from Ole Miss put the game out of sight and clinched a famous victory.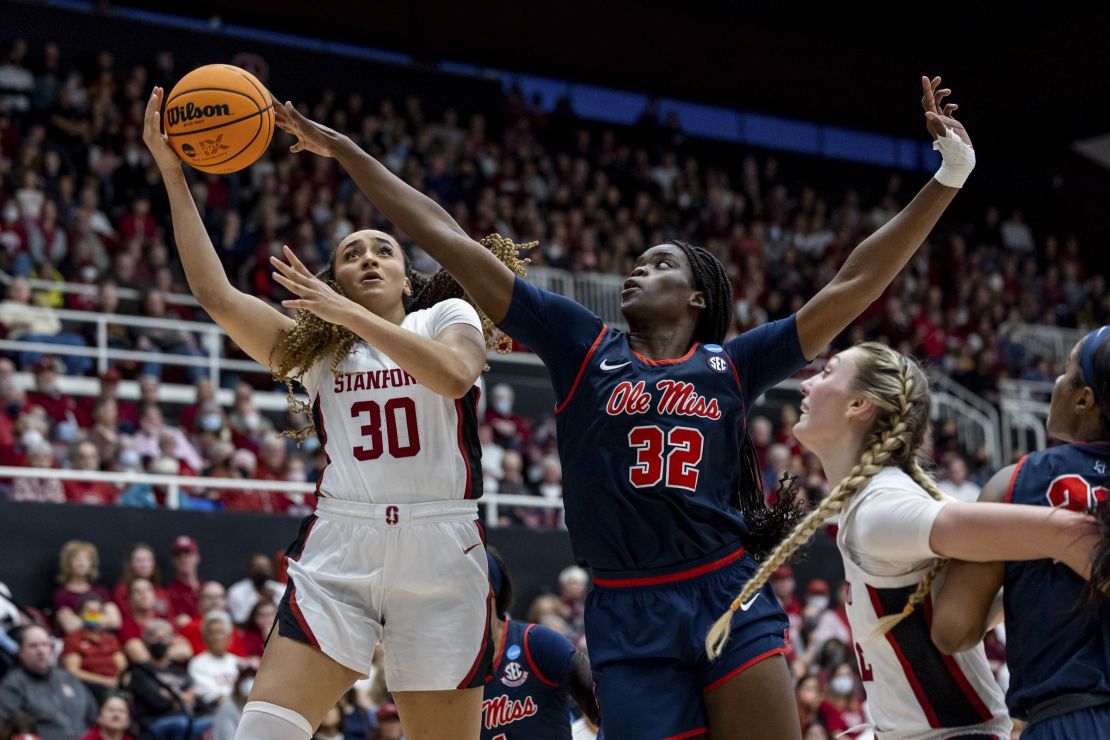 The Rebels' qualification to the Sweet 16 is the program's first since 2007.
"Everyone had a dream coming up," Ole Miss coach Yolett McPhee-McCuin told reporters afterwards.
"I'm a dreamer, and I try to be a dream merchant for my players. But how cool is it to take down someone that you admire [in Stanford coach Tara VanDerveer]? Like, that was pretty freakin' cool … so I'll never forget this."
Ole Miss will face either No. 4 seed Texas or No. 5 seed Louisville in the next round.
The end of a fairytale run
In the men's bracket, Sunday marked the end of this year's headline-making 'Cinderella' run.
The No. 16-seeded Fairleigh Dickinson Knights, who earlier in the tournament had become just the second team in men's NCAA tournament history to knock out a No. 1 seed in the first round after upsetting Purdue, lost 78-70 to the No. 9-seeded Florida Atlantic Owls in the second round on Sunday.
Florida Atlantic went into the half with a 32-25 lead, but the Knights came roaring back, going on an 8-0 run to start the second half to take the lead. However, the Owls took charge and broke the game open with less than five minutes to play.
Owls guard Johnell Davis led scoring with 29 points, while Demetre Roberts' 20 points kept things close for Fairleigh Dickinson, but it wasn't enough in the end.
Although the Knights' run came to an end, the team's spirit, grit and propensity to win against the odds meant it had become many people's second team, as fans rooted for the dream to continue.
After the game, FDU head coach Tobin Anderson said the last few weeks will be something that live with him forever.
When asked what he'll most remember from the 2023 March Madness, he said: "Everything. Everybody chanting 'F-D-U.' The place going crazy. The police escorts. Leaving the hotel with the band playing. Every part of this I'll remember forever – and they will, too."
He added: "What we did was incredibly special. And that will be something [we'll have] for the rest of our lives."
With the Knights' loss, a 16th seed is still yet to advance to the Sweet 16 in men's NCAA tournament history.
This is Florida Atlantic's first Sweet 16 appearance in program history and the Owls will face No. 4 Tennessee on Thursday in New York.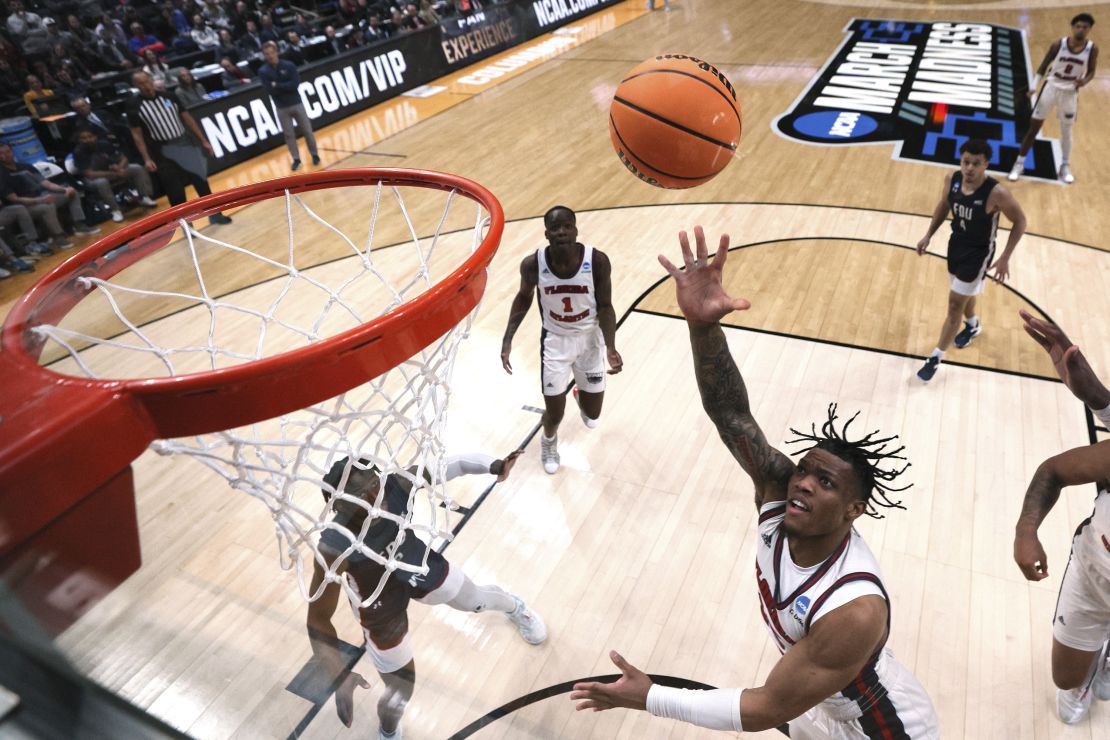 After Sunday's results, it means that the men's Sweet 16 is set, with teams needing just four more wins to be crowned national champion.
The round will begin on Thursday, March 23 and opens up with No. 7 seed Michigan State playing No. 3 Kansas State, followed by No. 4 UConn against No. 8 Arkansas, No. 4 Tennessee against No. 9 Florida Atlantic and No. 2-seeded UCLA against No. 3 Gonzaga.
On Friday, No. 1-seed Alabama will play No. 5 San Diego State, No. 1 Houston faces No. 4 Miami, No. 6 Creighton takes on No. 15 Princeton and No. 2-seeded Texas against No. 3 Xavier concludes the Sweet 16.