Editor's Note: A version of this article originally appeared in the weekly weather newsletter, the CNN Weather Brief, which is released every Monday. You can sign up here to receive them every week and during significant storms.
Connecticut Gov. Ned Lamont ordered a partial activation of the state emergency operations center, starting Tuesday.
Minneapolis is experiencing its eighth-snowiest season on record, with 81 inches of snow, compared to its average of 51 inches. Bismarck, North Dakota and Grand Rapids, Michigan, are experiencing their third-snowiest season; Duluth, Minnesota, is coming in at sixth; and Sioux Falls, South Dakota, is eighth.
Several more shots of snow will come to the Midwest again this week, only adding to the impressive snowpack.
But all the snow will eventually melt, and forecasters are fearing the worst.
Forecasters at the National Oceanic and Atmospheric Administration expressed concern about the increased likelihood of major spring flooding in the Upper Mississippi River Basin, particularly from the Twin Cities to St. Louis, due to rapid snowmelt.
It's crazy to think the Mississippi River could end up overflowing its banks when just last fall, parts of the river were at record low levels. How quickly the tables can turn.
Masha Hoy, a hydrologist with the North Central River Forecast Center, said a big driver of the forecast is the region's above-average – and very wet – snowpack.
"The snow water equivalent in the snowpack that's still on the ground is in the top 10 or 20% compared to historic years, so there's really just quite a lot of snow water out there," Hoy said in a media briefing. "With temperatures on the colder side for this winter, it hasn't had a chance to melt out slowly yet."
While temperatures may get above freezing during the day across parts of the Midwest, for the most part, lows are returning below freezing, which has kept the snowpack from rapidly melting until now.
"If we were to receive consistency of warm, high temperatures – right around our normal highs or where they're at right now – with low temperatures above 32 degrees consistently, that is where we would see a much more rapid snowmelt, and then increase that flooding potential," explained Ryan Dunleavy, meteorologist at the National Weather Service office in Twin Cities.
If a major flood does materialize in the coming weeks and months, cities like Davenport, Iowa, will be at risk. Davenport Mayor Mike Matson has been watching the situation closely and said his city is ready for what's to come.
"We have 20 pumps that are set up, and we test the pumps. We practice the work when we think there might be a flood," Matson told CNN Weather in an interview last week. "All of our barriers for the flood are pre-staged downtown and we rehearse setting them up. We send out notices to potential impacts of any businesses or residents. They understand what goes on. So, we're of course watching it."
Matson has been mayor since 2020, but remembers just four years ago, when a temporary levee broke and sent water rushing into his town, after rapidly melting snow and rain caused major flooding along the Mississippi River in 2019.
He said every spring, flooding is on everyone's minds.
"This is a conversation that a lot of people are used to having you know, especially some of our old-timers have been dealing with this a long time and they get it. We have people that live along the river and when the flood comes, they boat in and out," Matson said.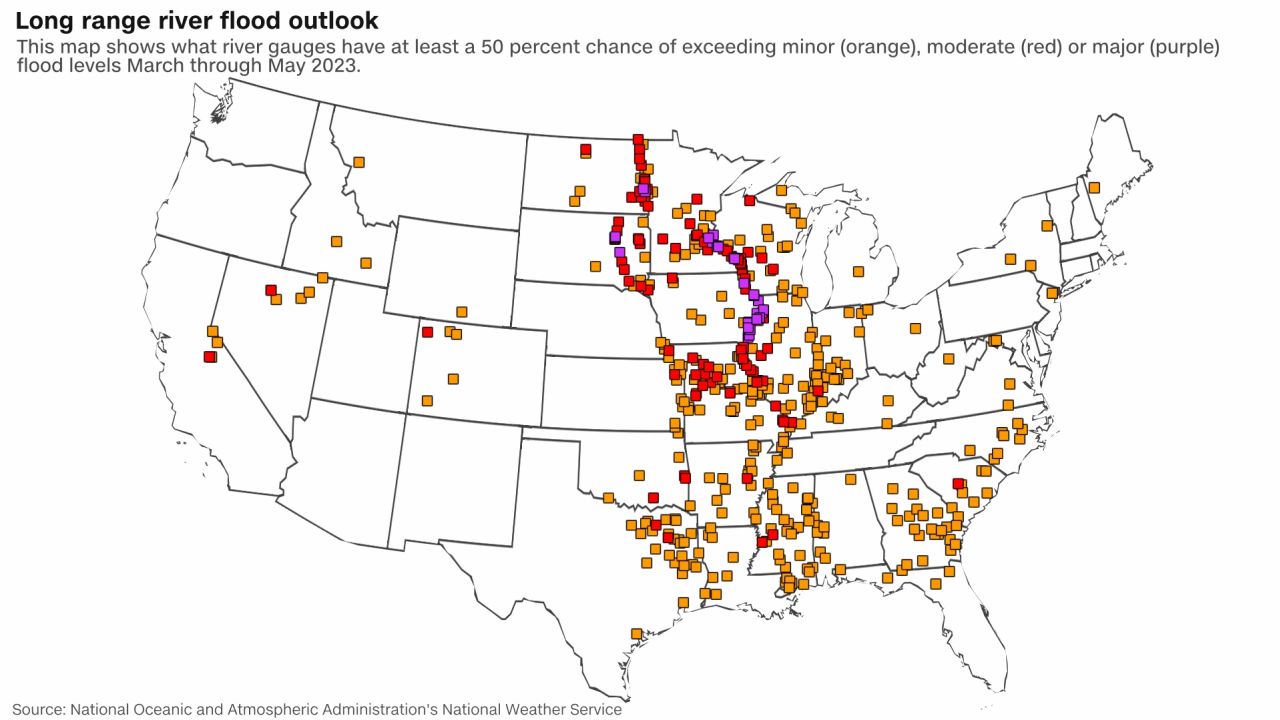 Matson added just as people in Florida live with the reality of hurricanes, this is their reality living along the mighty Mississippi.
It has been an extremely active year in terms of severe weather, with well above normal numbers in terms of tornadoes, and the peak of severe weather season does not begin until this week.
CNN Meteorologist Haley Brink contributed to this report.