Tennis great Martina Navratilova says her "prognosis is excellent" having been diagnosed with throat and breast cancer.
In an interview with Piers Morgan Uncensored on TalkTV, Navratilova said: "I mean, as far as they know I'm cancer-free … I definitely won't be missing any of my check-ups. I will be very, very diligent about it, but the prognosis is excellent. But you never know."
The 66-year-old Navratilova, who won 59 grand slam singles and doubles titles over the course of her illustrious career, discovered an enlarged lymph node in her neck during the WTA Finals in Fort Worth, Texas last year.
After a biopsy, she was later diagnosed with stage one throat cancer, her agent Mary Greenham told CNN in January. While undergoing throat tests, a suspicious form was found in Navratilova's breast, which later was diagnosed as cancer, Greenham said.
"It was again very up and down, right?" Navratilova said in the TalkTV interview airing Tuesday.
"So, I find out it's throat cancer, I think I could be dying but I find out no, it's very treatable. Then they found the right breast and when I had the biopsy on the right breast, the doctor was saying: 'This doesn't look great.'
"And when she said that I'm like: 'Oh great, I have another cancer?' And that's when I started crying on the table as she's still poking in there getting samples out of my boob and I'm like: 'Oh great, I have two cancers at the same time that are not related.'"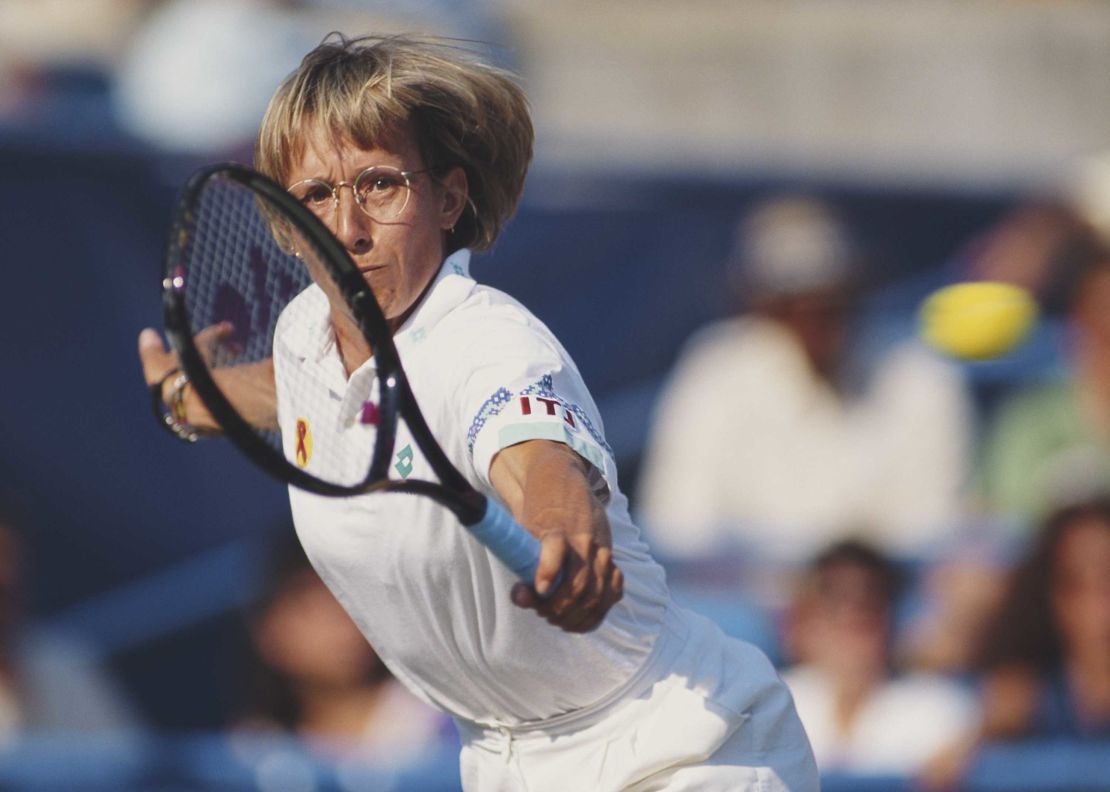 Navratilova, who was previously diagnosed with breast cancer in 2010, spoke of her determination after receiving her double diagnosis.
"What was the alternative? Giving up? Giving in? Stopping?" she said. "That's just not an option for me … quitting is just not in my DNA."
Since retiring from tennis, Navratilova has worked as a coach, broadcaster and ambassador for the WTA Tour. She still holds the WTA record of 167 singles titles, 10 more than her long-time friend and rival Chris Evert, who said in January she is "cancer-free" having been diagnosed with stage 1 ovarian cancer.
After Greenham put out a request for friends to send a message and song to Navratilova, Evert sent Bill Withers' "Lean On Me."
"I couldn't even read that stuff," said Navratilova. "When Mary first sent it to me, I just started crying … I started reading it and I'm like: I cannot listen to the music because I'll definitely be bawling my eyes out.
"One day at a time, I read a little bit from what everybody wrote because it was so moving."
CNN's Ben Church contributed to reporting.