Editor's Note: A version of this story first appeared in CNN's Meanwhile in the Middle East newsletter, a three-times-a-week look inside the region's biggest stories. Sign up here.
A surprise agreement by regional archenemies Saudi Arabia and Iran this month has raised hopes that the Saudi war in Yemen may come to an end, after more than seven years of hostilities that saw tens of thousands of civilians killed or injured and the country left in ruins.
But experts warn that even if Saudi Arabia agrees to end military operations, the war in the country would be far from over – and could get even more fierce.
It started as a civil conflict between Yemeni factions and turned into a full-blown war in 2015 when a Saudi-led coalition intervened militarily to support the embattled government there. But it eventually became a proxy war between Iran – which has been accused of arming the Houthis – and Saudi Arabia, and the main arena for their competition for regional influence.
Now, both Riyadh and Tehran are keen to bury the hatchet, and analysts say their agreement to normalize ties likely includes provisions to ease their rivalry in Yemen.
Ahmed Nagi, a senior analyst for Yemen at the International Crisis Group think tank in Brussels, says that the rapprochement may change the regional calculus around Yemen, but is less likely to resolve its internal conflict as quickly.
"We may see a change in the regional element of the conflict," Nagi told CNN, "But things may prove more difficult on the local level, since the conflict is essentially a domestic (one) and not a regional one."
While the UN is now focused on extending the ceasefire in Yemen, which has largely held since April 2022 despite failure to officially renew in October, "things may take a long time before we see local change to the conflict," Nagi said.
Yemen's conflict had been festering for over a decade. In 2012, protesters unseated then-President Ali Abdullah Saleh a year after the 2011 Arab Spring uprisings swept through the region.
In 2014, Iran-backed Houthi rebels seized control of the capital Sanaa, and eventually pushed aside then-President Abd-Rabbu Mansour Hadi.
The conflict was compounded when in 2015, Saudi Arabia formed a military coalition that intervened in Yemen to restore Hadi's internationally-recognized government. The Houthis and the coalition have both been trapped in a deadlock ever since.
The Houthis have rejected a Saudi offer to host talks between Yemeni factions, saying Riyadh is party to the conflict and cannot be an honest broker. But they are now holding direct talks with Saudi Arabia, sidestepping the local groups with whom they are at war, as well as the United Nations, which has for years tried to broker a peace agreement.
The Southern Transitional Council (STC), a United Arab Emirates-backed secessionist group that controls southern parts of Yemen, told CNN in a statement that it won't be bound by any Saudi-Houthi agreement that touches on matters related to the south "whether administratively, security-wise or in matters related to resource-sharing."
"Riyadh (has) isolated all the relevant stakeholders from these talks," it said, adding that it supports the negotiations if they are limited to extending the truce and touch only on Saudi security concerns.
A UAE official told CNN in a statement that the country "supports efforts by Saudi Arabia to directly engage with the Houthi militias" and appreciates its role in "advancing multilateral efforts to reach a political solution to the crisis in Yemen under the auspices of the United Nations."
The UAE is a member of the Saudi-led coalition but partially withdrew its troops from Yemen in 2019.
Some analysts say that a hasty Saudi withdrawal from the country could empower the heavily armed Houthis and give them a free rein to spread their influence unhindered.
"If Saudi Arabia continues to wait for a Yemeni-Yemeni agreement before it leaves, then it will wait for many years," said Taleb Al Hassani, an editor for the Houthi-run Al Masirah news channel, who is close to the group. The Houthis "are now focused on how Saudi Arabia and the UAE can exit the conflict" and bring Yemen to the pre-invasion status-quo, when they took control of the capital, he told CNN.
Once the coalition withdraws, Yemen will either witness "quick mediation" with the help of a neutral party, or fall back into civil war, Al Hassani said. In both cases, he added, the Houthis are likely to emerge victorious.
Nagi of the International Crisis Group agreed that "Houthis feel that they are winning the war."
What post-war Yemen may look like
The UN is pushing for a nationwide ceasefire in Yemen as it tries to "build on the current momentum towards an inclusive, sustainable political settlement."
Several scenarios have been floated about what a post-war Yemen may look like. The STC wants to see Yemen return to the pre-1990 situation when the country was split into North Yemen and South Yemen, it told CNN.
The Houthis reject the prospects of a split, even into a confederation, and have insisted on a unified Yemen where they control the capital. That scenario is not one that Saudi Arabia and the UAE are likely to accept and it could even draw them back into the war, analysts say.
"Saudi Arabia is betting that deals with Iran and the Houthis will allow it to extricate itself from Yemen. But that is shortsighted at best," wrote Gregory D. Johnson, a non-resident fellow at the Arab Gulf States Institute in Washington (AGSIW) and a former member of the UN Panel of Experts on Yemen.
"The Houthis aren't about to stop fighting their rivals in Yemen, no matter what deal the group signs with Saudi Arabia," he wrote. "And that reality is dangerous for the kingdom, which could easily find itself sucked back into the conflict in Yemen."
The UAE official told CNN that "the governance and territorial integrity of Yemen is an issue that must be decided by Yemeni parties themselves," adding that the UAE is "committed to all international peace efforts that lead to a resumption of the political process."
There is very little trust in the Houthis from the Saudi side, Farea Al Muslimi, a research fellow at Chatham House's Middle East and North Africa Program, told CNN, adding that the Saudis may be worried about recognizing the Houthis as a major political player in Yemen, only to find them backtracking on any guarantees.
"Obviously, to stop a war is much more difficult than starting a war," Al Muslimi said.
The digest
In rare move, US summons Israeli ambassador to protest resettlement law
Israeli Ambassador to the US Michael Herzog was called to the State Department Tuesday over legislation passed by Israel's Parliament which will allow for Israeli resettlement in parts of the occupied West Bank. Deputy Secretary of State Wendy R. Sherman and Herzog also "discussed the importance of all parties refraining from actions or rhetoric that could further inflame tensions leading into the Ramadan, Passover, and Easter holidays," State Department Principal Deputy Spokesperson Vedant Patel said in a statement.
Background: On Tuesday morning, Israel's Parliament voted to roll back a part of the 2005 Disengagement Law that previously ordered the evacuation of four Israeli settlements that had been established in the northern West Bank. Speaking at a press briefing Tuesday hours before Herzog was summoned, Patel said the US was "extremely troubled" by the move. "The growth of settlements and outposts is inconsistent with our views on what steps are necessary to get us to a negotiated two-state solution in a peaceful way. I was just quite clear about that," Patel continued. On Wednesday, the Israeli prime minister's office said that no new settlements will be established in areas previously evacuated under a 2005 disengagement law, despite the repeal of parts of that law on Tuesday.
Why it matters: The summoning of Herzog to the State Department comes after the US rebuked Israel's far-right Finance Minister Bezalel Smotrich for comments he made over the weekend denying the existence of a Palestinian people. It also comes just weeks after the minister called for a Palestinian village to be "erased," drawing US censure. The rise in tensions comes just before the Ramadan and Passover holidays, which in the past have seen an increase in violence between Israelis and Palestinians.
In vote setback for Erdogan, Turkey's pro-Kurdish party will not field candidate
Turkey's pro-Kurdish Peoples' Democratic Party (HDP) and its allies will not field a presidential candidate in May, Reuters cited its co-leader as saying on Wednesday. Speaking at a news conference, Pervin Buldan did not openly say whether her alliance would support opposition candidate Kemal Kilicdaroglu, after they had met on Monday. "In the presidential elections, we will carry out our responsibility against the one-man rule," Buldan said, adding that they will work to instate basic rights and justice in Turkey.
Background: The HDP is the third-biggest party in Parliament with more than 10% support nationwide and is seen as playing a decisive role in the presidential election on May 14. Erdogan is facing the biggest challenge to his rule in his more than two decades of leading Turkey. Recent polls show him trailing Kilicdaroglu, the candidate of the opposition alliance of six parties.
Why it matters: The decision raises the prospect of the opposition uniting against President Tayyip Erdogan's re-election bid. Former HDP co-leader Selahattin Demirtas, who has been in jail since 2016, has previously voiced support for Kilicdaroglu, who is the leader of the main opposition Republican People's Party (CHP).
Saudi Arabia releases US-Saudi dual citizen imprisoned for posting critical tweets about the kingdom
Saudi Arabia released US-Saudi dual national Saad Ibrahim Almadi from prison, more than a year after he was arrested for tweets critical of the kingdom, Almadi's son Ibrahim told CNN. Almadi was released at 2 a.m. local time on Tuesday and is currently in Riyadh under a travel ban, said his son, who is based in the US.
Background: The 72-year-old had been imprisoned in Saudi Arabia after being given a 16-year sentence for tweets critical of the Saudi government, the US State Department said in October. "He is not free until he is in the (United) States," his son said. Neither Saudi nor US officials immediately confirmed the release of Almadi. CNN has reached out to Saudi Arabia's government for comment.
Why it matters: Almadi's release from prison comes amid frosty relations between Saudi Arabia and the Biden administration. President Biden has repeatedly brought up the issue of human rights in Saudi Arabia.
What to watch
Two decades after the US invasion of Iraq, Princess Rym Al-Ali of Jordan, a former CNN correspondent, reflects on her time covering the war.
"I hoped it would be a short war, but I think I knew deep inside that it wasn't realistic," she told CNN's Becky Anderson.
Princess Rym was one of the few international journalists on the ground in Baghdad when the invasion began.
Watch the two-part interview here and here.
Around the region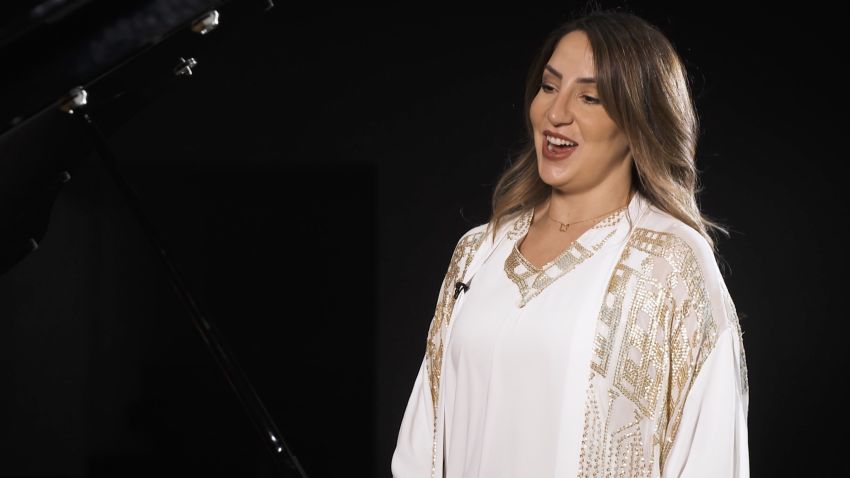 Saudi Arabia's soprano sensation
Defying social norms and paving the way for other women, Sawsan Al Bahiti is a pioneer in Saudi Arabia's music scene, setting stages ablaze with her passion for opera singing.
The kingdom's first ever female opera singer, Al Bahiti's performances in Saudi Arabia would have been inconceivable just a few years ago.
The 36-year-old began her career as early as 2008, but her journey was anything but an easy one.
"I faced so many challenges, opera being an art that is barely known in the kingdom of Saudi Arabia," Al Bahiti told CNN, adding that one of the many obstacles she faced was finding places and coaches to train her locally.
"So I had to go to the international market and thankfully technology helped in that by doing video calls with different teachers around the world," she added.
By 2019, her career had kicked off. The soprano now sings in four languages and performs all over the kingdom, where she hopes Saudis will grow more familiar with the sound of opera.
"I was actually the first Saudi woman to perform the Saudi anthem publicly," she told CNN. "It gave me a lot of joy to be able to set such examples to other women."
Saudi Arabia has been on a quest to diversify its economy and become attractive to tourists and foreign investment.
In 2018, the kingdom announced that it is set to open its first opera house in the Red Sea port city of Jeddah. The project is scheduled for completion by 2027, along with a number of other landmarks in Jeddah.
Watch the full report here.
Photo of the day