One of Boris Johnson's most uncomfortable afternoons as a politician is over. The former British prime minister faced over three hours of grilling before a parliamentary committee that is investigating whether or not he knowingly misled Parliament regarding breaches of Covid-19 guidance and rules inside 10 Downing Street when he led the country. 
The question being asked was not if he misled Parliament: we know that he did and he accepts so. The question is not if rules were broken: we know that they were, after more than 100 fines were issued by the police to individuals working in Downing Street for attending gatherings that violated regulations. And we know that after a detailed report by a senior civil servant, Johnson has accepted full responsibility for what went wrong on his watch. 
He told the committee: "I was not trying to cover up or conceal anything. I said what I said in good faith based on what I honestly knew and reasonably believed," he said, admitting that "did not mean that I believed that social distancing was complied with perfectly." 
Lawmakers on the committee rebuffed Johnson's innocence by putting it to him that it "must have been obvious to you at the time, and even more obvious on reflection afterwards as this whole thing broke around you, that it was in breach of workplace guidance," as Conservative Bernard Jenkin put it.
What is in question is whether or not Johnson knew at the time he was making a false statement to Parliament when he said in December 2021 that guidance and rules had been followed "at all times."
In his opening remarks to the committee on Wednesday, Johnson asked members to remember that this statement was made before the police investigation or civil service report into the "Partygate" scandal had been published. His suggestion, it seemed, was that hindsight is a wonderful thing, so it was only after these investigations that it became clear Johnson's statement was incorrect.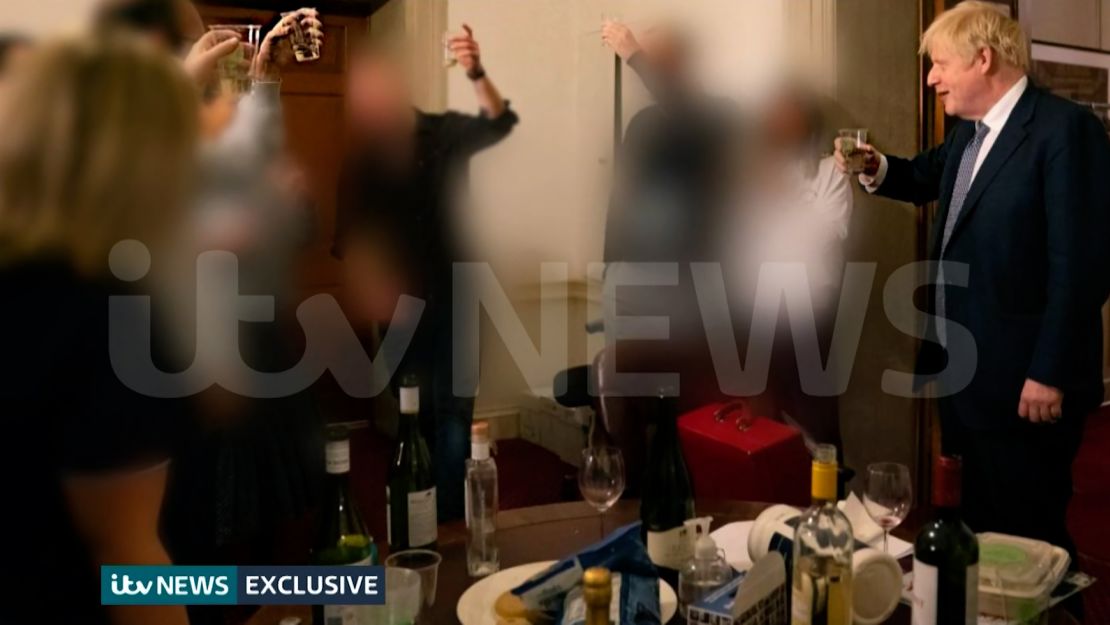 The central point of Johnson's defense is three-pronged. 
First, he said it is "illogical" he could have known at the time that rules or guidance were broken because much of the photographic evidence the committee had published was taken by the Downing Street official photographer. Why, Johnson asked, would he ask a photographer to document events that he thought were illegal?
Second, Johnson presented a detailed understanding of the guidance. In response to the same photographs, which show Johnson giving a speech at a gathering where social distancing is clearly not being observed, the ex-PM makes a technical argument. He said that the guidance acknowledged that social distancing was not always possible. 
The guidance, as Johnson put it, "was followed to the best of our ability, given the circumstances … we could not have an electrified forcefield around every individual." In other words, the guidance allows for the guidance to not be followed to the letter. 
Finally, Johnson said that his advisers had told him at the time that he would be correct to say that guidance was followed at the time. Multiple advisers have denied ever giving him such assurances. 
Johnson's evidence was met with a frosty reception from the members of the committee – even those from his own Conservative party. He was admonished for his rambling answers and as the hearing went on was ridiculed for the perceived logical inconsistencies in his defence. At one point, a senior Conservative lawmaker even joked at the irony of Johnson relying on evidence in a report that he had previously criticized as partisan.
What could happen next to Johnson
The heated exchanges between Johnson and the committee members are important, because it is these seven MPs – four of whom are Conservatives – that will decide if Johnson knowingly misled Parliament and what punishment he should receive. At the soft end of the scale, a humiliating apology could suffice. At the other, he could be forced to face a recall election that he could easily lose. 
It's worth noting that some of the harshest questioning came from Conservative MPs. That could be because they want to be seen as impartial in a cross-party committee, but it could also be because so many Conservatives are furious with Johnson for dragging the party's poll ratings down and destroying trust in Conservative governance.
Even if Johnson's political career is over, he is still capable of causing divisions in the United Kingdom's ruling party.
People in the committee room laughed at the absurdity of what was happening – a photo of Johnson being presented with a birthday cake and confirming his interior designer was present at the event, to give one example of many.
But some of Johnson's most loyal supporters were also present, seething at the questioning and glaring furiously at those seemingly enjoying watching the former leader squirm. 
The longer this went on, the angrier he seemed at being treated like a punch bag.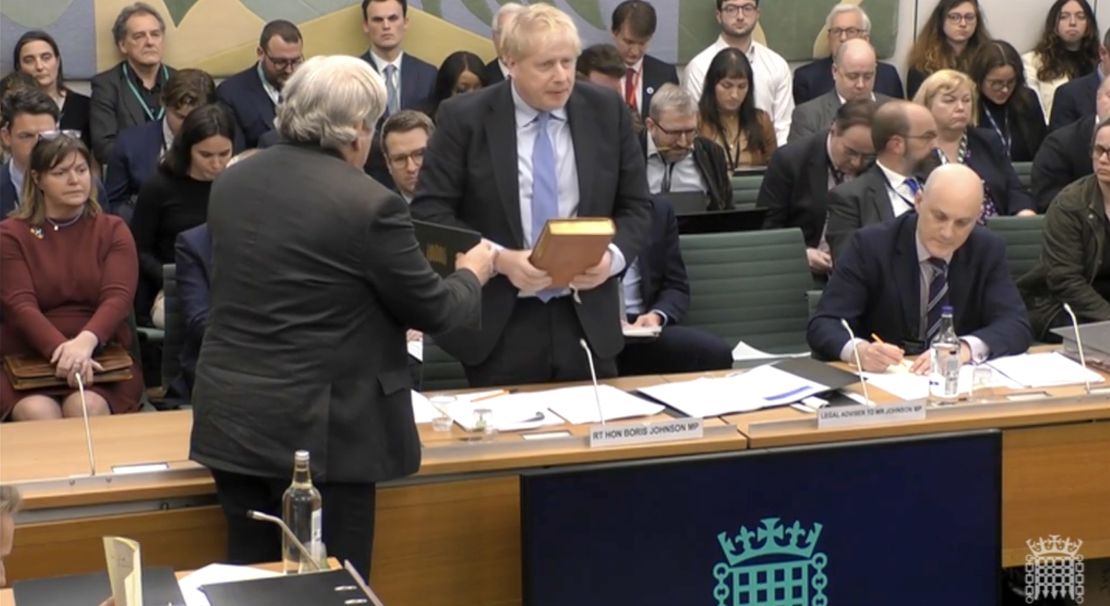 Johnson's job on Wednesday was to provide sufficient doubt that he lied in Parliament. He needed to provide a plausible account that when he told Parliament no rules or guidance was broken, he sincerely believed that to be the case and it is only subsequent evidence that has made him realize he was wrong.
Pointedly, Johnson told the committee: "I apologize for inadvertently misleading this house but to say that I did it recklessly or deliberately is completely untrue, as the evidence shows. Whatever we got wrong, I believe that officials in number 10 and the cabinet office and indeed all of the Whitehall departments should be immensely proud of their efforts to protect this country from a loathsome disease."
How much all this matters in the broader context of the Partygate scandal, trust in politics and Johnson's integrity is another question entirely. 
Poll after poll shows that the public believes Johnson broke Covid rules. Even members of his own party, according to polling published by the most influential Conservative publication, Conservative Home, says most believe he broke the rules and should not return as PM.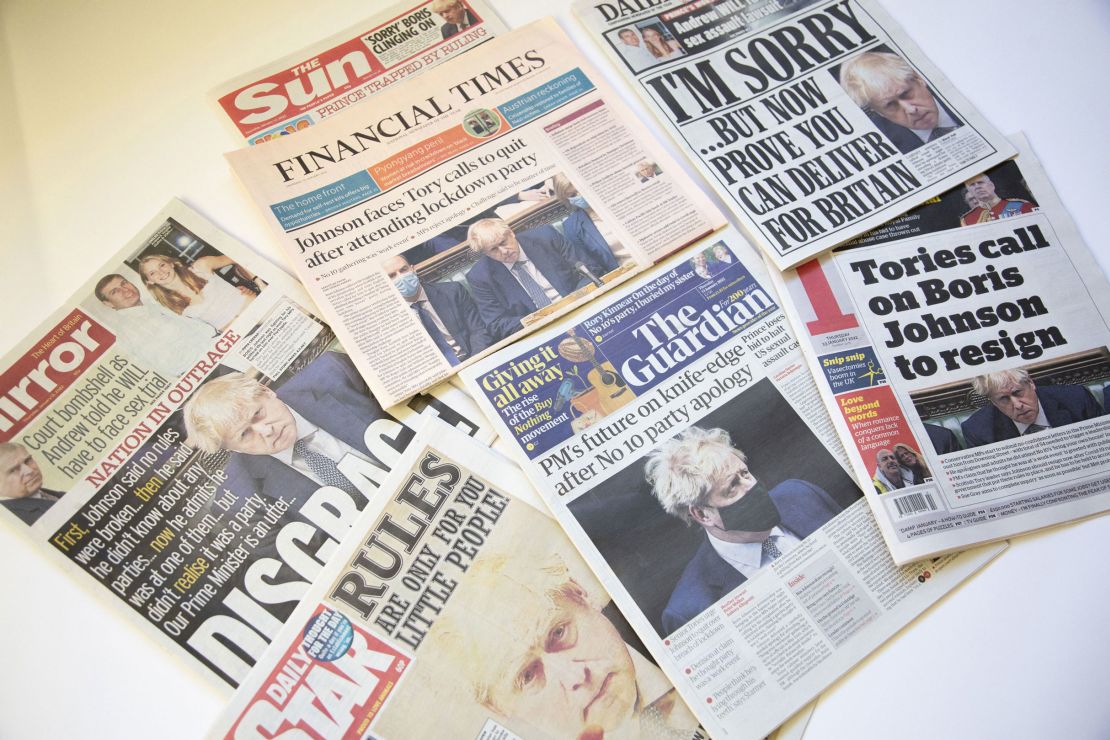 Beyond what this loss in popularity means for Johnson personally, it is worth remembering why this scandal resonated so much with people. Many Brits sincerely believe that while they were locked up at home, doing their best to stop the spread of a deadly disease and being unable to say goodbye to relatives who died, Johnson and his Downing Street team were partying as though they were above the rules. No one's skin is thick enough to brush that off. 
The evidence against Johnson is undeniably greater than the evidence in his defense. 
But the question being asked of the committee is both extremely narrow and specific, but also opaque. And it is, to some extent, impossible to answer with full confidence by anyone other than Johnson himself. 
Which brings us back to what Wednesday's hearing was really about. During his opening statement, Johnson said that he wanted all of the evidence out in the open so that, "Parliament and public can decide for themselves." 
This is what it really boiled down to: whether or not the committee and wider public believe Johnson is an honest and trustworthy person or whether he is lying to spare his reputation further damage. In the eyes of the vast majority of the British public, that question has already been answered.