A version of this story appeared in the March 23 edition of CNN's Royal News, a weekly dispatch bringing you the inside track on Britain's royal family. Sign up here.
Royal tours are normally planned months in advance. But the Prince of Wales' surprise trip to Poland this week was a rare anomaly. Pulled together relatively last minute, it came at his personal request.
Everyone scrambled to make it happen. The press weren't initially going to be able to go for security reasons as the trip included a visit to a top-secret military base in the country's southeast, just a few hours' drive from the Ukrainian border.
But in the end, under a media blackout, the British heir to the throne flew in and surprised British and Polish military personnel on Wednesday, thanking them "for all that you're doing, keeping everyone safe out here and keeping an eye on what's going on."
"You're doing a really important job out here and defending our freedoms is really important, and everyone back home thoroughly supports you," he added.
We understand Prince William was eager to highlight to the world how much Poland has been doing over the last year to support Ukraine. We were finally able to report his unannounced visit late Wednesday when he traveled on to the Polish capital.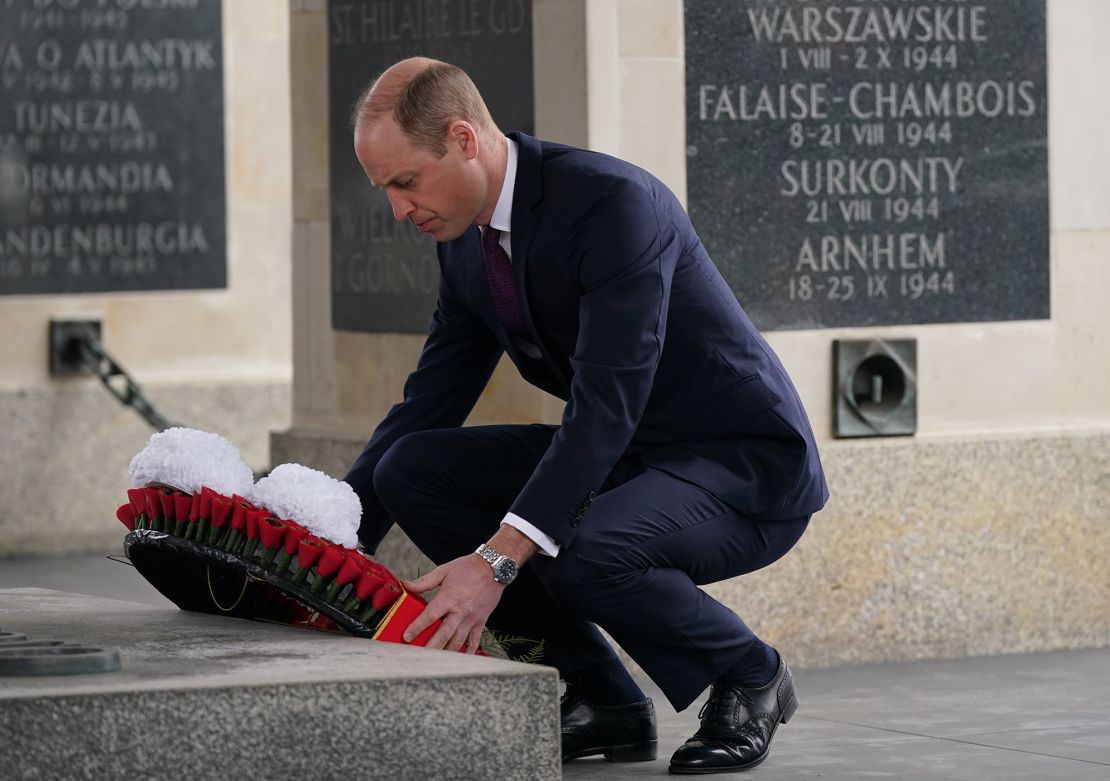 Walking around Warsaw, conversations in Ukrainian are just as common as those in Polish. According to Polish border officials, the country has seen more than 9 million people travel across the border since Russia's unprovoked invasion last February. Since then, the government estimates 1.5 million people have resettled here.
Shortly after arriving in the city, the prince headed to an office block that has been converted into a kind of hostel for Ukrainians displaced by the conflict. The facility provides lodgings for around 300 women and children who have recently arrived in the country. The former office building-turned-accommodation center is operated by the City of Warsaw and opened shortly after Russian forces invaded Ukraine.
William listened to several refugees talk about fleeing their homeland and seeking sanctuary in Poland. He then played a doubles ping pong game with some of the children.
With their own encounters of war still fresh in the nation's collective memory, Poland has warmly welcomed their neighbors, fully integrating them into society with free access to public services like healthcare and education. Many families have opened their homes to take in some of those displaced by the invasion.
The second day of the surprise visit saw William lay a wreath at the Tomb of the Unknown Soldier on Thursday morning in a somber ceremony. On arrival, he was welcomed with an honor guard, before making his way to the war memorial to lay the wreath. On a note accompanying the tribute, the prince had written: "In memory of those who made the ultimate sacrifice."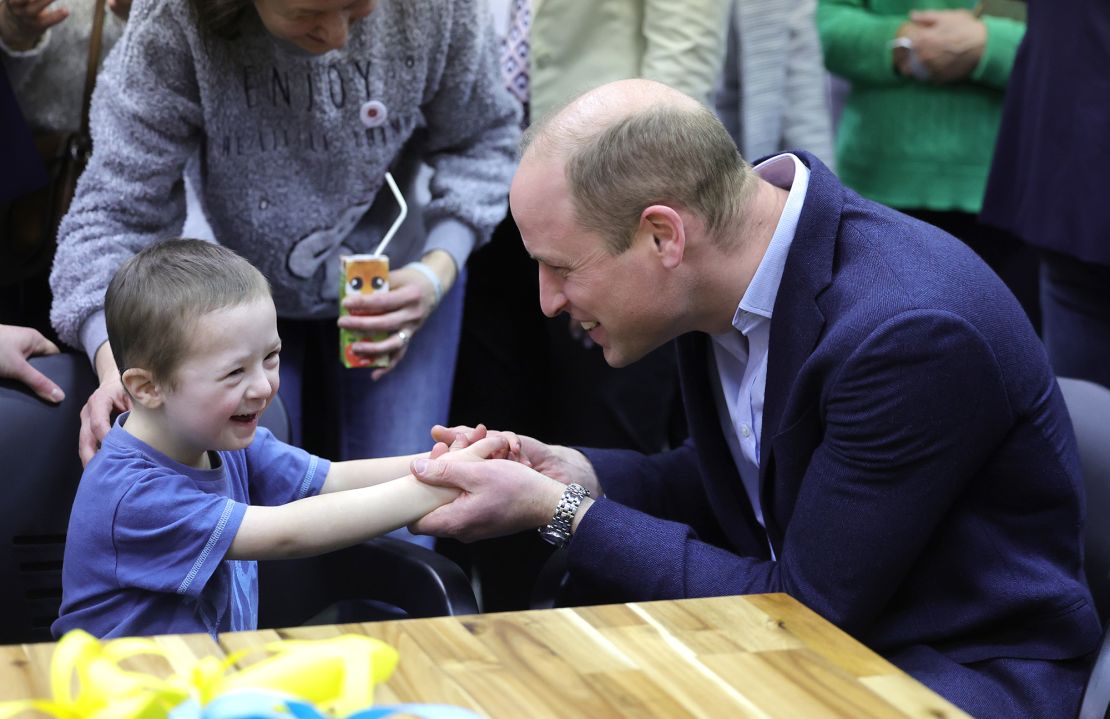 The next stop was a bilateral meeting with Polish President Andrzej Duda at the Presidential Palace a short car ride away. A spokesperson for the Prince of Wales described the conversation as "warm and friendly, and predominately focused on the ongoing conflict with the war in Ukraine, particularly its impact on Polish society."
"The Prince of Wales took the opportunity to thank the president and the Polish people who have done so much to support the people of Ukraine who've fled here," the spokesperson said.
The pair discussed how crucial continued support is for the Ukrainian people.
Confirming that heads of state will be invited to King Charles III's upcoming coronation, making it a truly global event, the spokesperson concluded: "The prince said he was very much looking forward to seeing the president and first lady at the coronation. He also thanked him for attending the late Queen's funeral."
Finally, William visited the Hala Koszyki food hall where he chatted with young Ukrainian refugees about their experiences since resettling in Poland, including Yelyzaveta Tupotina. She told CNN he seemed "like our friend," adding, "we really thank him" for visiting.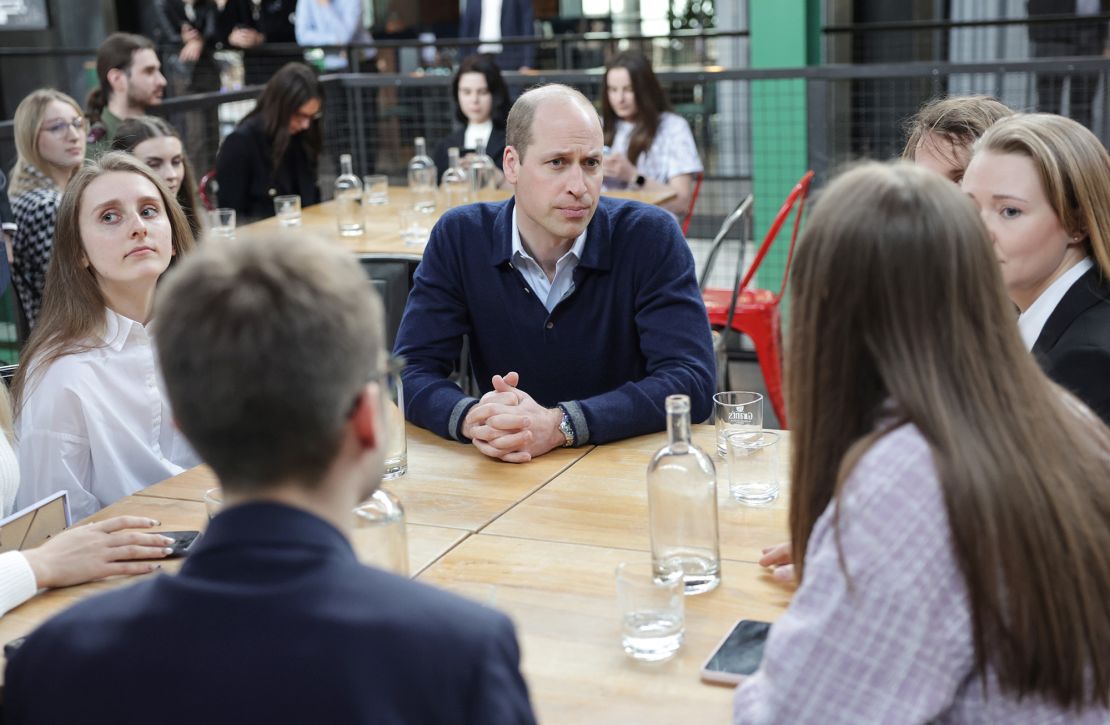 "He asked me about my parents because I mentioned they were still (in Ukraine) … and I talked about where I am studying. Then he asked other people about crossing the border, if it was difficult and if they can get back home to Ukraine," she said of her conversation with the 40-year-old royal.
Outside, royal fans waited patiently for the prince in the spring sunshine, with many carrying flowers and eager to express their gratitude to him for the unannounced visit. Among the crowd were three friends, Marta Zegarek, Agata Bartosiak and Olga Mierzejewska. It was actually their second brush with British royalty, having briefly seen William when he and his wife, Catherine, visited the country in 2017. This time, they got the chance to exchange a few words.
Zegarek, 26, told CNN: "We are grateful that he sees the Polish people are absolutely fantastic and helping and we are all in this together." Meanwhile, Mierzejewska, 22, chimed in that she had told William that "we are very appreciative of his support to our nation and Ukrainians."
While Prince William was here to emphasize Poland's support of Ukraine, photographs emerged overnight of the prince grabbing dinner at Butero Bistro, an LGBTQ+-friendly eatery in Warsaw, according to the Daily Mail. A stunned patron shared their run-in with the royal on social media, reportedly calling William's decision to eat there "valuable," since the Polish government has cracked down on the LGBTQ+ community in recent years.
This trip showed William isn't afraid to get into what can be seen as political issues in a non-party political way. Support for Ukraine is not a divisive issue in the UK, like it has been on the global stage. He's now stepping forward in his elevated role of Prince of Wales and redefining the position that was, for so long, held by his father. He's showing himself to be a global statesman who can reflect the concerns of the public and the value of royal intervention in a meaningful way.
ICYMI
Away from the Prince of Wales' trip, there were a few other royal stories this week: