Look up a definition of "eventful" and you just may find a snapshot of Jordan Spieth's Thursday afternoon.
Of the thousands of holes the American golfer has played throughout his glittering career, for sheer spectacle, few will have rivaled the seventh hole he played during the second day of the WGC-Dell Technologies Match Play.
Spieth arrived at the short par-three with a slender one-shot lead over compatriot Taylor Montgomery. The Dallas-born golfer was a home hero at Texas' Austin Country Club, and a large crowd had gathered around the green to catch a glimpse of the three-time major winner.
And one fan in particular was about to get more than he bargained for.
"I'm watching Jordan tee off, excited to see Jordan play," the unnamed fan told the PGA Tour.
"He tees off, I'm watching him swing and everybody's saying, 'Hey it's coming long, it's coming long.'
"Next thing I know, it feels like somebody's dead legging me in the leg, I look down and see Jordan's trickling ball down and I was like, 'Oh crap, man, that hit my phone.'"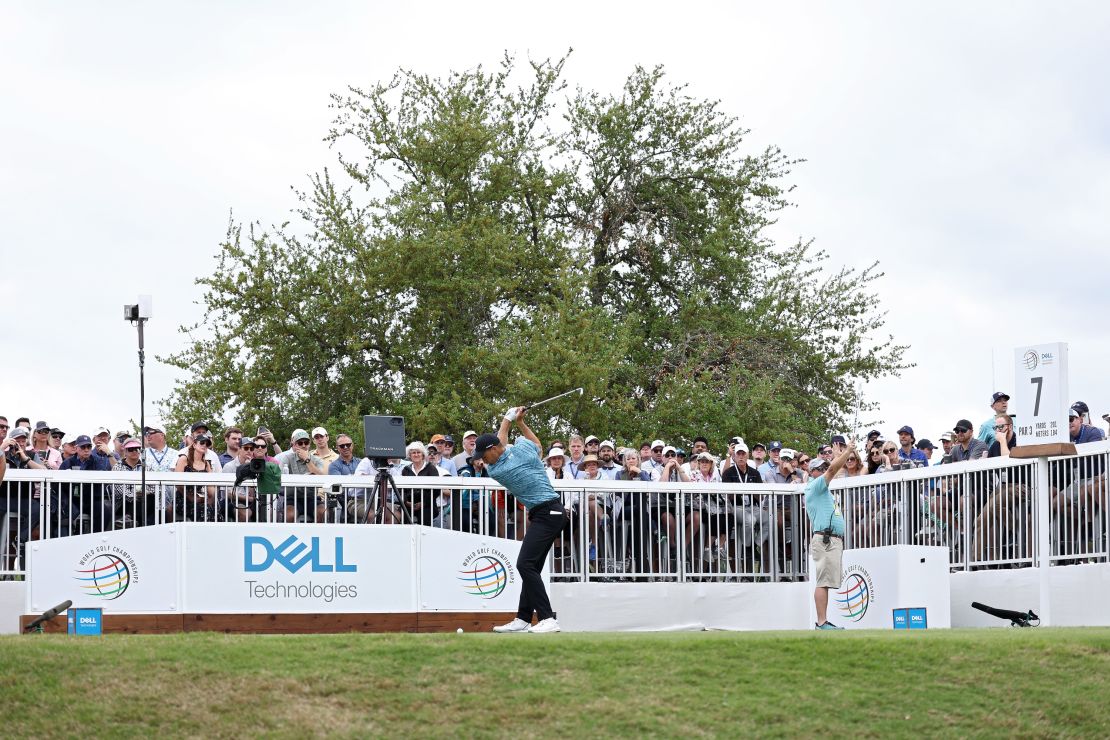 Some 220 yards away at the tee, an aghast Spieth had watched as his tee shot went sailing into the gallery. According to broadcast commentary, the ball had initially hit one fan before ricocheting into the phone, leaving it "shattered," the fan said.
Yet the ball was still in play, settling on a nearby cart path. After a long discussion with rule officials, Spieth was afforded relief, dropping his ball next to a boulder.
It left Spieth facing an awkward-looking chip onto the green, but only after checking in with the nearby crowd. After apologizing to the fan for breaking his phone, Spieth asked to exchange contact details after the round, the fan said.
"It was pretty surreal seeing Jordan and getting to talk to him and stuff," he added.
"I was like, 'Hey don't worry about it. Just get up and down.'"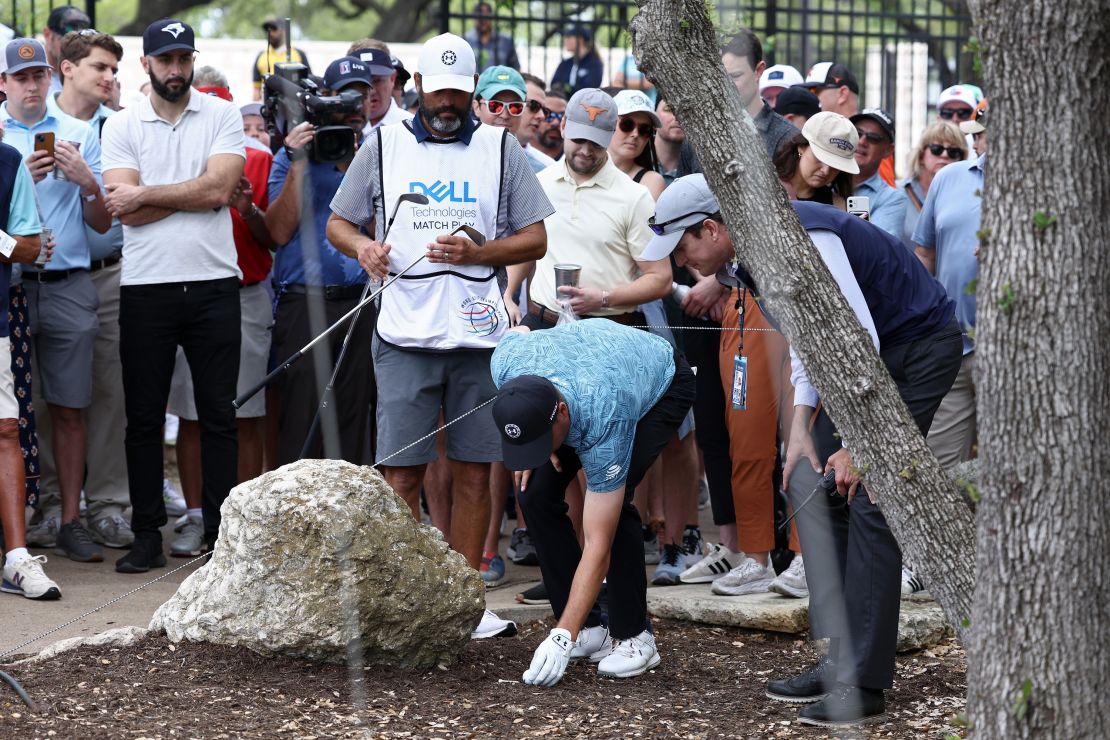 Promise kept. Despite overshooting his approach, a stunning long putt saw Spieth save par and halve the hole.
Unfortunately for the world No. 14, three consecutive lost holes down the back nine saw Montgomery rally to win 2&1. It means Spieth must now beat Ireland's Shane Lowry on Friday and hope Mackenzie Hughes – who he beat in the opening round – defeats Montgomery to force a three-man playoff and stand a chance of making the weekend.
Regardless of the outcome, the hit fan is more than content, with a signed Spieth glove to show for a dead leg and a cracked phone.
"How cool is that? What a blessing, so thank you Jordan for hitting me man," he said.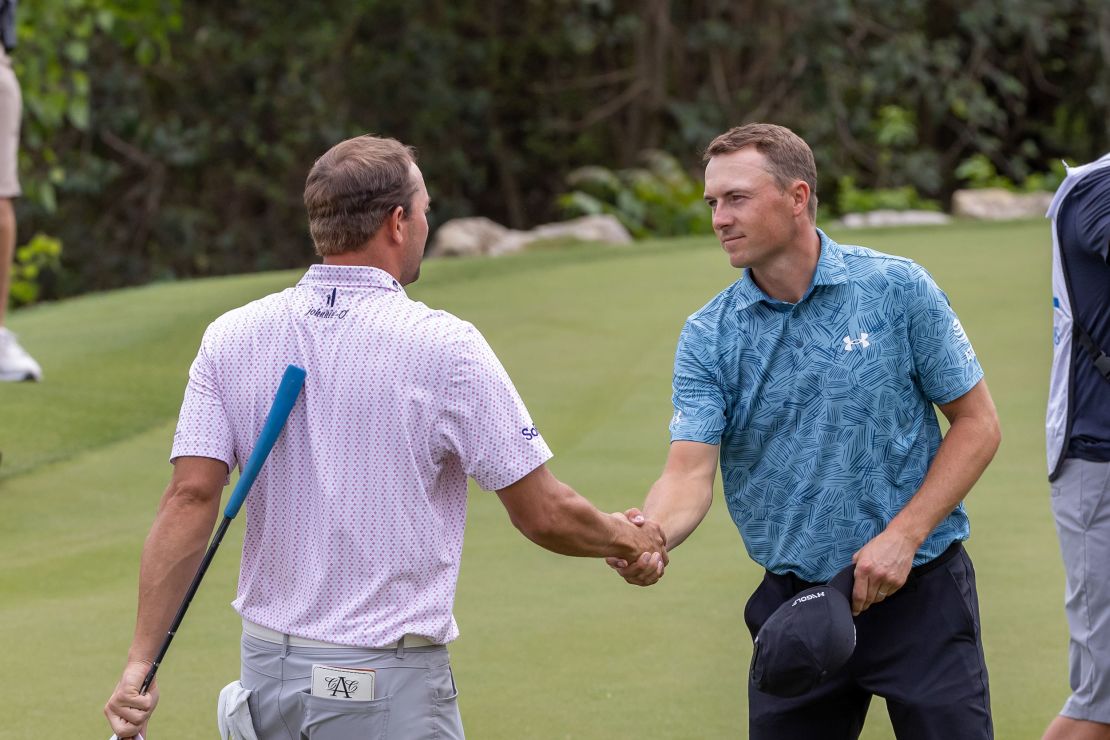 Spieth's March madness
It marks the second time in a matter of weeks that a fan has had an unexpected meeting with Spieth's ball.
Earlier in March at the Players Championship, Spieth looked to be sliding towards a disappointing missed cut when he teed off at TPC Sawgrass' ninth hole – and his last of the day – at two-over for the tournament.
His misery looked set to be compounded when his tee shot went sailing towards the water, only for Spieth's fortunes to be changed by a most unlikely source: a fan's knee.
The ball ricocheted back onto the fairway, and Spieth chipped in for a spectacular eagle that jumped him to even-par and sealed his safe passage into the weekend.
A tied-19th finish marked a solid improvement, though for what would be the first of two times in March, Spieth would end the weekend a glove lighter after handing a souvenir to the fan.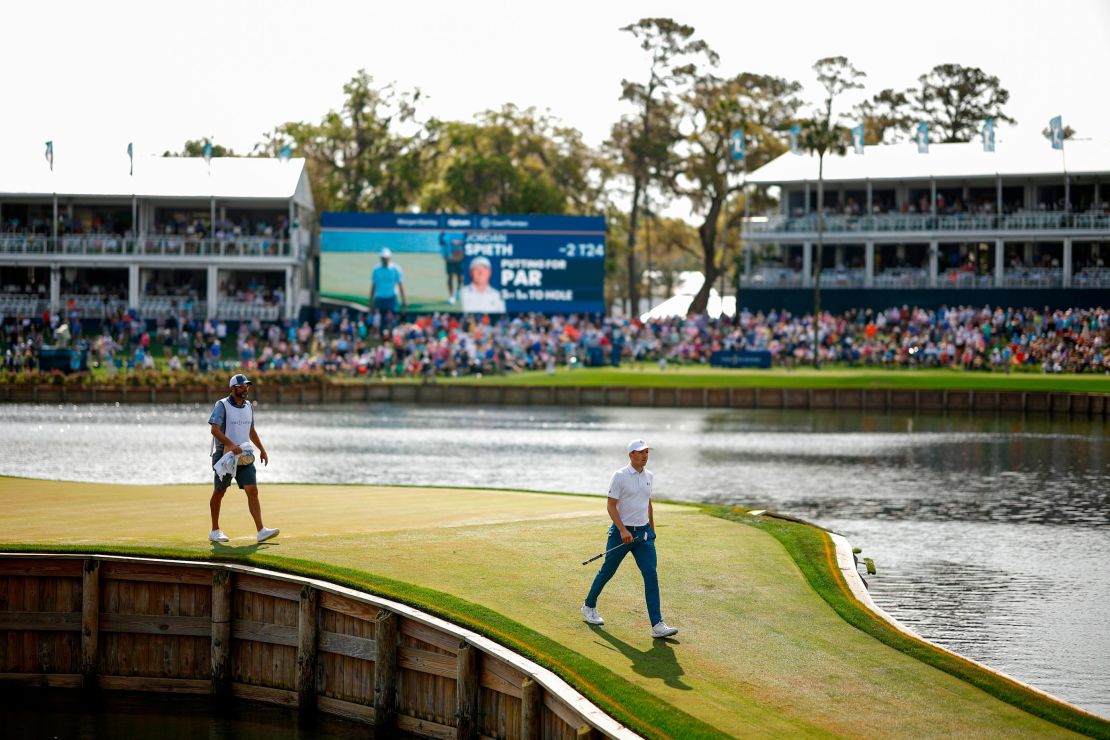 "It's the equivalent of flying [over] a green towards a hazard and hitting a grandstand and coming back on the green in a way," Spieth told reporters earlier in March at TPC Sawgrass.
"Trying to get that guy's information and see literally whatever he wants this weekend because everything from here on out is because it hit him."
One player in Austin this week who will be able to relate to Spieth's bizarre rounds is Rory McIlroy, who is enjoying an excellent start after victories over Scott Stallings and Denny McCarthy.
At the 150th Open Championship in July 2022, the Northern Irishman saw a tee drive grounded by an ancient stone at the St. Andrews Old Course and broke a PGA Tour employee's hand with a stray shot – all over the course of his first round.