Sweet 16 action got underway in the NCAA tournament and just like in the previous rounds of March Madness, there was drama flowing through the first set of games.
The Florida Atlantic Owls (FAU) upset No. 4-seeded Tennessee, 62-55; Markquis Nowell made NCAA history as the Kansas State Wildcats edged out the Michigan State Spartans in overtime to win 98-93; Gonzaga shocked UCLA with a late three to seal a dramatic 79-76 win; while UConn comfortably beat Arkansas 88-65 to advance to the Elite Eight.
Cinderella's story has a new chapter
Before the game, FAU head coach Dusty May said his team would "embrace" their Cinderella tag, but the 46-year-old also maintained his team had the quality to progress regardless of their seeding.
May said: "We're very, very confident in our abilities and those guys in the locker room."
The coach was right to have this belief in his players as the No. 9-seeded Owls knocked out the No. 4-seeded Volunteers to advance to the Elite Eight.
In a scrappy, low-scoring contest FAU had a huge second-half surge to claim the incredible 62-55 upset.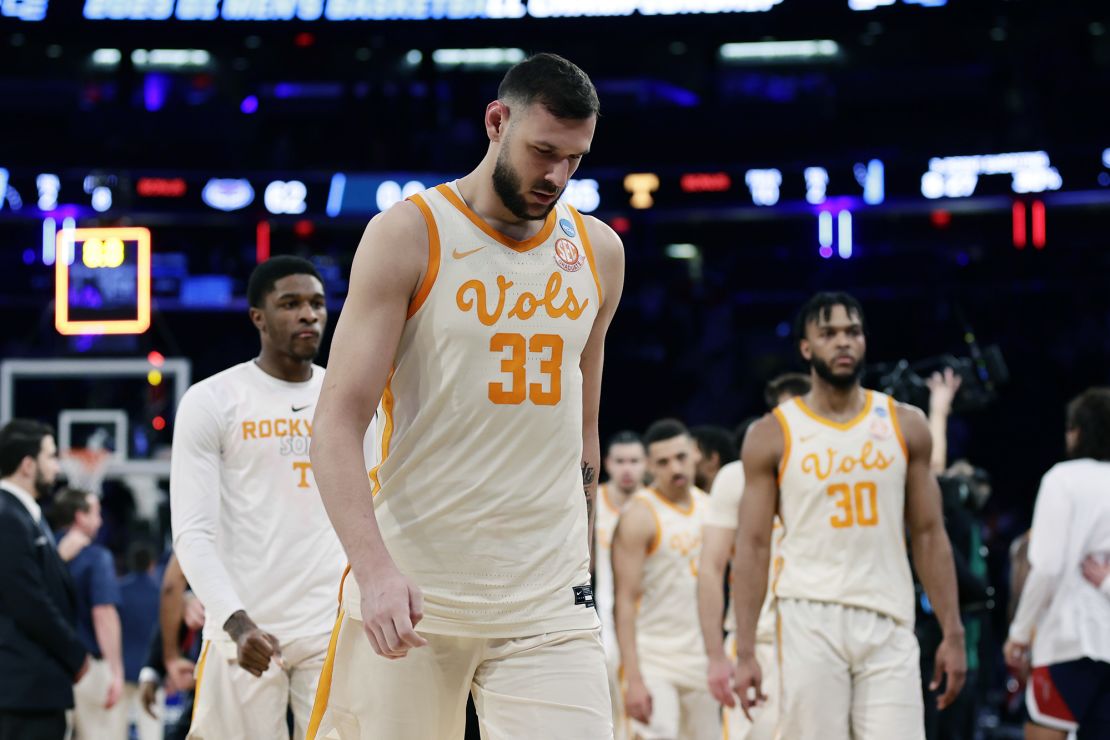 The underdogs were trailing 27-22 after the first half at the famed Madison Square Garden in New York City but outscored the Volunteers 40-28 – including an 18-2 run – in the second half to seal the victory.
"Y'all can't count us out no more man. We're here to stay and we're going to keep fighting no matter who we line up against, who we play," said FAU guard Nick Boyd in the postgame press conference.
"I got a group of brothers that play together and I feel like there's nobody in the country that loves each other like we do and works like [we do] so we're going to keep making statements."
Late drama and history made
Nowell makes NCAA history as Wildcats edge Spartans
The opening game in the Sweet 16 of the men's NCAA tournament resulted in a thrilling 98-93 Kansas State overtime victory over Michigan State on Thursday night at Madison Square Garden in New York City, New York.
The game was dominated by a record-setting performance from Kansas State star Markquis Nowell. The guard, playing in his hometown, stuffed the stat sheet and finished with 20 points, an incredible 19 assists – a new NCAA tournament single game record – and five steals to carry the Wildcats to victory.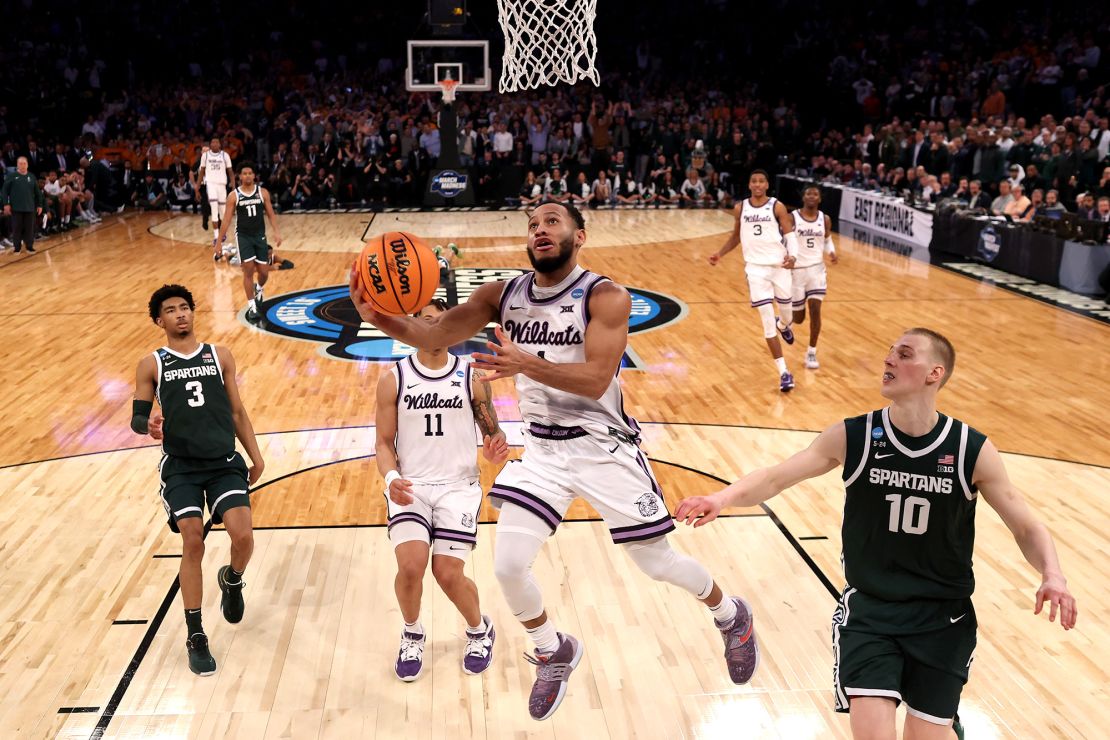 Nowell, who played the second half with an injured right ankle, is the first player to finish with 20+ points, 19+ assists and 5+ steals in a men's Division I or NBA game since 1996, according to CBS Sports.
"All glory to god, man he gave me these gifts and these talents and I'm just glad that I get the platform to showcase them, and I have a ton of faith," Nowell said after the victory.
Nowell's standout performance drew the attention of some of the sport's biggest names with Lakers legend Earvin 'Magic' Johnson and Kevin Durant singing his praises.
Bulldogs nip Bruins with late triple
Gonzaga and UCLA have given college hoops fans some incredible matchups in recent years and their latest encounter was no different.
With two minutes and 30 seconds left in the game, the Bulldogs had a 72-62 lead thanks to an incredible second-half display.
Yet, the Bruins continued to fight and battled back to take a 76-75 lead with 13 seconds left, thanks to a three pointer by Amari Bailey.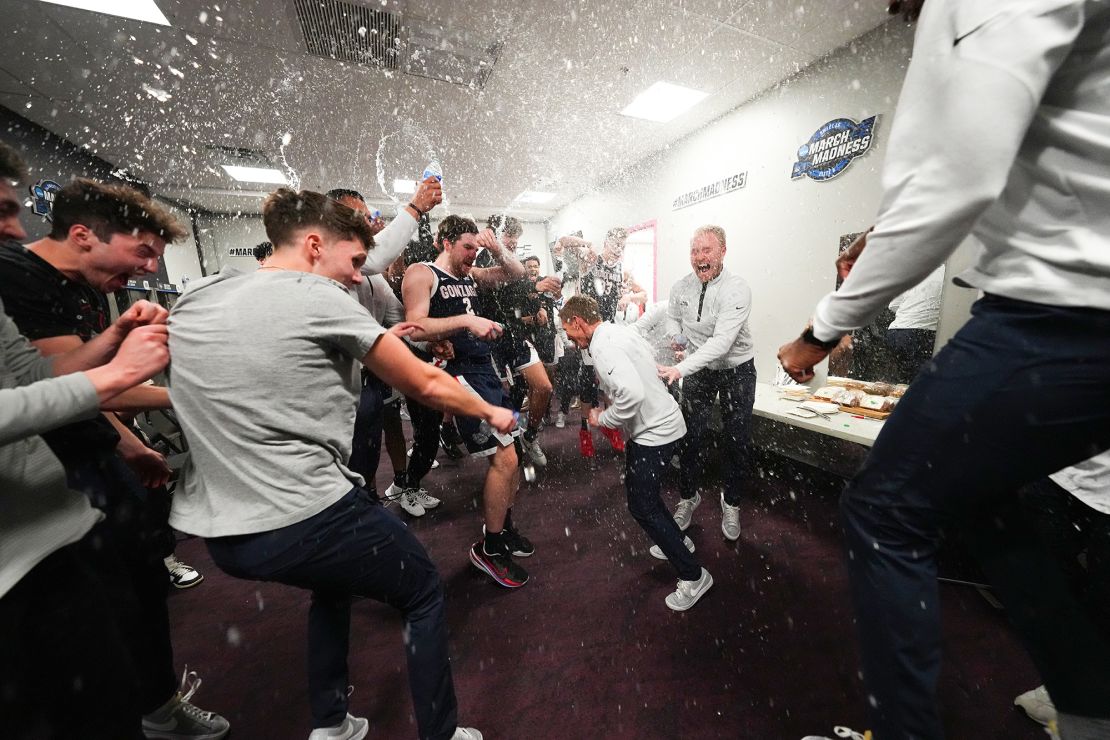 Then with under 10 seconds on the clock, up stepped Julian Strawther. The 20-year-old guard won the game with a clutch three from the edge of the halfcourt logo, reminiscent of then-Bulldog Jalen Suggs' game winner in 2021.
"It's moments like that you can't make up," Strawther said on the game-winner in the postgame press conference. "Those are literally the moments you dream of, to even make a shot like that in March Madness."
Huskies cruise past Razorbacks into Elite Eight
Elsewhere, the Connecticut Huskies comfortably dispatched of the Arkansas Razorbacks with a routine 88-65 victory. UConn were led by Jordan Hawkins' 24 points as they held off the Razorbacks to make it to the Elite Eight.
In the Elite Eight, Kansas State will face FAU and Gonzaga will play UConn on March 25.